I was first drawn to research Griffon (NYSE:GFF) based on its outstanding AMES business. Upon further research of the other divisions of GFF, I found that they are high quality businesses with growth prospects and/or enduring business models. I compare GFF to its peer group, and I see that GFF is valued significantly below its peer group. I believe that GFF has 40% upside potential, and the solid businesses behind GFF will provide support for the share price.
Company Overview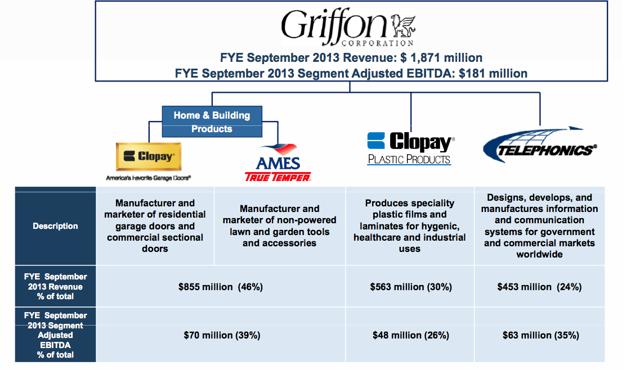 Source: Company Presentation
The above presentation gives a good overview of GFF. For AMES, it is a great business manufacturing and marketing non-powered lawn and garden tools and accessories. When I search for "non-powered garden tools" on Google, AMES comes out first and shows as the most relevant. This is powerful as consumers will use key words to search for what they want and let Google make the match. This drives business for AMES. In addition to the AMES business, the home and building products division also includes Clopay, which is the largest U.S. manufacturer of residential garage doors with more details below: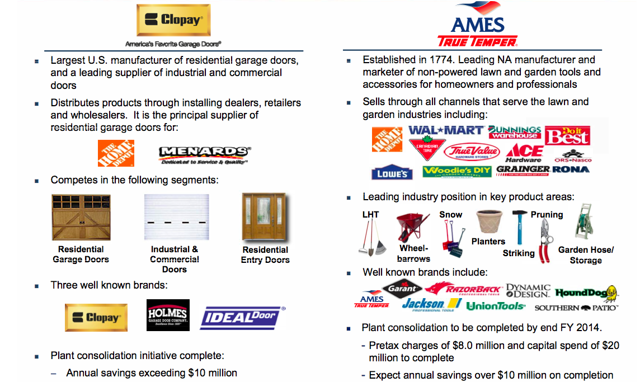 Source: Company Presentation
Another division of GFF is Clopay Plastic Products group. It is a global supplier of high-performance plastic films and composite structures. It is a recognized brand and a supplier to a diverse group of leading consumer companies, including P&G, Johnson & Johnson, Kimberly Clark, etc. Its products are mostly used as moisture barriers in disposable infant diapers, feminine hygiene products, single-use surgical and industrial gowns, etc. As the middle class in developing countries continues to rise, the demand for Clopay products will grow accordingly. As a result, there is healthy projected growth for the Clopay division in the foreseeable future.
The final division is Telephonics. It specializes in advanced electronic information and communication systems for military, aerospace, civil and commercial applications for the United State and international market. Telephonics is a first-tier supplier to prime OEM contractors in the defense industry and to the U.S. Department of Defense. However, due to the sequestration spending cuts to the defense budget, Telephonics is expected to face headwinds, and this helps explain recent weakness in GFF's share price.
Why did GFF decline?
For Home and Building Products group, revenue totaled $254 million, increasing 6% compared to the prior year quarter. For the Plastic Product group, revenue totaled $149 million, increasing 7% compared to the prior year quarter. However, for the Telephonics group, the result is dismal as explained below:
Revenue totaled $102 million, decreasing 21% from the prior year quarter. The 2013 quarter included $20.0 million of electronic warfare program ("ICREW") revenue where Telephonics served as a contract manufacturer; there was no such revenue in the current quarter. Excluding revenue from these programs, current quarter revenue decreased 7% from the 2013 quarter, primarily due to reduced airborne and wireless intercommunication systems sales.
On the surface, it is undeniable that the Telephonics group of GFF does not perform well. Nevertheless, if we look further into the backlog, which totaled $457 million on June 30, 2014, it does compare favorably against the company's history shown below: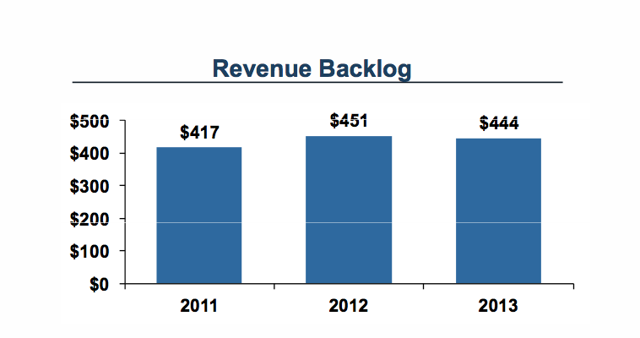 Source: Company Presentation
The current backlog is the highest among the previous three years. This indicates to me that there is still healthy demand for the Telephonics group.
Other than the backlog demand, Telephonics opened a new India facility under the joint venture with Mahindra & Mahindra Ltd. The business focus is on the development and manufacture of leading-edge radar technology. As Telephonics President and CEO, Mr. Joseph Battaglia, explained below:
Telephonics' combination of world-class technology and manufacturing capabilities, combined with Mahindra's renowned manufacturing, corporate governance and market presence are proving to be very compelling for our customers in the U.S. and Europe.
The India facility helps to show the additional opportunities for the Telephonics group of GFF in the emerging countries.
An EBITDA Growth Trajectory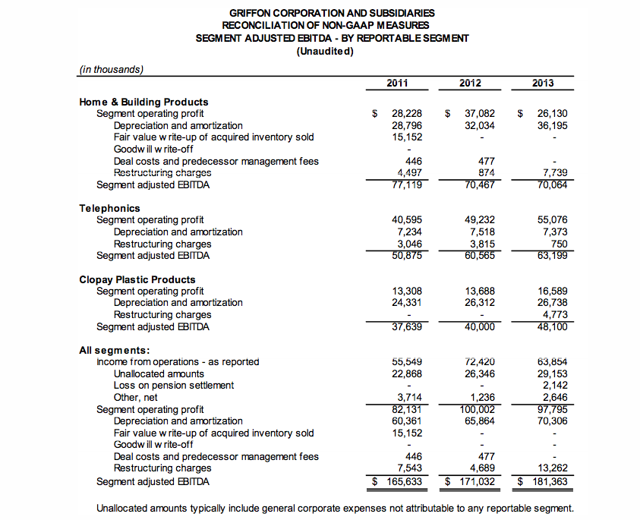 Source: Company Presentation
GFF has shown its ability to consistently grow its earnings from 2011 to the present. First, there has already been a restructuring program with expected annual savings of over $10 million on completion. In January 2013, AMES announced plans to close down manufacturing facilities and consolidate operations into its Camp Hill and Carlisle locations. These restructuring programs should allow GFF to in-source and reduce third-party suppliers. Currently, AMES is on schedule to deliver the $10 million savings.
Second, GFF recently replaced its 7.125% senior notes with a new 5.25% senior notes and extended the maturity to 2022:
Griffon Corporation (GFF) ("Griffon") today announced the closing of its previously announced offering of $600 million aggregate principal amount of 5.25% senior notes due 2022 (the "2022 Notes") in an unregistered offering through a private placement, as well as the early settlement of its previously announced cash tender offer and consent solicitation (the "Tender Offer") with respect to its existing 7 1/8% senior notes due 2018 (the "2018 Notes").
The annual interest savings is $10.3 million per year. With the new 5.25% senior notes maturing in 2022, this allows GFF to have capacity to repurchase up to $50 million of Griffon's outstanding common stock, announced on May 1, 2014. To further illustrate the ambition of GFF in the repurchase program, GFF has already repurchased $107 million of its common stock since 2011, inclusive of the December 2013 $50 million repurchase from an affiliate of Goldman Sachs.
From another perspective, GFF has already provided its goal to achieve more than 10%-plus EBITDA margins for all its divisions as shown below: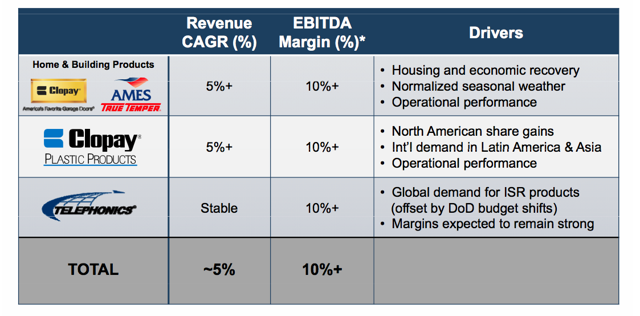 Source: Company Presentation
With anticipated $2 billion sales and 10%-plus EBITDA margins, GFF should be able to generate more than $200 million adjusted EBITDA.
Given $1.2 billion enterprise value, GFF trades at 6.5x EV/EBITDA. This is low relative to the 8x historical GFF EV/EBITDA valuation and to the qualities of all the business divisions in GFF. Based on peers' 9x forward EV/EBITDA valuation, there is 40% upside potential for GFF.
As a side note, I utilize various companies to act as comps to come up with a 9x EV/EBITDA fair valuation for GFF. For example, Masco (NYSE:MAS), Masonite (NYSE:DOOR), Stanley Black & Decker (NYSE:SWK), and Snap-On (NYSE:SNA) are comps for the Home and Building Products division. I utilize AEP Industries (NASDAQ:AEPI), Bemis (NYSE:BMS), Silgan (NASDAQ:SLGN) as comps for the Clopay Plastic Group. I utilize Alliant Tech System (ATK), Rockwell Collins (NYSE:COL), Johnson Controls (NYSE:JCI), and Raytheon (NYSE:RTN) as comps for the Telephonics Group.
Bolt-On Acquisition
GFF acquired the Australia Garden and Tools division ("G&T") of Illinois Tool Works Inc. (ITW) for approximately $65 million. GFF expects that this acquisition will be accretive in the current fiscal year. From an EV/Sales perspective, GFF is currently trading at 0.65x, and the G&T bolt-on acquisition was purchased for 0.55x. Having further cost synergies with the AMES group, I am confident that this acquisition is beneficial to shareholders.
Insider Ownership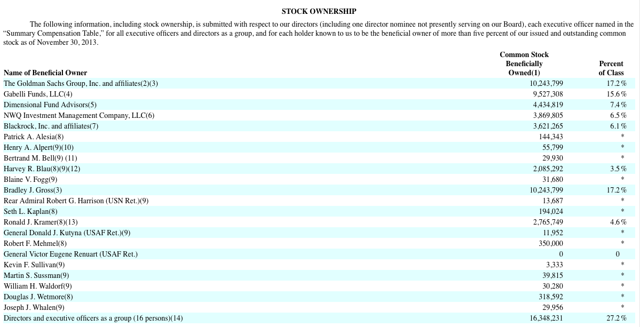 Source: Bamsec.com
Ronald Kramer, the CEO of GFF, owns 4.6% of the outstanding shares. For the directors and executive officers as a group, they own 27.2% of GFF. This shows that insiders have confidence in GFF through substantial ownership. In addition, a few well-known funds have significant stakes in GFF too. They include Gabelli Funds, Dimensional Fund Advisors, and NWQ Investment Management Company. All are good indicators that GFF possess value for shareholders.
The Bottom Line
GFF should trade significantly higher than 6x EV/EBITDA due to its strong businesses with stable and valuable brands like AMES and favorable business prospects like the Clopay Plastic Products group. With self-help initiatives, such as the restructuring program and interest savings, GFF has already been capable of delivering healthy growth in EBITDA in 2014. As I mentioned above, Telephonics group currently is a drag, but it should bounce back from the trough soon. For risk-tolerant investors, I recommend investing in GFF before the market realizes its potential.
Disclosure: The author has no positions in any stocks mentioned, but may initiate a long position in GFF over the next 72 hours. The author wrote this article themselves, and it expresses their own opinions. The author is not receiving compensation for it (other than from Seeking Alpha). The author has no business relationship with any company whose stock is mentioned in this article.