With the news that Angelo Mozilo could be facing further legal problems from the US government, it finally appears that the government is targeting those responsible for the worst financial crisis since the Great Depression. It had appeared that the co-founder of Countrywide Financial had escaped legal action after paying a $67.5 million fine to the SEC for misleading investors, but if the US government does proceed with this case it would mean one of those at the center of the financial crisis would finally have to answer for their actions and possibly be held accountable.
Markets are trending higher this morning as they continue their gradual rise. The reversal yesterday was important and speaks to the underlying strength of those buyers on the sidelines.
Chart of the Day:
Although small, UPS (NYSE:UPS) says that there was a data breach at 51 of its UPS Stores. The malware has been removed and the company identified 105,000 transactions which were affected. The customers behind those transactions are being offered free services to help them monitor their credit but the cost of the program might be less than expected because the company is not notifying customers directly.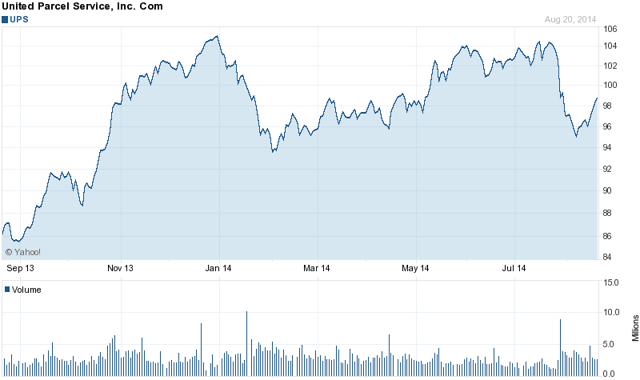 Source: Yahoo Finance
We have economic news today, and it is as follows:
Initial Claims (8:30 a.m. EST): Est: 308k Act: 298k
Continuing Claims (8:30 a.m. EST): Est: 2530k Act: 2500k
Existing Home Sales (10:00 a.m. EST): Est: 5.00 M
Philadelphia Fed (10:00 a.m. EST): Est: 15.5
Leading Indicators (10:00 a.m. EST): Est: 0.7%
Natural Gas Inventories (10:30 a.m. EST): Est: N/A
The Asian markets are mixed today:
All Ordinaries - up 0.08%
Shanghai Composite - down 0.44%
Nikkei 225 - up 0.85%
NZSE 50 - up 0.24%
Seoul Composite - down 1.38%
In Europe, the markets are higher this morning:
CAC 40 - up 0.83%
DAX - up 0.62%
FTSE 100 - up 0.27%
OSE - up 0.51%
$17 Billion Settlement
The long rumored $17 billion settlement between Bank of America (NYSE:BAC) and the Justice Department appears near to being finalized. For those who have not been following the story, the settlement is in relation to mortgages originally sold by Merrill Lynch and Countrywide before Bank of America purchased those institutions. There is an article from the Associated Press (located here) which goes in depth about the settlement and points out that $7 billion of the settlement will be allocated to consumer aid.
This is important because other settlements have already proven that this figure will most likely not be maxed out by claims. Also important to note is that the previous settlements have allowed credits to be earned quite easily by the financial institutions; sometimes by allowing anywhere from $2-4 in credits for each $1 spent or loaned out.
Could this settlement be the spark that Bank of America needs to help push its shares back above the $16/share level?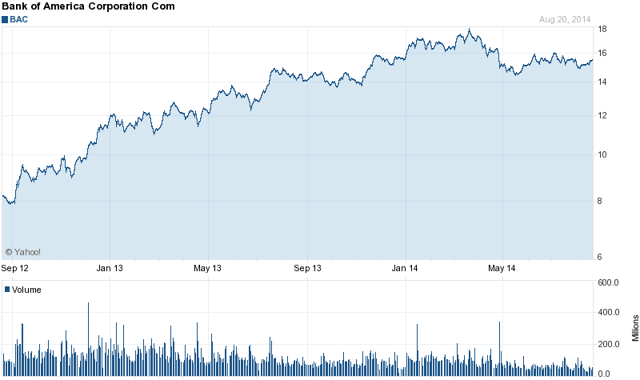 Source: Yahoo Finance
Once Bank of America brings this issue to conclusion the shares should rally as another question mark is removed. The bank has set itself up to be a financial powerhouse once it can get back to business as usual and so long as further issues surrounding business practices preceding the financial crisis do not arise we could see the bank begin to outperform like Wells Fargo (NYSE:WFC) and JP Morgan Chase (NYSE:JPM).
Japan To Build Own Fighter?
Apparently Japan is looking into building its own fighter jets as the F-2 program winds down and the country looks to develop a fighter designed and built in Japan (see article here). The idea of this happening is not that much of a stretch as Japan's Mitsubishi has jointly produced the F-2 with Lockheed Martin (NYSE:LMT) for decades. As Japan looks to deter China and become a counterweight against an increasingly confrontational China and Chinese influence, having its own fighter and stealth technology is becoming a top priority for both Japan's political and military leaders.
While the fighter jet issue would impact Lockheed Martin, there is the potential that Japan could then venture into other military aircraft areas which could be bad news for a company such as Boeing (NYSE:BA), one of our favorite industrial names right now. This seems a long shot to us, but could always be a possibility if Japan gets serious about building an aerospace industry.
Icahn's Latest Purchase
Carl Icahn has joined many other hedge fund managers in purchasing shares in Hertz Global (NYSE:HTZ). With his purchase of an 8.5% stake in the company, made up of stock and options, Mr. Icahn is now the largest shareholder in the company and said late Wednesday that he wished to discuss matters pertaining to management, accounting and operations with the company. Hertz is in a very precarious position now as a large percentage of the company is owned by hedge funds and certain activist shareholders and those shareholders could rally behind Mr. Icahn. The company is obviously worried about coming under fire after yesterday's announcement, which is why they released this statement late last night.
Disclosure: The author has no positions in any stocks mentioned, and no plans to initiate any positions within the next 72 hours.
The author wrote this article themselves, and it expresses their own opinions. The author is not receiving compensation for it (other than from Seeking Alpha). The author has no business relationship with any company whose stock is mentioned in this article.