Investors often check the holdings of super investors, but they often limit themselves to investors that focus on larger mid-cap or large-cap companies. Super investors with a lot of capital to manage are restricted to those larger companies, while investors with smaller amounts of capital do not have the same restrictions. A continued run up in the overall market, especially the larger more well known companies, leaves those large super investors with an even more limited number of companies to choose from. While they might have trouble finding ideas, there still are 1,000s of smaller companies that go unnoticed by analysts, the market and larger institutions. To circumvent this, investors can follow super investors that focus on micro-caps and small-cap companies where there tends to be greater opportunities to find inefficiently priced quality companies, even in bull markets.
One investor that has been restricting their assets under management to continue to invest in micro-caps and small-caps is Brian Bares. Although we do not know his firm's exact performance, we do know that in his first year of operation his fund returned 66% on ~$1 million and fourteen years later manages over a billion dollars.
His philosophy tends to lean towards Warren Buffett and Charlie Munger focusing on owning only a hand full of quality businesses, with quality managers and allowing the company to internally compound capital at high rates. Since he began focusing on micro-caps he essentially was finding those quality companies in their infancy and letting them compound capital at high rates. The following interview gives a better idea of Brian Bares' philosophy.
Brian has written about the institutional investing imperative where super investors tend to start in the inefficient small-cap space and once achieving high performance, they have a profit incentive to gather more assets - institutions are also more likely to invest - thus making it more difficult to continue investing in the micro-cap and small cap areas of the market. He calls this graduating to bigger markets where there is more institutional competition and more efficient markets.
Q2 Portfolio Changes
Bares Capital has been able to continue to invest in the micro-cap space (<$300 million market cap) since Bares was content capping assets under management, which is unusual with institutional fund managers. What we have noticed, however, is that Bares Capital Management looks to continuing graduation from micro-caps to small caps above $400 million in market cap and most above $1 billion. Looking at the firms transactions in the recent quarter, eight out of the eleven companies below $400 million in market cap saw their positions reduced. (INTL, WINA, REIS, FHCO, UTMD, OFLX, TLF).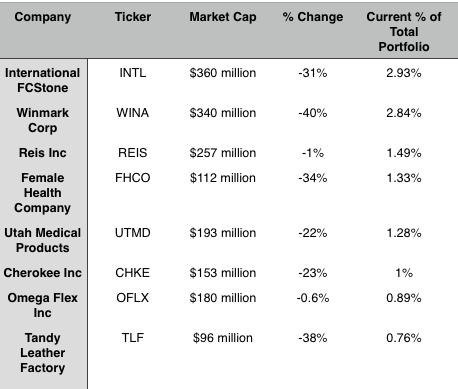 (Source: Mkt cap from Yahoo Finance, SEC Filings, Our Calculations)
It is likely that these positions have been reduced less for valuation reasons and more to do with the firm's graduation to larger equities since Bares Capital manages $1.2 billion AUM and companies in the over $400 million market cap constitute more than 70% of the firm's portfolio.
What is also notable is that in the last few months, the above companies have been transferred from Bares Capital to Nine Ten Partners LP, which is a hedge fund directed by Bares Capital. What is interesting is that only these small-cap companies have been listed, so far, under Nine Ten Partners, while the larger company holdings are yet to be listed with Nine Ten. Our educated guess is that some institutions and the partners of Bares elected to continue their focus on micro-caps and smaller small-cap companies. As we guessed in this article, the transfer is likely to have caused Bares to reduce their positions potentially due to giving some capital back to some investors. XPO Logistics (NYSEMKT:XPO) is another position that was reduced in the quarter - that is well above $300 million - that is also included as Nine Ten's holdings.
The only companies with an ~$300 million market cap that were added to were Americas Carmart (NASDAQ:CRMT), Graham Corp (NYSEMKT:GHM) and Mesa Laboratories (NASDAQ:MLAB). Only Graham Corp has been listed as a Nine Ten holding as well.
Positions Significantly Increased
(We exclude the many small holdings)
Post Holdings - (NYSE:POST) This position was originally purchased last year in the same quarter and has grown from 2.68% of the portfolio to 10.31%. Bares added 8% or 184k shares during the quarter and the position is likely to have fallen as a percentage of the whole portfolio due to the recent decline in share price. It is quite likely that with the high conviction Bares could be adding to the position with the decline in share price.
Middleby Corp - (NASDAQ:MIDD)
This position was originally purchased at the end of 2010 at an average price of ~$25 per share and with continued purchases and large upside in the share price, the position is 7% of the portfolio. Only 2% of the stake increased from the last quarter.
Corporate Executive Board - (NYSE:CEB)
This position increased 5% to 7.7% of the portfolio and has likely been added to since the drop at the end of July.
Platform Specialty Products - (NYSE:PAH)
This is another recent addition to the portfolio from last quarter. Only 5% of the stake increased since the original position was initiated last quarter making it a 6.35% position of the total portfolio.
Heico Corp. Class A - (NYSE:HEI)
This position has been in the portfolio for a number of years starting from 1% of the total portfolio. In the second quarter the position was increased by 18% to 4.78% of the total portfolio.
Liberty Tax - (NASDAQ:TAX-OLD)
This position was first purchased in the first quarter and grew 22% to 0.35% of the portfolio.
Positions Insignificantly Increased
Actuant Corp - (NYSE:ATU)
This position was originally purchased in the first quarter of last year and has grown from 5.32% of the portfolio to 9.94%. Half a percent of the stake was increased in the quarter.
Colfax Corp - (NYSE:CFX)
This position was originally purchased in the second quarter of 2010 at an average price of ~$12 a share and has been increased every quarter since to 9.62% of the portfolio. Largely, the increase in the stake value is attributable to the nearly 4.5x increase in share price since the original investment. About 0.2% of the stake was increased the past quarter.
RealD - (NYSE:RLD)
This position was originally purchased at the end of 2012 and it has grown from 5.92% of the portfolio to 8.54%. This stake increase was also not too significant.
U.S. Ecology - (NASDAQ:ECOL)
This position was significantly added to in the first quarter, however, in the second quarter less than 1% of the position was increased. U.S. Ecology currently makes up 5.47% of the total portfolio.
All Holdings Can Be Found Here
Disclosure: The author is long PAH, FHCO, WINA, CHKE.
The author wrote this article themselves, and it expresses their own opinions. The author is not receiving compensation for it (other than from Seeking Alpha). The author has no business relationship with any company whose stock is mentioned in this article.
Additional disclosure: This article is meant for instructional purposes and not meant as a recommendation to buy or sell. The only kind of intelligent investing is through your own due diligence
Editor's Note: This article covers one or more microcap stocks. Please be aware of the risks associated with these stocks.