My oh my, what a difference a couple of months can make. At the start of the year, many Chinese stocks were out of favor with investors due to concerns with manufacturing data showing signs of a slowdown and a U.S. Securities and Exchange Commission judge suspending the Chinese units of the Big Four accounting firms from auditing U.S.-traded companies for six months.
Fast forward today and those worries seem to be in the rear-view mirror as shares of Chinese companies have soared in recent months. In fact, Chinese companies have raised nearly $3.5B in new listings so far this year - more than the combined total from 2009 to 2013.
Of course all eyes are now on Alibaba (the Chinese e-commerce giant), as the Company expects to raise as much as $20B in its initial public offering ("IPO"). This of course would make it the biggest IPO in U.S history.
Priceline's $500M Investment in CTRP
It's no secret that Priceline (PCLN) and Ctrip (NASDAQ:CTRP) have had a great relationship with one another. Both parties turned things up a notch when it was announced that Priceline was investing $500M in Ctrip through a convertible bond. Priceline was also granted permission to buy shares of Ctrip on the open market over the next 12 months. Between the bond and the share purchases, Priceline can hold up to a 10% stake.
Management on both sides believe cross-promotion will continue to spur growth for both companies as they expand their footprint throughout the world.
"It's like putting products on the shelf. If you put more products on the shelf, it enhances the value of the store," said Priceline Chief Executive Officer Darren Huston.
Of course this new addition on top of an already positive relationship means more pressure on challengers like Expedia (NASDAQ:EXPE) and Qunar (NASDAQ:QUNR).
Analyst Praise
Edward Woo, Ascendiant Capital Markets - "This deal will definitely increase the amount of (travel content) inventory available for both companies." ... "The consumers who use these websites want access to as much travel services and inventory as they can."
Michael Olson, Piper Jaffray analyst - "The expanded Ctrip and Priceline partnership appears to be a win-win." ... "We believe this deal furthers an already symbiotic relationship that allows Priceline to have exposure to the fastest-growing segment of the China market, outbound travel, and provides Ctrip with the most extensive inventory for China travelers looking to book such outbound itineraries."
Maggie Rauch, PhoCusWright analyst - "China remains a huge opportunity for online travel." Rauch went on to say that Priceline is making a big move as it taps into the enormous potential of China's online travel market.
With the nation's online travel market growing 29% in 2013, Rauch feels the industry will have similar annual growth through 2016.
As for Ctrip, Rauch believes the latest deal with Priceline gives it access to travel content that it needs. This content includes more hotel inventory, restaurant bookings and car rental.
Priceline/Ctrip Deal Paves Way For Global Investments
Just weeks ago, Bloomberg reported that Snapchat (the mobile application for disappearing photo messages), was in talks with investors including Alibaba (China's biggest online commerce company) for a round of financing that would value the Company at $10B. Based on Alibaba's recent purchases, investors should expect the Company to invest anywhere from $1-$2B for a 10%-20% stake.
Of course, Alibaba is no stranger to financing rounds, striking partnerships as well as taking large stakes in companies such as Weibo, AutoNavi, Intime Retail, Youku Tudou, ChinaVision Media Group, China Smart Logistics, Lyft and Tango.
With Priceline's recent move with Ctrip and Alibaba targeting Snapchat, not to mention many other U.S companies, it's safe to say that companies are not only looking to capitalize on their home turf, but are looking globally as well.
Qihoo 360 Closes $1.03B U.S. Note Offering
On August 6, 2014, Qihoo 360 (NYSE:QIHU), announced the closing of its private placement of $900M convertible senior notes to qualified institutional buyers.
The notes were issued in two tranches of $450M, due to mature on August 15, 2020, and August 15, 2021. According to the press release, the joint bookrunners of the notes were granted a 30-day option to purchase up to an additional $135M principal amount of the 2020, 2012 notes to cover over-allotments.
The bookrunners ended up exercising their over-allotment options purchasing an additional $67.5M 2020 notes and $67.5M 2021 notes. The full exercise of the over-allotment option brings the total amount of notes sold in the private placement to $1.03B. So what is Qihoo going to do with all that cash? One word: acquisitions.
At the end of the first quarter (March), QIHU had more than $900M in cash. As you can probably tell, QIHU was not hurting for cash by any means. With consolidation continuing to take place in China, Qihoo knows it must stay ahead of the game and that's exactly what it seems to be doing. Last year, Baidu went on a spending spree and this year it looks like it's Qihoo's turn to keep the pressure on.
Management has expressed that they will use the money for general corporate purposes, and there are a couple of areas (Mobile, e-commerce, online video, gaming, etc.), where the Company could put those funds to work. Some companies that could be in focus are (in no particular order) Vipshop (NYSE:VIPS), SOHU (NASDAQ:SOHU), Dangdang (NYSE:DANG), Jumei (NYSE:JMEI) and 58.com (NYSE:WUBA) just to name a few.
China Search Update
Qihoo could also use the funds to expand its fast-growing online search business, which now has more than 27% of the market share in China.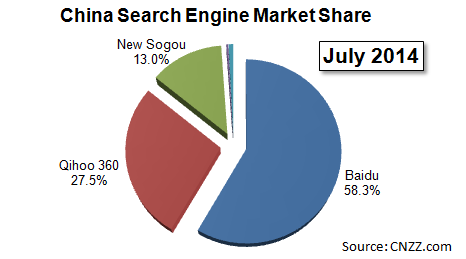 If you didn't know already, last year at this time, QIHU was in talks with Sohu.com to buy its search engine business (Sogou), a deal estimated to be worth up to $1.4B at that time. The merger between the No. 2 and No. 3 search-engine companies was going to be a way for both companies to challenge Baidu (NASDAQ:BIDU), China's search engine leader. Things didn't work out last time, but if they were to combine forces, it would give QIHU a market share over 40% and would instantly become a huge threat to Baidu.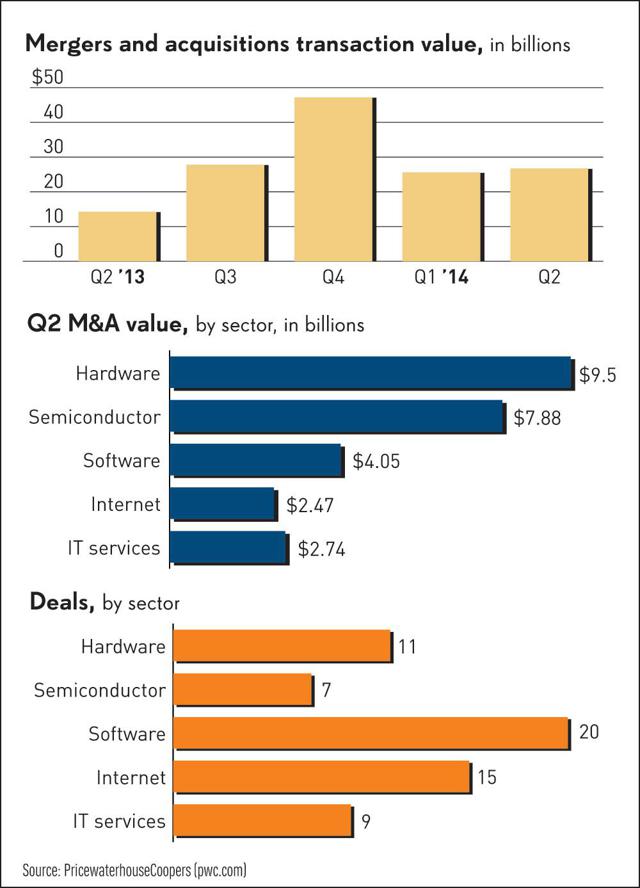 With the Alibaba IPO just around the corner and with several other big IPOs this year, it seems like the interest in Chinese companies has never been higher.
With consolidation continuing to take place on a global scale, don't be surprised to see more mergers, acquisitions and partnerships on the way. In fact, in just the second quarter alone this year, mergers and acquisitions of tech companies hit $26.7B, up 87% year-over-year.
Disclaimer: Link
Disclosure: The author is long QIHU, VIPS. The author wrote this article themselves, and it expresses their own opinions. The author is not receiving compensation for it (other than from Seeking Alpha). The author has no business relationship with any company whose stock is mentioned in this article.