Modest rerating year-to-date
Stock prices generally go up if earnings expectations move up and/or if the stock's valuation multiples expand. The Apple (NASDAQ:AAPL) stock's year-to-date performance (+25%) has relied on both factors, with earnings expectations rising ahead of the widely anticipated release of new products (iPhone 6 and iWatch) and with Apple's 2015 P/E rising to 13.5x from 11.5x early this year.
Many investors and SA readers consider that Apple is undervalued vs. Google (NASDAQ:GOOG) which is trading at 18.3x 2015 EPS. We tend to disagree as we consider that Apple has a much riskier profile that justifies its valuation discount. Apple derives most of its earnings from two products (iPhone and iPad accounted for more than 70% of revenues in FY13) which face intense competition and which are exposed to upgrade cycles, while Google offers a service with low cyclicality and smooth revenue growth.
That said, we believe that Apple's rerating has been modest until now and lately, a Bloomberg journalist wrote an article about Apple's "chronic P/E discount". In our view, there's room for continued valuation multiple expansion as the stock is trading at a 6% discount vs. other tech giants (the discount would be even larger when taking into account Apple's net cash position) while its long-term prospects are more compelling and would justify, at least, a slight premium.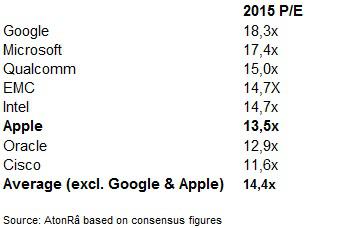 So the question now is quite simple, how can Apple reduce this valuation discount? Or even better, when will the Apple stock trade at a premium?
Product diversification is key in the short-term
In our view, the expansion into new product categories will be the most immediate response as it will help reduce exposure to the iPhone and iPad and remove Apple's mono-product (thus risky) status. The iWatch release (probably by the end of the year) is well flagged and largely factored into the stock price in our view, meaning that it's unlikely to move the needle. But many other products with significant market potential are probably on their way. We are talking here of the online payment service (please see our article "Apple: NFC And Mobile Payment Processing Are Just Around The Corner"), of the long-awaited Apple TV set and of smart home and smart car devices.
Under this scenario, the weight of the iPhone and iPad in the revenue mix would probably decline well below 50% and Apple could trade at least in line with hardware/software peers which have a diversified revenue mix. This suggests in our view that Apple could show off a forward P/E around 14.5x pretty soon, hinting at a 7% rerating upside potential without taking into account the potential earnings upside from the new products.
Longer term, developing a service model could be a game-changer
As hardware is a hits business and is thus much more cyclical than services delivered over the Internet by the likes of Google, Facebook (NASDAQ:FB) and Priceline (NASDAQ:PCLN), it is highly unlikely that Apple rerates soon in line with these companies (2015 P/E between 18x and 34x).
But over time, Apple's expansion into services (online payment, new music services following the Beats acquisition, health services…) could give a boost to the stock's valuation multiples as the percentage of more recurring and predictable would rise within the mix (from the current 10% derived from iTunes).
Under this scenario, the stock's forward P/E could potentially rise to 16-17x. And ultimately, Apple could develop a Hardware-as-a-Service (HaaS) or subscription model, mimicking the business model change that most software makers have initiated and that has been well received by the financial community.
What are the risks to our rerating thesis?
The stock boasts a pretty low valuation right now, the iPhone 6 is expected to make a splash and the iWatch is coming soon. In our view, Apple's valuation multiples face a very limited downside risk in the short term.
In the medium term, Apple will have to deliver on many of the current initiatives (watch, health services, home devices, car devices & services, TV...) if it wants to avoid a derating and the fate of companies such as Nokia (NYSE:NOK), BlackBerry (NASDAQ:BBRY), Palm... Indeed, it is widely expected that everything will be interconnected (Internet Of Things) and that the smartphone will act as a super remote control. This means that the failure in one of these segments could have significant repercussions on Apple's other businesses (if you can't manage your home devices with your iPhone, you will probably switch) and put the valuation at risk.
Disclosure: The author is long AAPL. The author wrote this article themselves, and it expresses their own opinions. The author is not receiving compensation for it (other than from Seeking Alpha). The author has no business relationship with any company whose stock is mentioned in this article.