Like most people on this site, I'm having a harder and harder time trying to find destinations for new money. As I've written previously, there are multiple indications that the market is fully valued-- perhaps not egregiously so, but certainly without the abundance of bargains that perhaps existed a couple of years ago. Many analysts suggest that expectations for market returns need to be tempered, and for investors to expect middling single-digit returns, at best, from here on out (barring any significant corrections in the interim).
With that in mind, I've been reviewing some of my holdings to determine which, if any, are worthy of adding fresh capital. I've already maximized my pre-specified allocation to speculative positions (as in, positions in which I'm relying solely upon my own research to determine fair value, without the benefit of professional independent analysis), so recent additions like Syntel (NASDAQ:SYNT), Ebix (NASDAQ:EBIX), and IPG Photonics (NYSE:IPG) are out of the question. Candidates for new money at this point must be core positions within the portfolio (subjectively determined by me), with at least the following characteristics:
An expectation for at least high single digit (~ 8%) to double-digit total returns over the next decade;
A quantitative moat (i.e., demonstrable, sustained ROIC > WACC over a 10-year period), or at least a qualitative moat as defined by Morningstar;
Pay a dividend (optional if expectation of total return > 10%); and
Trade for at most 0.9 times a conservative fair value estimate based upon historical earnings trends, near-term earnings outlook, and historical valuation trends, with a larger margin of safety required for higher volatility stocks (beta > 1.0).
Though I'm happy to swap out one of my current holdings for more attractive issues, I'd only really be interested in doing so if the current valuation exceeded my expectation of a 1-year annualized total return. Any current holdings that met that criterion would certainly serve as a potential source of funds. Here are my top 8 current list of candidates:
And a couple of new candidates, which I intend to focus on in a separate article:
What follows is a quantitative analysis of each company, as it applies to the criteria as noted above. Due to the scope of this article, I won't be doing a deep qualitative analysis into each company, except as it applies to earnings visibility and a rough estimate of fair value. Fair value estimates represent a statistically weighted average of discounted cash flows, historical valuations, and consensus analyst estimates. Except where noted, DCF values were derived from my usual Monte Carlo discounted cash flow simulator.
1) Baxter International: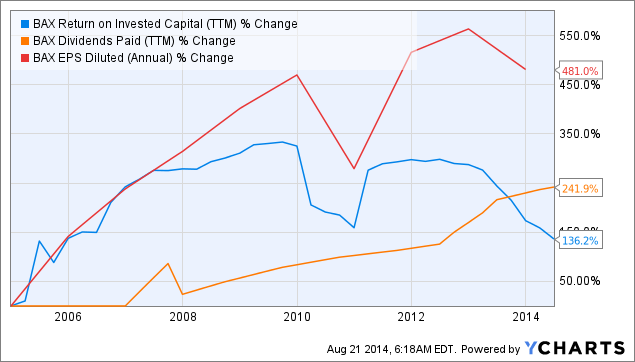 BAX Return on Invested Capital ((NYSE:TTM)) data by YCharts
Quantitative Analysis:
Free Cash Flow Yield
6.9%
Expected Earnings Growth
5.28%
Dividend Yield
2.76%
Anticipated Total Return
8.04%
Average ROIC - WACC
-3.5
Morningstar Moat
Wide
Fair Value Estimates
DCF: $86
Historical: $86
Consensus: $86
Estimated Fair Value
$83.00
Margin of Safety
9.34%
Baxter International manufactures therapies for a variety of diseases, medical products for dialysis systems, intravenous therapies and other injectables, and anesthetic agents. The company recently announced a spin-off of its biopharmaceutical segment to take place in 2015, and in the most recent earnings call, raised its guidance for 2014 EPS to $5.10-5.20 after a 16% y/y increase in consolidated revenues. Though the company's ROIC does not consistently outpace its cost of capital, Morningstar awards the company with a company-wide moat based upon its economies of scale, wide pipeline, pricing power, and intangible assets. The company is a slow but steady grower, and growth looks to accelerate with the upcoming spinoff. Though the anticipated total return for the company remains attractive, it does not currently trade at a large enough margin of safety-- though it's close.
2) Berkshire Hathaway: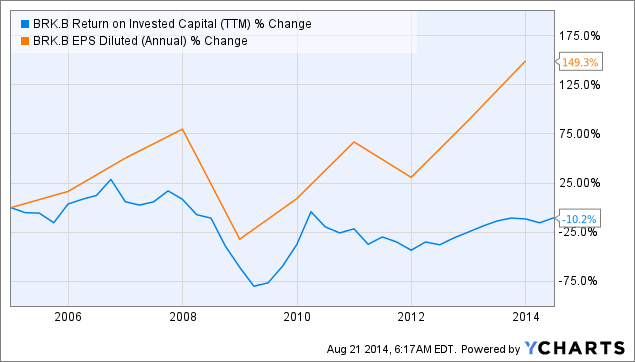 BRK.B Return on Invested Capital ((TTM)) data by YCharts
Quantitative Analysis:
Free Cash Flow Yield
8.4%
Expected Book Value Growth
8-9%
Dividend Yield
0%
Anticipated Total Return
10-11%
Average ROIC - WACC
Not calculated
Morningstar Moat
Wide
Fair Value Estimates*
DCF: $150
Historical: $142
Consensus: $146
Estimated Fair Value
$147
Margin of Safety
8.22%
* Due to Berkshire's complexity, I'm relying upon the geniuses at Morningstar to give me their sum-of-the-parts discounted cash flow fair value estimate.
Berkshire remains a core holding, and will probably remain that way for years to come. For a historical fair value estimate, I utilize a statistically weighted historical average of price-to-earnings and price-to-book multiplied by consensus forward EPS and current P/B multiplied by historical growth rates (10% per year CAGR) to arrive at an estimate of $142. Berkshire shares have appreciated at a tremendous rate since February (which is when, I'm happy to say, I started accumulating aggressively). The company doesn't pay a dividend (despite many people calling for it), but given who runs the company I don't have a problem not being paid to wait. Though Berkshire's rapid growth days are probably behind it-- the law of large numbers applies here-- the company is forecast by most analysts to continue growing book value at a steady rate for at least the next few years. That said, due to the rapid run-up in price, shares no longer trade at a sizable enough margin of safety to attract additional capital for now, at least according to my self-imposed criteria.
3) BlackRock, Inc.: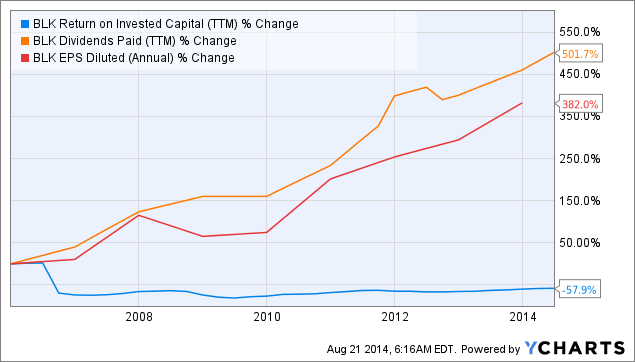 BLK Return on Invested Capital ((TTM)) data by YCharts
Quantitative Analysis:
Free Cash Flow Yield
8.7%
Expected Earnings Growth (10-y CAGR)
14.41%
Dividend Yield
2.38%
Anticipated Total Return
16.79%
Average ROIC - WACC
-4.6
Morningstar Moat
Wide
Fair Value Estimates
DCF: $365
Historical: $335
Consensus: $365
Estimated Fair Value
$351
Margin of Safety
7.49%
Like the greater market being tracked by its funds, BlackRock, the world's largest asset manager, is now trading near 52-week highs. Inflows to its funds came roaring in last quarter, with AUM growing almost 20%. Though growth like that isn't likely to continue for long, the firm benefits from the secular trend towards passively managed ETFs and similarly packaged products, and should see returns that at least mimic the returns of the broader market, plus a percentage point or two. Double-digit total returns, aided by share repurchases and dividends (both of which should come from the firm's generous free cash flow generation) seem likely. Though this remains my largest holding, shares are now trading reasonably close to my fair value estimate, and I'd wait for a dip before adding more funds to this name.
4) Coca-Cola: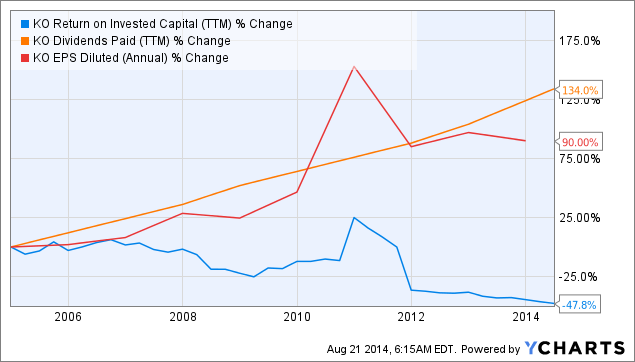 KO Return on Invested Capital ((TTM)) data by YCharts
Quantitative Analysis:
Free Cash Flow Yield
5.6%
Expected Earnings Growth
3.88%
Dividend Yield
2.96%
Anticipated Total Return
6.84%
Average ROIC - WACC
-3.3
Morningstar Moat
Wide
Fair Value Estimates
DCF: $41
Historical: $44
Consensus: $41
Estimated Fair Value
$44.00
Margin of Safety
6.25%
Everybody seems to have an opinion on Coke, and I don't just mean whether or not it's good for your diet. There are few names that seem to bring out the knives on Seeking Alpha like Coke, and for good reason: as a Dividend Champion, it generates lots of love from the DGI crowd, but secular headwinds, a bloated executive compensation plan, and stagnant earnings growth earn it widespread approbation from others. Throw in the fact that the company continues to trade at a significant premium to the market despite its large size and dwindling prospects for growth, and one can easily see why this household name inspires debate. And don't even get me started on its recent partnership with Monster.
Most recently, the company reported decently solid results, besting consensus EPS estimates by a penny, on the back of moderately increased volumes, improved product mix, and continued share buybacks. But this performance beat should be taken into context: the secular headwinds against sparkling beverages remain in place, and evolutionary partnerships with Green Mountain (NASDAQ:GMCR) and Monster (MNST) will only take the company so far. I view shares as just about fairly valued. I know this will bring out the critics, but with an anticipated 7% total return, it wouldn't take me too much-- say, hitting $48 or so -- to consider trading in my Coke for something with better intermediate- to long-term prospects.
5) Deere & Co.: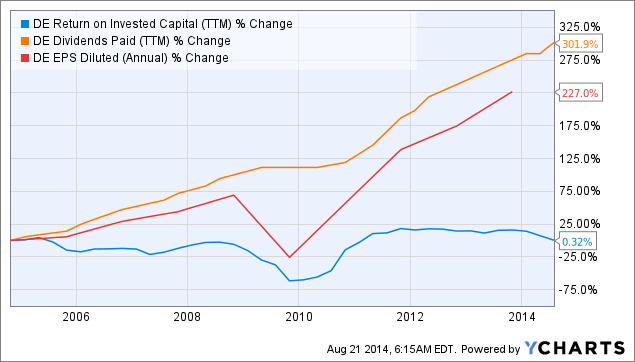 DE Return on Invested Capital ((TTM)) data by YCharts
Quantitative Analysis:
Free Cash Flow Yield
13.2%
Expected Earnings Growth
4.37%
Dividend Yield
2.79%
Anticipated Total Return
7.16%
Average ROIC - WACC
-6.3
Morningstar Moat
Wide
Fair Value Estimates
DCF: $91
Historical: $108
Consensus: $91
Estimated Fair Value
$91.00
Margin of Safety
5.64%
I've written about Deere elsewhere, and my thoughts on the company remain the same. Long-term, I expect great things from Deere. The brand is legendary, lending the firm immense intangible assets, and it benefits from economies of scale and an extensive dealer network. That said, the firm is also subject to the whims of an unpredictable commodities market, and faces significant short-term headwinds as grain prices bottom out. Longer-term, I view agricultural firms (like DE and Valmont (NYSE:VMI)) as an unbeatable growth story, since human beings tend to breed like rabbits and eat like pigs, which will only serve to drive profits of firms that make it easier to feed an ever-increasing horde of hungry mouths. It's notable that applying historical multiples to forward estimates yields a fairly high target price, but I tend to discount that a bit given the company's cyclicality.
Recently, though, the company has been going through some hard times, announcing layoffs and cutting back production in order to accommodate reduced demand for agricultural machinery. This slack in the market won't last forever, and I predict DE will probably spring back to life as worldwide meat demand takes off and grain prices recover, but this remains a long-term play. Like Coke, I'm willing to hold, but I'd still like a wider margin of safety before adding more money.
6) McDonald's: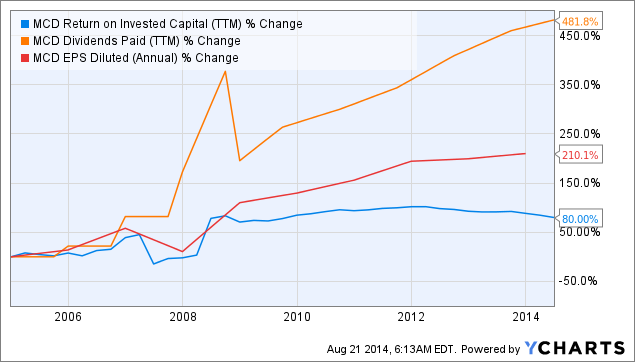 MCD Return on Invested Capital ((TTM)) data by YCharts
Quantitative Analysis:
Free Cash Flow Yield
4.9%
Expected Earnings Growth
3.99%
Dividend Yield
3.44%
Anticipated Total Return
7.43%
Average ROIC - WACC
-2.7
Morningstar Moat
Wide
Fair Value Estimates
DCF: $100
Historical: $98
Consensus: $100
Estimated Fair Value
$100.00
Margin of Safety
5.81%
Things haven't been going too well for this real-estate magnate and toy manufacturer. Quarterly revenues held steady, earnings were flat, and comps declined, and that was just in America. In Europe, on a constant-currency basis, operating income dropped by over 3%, and middling growth in Asia was not enough to offset these declines. Longer-term, management is pointing to flattish growth for this year, acknowledging that the secular headwinds that face the company have yet to abate. On the plus side, management also has committed to returning ever-increasing amounts of cash back to shareholders, growing the dividend at a healthy clip and continuing with aggressive share buybacks. The question really becomes, in the face of flat earnings growth, how much longer can they reasonably up the dividend before the payout ratio becomes unsustainable? With shares currently trading close to their fair value estimate, this is a hold for now, with the hopes that the admittedly juicy dividend continues to grow apace.
7) Monsanto: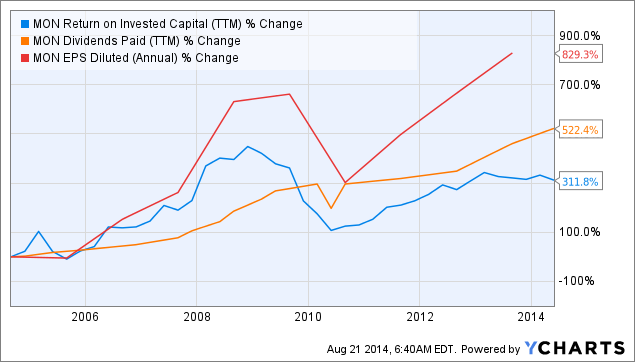 MON Return on Invested Capital ((TTM)) data by YCharts
Quantitative Analysis:
Free Cash Flow Yield
7.5%
Expected Earnings Growth
8.07%
Dividend Yield
1.42%
Anticipated Total Return
9.49%
Average ROIC - WACC
-6.6
Morningstar Moat
Wide
Fair Value Estimates
DCF: $135
Historical: $139
Consensus: $139
Estimated Fair Value
$137.00
Margin of Safety
11.7%
I've also recently written about Monsanto, having just started a position in them a few weeks ago. Shares have come up a little bit since then, so they're less attractive, but still trade with a decent margin of safety. Management recently affirmed EPS to come in at the high range of guidance, and as I've discussed elsewhere, has committed to continuing growing EPS-- through organic growth, and (a bit less happily) leveraged buybacks-- to double within 5 years. The company also announced recently that, after years of pushback from environmental groups, it anticipates USDA approval of its more resilient soybean seeds sometime this year. Given that Monsanto considers the coming years to be the "decade of the soybean," this could hardly have greater import for the company. Unlike Deere, Monsanto's products are slightly more resistant to cyclical factors, though they of course come with their own risks (like inspiring vitriol that borders on religious). Overall, near double-digit total returns and the promise of growing dividends remain enticing, and this is my favorite for new money so far.
8) Procter & Gamble :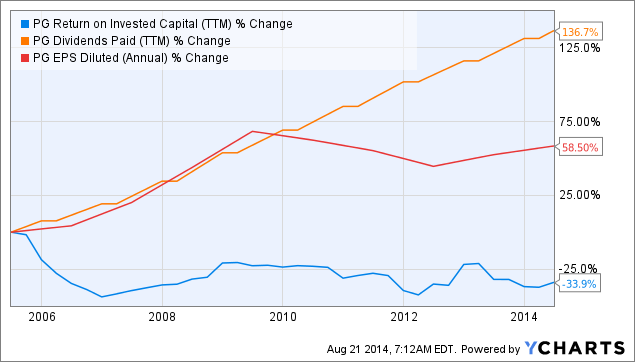 PG Return on Invested Capital ((TTM)) data by YCharts
Free Cash Flow Yield
4.1%
Expected Earnings Growth
5.01%
Dividend Yield
3.10%
Anticipated Total Return
8.11%
Average ROIC - WACC
-3.2
Morningstar Moat
Wide
Fair Value Estimates
DCF: $89
Historical: $88
Consensus: $88
Estimated Fair Value
$88.00
Margin of Safety
5.90%
I think the biggest question about Procter and Gamble is whether or not you think that efforts at a) international growth and b) brand refocus are going to be sufficient to drive additional earnings growth. If the answer is yes, then great. If the answer is no, then the company may be in serious trouble. I view the widening middle class in international markets as almost inevitable (almost, if you will, in the Marxian sense), and with that growth will come the demand for additional consumer products, such as the ones PG produces. And with Procter & Gamble's global reach, economies of scale, and clout with retailers, I believe PG is capable of reaching that goal. The low volatility of the stock make it attractive from a tactical standpoint, and its total return remains compelling, but it no longer trades at a meaningful discount. I'd be willing to commit more money to it if it traded below $79 or so.
Conclusion:
This certainly wasn't an in-depth look at any of these companies, but rather just my way of thinking about where to allocate my next batch of funds for investing. Of my current dividend-paying "core" holdings, Monsanto appears to be trading with a reasonable margin of safety by my estimates. And certainly, I don't think it would be unreasonable to pay a fair price for companies with scale like PG, brands like DE, or earnings growth potential like BLK, but I'd rather buy them on sale, if I could. What this analysis tells me is, as I've said elsewhere, that the market is pretty fairly valued at the moment; bargains are getting harder to find, and future total returns are going to look a bit crimped compared to the recent past. Certainly, feel free to offer your suggestions in the comments-- I'm always open to ideas. Best of luck to all investors.
General Disclaimer: This article provides opinions and information, but does not contain recommendations or personal investment advice to any specific person for any particular purpose. The author is not a professional financial adviser. Do your own research or obtain suitable personal advice. You are responsible for your own investment decisions.
Disclosure: The author is long BAX, BLK, BRK.B, DE, KO, MCD, MON, PG.
The author wrote this article themselves, and it expresses their own opinions. The author is not receiving compensation for it (other than from Seeking Alpha). The author has no business relationship with any company whose stock is mentioned in this article.