About the Company
Provider of innovative wireless industry propagation and optimization solutions, PCTEL (NASDAQ: PCTI), develops software-based radios for wireless networks and develops and distributes a variety of antenna solutions. Its products are found in all types of industry such as, public safety, healthcare, aviation, military, education, warehousing, fleet management, transit, train control, agriculture, and in-building wireless. The Bloomingdale, Illinois company operates two business segments, connected solutions and RF Solutions.
Its connected solutions segment accounts for 71 percent of PCTEL's revenue and its products are composed of antenna and engineered site solutions. Applications of PCTEL's antennae include WiFi, WiMax, GPS, VHF, UHF, and cellular. Its antennas are designed for maximum application efficiency by using arrays that include omnidirectional, flat panel, parabolic, and directional (such as Yagi).
The remaining 29 percent of revenue is derived from PCTEL's RF (radio frequency) solutions division that assists wireless cellular operators to use their infrastructure most effectively. To optimize client wireless communication networks, the company develops and builds scanning receivers, software, and engineers state-of-the-art interference solutions.
Valuation
PCTEL's stock price has had a rough year. One year ago, the stock traded around $8.50 before losing 13.5 percent to trade at $7.40 per share. Year-to-date looks even worse with the company currently trading down 22.5 percent. The whole story for PCTEL is not in the stock price though. In fact, the company has been unfairly beaten down by investors and the ball is teed up for investors to realize the value of this $140 million company.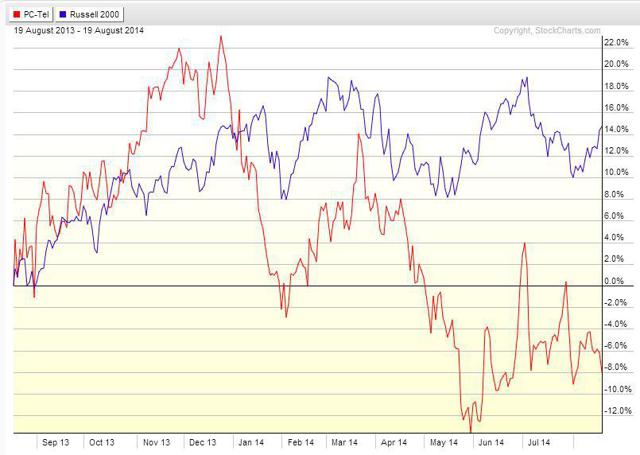 Chart provided by StockCharts.com - PCTI vs. Russell 2000 for 1 year.
Sales for the last 5 years compounded at a respectable rate in excess of six percent. In 2008, sales were $76 million and by 2013, sales grew to $104 million. Large comparable Panasonic's 5 year sales rate has flat-lined. The company has experienced a slight (-0.1 percent) decrease in sales over the same time period.
In terms of profitability, the company has struggled over the last five years. Net income for three of those years, 2009, 2010, and 2012, were negative. Only 2011 and 2013 were positive with gains of $184 thousand and $3.34 million. 2012 was the worst year with a loss of $9.3 million due to an extraordinary item as explained in the company's 10-K. In 2012, the company realized a $12.5 million goodwill impairment related to its acquisition of TelWorx and a $1.1 million impairment on PCTEL Secure's intangible assets.
Looking at the financial ratios, PCTEL looks to be slightly more expensive that its industry peers. Its forward P.E. is about 20x industry average of 0.9, price to book is 1.1 vs industry of 0.5, and price to sales is 1.7 vs. 0.5. Financially, the company is sound with $54 million in cash and short-term receivables and no debt.
The bullish bias come from those who are interested in PCTI. For the last six months, mutual fund managers have been heading for the exits, selling more than eight percent of the company's shares. Meanwhile, hedge fund managers including activist Cannell Capital have been picking up shares rapidly. Cannell has reacquired 258,000 shares since being full divested in 2013. Hedge funds as a group have accumulated nearly 1 million shares in the last six months.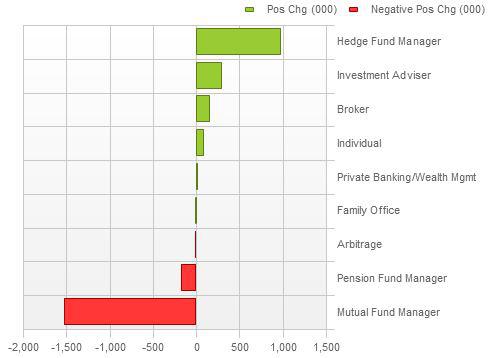 Chart provided by FactSet
It's a Buy
The stock heavily corrected early in the year and bottom out in late May. Financially strong, PCTEL will be a poised to take advantage of opportunity with its large cash position. Over time, it should be able to continue growing its sales and improving its profitability allowing it to earn its higher-than-average valuation. Combining the fundamental situation with activist investor interest and it's a recipe for stock appreciation. PCTEL is a buy.
Disclosure: The author has no positions in any stocks mentioned, and no plans to initiate any positions within the next 72 hours.
The author wrote this article themselves, and it expresses their own opinions. The author is not receiving compensation for it (other than from Seeking Alpha). The author has no business relationship with any company whose stock is mentioned in this article.