A significant slice of global financial services activity originates from within multinational industrial and manufacturing companies such as General Electric (NYSE:GE), Toyota (NYSE:TM), and Caterpillar (NYSE:CAT). Nearly all industrial-manufacturing finance supports grid infrastructures provisioning basic services for entire populations - power, water, telecommunication, agriculture, health-care, transportation, education. How these companies transact the financing portion of their business, and how they adapt to evolving global development environments, therefore greatly matters.
Industrial-manufacturing finance is strategic. Long-term growth of high-risk, capital-intensive industries requires financing options that make it easier to obtain and retain customers. By assisting customers, industrial-manufacturing finance serves an important sales and marketing function.
But financial services does not simply boost product sales. Financial services on its own terms can generate massive profits. While customers benefit from appropriate financing incentives, shareholders may benefit even more to the degree the business financing unit can generate surplus income from this customer base and become, on its own terms, a thriving profit center. When this happens, however, industrial-manufacturing finance may become the marketing tail wagging the product dog.
The industrial and manufacturing development path historically traced by most economically advanced nations has dictated variations of this financial services model for expensive, capital-intensive, grid-infrastructure purchases such as turbines, pipelines, airplanes, and trucks. For those with boots on the ground in less economically prosperous societies, however, the dynamics driving development may not require, and in fact may actively argue against, transactional relationships dependent on a thick layer of industrial-manufacturing finance. The emergence of this new lens on global development from the periphery gives us new options for evaluating the business financing models of companies in the advanced industrial world that provision our basic services.
A Note on Data Sources: Unless otherwise noted, the text and charts that follow source all segment and regional financial data from General Electric Company and General Electric Capital Corporation 10-K Annual Reports filed with the U.S. Securities and Exchange Commission for the years 2000 through 2013.
Driving Growth at General Electric
GE Capital - which as an independent entity would be the 5th-largest commercial banking institution in the nation - has long been the not-so-secret growth driver at General Electric. Dependence of the world's most iconic manufacturing company on finance capital has diminished somewhat since the great financial debacle of 2007, with a return to basics, sharpened focus on serving the parent company's mid-market industrial and manufacturing relationships, and spin-off of the division's consumer credit wing in the recent Synchrony Financial IPO. Nonetheless, the relative impact of GE Capital contributions to General Electric's financial statements remains enormous, and in some ways has increased in the past decade.
Consider the remarkable shift toward the bottom line in General Electric's relative dependence on GE Capital revenues and earnings. In 2000, GE Capital generated more than 50% of parent company revenue and 40% of its earnings. By 2004, as the financially engineered global economy began to expand, the ratio had reversed, such that while 40% of GE revenues derived from GE Capital, 50% of earnings now sourced from the financial wing of the corporation. In 2009, at the bottom of the market crash, GE Capital's revenues supplied only 33% of the GE total, with earnings plummeting to only 12% of total earnings. By 2013, the revenue contribution of GE Capital had stabilized at 30%, which appears now to be the new normal (between 30% and 33% of total GE revenues for 5 consecutive years). More notably, however, earnings flowing from GE Capital rapidly escalated to more than 45% of full company earnings in 2011 and subsequently remained at that level.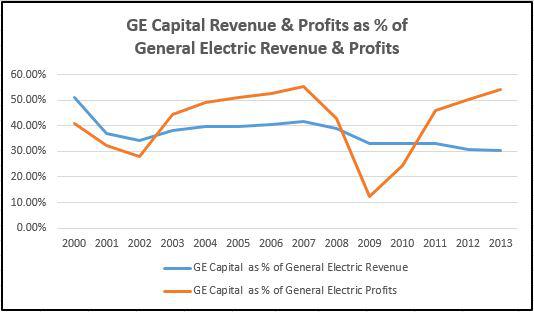 Source: General Electric Company and General Electric Capital Corporation. 10-K Annual Reports, 2000-2013.
As a ratio, GE Capital's relative contributions to the parent company - measured by earnings/revenue - have increased from 0.80 in 2000 to 1.57 in 2013. In other words, GE Capital has become far more important to the bottom line at General Electric than to the GE top line.
At the same time, the imbalance within GE of per-employee measures of revenue and earnings has tilted enormously toward GE Capital, a hint of the company's dependence on the health of its financial unit to support the rest of the company. In 2000, with a full 40% of General Electric's employees, GE Capital delivered per-capita revenue numbers about 55% higher than the remainder of General Electric. However, GE Capital earnings were only 1% higher on a per-capita basis. By 2013, with only 15% of GE's total employee headcount, GE Capital returned 139% more revenues per-capita than the remainder of GE, and an astonishing 560% more earnings per-employee.
For our purposes, the eagerness with which GE recently jettisoned the consumer finance wing of GE Capital doesn't really matter. True, GE Capital's riskier consumer plays have weakened the reliability and quality of GE revenues and earnings. Notably, between 2005 and 2007, GE Capital risk professional staffing increased from 10,000 to 18,000, while risk employees focused on collection activities increased from 2,700 to 11,400! However, the remaining commercial leasing and lending, real estate, energy, and aviation segments within GE Finance will continue to contribute more revenue and earnings to GE than any of its 7 other industrial-manufacturing segments.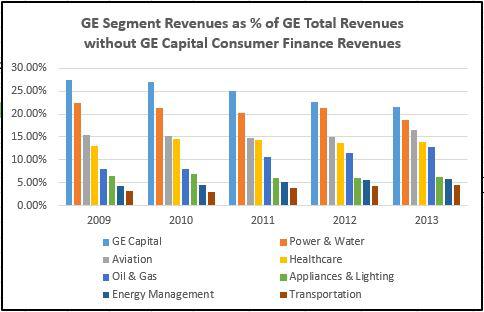 Source: General Electric Company and General Electric Capital Corporation. 10-K Annual Reports, 2009-2013.
Without these financial services contributions, GE would swiftly slip down the ranks of Fortune 500 companies. General Electric continues to depend on its remaining GE Capital segments to reliably generate lofty margins and to create leveraged opportunities for its 7 industrial-manufacturing segments to grow markets and ensure stable cash flows.
The Past is not Prologue
But here's the problem, and it doesn't go away simply by eliminating the Consumer Finance albatross. What has worked so well for General Electric in the United States and Europe for the past 125 years, may not work well going forward in the parts of the world where General Electric is counting on its highest growth rates - Asia, the Americas, the Middle East, and Africa.
General Electric has steadily deepened its footprint in the emerging and frontier markets outside of the United States and Europe and the Pacific Basin, with reported annual revenue in these markets increasing from $23 billion in 2009 to $26 billion in 2013. In this same 5-year time frame, GE Capital's annual revenue derived from these emerging and frontier markets has grown from $3.2 billion to $3.5 billion.
While these numbers may seem just fine, in context they portend a troubled road for General Electric going forward. In particular, emerging/frontier market GE Capital revenues contribute a very low percentage to total GE revenues in these markets - 21% in the non-U.S. Americas and only 6% in the Middle East and Africa. By contrast, in more advanced industrial nations, GE Capital is responsible for between 25% and 40% of General Electric revenue.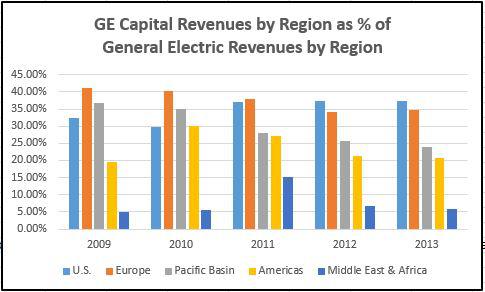 Source: General Electric Company and General Electric Capital Corporation. 10-K Annual Reports, 2009-2013.
Finally, and even more concerning, within the Commercial Leasing and Lending division of GE Capital - which remains critical for the company's interest in serving mid-level industrial-manufacturing businesses around the globe - revenues & profits remain trivial-to-nonexistent in emerging and frontier markets compared to the core industrial markets served by General Electric.

Source: General Electric Capital Corporation. 10-K Annual Reports, 2009-2013.
Let's Look at Africa
The GE Capital Conundrum illustrates the challenges General Electric will face in Africa. With decisions to dramatically pare back its exposure to consumer appliance and consumer finance markets, General Electric's tighter focus on delivering equipment and services into the grid infrastructure supply chain may heighten the company's dependence on GE Capital to help win new customers, open new markets, and support margins in Africa.
Development dynamics in Africa reflect economic transition from the primacy of the extractive industries to the ascendance of an urban economy organized around consumption of goods and services by younger, better-educated black Africans. General Electric may be shifting away from the consumer market for goods and services at the same time Africa is tilting toward this market. General Electric may continue to be thinking about how to siphon money out of Africa to benefit shareholders, when in fact the better question is how to get more money in the hands of Africans to benefit customers.
GE Capital can play an important role in creating a continent of customers, but only if General Electric starts to view GE Capital, not as a profit center, but as a customer service center. When General Electric sees Africa through the eyes of customers, not shareholders, the mission becomes clear. Most customers in Africa do not reliably connect to the grid infrastructures that support GE business lines. The solution to this problem is not necessarily to bring customers to the grid, but instead to bring the "grid" to customers.
One example must suffice. Each day around the world, nearly 1,000 mothers and 3,000 newborn babies die because of complications related to pregnancy and childbirth. General Electric provides medical technology to medical centers in Lagos State, Nigeria guided by the prescriptions of the United Nations Millennium Development Goals to reduce mother-child mortality. Unfortunately, most women giving birth in Nigeria and elsewhere in Africa cannot travel to a hospital and must make do in their own village, often without trained medical care. For this reason, mothers giving birth in Africa are many times (as in 10-60 times) more likely to die than mothers in the United States. With only 15% of the capacity and medical professional staffing needed to provide basic maternity care, appropriate and effective technology for saving mother and infant lives is probably not expensive General Electric medical monitoring technology, but novel drug delivery mechanisms such as the "Pratt Pouch", a ketchup-like packet that can store antiretroviral AIDS medication for up to a year, which mothers can consume in a home-birth environment to avoid transmitting HIV to their infant children.
The Bottom Line
Financial statements from General Electric and GE Capital are not easy to interpret. The geographic buckets used in these statements to organize data are broad, the distribution of nations within these buckets remains uncertain, the labels attached to the buckets can shift from year-to-year, and revenues reported for one year often (and somewhat mysteriously) change when republished in subsequent reports. But the trends - or lack thereof - are clear.
With saturated markets and stagnant growth in the United States and Europe, General Electric needs GE Capital to support its vital efforts to provide capital to new markets in less developed regions of the world - specifically Asia, the Americas, Africa, and the Middle East. Given the realities of foreign direct investment and infrastructure development inflows to these regions (from China, in particular, but from many other nations as well), General Electric will likely not have its way in these markets as it has for so many decades in the United States and Europe. The parent company's dependence on GE Capital may prove to be particularly decisive if Congress does not renew funding for the Export-Import Bank (on which General Electric depends to secure its foreign direct investments, more, perhaps, than any other U.S. multinational not named Boeing). Finally, General Electric needs GE Capital to pad its top and bottom lines until the other industrial-manufacturing divisions can gain a foothold in these new markets.
At the same time, it's not fully clear that these regions need General Electric (and GE financial services). Nor is it obvious that General Electric fully appreciates the general irrelevance in the global periphery of the capital-intensive, grid-utility, industrial-manufacturing path toward economic development traced historically by European nations and the United States. There may be money to be made in the nations of the global economic periphery, but if so, General Electric is not among those companies making this money, and it will not successfully make money until it better understands and serves the needs of customers in these parts of the world.
Disclosure: The author has no positions in any stocks mentioned, and no plans to initiate any positions within the next 72 hours. The author wrote this article themselves, and it expresses their own opinions. The author is not receiving compensation for it (other than from Seeking Alpha). The author has no business relationship with any company whose stock is mentioned in this article.