Given the fact I like to think of myself as a long-term income-driven investor, dividend-related events are always something I tend to keep an eye on. With that said, and in the wake of its latest dividend increase, I wanted to highlight several reasons why I've chosen to stay positive on shares of Evans Bancorp (NYSEMKT:EVBN).
Company Overview
Headquartered in Hamburg, New York, Evans Bancorp, Inc. operates as the financial holding company for Evans Bank, N.A. that provides financial services to consumer, business, and municipal customers in Western New York. It operates in two segments, Banking Activities and Insurance Agency Activities.
The company accepts various deposit products, including checking, savings, NOW accounts, certificates of deposit, and jumbo certificates of deposits. It also offers various loan products residential mortgages, commercial and multi-family mortgages, commercial construction loans, home equity lines of credit and second mortgage loans, commercial and industrial loans, direct automobile loans, recreational vehicle loans, boat loans, aircraft loans, home improvement loans, and personal loans, as well as overdrafts and loan clearing accounts.
A Look At Evans Bancorp's Trend Behavior
On Wednesday, shares of EVBN, which currently possess a market cap of $97.17 million, a forward P/E ratio of 11.02, and a dividend yield of 2.89% ($0.96), settled at a price of $23.47/share. Based on a closing price of $23.47/share, shares of EVBN are trading 0.42% above their 20-day simple moving average, 0.87% above their 50-day simple moving average, and 5.08% below their 200-day simple moving average.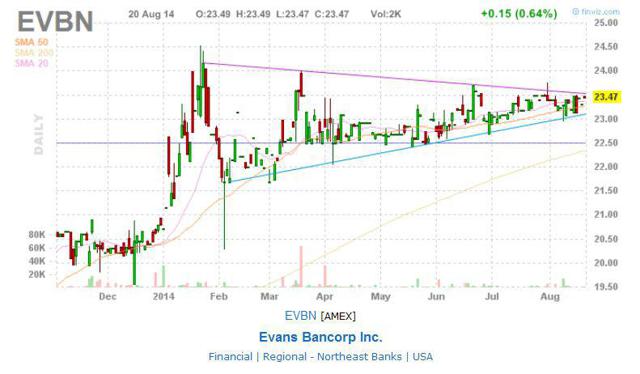 Although these numbers indicate both a short-term and a long-term uptrend for the stock, which generally translates into a slight buying mode for most near-term traders as well as many long-term investors, I strongly believe the company's trend behavior will improve over the next 6-12 months, especially since the company demonstrated a fairly solid second quarter (despite missing EPS estimates by $0.11/share) and just recently announced a 9.7% increase in its semi-annual dividend.
Recent Dividend Behavior
On August 20, Evans Bancorp announced a semi-annual dividend increase of $0.03/share, which brings its upcoming dividend payout to $0.34/share. It should be noted that the increase will be paid on October 7 for shareholders of record as of September 16. This boost represents a 9.7% increase from its prior dividend of $0.31/share, which was paid to investors on April 8.
Based on the company's dividend behavior over the last 24 months, it should come as no surprise that I foresee its next semi-annual dividend hike taking place in September of 2015, and I expect that increase to be at least $0.02/share but no more than $0.04/share.
A Brief Look At Q2 Earnings
On Monday, August 4, Evans Bancorp reported the results of what I believe to be a very solid second quarter. The company's Q2 EPS of $0.37/share missed Wall Street estimates by $0.11/share, while its revenue of $10.74 million demonstrated year-over-year growth of 5.2%.
It should be noted that the company also demonstrated a 15.8% increase in its Q2 net income before a litigation expense of $1.0 million ($2.2 million during Q2 2014 vs. $1.9 million during Q2 2014), a 9.2% increase in total loans ($663.4 million as of Q2 2014 vs. $607.4 million as of Q2 2013), and lastly a 2.1% increase in total deposits ($707.2 million as of Q2 2014 vs. $692.4 million during Q2 2013).
Conclusion
For those of you who may be considering a position in Evans Bancorp, I strongly recommend keeping a close eye on the company's recent dividend behavior, which has demonstrated a solid uptrend over the last two years, and its ability to demonstrate steady increases in both its net income and total loans, as each of these catalysts will play a role in the company's long-term growth.
Disclosure: The author has no positions in any stocks mentioned, and no plans to initiate any positions within the next 72 hours.
The author wrote this article themselves, and it expresses their own opinions. The author is not receiving compensation for it (other than from Seeking Alpha). The author has no business relationship with any company whose stock is mentioned in this article.
Editor's Note: This article covers one or more stocks trading at less than $1 per share and/or with less than a $100 million market cap. Please be aware of the risks associated with these stocks.