I have been lightening up on the real estate investment trusts (REITs) within my income portfolio recently. The sector has been buoyed by the unexpected fall in interest rates so far in 2014 and REITs have been one of the strongest sectors of the market so far this year. The decline in interest rates is unlikely to continue as economic growth accelerates in the back end of the year and as the Federal Reserve finally ends its latest easing program in October. The one exception to this are REITs focused on the lodging space.
The business fundamentals within the lodging space are very strong right now and are likely to remain so for quite some time. New room construction almost came to a complete halt in the years after the financial meltdown and is still slower than the historical norm. Business demand for lodging is strong and even leisure travel is starting to come back. Demand should continue to outpace supply over the near term.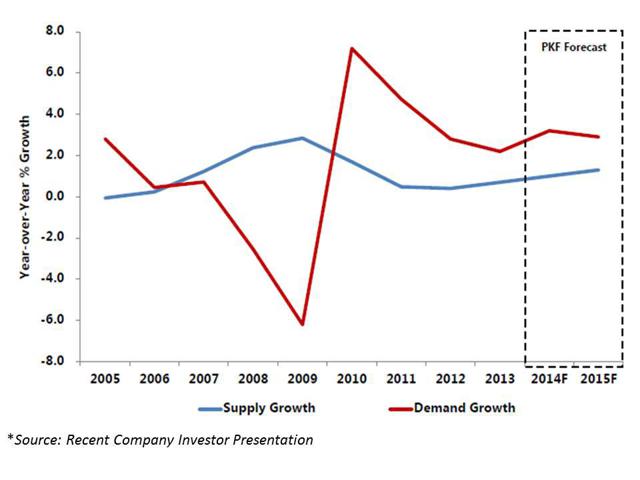 This surge in demand is resulting in annual RevPAR (Revenue per available room) and ADR (Average daily room rate) rates growing in the high single digits and occupancy levels continuing to rise. This has flowed to the bottom line of these entities as these REITs continue to crank out good earnings and dividend growth.
Today I want to talk about a well-run play in this space that has attractive valuations, good long-term prospects and deserves consideration for inclusion into an income portfolio.
Company Overview:
Ashford Hospitality Trust (NYSE:AHT) consists of just over 110 hotels with over 22,000 rooms in the non-prime lodging segment. The company recently spun off its 10 prime hotels with almost 3,500 rooms via an entity called Ashford Hospitality Prime (AHP). This has left Ashford Hospitality Trust better focused on the non-prime lodging segment and gives investors a pure play opportunity in the non-prime space. Just under 50% of their total room count is under the Marriott banner with brands like Courtyard. Almost three quarters of Ashford's rooms are in the Top 25 lodging markets as well.
Undervalued Assets:
As demand continues to not keep pace with supply and interest rates remain historically low, acquisition activity in the lodging space has been robust recently. However, even with the recent increases, entities are willing to pay for hotels; the replacement value of Ashford's properties is still significantly above where purchases are being made. This should mean acquisitions should continue to be made at higher prices and that Ashford's true book value is significantly understated.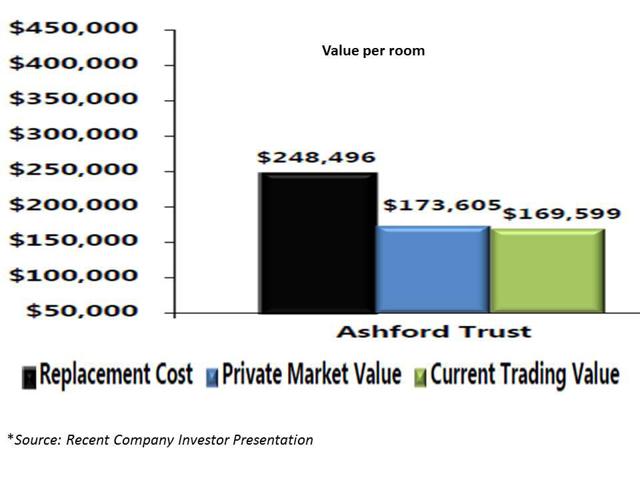 In addition, this constrained supply versus demand should continue to drive significant RevPAR growth over the next few years; a nice tailwind for these lodging plays.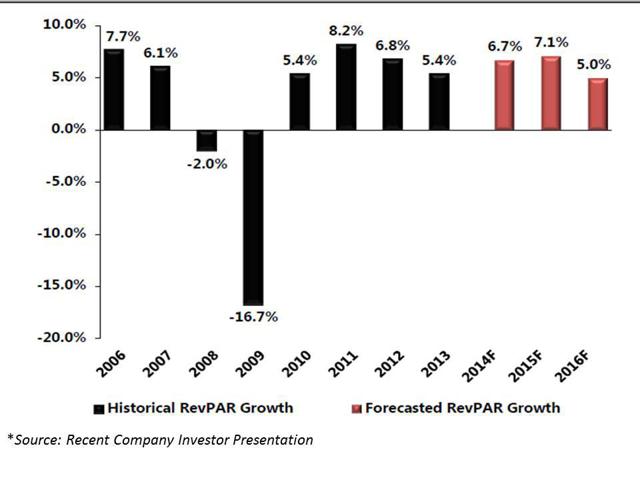 Recent Performance:
In its last reported quarter, Ashford Hospitality Trust reported RevPar increase by over 7% year-over-year as did EBITDA. Occupancy increased an impressive 340bps. AFFO (Adjusted Funds From Operations) did decline but only due to the spin-off of Ashford Hospitality Prime. In addition, management owns a much higher percentage of shares than at other lodging REITs, aligning their interests with shareholders.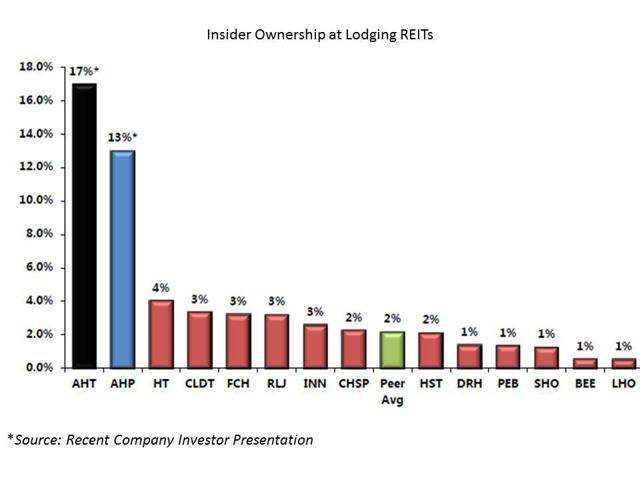 Valuation:
AHT sells for around 9.5 next year's expected AFFO. This is an approximate 25% discount to competitors like FelCor Lodging Trust (NYSE:FCH). In addition, the shares yield 4.4%. This is a payout ratio of under 50% of this year's expected AFFO. AFFO should increase 20% to 25% in 2015 year-over-year, according to the current consensus. I would look for a significant dividend hike next year based on this growth. BUY
Disclosure: The author is long AHT.
The author wrote this article themselves, and it expresses their own opinions. The author is not receiving compensation for it (other than from Seeking Alpha). The author has no business relationship with any company whose stock is mentioned in this article.