At the risk of adding to a deluge of year-end and New Year rehashes and outlooks, I thought it might be interesting to take a slightly different look at 2010 market performance. So let's jump right in and see how the year stacked up in reality versus the time-honored common wisdom of "The Street".
S&P 500 Annual Projections
Before January 1, 2010, analysts at major investment firms were asked to provide year-end forecasts for the S&P, as shown below. One has to applaud the accuracy of the consensus outlook, especially given the economic climate entering the year. It is noteworthy that Goldman's (NYSE:GS) forecast was more or less right on the money, and might prompt even greater interest in their latest 2011 forecast of S&P 1450. (But please note that Goldman's opening forecast was subject to revisions throughout the year, an example being a revision to 1200 issued on 8/9/2010. There were also rumors of a very bearish Goldman note to clients during the Summer, perhaps indicating that even Goldman falls prey to real-time market uncertainties.)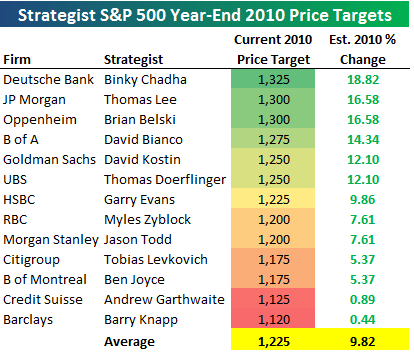 Source: Bespoke Research
"As January Goes So Goes the Year"
The SPX moved down around -3.8% in January 2010, and is up as of now +12.9% for the year. So this 'truism" strikes out quite badly.
"Sell in May and Go Away (and Come Back on St. Leger's Day)"
Possibly the Street's most famous saying, this worked quite well this year, with one smallish caveat. The intraday high on the last trading day of April was 1207.99. The market made a summer low of 1010.91 on July 1, so certainly a lot of pain could have been avoided by 'selling in May'. The caveat has to do with when to reenter? The September 1 open was 1049.72, while the first trading day after St. Leger's Day, September 13, opened at 1113.38. In either case, however, the sell in May and come back in September was a winning strategy.
"September Is the Worst Month for the Market"
You are probably scratching your head a bit, just like I am. Ok, you just told me to sell in May and come back in September, right? But why would I want to do that if September is a lousy month for the market? Which it has been, with the data I have found indicating a historical loss of -1.13% in Septembers for the DOW, not including this year. The best explanation I have found actually ties up a few loose ends, which starts with the "come back on St. Leger's Day (which does not honor a Saint but marks a British horse-racing date on the second Saturday in September) now being revised in recent years to "come back after Halloween". In any event, avoiding September this year would have cost you dearly, with the S&P moving from an open of 1049.72 to a close of 1141.20, up +8.7%.
"October Is the Most Volatile Month of the Year"
This ties in nicely with the notion of "come back after Halloween" as we are all painfully aware of October as the month of major crashes. However, this year the VIX opened October at 22.90, made a high for the month at 23.08 and a low at 18.55, by any standard a very non-volatile month indeed.
"The Mid-Term Presidential Cycle Is Bullish for Stocks Beginning on November 1st"
I addressed the mid-term Presidential election cycle data in a detailed post some time ago prior to the elections. Although one might want to point to other market factors at play, buying in at 1185 SPX on November 1 has certainly paid off so far.
"Get Long the Market for the Santa Claus Rally"
One can quibble about when the "Santa Claus Rally" is supposed to start and end but the basic theory is that with everyone in Holiday "good spirits", cash flowing freely for gift-giving, trading volumes light, and year-end portfolio window-dressing, the market will gradually drift higher into Christmas and often then also thru year-end. Sort of a textbook case in point this year (so far).
"Don't Fight the Fed"
Perhaps the most meaningful and fact-based of all the Street's sayings. With continued "low" interest rates and signals of keeping it that way, not to mention QEII, the FED has dominated the markets this year in many ways. And while I have read many, many pieces on why this was the year to "fade the FED" those individuals have been bloodied badly. (And for those keeping score, Dave M. made a fairly big deal of hedge fund manager David Tepper's bullish call regarding the FED on 9/24/10..the market has basically not looked back since).
"The Market Climbs a Wall of Worry"
Okay, I think we have had plenty to worry about this year: double-dip recession fears, unemployment, housing prices, the national debt, lingering banking concerns, currency wars, international tensions, extension of tax cuts, the latest China outlooks, healthcare legislation, financial regulation, the European debt crisis, the QEII debate, the muni bond market, flash crashes, the mid-terms, oil spills, natural disasters, and a reality show starring "The Hoff"....despite all this nothing has been able to bring the market to its knees. Truly a remarkable performance.
(As a corollary to this point, another Street 'truism' has had numerous pundits saying the equity markets could not truly rally without broad participation from the financial sector, marked improvement in employment numbers and a strong turnaround in the housing market. Although I tend to basically agree with those "experts", I have been wrong and so have they. But I still find it noteworthy that the Select Spider ETF for the financial services sector, XLF, has been stuck in a $13-17 range for the past year and a half and is trading today as I write this at still under $16.)
"Bonds Move Inversely to Equities"
I freely admit that I am far from an expert on the complexities of the bond market and will leave that analysis to Dave and others. However, I can read a chart and see that while the S&P is up from 1116 to 1260 year to date, the ETF "proxy" for the long bond market, the TLT, is up slightly also for the year, opening around 90 and trading now about 92-93. But that really does not tell the whole story, as the equities big summer fade was accompanied by a strong bond rally (+18.5% on TLT) and this Fall's equity rally saw the TLT fall -17.5%. But I would tip my hat, if I wore one, to anyone who could truly and simply explain this year's relationships between the bond, equity, commodity, and currency markets.
"The Trend Is Your Friend/Cut Your Losses Short, Let Profits Run"
This has most certainly and obviously been true since September on the bullish side, almost to the point of disbelief. But let's not forget about the rest of the year. I have seen analysis which points out that 2010 has had more directional 10% moves in either direction, in a quicker timeframe, than any year in recent memory. Throw in THE Flash Crash, and several mini 'flash crashes,' and I think the trend argument could go either way, meaning that some fairly violent reversals have occurred this year, both intraday and on a swing trade basis. The flash crashes certainly have shaken the confidence of many investors and HFT and other trading practices make one question the entire notion of "market efficiency." I still believe one's trading mantra must be "manage risk first and let the profit take care of itself," making sure that any potential losses are well within your overall game plan.
Disclosure: No positions