The Frontier Markets: In most of 2009/2010, global investors continued to pour money into bond mutual funds at the expense of equity mutual funds. High market volatility resulted in investors becoming uncertain about investing in equities. We expect investment flows to change in 2011, with increasing flows into equity mutual funds. Emerging market funds are already seeing asset inflows. The global quest for "non-correlated assets" intensifies to stretch the efficient frontier even higher, which brings into focus the next level of risk and reward – frontier markets.
According to the International Monetary Fund, 17 of the 20 fastest expanding economies fall into the "frontier market" category, which refers to developing markets at a much earlier stage of economic and financial development than the emerging markets. Examples include Qatar, UAE, Saudi Arabia, Uzbekistan, Pakistan, Vietnam, Argentina, Chile, Ghana and Angola. These markets are attractive partly because their lack of access to Western financial markets shielded them from the global credit crisis. Rapid GDP growth translates into higher earnings potential for domestic companies and investors. Frontier markets have been debated as a reliable new non-correlated asset class. Merrill Lynch created an investable index in 2007 to track these so-called frontier markets.
The Frontier Markets Index includes Pakistan, Kuwait, the United Arab Emirates (UAE), Vietnam, Kazakhstan, Cyrpus, and other markets throughout South Asia, East Asia, LATAM, Africa and the Middle East. When formed, Merrill Lynch's Frontier Index tracked the 50 largest companies in 17 frontier markets with market capitalization of only $330 billion, and was heavily weighted in favor of the Middle East (50%) and Asia (23%). Currently, Middle East excluding Saudi Arabia accounts for 58% of the index (Kuwait: 32.23%, Qatar: 12%, UAE: 8.39%, Oman: 3.36%). As for industry groups, since banks are among the biggest companies in any emerging market, they and financial service companies represent about 65% of the index. Oil and gas are the next largest sector, weighing in at 13%. The top three index weights in 2010 are Kuwait (33%), Qatar (12%), and UAE (8.39%).
Case for Portfolio Exposure to the Middle East – The Last Frontier: As global fund managers allocate assets for 2011, there is a case for Middle East to be treated as a separate asset class. Asian countries included in the frontier markets like Vietnam and Indonesia have higher correlations to the China and East Asian markets. Gulf Cooperation Council (GCC) / Middle Eastern markets have heavier reliance on crude oil prices, a different place in economic development, cycle-distinct cultures, the distinct nature of retail investors, index investability and float.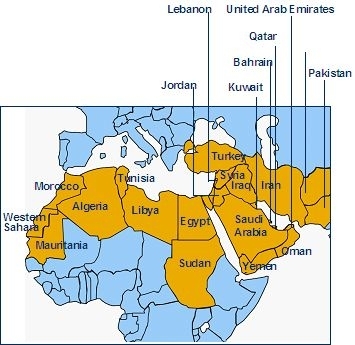 This is even more true, due to the fact that GCC Is the world's largest producer of crude oil. The value of ME crude oil resources is at $18.3 trillion, with a present value of $11.2 trillion, assuming a 3% rate of return (and discount rate) and a price of $50 per barrel; GCC natural gas reserves would be $5.1 trillion, assuming a discount rate of 3% and a price of $5 per million BTU -- which, combined, is higher than U.S. GDP.
The value of oil reserves increases to $37 trillion, assuming a crude oil price at $80 / barrel with a 3% discount rate, and a value of natural gas reserves at $7.8 trillion at a natural gas price of $7 / MMBTU and 3% discount rate -- which is higher than total global private wealth, at $38 trillion. If oil prices were to average $100 per barrel and gas $10, the present value of GCC energy reserves would be $60.7 trillion, equal to the world's total stock market capitalization.
This energy commodity wealth is sufficient to finance the transformation of GCC countries into diversified economies through investments in infrastructure and education. The chart below gives an estimated share of GCC in global oil reserves.
[Click all to enlarge]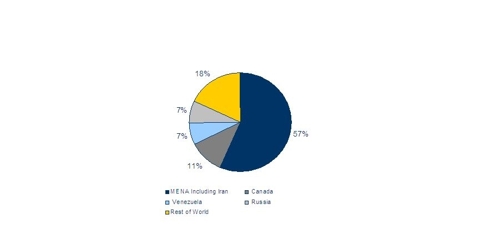 GCC countries are primary contributors to global oil output. Together, the GCC states accounted for 23% of worldwide oil production in 2008, which came down to 17% by the end of 2009 because of OPEC production cuts. GCC oil output rose to 22% of global output in 2010. Undoubtedly, Saudi Arabia is the world's largest oil producer and exporter, contributing an average of nine million barrels per day and accounting for 10% of global production in 2010 -- down from 10.8 million barrels per day to global oil output of 82 million barrels per day in 2008, or 13% of the total and against the current capacity of around 12 million barrels per day. Still, other GCC countries are notable oil producers, with the UAE, Kuwait and Qatar accounting for 3.1%, 3.0% and 1.2% of global production in 2010. The chart below outlines global oil production capacity: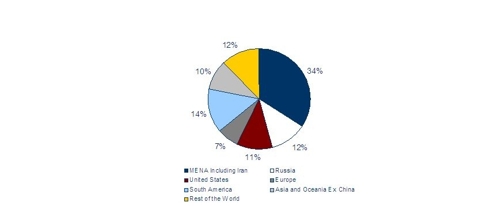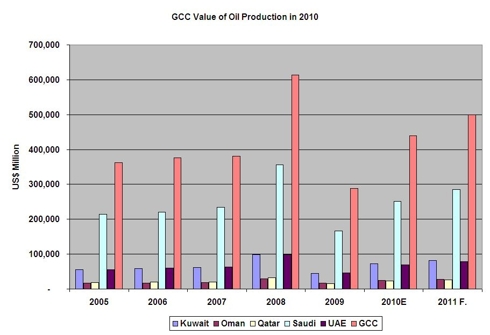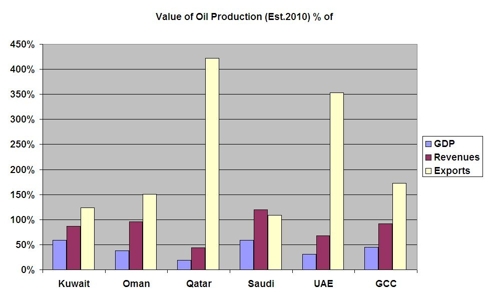 Higher oil and gas prices over the past five years have resulted in large budget and current account surpluses and an enormous increase in the net foreign assets and international reserves of the GCC countries, which were utilized to sail through 2009. With a rise in crude oil price and decrease in risk aversion, more portfolio money will flow in the GCC / Middle East region, which (average 2005-10) accounts for 34% of global crude oil production, 54% of global LNG capacity, and 57% of global proven oil reserves.


Diversification Benefits of Investing in Middle East: The traditional argument of low correlation of GCC markets to emerging markets and world markets makes increasing portfolio sense. (Please refer to charts showing low correlation of MENA as an asset class with other asset classes.) These markets have growth dynamics that often do not correlate with the economies of other developing nations.
This trend is already starting to emerge, as many of these countries are witnessing an expansion of their middle class, which is increasing spending power and consumer consumption. Some observers suggest that some of these markets are undervalued because they are rich in natural resources and commodities while enjoying low labor costs. We are expecting an increase of around 9% nominal GCC GDP in 2011; intensity of the impact will range from high to low from Qatar, Saudi Arabia, Kuwait and Oman, in that order. This increase in growth will be driven by an increase in government revenues and current account balances. An upside may come from the multiplier effect of government investment, spending and domestic consumption. This may help the corporates to improve earnings in 2010 (in line with GDP growth rate).
On the fixed-income side, country and corporate spreads will decline, with further improvement in country fundamentals. A case in point is HSBC (HBC) GCC bond spread, whose value may decline by 90 bps if the crude oil price rises by 30%. A combination of decrease in risk perception, improved fundamentals and investor sentiment will result in asset re-rating. Institutional investors in the GCC, both foreign and homegrown, look poised to play an increasingly greater role in the region's stock markets.
The participation of institutional investors, especially non-bank ones, would steer the region's markets away from being the retail investor-driven ones that they are at present. And the demise of western markets as high- value churners -- coupled with the stability of the GCC economy, the continued presence of high net-worth individuals (HNWI) (estimated wealth $2 trillion) here and big ticket infrastructural projects -- are all expected to provide the needed impetus for foreign institutional investors to focus on the GCC's money and equity markets.

GCC Equity Market Characteristics & Structure:
The GCC is increasingly viewed as an important underexploited opportunity in the global context. For instance, the Saudi Arabian stock exchange is the 25th largest exchange in the world, comparable in size to markets such as Malaysia, Mexico and Turkey, which constitute established and recognized parts of the global investor universe. However, certain features make GCC markets quite distinct:
Market Capitalization & Investability:The Saudi bourse makes up half of the region's overall market capitalization, while the Kuwait, Qatar and UAE markets are roughly comparable in size, each accounting for about 15% of the total. The oldest organized market in the region is the Kuwait Stock Exchange, established in 1962. The Bahrain Stock Exchange only followed in 1987, and the Muscat Securities Market a year later. Although OTC trading in Saudi shares began in 1984, the Capital Market Law – which established a proper regulatory and institutional basis for the market – was adopted only in 2003. Last year, the market was made more accessible through P-notes.The Dubai and Abu Dhabi bourses began operations in 2000. During the past decade, however, the seven regional exchanges have grown rapidly and significantly widened the investable universe facing regional institutions at home.

Debt Markets: Recent years have also seen gradual steps towards more comprehensive and better regulated debt capital markets, although these lag far behind the international norm and still continue to make it difficult for institutions to buy into some of the most attractive GCC growth themes through tradable instruments.

An enduring peculiarity of the GCC capital markets has been the relatively marginal presence of domestic non-bank financial institutions in spite of the existence of large pools of capital in the region, as regulatory changes in recent years have successfully fostered the growth of regional capital markets and the role of institutions in terms of size, numbers and market participation.

The proposals to consolidate the UAE's exchanges will create another large and attractive market for investors interested in the region. Low institutional participation in GCC equity markets was largely due to the uneven development of parts of the financial sector, as well the relatively young age of the regional stock exchanges.

Key segments of the financial sector – in terms of market participants, platforms, and products – are still modest in size, although growing rapidly in some cases.

Important structural investment opportunities, such as the massive infrastructure projects and private equity, can still be difficult for investors to tap.

In spite of rapid growth in investable surpluses, recurrent market volatility highlights the need for professional asset management. Retail investors, especially, tend to favor individual equities with a relatively short-term horizon while relying on cash as their default risk-management vehicle. Also, real estate investments have been hit by volatility.

This highlights the opportunity for investor advice and education but also product innovation, which recent regulatory steps have greatly encouraged.

Collective investment schemes, along with a portfolio investment culture, remain underdeveloped in the region. Nonetheless, the introduction of new Shariah-compliant products especially has increased the appeal of regional mutual funds.

While government pension funds have boosted their presence in regional markets, occupational and voluntary schemes offer potential additional opportunities to foster a long-term investment horizon among retail investors.
Nature of Market Participants:
High Net Worth: The GCC private sector has large concentrations of capital, not least due to the presence of important family offices, some of them of very long standing. The International Monetary Fund (IMF) in 2010 put the collective private wealth in the GCC at $1.5 trillion, but some other estimates are far higher, one of them (by Oliver Wyman) pegging the wealth of the region's HNWIs alone at $2.1 trillion in 2009.

Moreover, this money seems to have fared better during the global crisis than was the case in many other parts of the world. While the number of HNWIs globally declined by 14.9% in 2009, along with a 19.5%

drop in their wealth, the corresponding figures for the

Middle East

were only 5.9% and 16.2%

. Despite the GCC's growing wealth, its capital markets differ from those of the advanced economies due to the hitherto relatively marginal role of institutional investors – large government, pension, insurance and mutual funds.

However, recent indicators suggest that the situation is beginning to change. While institutions accounted for 4.98% of the value traded on the Saudi Stock Exchange in 2009, their share rose to 8.67% during the first nine months of 2010. Companies, often family offices whose role are in many ways analogous to those of institutions, had shares of 3.2% and 5.6%

respectively. The still low capital market participation of institutional investors is especially striking in view of the fact that savings in the region are highly institutionalized, with the existence of a large number of long-standing state pension and social insurance institutions, as well as sovereign wealth funds (SWFs).

By contrast, their private-sector counterparts are far less important in terms of their assets. The modest role of institutional investors in the GCC capital markets has been not entirely due to their size. Most regional institutions with large assets under management have been conservative in their investment strategies, partly as a result of regulatory and human capital constraints, but just as importantly due to limitations of regional investment opportunities. This has led to large-scale off shoring of fund-management and, consequently, of funds. As per the 2010 Oliver Wyman study, 45% of Middle East HNWI assets were placed abroad, compared with a global average of 16%

. Even this looks set to change, however, with more and more GCC investors favoring local assets and a growing number of global asset managers seeking to build a presence in the region.

Asset managers: More funds are expected to be regionally domiciled in the near future, thanks to the arrival of custodial and fund administration services to these centers. Added to the general progress in regulatory standards, the necessary infrastructure for the expansion of regional asset management services is increasingly in place. Also, the behavior of GCC institutions is beginning to change. The region's established state pension schemes, in addition to carrying out a host of parametric and structural reforms, are seeking to boost their investment returns. Among other things, this has led to a greater emphasis on local equities and corporate debt -- a trend that is likely to continue further, given the abundance of long-term investment opportunities in the Gulf, the report added. Moreover, the regional insurance sector is growing rapidly, albeit from a low base.

Insurance focus: GCC insurance companies have tended to be aggressive equity investors, unlike their conservative global peers. Many of them have relied heavily on investment income rather than their core underwriting revenues, leading to some concern over their solvency in the aftermath of the 2008 correction. Partly in response, asset-specific investment restrictions were announced in Saudi Arabia and Oman. The high volatility of equities and real estate in recent years, while contributing to increased risk aversion, has also prompted a search for alternatives as well as for informed advice. Whereas much of the decline in the regional stock trading volumes has been cyclical, it also seems to involve an element of a structural transition toward a more institutionalized market.

Foreign participation: Moreover, the GCC has been progressively attracting greater foreign institutional participation as previously restrictive foreign investment laws have been relaxed. A McKinsey & Co survey in August 2010 said 22 of the top 30 global asset managers were active in the GCC. According to the NCB Capital report, a number of structural drivers are now converging with the potential to transform the role of institutions in the GCC capital markets.
Supportive Demographic Profile: The demographic profile of GCC region is the most attractive in the world.
The demographic profile of most of Middle Eastern countries is skewed towards a younger population. There is a lot of stress on improving the quality of this growing population with investment in educating the younger population, as the region has a large capacity to invest in capital equipment and infrastructure. With a population growth, labor participation and capital investment higher than both the global and the emerging markets average, the region is set to post a higher GDP growth rate, compared to most other regions of the world. This demographic profile is set to increase governmental spending, followed by domestic consumption – which bodes well for investment in key sectors like retail, housing, banks and utilities (electric and telecommunication).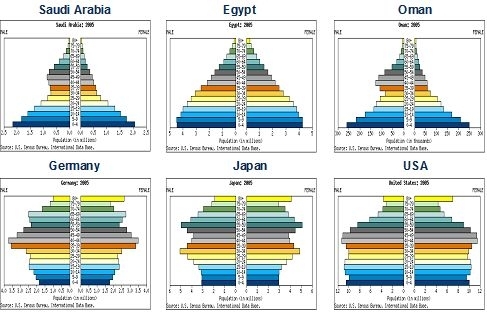 GDP Growth Robust: GCC member countries are expected to post robust growth over the next decade, both because of population / participation and CAPEX. By 2020, the GCC population is forecast to reach 53.5 million, a 30% increase over 2000. Over the same period, the region's real GDP is expected to grow by 56%. Nominal GDP, which was $341.6 billion in 2000, is forecast to soar to more than $1.2 trillion in 2010 and $2 trillion in 2020, per the Economist Intelligence Unit (EIU)). This makes GCC the eighth-largest economy in the world in 2010, and the fifth-largest by 2020.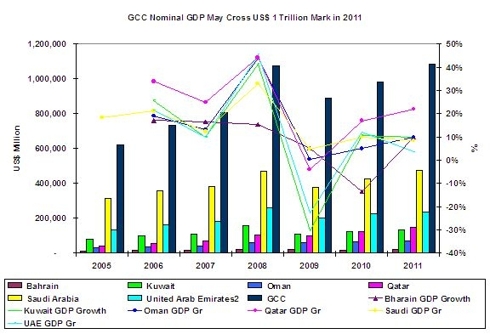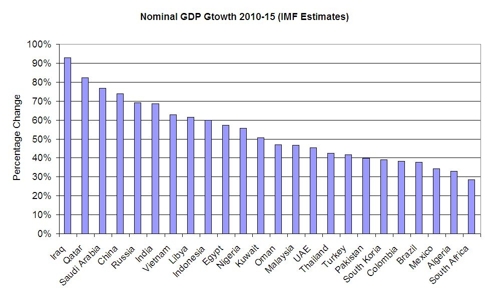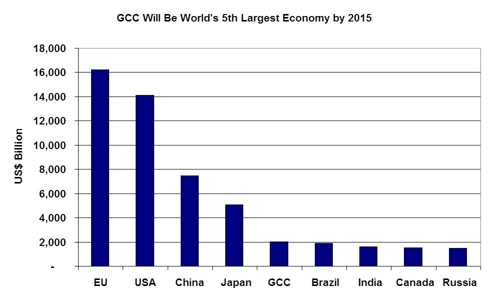 Saudi Arabia accounts for around 40% of this GDP at around $430 billion, with UAE, Kuwait and Qatar following. Qatar's GDP growth is expected to be higher than the other countries in the region because of CAPEX spending on development of LNG & Soccer 2020 infrastructure (estimated at a 17% nominal growth rate in 2010 and around 18% in 2011).
A major contribution to the estimated 2010 / 11 GCC GDP growth will be from net exports of hydrocarbons (a double whammy of prices and volumes), where real growth has been estimated at 3.9%, per the IMF October 2010 Outlook. Nominal GDP will be driven by widening current account balances increasing as a result of the effect of crude oil prices at $81 / barrel (as against the IMF estimate of $70 / barrel), without changing government spending and investment and domestic consumption assumption. An acceleration of non-oil GDP will be led by access to the capital as government spending remains expansionary, along with higher oil production levels.
Domestic demand in most GCC countries is low compared to countries like the U.S. Service sector growth will be a kicker to GDP growth, and be mainly powered by manufacturing.
Additional upside may come from an increase in government spending and investment and domestic consumption, which may be a result of increased infrastructure-related activity which will benefit the banks, real estate and construction in these countries. Correlating the nominal GDP growth to the corporate earnings growth / performance of stock indices, the GCC stock markets have underperformed in the years of negative GDP growth and outperformed the GDP growth in the years of positive GDP growth. The average Saudi stock market relative performance in the years of negative GDP growth is -56% (from 1992-2009) and outperformance of the GDP growth in the years of positive GDP growth is 31%. This can be explained by the impact of crude oil prices on the GDP growth rate, corporate earnings and investor sentiment.
Value of Oil Production / Fiscal Accounts / Government Revenues:
GCC countries have a very low level of taxes compared to the global average. The government revenues of GCC countries are dependent on crude oil prices and levels of oil production. Most of the GCC countries registered a fall in government revenues in 2009, resulting in fiscal deficits in some countries like UAE. GCC revenues rebounded strongly in 2010, despite the fact that the budgets of most of GCC countries are based on a low crude oil price.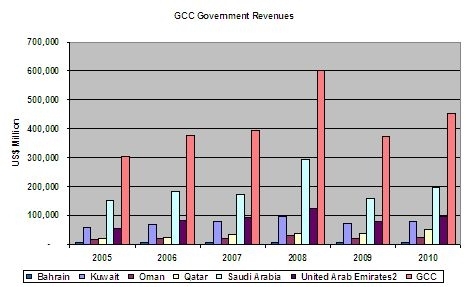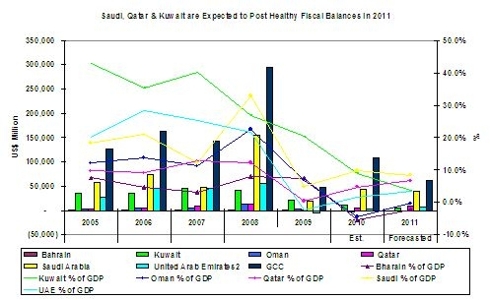 The fiscal break-even price of crude oil for Qatar is around $32 /barrel; for Saudi Arabia, $44 / barrel; Kuwait, $47 / barrel; and UAE, $63 / barrel. This is despite massive government spending on infrastructure in Saudi Arabia, Qatar & Kuwait. With any increase in crude oil production, the fiscal break-even price of crude oil may decline even further. IMF's 2010 Middle East & Central Asia Outlook projects that the 2010 GCC fiscal balance will be 10% of GDP, based on average crude oil price of US $ 70 / barrel.
For 2010 crude oil price at $81 / barrel, fiscal balance to GDP may rise to 17.2%. Kuwait may have fiscal balance of 31% of GDP; Saudi Arabia, with a projected 15% increase in infrastructure spending, may post a surplus of 16% of GDP; UAE, 17% of GDP; and Oman, 15% of GDP. The net effect of using consensus oil projections on government revenue for GCC is a net addition of $86 billion to the governments' revenues, with $49 billion for Saudi and $13 billion for Kuwait and UAE, with obvious impact on fiscal balances of the region.
GCC countries are expected to earn $454 billion in 2010, up from $371 million in 2009 (+22% YOY and -25% compared to 2008, per IMF estimates. If crude oil price averages $86 / barrel in 2011, the revenue may rise to $540 billion, 19% higher compared to IMF estimates (45% YoY and -10% compared to 2008). Saudi Arabia will have a 45% share of this crude oil windfall (or an estimated $245 million), followed by UAE (20%), Kuwait (17%) and Qatar (10%). This will increase the spending capacity of GCC countries, the majority of whom will maintain a highly expansionary fiscal position; actual expenditures may overshoot budgetary expenditures.
Accelerating Infrastructure Spending: Sound GCC macro fundamentals are based on huge oil-dominated earnings and fiscal surpluses. The surpluses which have amassed are being utilized to diversify the economy, and for that reason have led to massive projects. Most of these projects are focused on infrastructure and tourism, through there is also a concerted push to expand the manufacturing base along with basic infrastructure such as housing, roads and ports.
Saudi Arabia, Qatar and Oman have been increasing spending in their 2011 budgets for sustained economic growth levels, and creating job opportunities for nationals. Saudi's budget for fiscal year 2011 stands at $154 billion, up 7% compared to the original figure for 2010. Concurrently, projected revenues amount to $144 billion, up 15% compared to planned income for 2010. In reality, the government budget is uniquely significant in Saudi Arabia, as it accounts for more than one third of the country's GDP. The spending figure of $154 billion represents a hefty 36% of the country's $427 billion GDP.
Sheik Hamad bin Jasem Bin Jabor Al Thani, Qatar's prime minister and foreign affairs minister, said earlier this month that Qatar's 2010-2011 budget will be the largest in the history of the country. The government's goal behind the budget is to stimulate and complete existing infrastructure projects; huge sums will be allocated and spent on infrastructure, while huge new projects will also be announced. The budget, which is currently under study, will be based on an oil price ranging between $50-55 a barrel.
The United Arab Emirates' 2011 budget is $11.2 billion, with revenues available 38.05 billion dirhams standing at $10.4 billion because of a drop in Abu Dhabi's contribution to balance its own budget.
Oman set its 2011 budget on the record-high oil price of $58 / barrel, and highest levels of production at of 900,000 bpd. It is estimated that oil revenue will be at $12.9 billion, nearly 68% of the total revenue of around $18.9 billion, while gas earnings were projected at $2.39 billion. Non-hydrocarbon income was forecast at nearly $3.65 billion, around 19% of the total budgeted revenue for 2011. Spending is budgeted at $21.1 billion, an increase of about $1.8 billion over the 2010 budget. This left a deficit of $2.2 billion, which analysts expect to be sharply cut or wiped out at the end of the year on the grounds that crude prices are expected to average higher than the budgeted level through 2011.
Kuwait plans to spend over $55 billion each in 2010 and 2011. Next year's budget will be based on an oil price of $43 a barrel, compared with $35 in 2009 / 2010. In total, $1.2 trillion of the announced projects have ongoing status (MEEDS). Most of these projects relate to construction, industry, oil and gas, petrochemicals, power and water, etc.
Saudi Arabia leads in terms of ongoing projects announced in their country at $389 billion, followed by UAE at $253 billion and Qatar at $119 billion. Qatar plans to announce a massive increase in projects with the announcement of its 2011 budget, which should be positive for the GCC stock markets.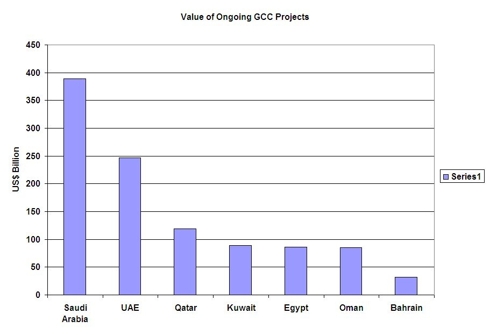 Monetary Base Expansion: Fund flows is an important indicator of MENA equity indices price movement, with a predictive power of around 34% for Dubai, 27% for Egypt, 23% for Qatar, 21% for Saudi Arabia and 20% for Abu Dhabi. M2 increase, resulting from trade flows, capital flows and financial flows, may result in a strong balance of payment.
There is an increasing impetus for circulating oil wealth back into GCC economies (relative to revenue size), which resulted in smaller fiscal balances from 2004-2009. UAE's non-oil investment was driven by debt which grew to $91 billion in 2009 from $19 billion in 2004. Kuwait and Saudi Arabia lagged in cycling the crude oil earnings back to their economies to the same extent over the last five years.
However, the recently announced $140 billion package in Kuwait and Saudi Arabia's financial expansion may help kick-start the non-oil parts of those economies. Kuwait's 2011 budget includes spending on projects in the government's development plan, which runs until 2014 and aims to decrease the country's dependence on oil. The Saudi and Kuwaiti plans also include investment in raising oil and natural gas production. The Kuwaiti stimulus package should attract more investments into the country and boost participation of the private sector in government projects, which may raise M2 growth beyond IMF projections and statistical figures.
Also, since these government investment and consumption plans may be fed through infrastructure projects, the result may be increases in money supply. Qatar's value of oil production for 2010 is estimated at $24 billion and $33 billion in 2011, with value of LNG / gas production at $16 billion. Further, capital inflows may help swell M2 in countries like Qatar, Saudi Arabia and Kuwait.
The statistical relationship between M2 increases and crude oil price increases is significant for GCC countries. If crude oil prices rise on average by 8% YOY in 2011 (from $81 to $86 per barrel), we may see an M2 growth of 9% in UAE, 15% in Qatar and 13% in Saudi Arabia. IMF projections for 2011 M2 growth are more benign, at 15% for Qatar and only 6% for UAE. This may be accompanied by healthy credit expansion, which may result in an increase in velocity of money.
It is expected that the monetary base of most GCC countries -- especially Qatar, Saudi Arabia and Kuwait -- will expand at a much higher rate compared to most other fast-developing countries, because of fast inflow of FDI and portfolio money inflow. Nominal interest rates are expected to remain flat, and real interest rates are expected to remain negative. With higher long-term growth expansion expectations, this may result in higher priced multiples for equities and hard assets
Healthy Current Account Balances: GCC current account balances will widen further in 2011 after a good year in 2010. Assuming a 2010 average crude oil price at $81 / barrel, GCCCA balance may end the year at $191 billion, $42 billion higher than IMF estimates of $148 billion. A crude oil price of $86 / barrel in 2011, with a 6% increase in the level of production, may result in the addition of another $59 billion to GCC exports, resulting in a CA balance of 17% of GDP (up from the 14% projected by IMF). However, even that pales in comparison to the astounding value of hydrocarbon wealth still in the ground. The implications of this are enormous, both in terms of long-term policymaking and in terms of the behavior of market.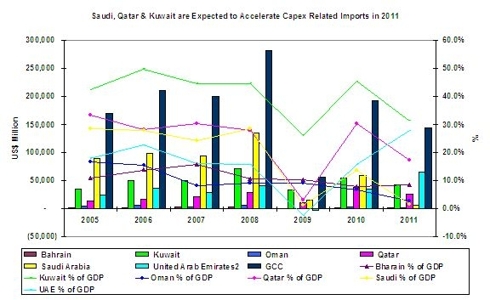 This will help reduce the external debt to CA balance and external debt to GDP ratios and decrease in risk, and may translate to a decline of CDS with positive implications on fund flow as well as investments and asset classes reflation.
Booming FOREX Reserves: Reported GCC Forex reserves at the end of 2009 are estimated to be at $557 billion, increasing to $640 billion in 2010. If crude oil price averages $86 / barrel in 2011, GCC Forex reserves may increase to $726 billion in 2011. However, GCC countries (except Saudi Arabia) do not report the actual value of oil production, as a substantial part of this windfall is managed by sovereign wealth funds.
Summing current account balances for the last 10 years for GCC countries and assigned 0% returns to equity investments to arrive at sovereign wealth fund money (SPX return of -9.8% from 1999-2009). According to these calculations, total gross reserves inclusive of sovereign wealth fund and central banks should total $1.28 trillion -- second only to China. Off these Forex reserves, Saudi have the largest Forex reserves / investments, estimated at $635 billion, followed by Kuwait (an estimated $298 billion), UAE (estimated $ 189 billion) and Qatar (estimated $118 billion).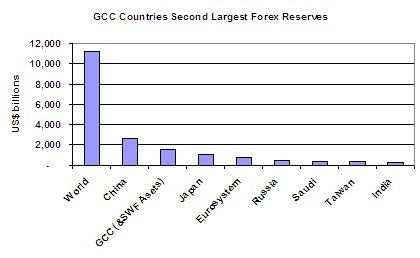 Sovereign Rating of GCC Economies: Of the six GCC sovereigns, Standard and Poor's Ratings Services has ratings on all but the United Arab Emirates. However, within the UAE, it rates Abu Dhabi as the most prominent of the seven emirates in terms of size and wealth. With a foreign currency rating of "AA/Stable/A-1+", Abu Dhabi is the highest rated of all GCC sovereigns, followed by Saudi Arabia at AA-/Stable/A-1+.
The increased robustness of GCC countries' balance sheet positions has led to a series of ratings upgrades in the past few years. Despite these positive ratings improvements, however, there are still a number of challenges facing GCC countries. Broadly, these challenges fall under the categories of diversification, inflation, and geopolitical risk. In isolation, the effect of such challenges on credit ratings is currently dwarfed by the sheer balance sheet strength of these countries. Taken together, however, they are a potential constraint on further positive ratings actions on these sovereigns. High oil prices clearly have a positive effect on the economic and fiscal results of the GCC states. Indeed, the current oil boom has strengthened all the key macroeconomic indicators in all six countries. The continuing support from the oil-led petrodollars will continue to remain in the limelight and would improve the rating of the country going forward through its diversification strategies.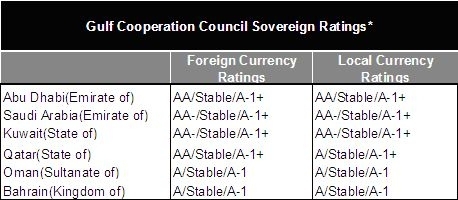 Lower Leverage and Decline in Country Risk
Although reported debt for GCC is not that high, gross external debt for some of the countries is substantial ($295 billion), with Qatar (59% of GDP), UAE (28% of GDP), Saudi Arabia (16% of GDP), and Oman (14% of GDP) the least-levered. In comparison to the developed world, external debt per capita is much lower relative to the GDP per capita. The higher external debt per capita ratios for Qatar and UAE are balanced by their higher GDP per capita levels, which makes these countries less risky compared to the developed world and most of the emerging markets.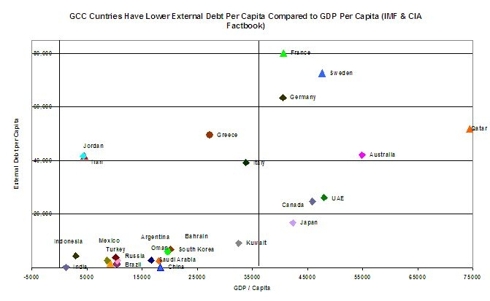 Most of the GCC countries have pegged currencies and the base interest rates are expected to stay low. Changes in the country risks will be represented by changes in CDS spreads. Not withstanding the comparison to the pre-crisis level, the crude oil price has an effect on the perceived regional risk proxied by the bond spread (as per the HSBC GCC conventional bond spread index). GCC bond spread should decline by around 6% if crude oil prices increase by 10%.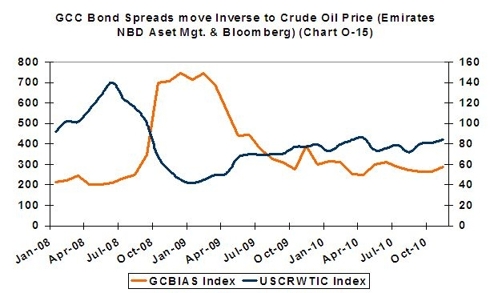 GCC CDS spreads are affected by long / short term capacity to pay from operating sources, which is dependent on crude oil and natural gas prices. This increase is asymmetric for different GCC countries, and is possibly a function of perceived crude oil wealth in oil reserves. CDS for Dubai, Abu Dhabi, and Oman have slid down to a level of medium-term limit. Further decline in CDS spreads is not expected until mid-2011.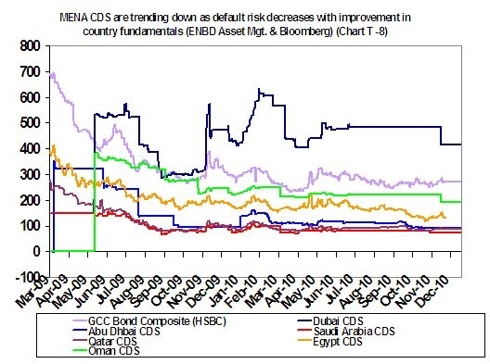 The decrease in risk should result in an increase in price multiples of earnings because of a decline in discount rates. The rise in crude oil prices and increase in volumes and value of oil production may result in a decline of CDS spreads in Saudi Arabia, Abu Dhabi and Qatar (fiscal BE crude oil price for Saudi Arabia, Qatar and Abu Dhabi are estimated at $46 / barrel, $40 / barrel and $94 / barrel, respectively).
CDS for Saudi and Qatar are relatively higher and are expected to trend low. Qatar CDS will steadily decline to YE target of 59 bps and can even dip below that level. For Qatar, natural gas prices and LNG pick-up rate may be the key risk factors. However, if Qatar tries to tap the debt markets, it may create a crowding effect for other issuers. Saudi CDS will decline with an increase in the value of oil production and decline in debt percentage of GDP (2011 YE targets: Dubai: 365; Abu Dhabi: 65; Saudi: 57; Qatar: 59).
Although Egyptian inflation is a concern, higher remittances, canal revenues and others may help decrease fiscal and current account deficits. Egypt's CDS may trend down to 175 ranges after a reduction of political risk, although inflation risk lingers. Re-rating upside from a decline in CDS will be highest for Qatar, Dubai and Egypt. Qatar, Saudi Arabia, Abu Dhabi and Egypt may see a higher decline in sovereign discount rates in 2011. Corporate spreads in Qatar, Egypt, Saudi Arabia and Abu Dhabi are expected to decline, which may result in lower quality and longer spread duration out-performance.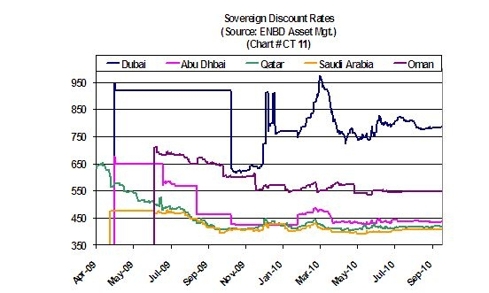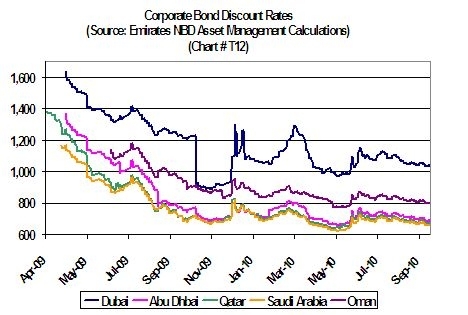 On the equity risk side, 90 days' equity volatility of MENA equity indices, which is one of the main drivers of equity risk premiums, has declined (in certain cases to a five-year minimum). Minimal upside is expected from any further decline in 90 days' volatility. Further equity volatility is even lower, compared to emerging market and world equity. Saudi, Qatar and Egypt's equity volatility may drop lower than emerging markets and the MSCI world. Equity risk premiums will increase for Dubai, Abu Dhabi and Oman because of an expected rise in equity volatility.
Negative Real Interest Rates:
GCC countries having a dollar peg have low interest rates. Inflation is muted in the countries which have overcapacity, but has started raising its head in countries like Egypt, Saudi Arabia and Qatar in 2011. Qatar's housing oversupply may be wiped out by 2012, which implies land / house price and rent inflation and is positive for banks like the Commercial Bank of Qatar and QNB in the first phase and retailers like DHK by the end of 2011. Similar kind of exposure makes companies like Qatar Electricity & Water an attractive choice. Of these bets, Doha Bank has lagged the rest of the banks but may play catch-up in H2 2011. For UAE and Oman, inflation will remain muted for most of 2011.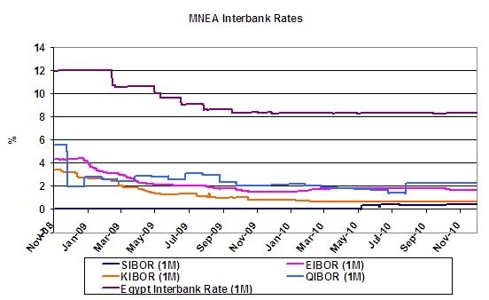 Tax Regime: GCC nations are blessed with abundant reserves of oil and gas and have been less reliant on taxes as a source of government funding; therefore these countries have been slower to introduce aggressive taxing regimes. The GCC has one of the most relaxed tax regimes in the world, which makes it an attractive investment destination.

System Liquidity and Foreign Fund Flow Credit Growth: The current system credit level in GCC (75%) is still far below that of developed countries (chart below).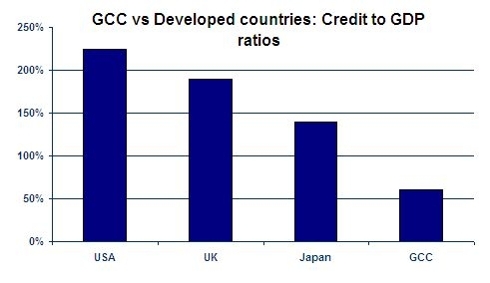 An increase in government spending in Qatar in 2010 will help the banking sector on both the loans and deposits side, which may help Qatari banks in top line and net interest margins, as well as fee income. Also, as mentioned in the IMF's October Middle East Outlook, Qatari banks have abundant liquidity, high capital adequacy ratio, and good coverage ratios.
It will be interesting to watch Kuwait's $140 billion infrastructure unfold, which should increase M2 / deposits and should result in loan growth. Approval of the Saudi mortgage law should help kick-start the liens' growth and improvement in the construction sector. UAE has the highest system credit to GDP ratio, of 124% in 2008; Kuwait and Saudi Arabia were the lowest at around 43-44%, with Qatar at 56%, making under-penetrated countries more attractive in credit growth and asset re-flation.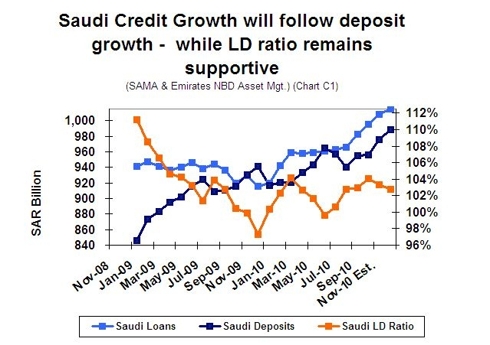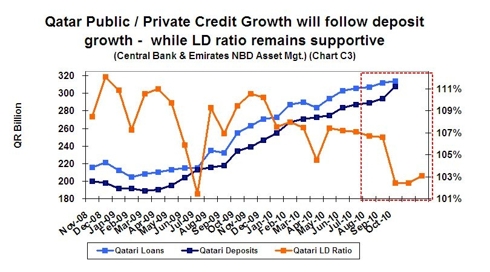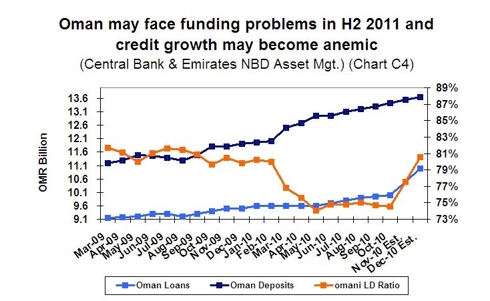 The Performance of GCC Equity Markets during 2010, Market Capitalization & Liquidity: Arab stock markets are drawing their curtains for 2010 with a massive gain of nearly $100 billion, with the bulk of the increase coming from Saudi Arabia, Qatar and Kuwait. But turnover, the value of traded shares, plunged by nearly $224 billion as dealers remained wary about economic conditions and foreign investors largely reduced their activities in the region in the wake of the 2008 global fiscal turmoil.
From around $887.08 billion at the end of 2009, the combined market capitalization of the region's stock exchanges surged to nearly $986.6 billion towards the end of 2010, an increase of nearly $100 billion. Growth in 2010 extended a capital rise over the past two years, but the level remained far below the peak capital of $1.300 trillion at the end of 2007. It dipped to nearly $805 billion at the end of 2008 before rebounding to around $887 billion at the end of 2009.
A breakdown showed Saudi Arabia, Qatar and Kuwait were the star performers through 2010, as they accounted for the bulk of the capital increase. Saudi Arabia's Tadawul, by far the largest and busiest stock market in the Middle East, shot up to nearly $353 billion at the end of 2010 from $318.7 billion at the end of 2009 -- an increase of around $34.3 billion. Qatar's market capitalization soared by $37 billion to $124.9 billion from $87.9 billion, while Kuwait's bourse jumped by about $20 billion to nearly $124 billion from around $104.2 billion in the same period.
Outside the Gulf, Morocco's exchange emerged as a key gainer, with its capital swelling by around $8 billion to $68.8 billion. In the UAE, Dubai and Abu Dhabi bourses shrank by around $4 billion and $2 billion to reach $54.5 billion and $70.8 billion, respectively, having seesawed up and down through 2010. Oman and Bahrain emerged as Gulf gainers, rising by nearly $3 billion each to $21.7 billion and $19.8 billion, respectively. Egypt's bourse, the largest outside the Gulf, dipped by about $2 billion to end the year at nearly $84 billion.
The markets of Jordan and Lebanon slipped by around $900 million and $200 million to $31 billion and $18 billion, respectively. The smaller Arab markets of Tunisia and Palestine grew by about $2.5 billion and $200 million to nearly $11.8 billion and $3.4 billion.
In terms of trading, turnover in the region's markets plummeted by around $224 billion through 2010 and the bulk of the decline was in the Saudi bourse, which normally accounts for nearly two thirds of the total value of Arab traded shares. This is because of lower foreign participation and psychological fears by local investors amidst uncertain economic conditions. From around $567 billion in 2009, the value of shares traded in the Arab markets slumped to about $343 billion in 2010. It was as high as $891 billion in 2008, nearly $1.009 trillion in 2007 and as high as $1.59 trillion in 2006.
Trading in Saudi Arabia plunged to nearly $189 billion this year from $322 billion in 2009, while turnover in Dubai tumbled to $18 billion from $46 billion and in Abu Dhabi to nearly $9 billion from about $18 billion. The value in Kuwait sank to nearly $42 billion from $74 billion, while that in Qatar declined to $17 billion from $24 billion. In Bahrain and Oman, it dipped to $0.22 billion from $0.4 billion and to $3.2 billion from $5.3 billion.
Buoyed by elevated oil prices and rising corporate earnings, stock markets in the GCC are moving towards another strong growth year in 2011. The region looks attractive also because of downturn in global capital markets because of the multi-billion dollar losses being assessed by the giant investment firms and many global funds.
Investing Vehicles: ETFS and Funds: Because of liquidity and capitalization issues, the choice of indexed investing vehicles could be limited and less liquid. For someone planning to invest in a fund that labels itself a GCC / Middle East markets fund, understand what it owns (both the stocks and the countries). For instance, several of the funds available are concentrated amongst several countries with a few stock holdings each. This concentration risk can exaggerate the volatility of the funds. Besides, active management is more likely to yield alpha in GCC than anywhere else in the world.
ETF Choices: Investors looking to add exposure to these markets should consider the following exchange-traded funds: AFK, which concentrates on Africa with a significant portion of its assets in South Africa.; [[FRN]]; PMNA, which is heavily concentrated in the Middle East, with nearly 60% of its assets allocated to Egypt, the United Arab Emirates and Kuwait; and [[GULF]], which is focused on oil-rich nations like Qatar, the United Arab Emirates and Kuwait.
Managed Funds: As GCC / MENA markets are information-inefficient, the yields for active management for these markets are much higher compared to emerging and developed markets. Major active managed funds in the regions are long only and prominent asset managers are Emirates NBD Asset Management, ING, Falcons, Franklin, Jadwa, Al Mal and HSBC. Please find below a chart of t funds performance.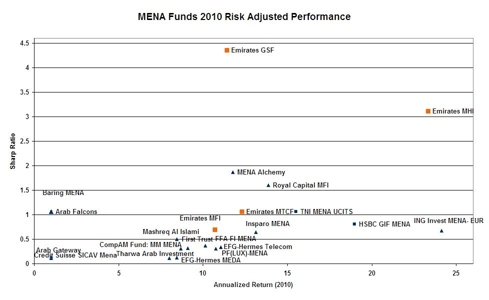 The funds which are based in the region have superior information ratios compared to funds with GCC / MENA focus but based outside the region. MENA Top Companies Fund, MENA High Income Fund & MENA Fixed Income Funds are the ones with the highest information ratios.

Investment Risks for GCC markets:
There are many risks associated with investing in frontier markets.

Political instability in emerging countries presents many risks to an investment.

In these smaller frontier markets, liquidity is also a risk. The simple fact is that for periods of time, there may be no market for a stock in a frontier market company.

The regulatory scheme within these countries varies and often provides far less oversight than in more developed countries.

GCC markets are smaller and less liquid than the more advanced emerging markets. If you invest in GCC markets via a closed-end fund or ETF that shares this illiquidity, then you may be forced to sell at a lower price due to lack of demand for the shares.
Disclosure: I have no positions in any stocks mentioned, and no plans to initiate any positions within the next 72 hours.