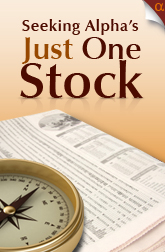 Several times a week, Seeking Alpha's Jason Aycock asks money managers about their single highest-conviction position - what they would own (or short) if they could choose just one stock or ETF.
---
Eric Linser, CFA, is the chief investment officer of Green Valley Wealth Advisors, a San Francisco-based fee-only RIA firm. They offer global investment opportunities and wealth management directly to individuals, consulting to businesses, and managed account solutions to other investment providers.
If you could only hold one stock position in your portfolio, what would it be?
It would be a long position in Sociedad Quimica y Minera (NYSE:SQM) - the Chemical and Mining Co. of Chile; let's call them SQM. They are a Chilean producer of fertilizers/plant nutrients (potash) and industrial chemicals, including iodine and the kicker: lithium. They're the world's largest lithium producer; the metal is becoming the de facto battery technology for electric cars, let alone electronic gadgets.
SQM has two key assets: First is its Caliche ore, a mineral that contains high nitrate and iodine concentrations found shallowly under the northern Chilean desert's surface. It's the biggest natural iodine and nitrate deposit in the world. Secondly, it's their Salar brines leached from the Andes Mountains. The brines contain the greatest lithium and potassium concentrations ever known, in addition to considerable sulphate and boron concentrations. Synergies of these two assets create potassium nitrate - which, depending on your end use, creates fertilizer, a food additive, rocket propellants, fireworks, and gunpowder. To me, enough fuel to drive the stock higher over the course of the coming year.
The company has done quite well, performance-wise, over the past several years, and is currently around $56 a share, up over 45% for the year. Sales growth has been 16%-plus and earnings have grown 35% per annum for the past five years. For 2010, sales should come in north of $1.7 billion and earnings should come in at $1.50/share and next year, I'm looking at over $2 billion in sales and earnings of $2.10/share.
ROE for this year and next should be around 23% with net margin of 20%-plus. They also pay a nice dividend, currently yielding around 1.4%. Overall, quite impressive fundamentals and supportive of their fairly high P/E multiple.
And that trailing P/E is up over 43; how does the valuation of some industry counterparts like Agrium (NYSE:AGU) and Potash (NYSE:POT), whose P/Es are in the 20s, compare to that of SQM, and why aren't they "cheaper" in comparison?
Currently the stock is trading at its 52-week high and could be regarded as a momentum stock.
The company is experiencing strong demand recovery across all of their business lines - potassium-based fertilizers, iodine, lithium and industrial chemicals - reflective of continuing global economic improvement. The company has delivered solid rates of return on equity and margins, and SQM is much more disciplined in pricing of their products.
Metrics that compare SQM to fertilizer producers would show the company trades at a higher P/E multiple than, say, Potash or Agrium - however, potassium-related fertilizers represent less than a quarter of SQM's revenues. While pricing and demand for fertilizers can be volatile, SQM's other key business segments offset this issue. And many investors see the company as a play on fertilizers and lithium and emerging market growth (as nearly half of their sales are to developing markets of South America and Asia).
I would say that the success of the Global X Lithium ETF (NYSEARCA:LIT) that launched on July 22 has also contributed to demand for the shares of SQM, which represents about 23% of the index. And, it's a top holding in the iShares MSCI Chile Index ETF (NYSEARCA:ECH) which has had impressive gains in 2010.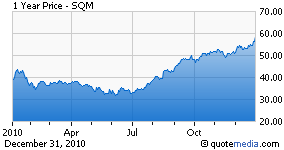 We're in the midst of a commodities supercycle, and while gold, silver, copper and oil get most of investors' attention, the price of fertilizers, iodine and lithium have soared. Tightness in lithium capacity has kept prices high. And I see strong lithium demand ramping up over the next 5-10 years especially in emergent auto battery technology.
Iodine is often overlooked but it's SQM's biggest business segment, representing one-third of sales. Iodine is a key ingredient in nylon, LCD screens, as a catalyst and as a biocide in medicine. Iodine prices have shot up in value recently too, given increasing demand for LCDs and a lack of new production.
SQM is also developing nitrate salts for solar thermal energy projects, but I have yet to put a value to this green energy business potential.
Given all of these factors, I continue to believe SQM will continue its momentum in 2011, as they have in the past.
What could go wrong?
If we see a collapse in potash pricing by farmers forgoing plant nutrients, or lithium applications not developing at the pace expected, then we could see the stock pull back from its recent highs. Or if Chilean environmental authorities red-flag their expansion plans. For now, the fundamentals remain quite attractive given the surge of commodity prices across the board that support a growing demand for minerals and fertilizers to feed the world.
How does SQM fit into your investment approach?
We at Green Valley strive to identify global themes that we believe are most likely to be important long-term drivers of the global business environment. Then we use intensive fundamental research and a wide array of quantitative tools to invest in companies that stand to benefit as these themes unfold.
One of our broad-based investment themes is focused upon the growing global appetite for natural resources, be it energy, agriculture, or the metals and mining sectors. SQM feeds the appetite for increased agricultural production and the green energy demand of lithium-ion batteries that is increasingly becoming vital to technological and industrial applications.
As world population levels have surged along with developing economies, an increased focus has been put on natural resource development and production in order to increase the average standard of living for the world's nearly seven billion people. The world demand for precious, base, and strategic metals is growing despite market fluctuations that may be masking their appeal to investors.
How do you mine profits out this transformation? Well, mining of metals and minerals is a great place to dig up and reap the rewards of this growth. I look to the future of the mining industry with optimism; however, the outlook for mining varies by metal, mineral, and region, as well as the risks and costs of extraction.
Mergers and acquisitions (M&A) have historically been a critically important growth strategy for mining companies. While the slow economic recovery is a significant factor in short-term decisions regarding M&A activity, I expect we'll see a large number of acquisitions over the next 3-5 years as the activity is supported by higher metal and mineral prices that have strengthened the financial positions of many mining giants. SQM may be an acquisition target, seeing as Potash owns a significant stake in the company, and Potash was recently the target of a hostile bid by BHP Billiton (NYSE:BHP).
Tell me a bit more about thematic investing.
Thematic investing involves identifying certain social, economic, industrial, and demographic trends, or "themes," that may ultimately drive the positive performance of a portfolio of securities benefiting from these trends. By focusing on big-picture trends, such as the depletion of natural resources, the rise of a middle class in the developing world, aging populations in the developed world, technological innovations, and others, we can invest in a portfolio of securities we feel will benefit from those trends, combined with solid fundamentals in each of the companies in which we invest.
How has that worked for you?
Over the course of the past year and a half, volatility has dropped and the fundamental drivers of our global themes have appeared to reassert themselves in market prices, and in some cases quite handsomely. We are encouraged by the fact that fundamentals and our thematic approach, rather than broader macroeconomic concerns, have begun to play a greater role in the performance of individual stocks.
Today's global markets are more connected than ever before. Many investors are rethinking their asset allocation strategies, looking beyond traditional investments and asking, "Where are the market opportunities?" In response, we have introduced a new way of approaching the markets - with broader flexibility to globally diversify and expand potential opportunities through equity, fixed income and alternative strategies and investment vehicles.
We believe the indiscriminate nature of the market sell-off has created opportunities to purchase attractively valued shares in fundamentally sound companies with unique competitive advantages, the ability to grow their assets without taking on new debt and, in most cases, generate earnings growth. We also retain a focus on companies whose access to scarce assets should provide future pricing power. With the market having fallen so far in such a short time, the values of such companies have become increasingly compelling. We believe that our global thematic strategy provides the flexibility to capitalize on these opportunities by investing in strong companies that meet our thematic guidelines. This process holds for investing in the bonds of these companies as well.
Is this a macro approach to investing?
Thematic investing is typically a "top-down" concept of portfolio building - that is, looking at the larger picture first and choosing stocks from there, rather than the "bottom-up" concept of simply picking companies based on their merits and nothing else. And before you ask "Do you only invest in companies that fit neatly into one of your themes?" The answer is no. While most of our investments do fit into one of our themes, we are looking first and foremost to find great businesses and great management teams to invest in, and at compelling valuation levels. We use a research-driven, top-down/bottom-up strategy as a key building block to our investment platform.
Themes are quite a creative way of investing, and to the question of whether investment is an art or a science (it's both), we reply that there needs to be a creative aspect to understand the broad changes, and then a repeatable, almost mechanistic, process underlying that.
Thematic investing takes a lot of analysis to identify real themes, and the companies that will win and those that will fall by the wayside. Thematic investing is easy to say but most difficult to execute for many, but it is a major style that warrants serious effort - an effort that we have undertaken.
We will continue to write in detail about our active themes. We'd love it if your contributors and readers opened our minds to brand new themes – and in fact, they have. Seeking Alpha is a great resource for individual investors and money managers alike.
And thanks, Eric, for sharing your thesis and thoughts with us.
Disclosure: Long SQM in personal and client accounts.
Read more Just One Stock interviews »
If you are a fund manager and interested in doing an interview with us on just one stock or ETF position you'd hold, please email us at Just One Stock.