In an earlier article I discussed and focused on the dividend growth merits of ONEOK, Inc. (NYSE:OKE). However, what is really fueling this growth? The answer is simple: the midstream MLP ONEOK Partners (OKS). This article will focus on OKS, its upcoming capital projects, and how investors can participate in this name.
Company Overview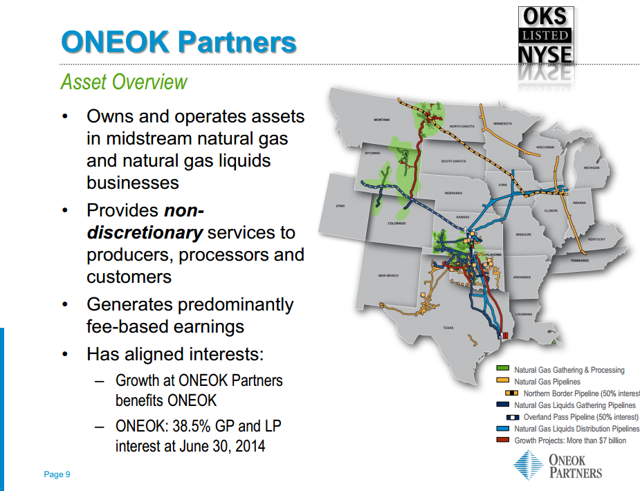 To put it simply, OKS operates a large network of midstream natural gas and NGLs businesses. As the name implies, the company has a huge presence in Oklahoma. However, its assets are also spread out over the country.
Among the notable assets include:
18,499 miles of natural gas gathering pipeline
17 operational processing plants with a combined capacity of 1,250 MMCF/D
744,000 BPD of NGL fractionation capacity
6,626 miles of long haul natural gas pipelines with peak capacity at 6.3 BCF/D
Storage for as much as 53.7 BCF of natural gas and 26.7 MMBBL of NGLs
Furthermore, OKS has limited commodity price risk, with the company using hedges to protect itself from price swings. 66% of its margins comes from fee, non-discretionary, services.
However, do note that OKS is somewhat susceptible to volume risk, largely in the NGL segment. Ethane rejection has impacted the company since 2013 and is not expected to abate until new ethylene cracking capacity comes online in 2016.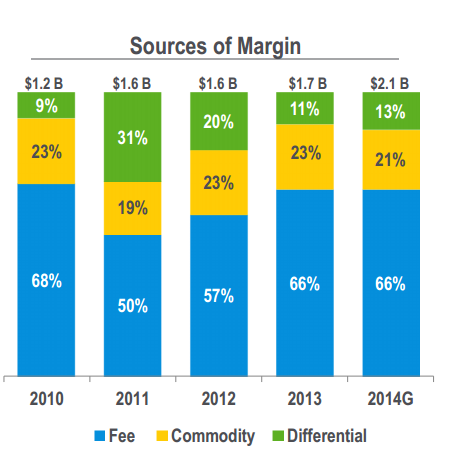 Capital projects to fuel further growth
OKS has noted that it has plenty of organic growth areas. Since 2010, the company has completed $3.8 billion of its $7.5 billion budgeted capital growth projects. Furthermore, the company also has a massive unannounced backlog of between $3 billion to $4 billion.
Among the major areas of growth for OKS include the natural gas and NGLs processing capacity at Williston Basin in the Bakken and Sage Creek in the Powder River Basin, NGL pipelines in the Mid-Continent, and new Fractionation capacity at Mont Belvieu. In addition, the company has plans to build out in the SCOOP of Oklahoma. Potential investments in that region could total from $365 million to $470 million.
Nearly all of these projects are supported by long-term volume agreements with producers and end users ranging from 70% to 100% of volumes. OKS has noted that it may confirm projects from its backlog only once required commitments are secured.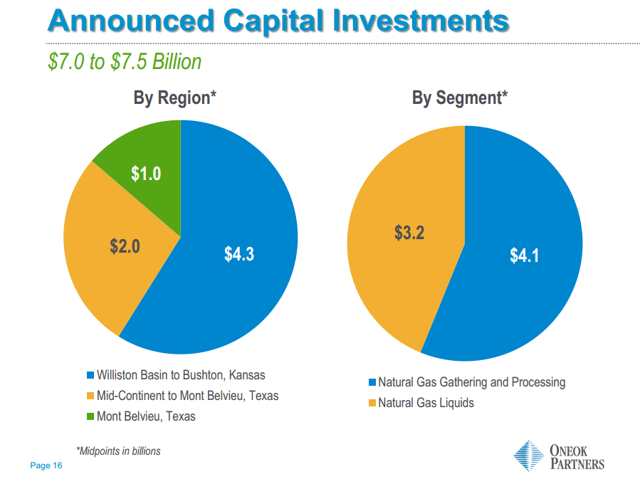 Distribution growth to continue
OKS, much like other midstream MLPs, prides itself as an income-growth vehicle. The company has paid out increasing distributions since its establishment with a CAGR of 8% per year since 2010.

However, unlike most other MLPs, OKS does try to retain some cash flow to fund its growth. The rationale for this is to limit the need for unit offering, which in turn serves to support its per-unit price. The company aims to maintain its coverage ratio between 1.05x to 1.15x.
For 2014, OKS guidance calls for DCF of $1.20 billion compared distributions of $1.15 billion, leaving $87 million left over for growth and a 1.08x coverage ratio.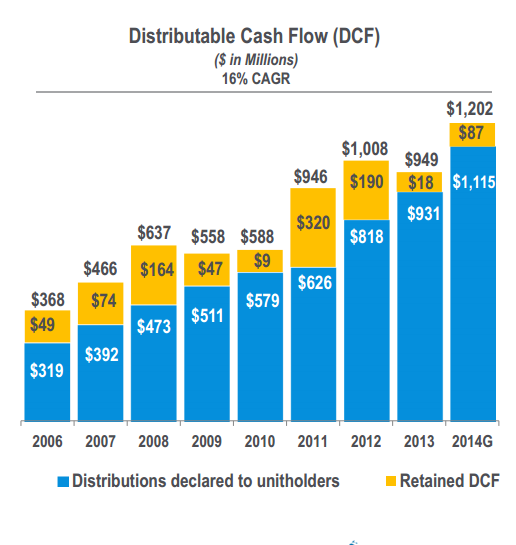 Long-term distribution growth outlook
For 2014, OKS plans to increase its distribution by 1.5 cents per quarter. With the distribution at $0.76, this is around an 8% distribution growth rate.
Looking towards 2016, OKS is projected to maintain its distribution growth rate at 6% to 8% while keeping its coverage ratio above 1.05x. With its yield above 5%, OKS offers one of the best combo of high current income with future growth.
This level of growth compares favorably to other large-cap midstream MLPs. As an example, Kinder Morgan Energy Partners (NYSE:KMP) was projecting only a 5% to 6% long-term distribution growth rate before announcing its merger with Kinder Morgan Inc (NYSE:KMI).
Conclusion
Compared to some other names in the sectors such as the above mentioned Kinder Morgan complex, ONEOK is relatively unknown and underappreciated. Both the MLP and GP offer considerable income and growth at attractive valuations.
Disclaimer: The opinions in this article are for informational purposes only and should not be construed as a recommendation to buy or sell the stocks mentioned. Please do your own due diligence before making any investment decision.
Disclosure: The author is long OKS, OKE, KMI.
The author wrote this article themselves, and it expresses their own opinions. The author is not receiving compensation for it (other than from Seeking Alpha). The author has no business relationship with any company whose stock is mentioned in this article.