A couple of weeks ago, I provided an update on my 2014 dividend raise prediction for cigarette giant Altria (NYSE:MO). The company raised its adjusted EPS forecast and announced a new buyback plan at its Q2 report. As a result, I increased my prediction range for where the new dividend would land. On Thursday, Altria announced its 2014 dividend increase. Today, I'll discuss the increase and why shareholders should be satisfied.
Dividend raise and recent history:
Altria raised the dividend by 4 cents per quarter, from $0.48 to $0.52. This represents a dividend increase of 8.33%, and the new $2.08 annual total landed exactly in the middle of my prediction range. In the chart below, you can see how the dividend has risen nicely in recent years. Since three of the four payments at the raised rate will come next year, the raised rate is given the 2015 year.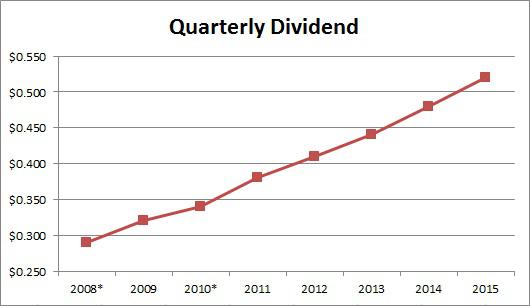 *The first value of $0.29 includes an adjustment for the PM spin-off. Altria paid a $0.29 dividend after the spin-off, but then raised it in the second half of the year to $0.32, the value you see above for 2009. The 2010 value presented is the $0.34 that was paid after the raise, but the first two declarations during the 2010 calendar year were $0.35, as the company raised it again. For the second half of calendar 2010 (presented as 2011 above), it was raised to $0.38, and Altria has not had any other non-standard raises since then.
Altria has been a great income investment over the years, and the dividend has risen strongly in recent years. Since 2008, you've nearly seen the dividend double. To see a complete history of Altria's raises and other related information, please click here. The company has now raised its dividend 48 times in the last 45 years.
Yield comparison to peers:
For those that read my coverage of the cigarette space, you know that I follow four names. In addition to Altria, I follow Philip Morris (NYSE:PM) the most, with coverage of Lorillard (NYSE:LO) and Reynolds American (NYSE:RAI) as well. All four of these names provide solid dividends to investors. In the chart below, you can see how the annual yields of these four names compare as of Thursday's close.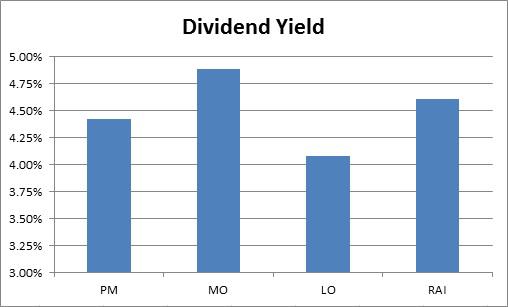 It's not a surprise to see Altria have the highest yield, but it sometimes depends on the time of year as these names don't all raise their dividends at the same time. As of Thursday's close, Altria had a yield of 4.88%. That led Reynolds American by 28 basis points, Philip Morris by 47 basis points, and Lorillard by 81 basis points. For Altria to get to a 5.00% annual yield, shares would need to decline by about a dollar from Thursday's close to $41.60.
So far, it has been a pretty good year for dividend raises in the cigarette space. Earlier this year, Lorillard raised its dividend by 11.82%, and Reynolds American raised its dividend by 6.35%. Altria's raise comes in between those two raise percentages. Philip Morris is expected to raise its dividend in about a month, and that raise will probably fall somewhere in the 6% to 8% range. Should Philip Morris raise its dividend to $1.00 per quarter as I currently expect, its yield would rise to 4.70% based on Thursday's close. That would put Philip Morris into second place in the yield race, jumping over Reynolds American for now.
Final thoughts:
On Thursday, Altria raised its quarterly dividend to $0.52 a share, exactly where I figured it would be. This raise of more than 8% now gives shareholders a $2.08 annual payout, which yields nearly 5.00% on an annual basis. Altria continues to be one of the best income names out there, and investors that have held over the years continue to be rewarded. The latest raise should please investors yet again.
Disclosure: The author has no positions in any stocks mentioned, and no plans to initiate any positions within the next 72 hours.
The author wrote this article themselves, and it expresses their own opinions. The author is not receiving compensation for it (other than from Seeking Alpha). The author has no business relationship with any company whose stock is mentioned in this article.
Additional disclosure: Investors are always reminded that before making any investment, you should do your own proper due diligence on any name directly or indirectly mentioned in this article. Investors should also consider seeking advice from a broker or financial adviser before making any investment decisions. Any material in this article should be considered general information, and not relied on as a formal investment recommendation.