Last month, I wrote that there was no need for alarm over the plunge in housing starts for June mainly because the Southern region drove the entire decline while all other regions in the U.S. were up year-over-year. Moreover, rising (or stabilizing) home builder sentiment directly contradicted that data. Roll the tape forward and home builder sentiment continues to recover and, more importantly, housing starts for July surged over June and July, 2013 levels. Once again, the South led the way.
According to the Census Bureau:
Privately-owned housing starts in July were at a seasonally adjusted annual rate of 1,093,000. This is 15.7 percent (±10.9%) above the revised June estimate of 945,000 and is 21.7 percent (±10.7%) above the July 2013 rate of 898,000.

Single-family housing starts in July were at a rate of 656,000; this is 8.3 percent (±10.3%) above the revised June figure of 606,000. The July rate for units in buildings with five units or more was 423,000.
July's total starts were the highest since November, 2013 and the second highest since July, 2008. Single-family starts were last this high in December, 2013. Before November, 2013, we have to roll the tape back to May, 2008 to see a housing start number this high. These readings put June's disappointment far into the rearview mirror. This kind of production is also much more consistent with the growing confidence in builders. (Note well starts are still roughly half what they were in the middle of the last housing boom).
The regional view provides important context to these numbers. Whereas the South plunged in June, it soared in July: the total was up 29% from June and up 27.4% from July, 2013. Single-family starts in the South were up 16.9% from June and up 10.6% from July, 2013. These numbers are more typical of what the South has been producing since November, 2013 (no harsh winter hampering housing activity) and demonstrates that the South is a large source of volatility for housing starts.
There was a wide spread in regional performance with the Northeast's total starts bouncing back 44% from June's disappointment and the Midwest dropping 24.8% back to May's level. Year-over-year changes in single-family starts ranged from 0% in the Northeast to 17.5% in the West. (The South has recently produced about 2 to 2.5 times the number of starts as the West). In other words, headline numbers are not quite enough to understand the dynamics at work. Housing markets are as local as ever. Overall single-family housing starts are still bouncing along post-recession highs even as they are still barely above what used to be considered the dismal bottom of past housing slowdowns: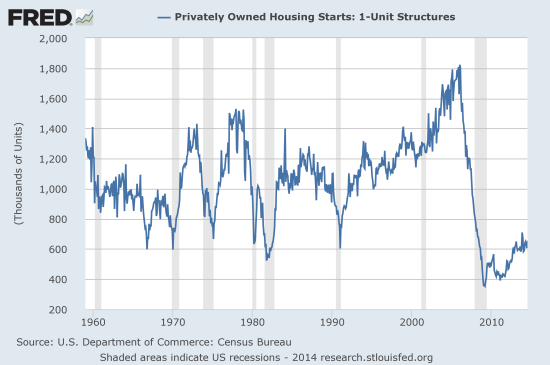 Privately Owned Housing Starts: 1-Unit Structures
Source: St. Louis Federal Reserve
The stock market once again responded favorably to good housing news. As the chart below shows, iShares U.S. Home Construction (BATS:ITB) was not only able to rally - with an impressive gap up over its critical 50 and 200-day moving averages - but it was also able to hold onto those gains.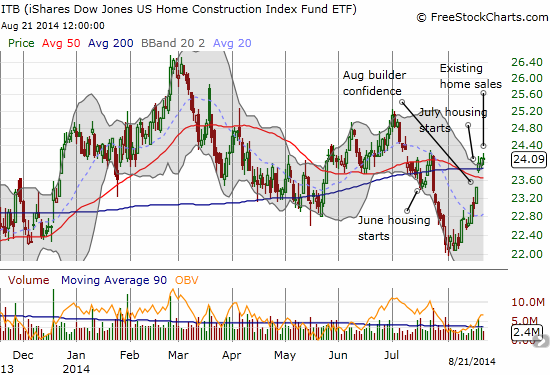 ITB makes more progress in recovering from July's losses
Source: FreeStockCharts.com
Of course, ITB is still under-performing the general stock market this year as it is still negative year-to-date. It is also lagging these encouraging data points for housing (including the strong confidence numbers for home builders). So, ITB has a long way to go to reflect anything close to the current level of bullishness in financial markets.
Existing home sales added to the improving market sentiment. July's 5.15M annualized sales pace is a new high for the year and continues a slow push back to post-recession highs. Again, current levels are well below levels from the last housing boom.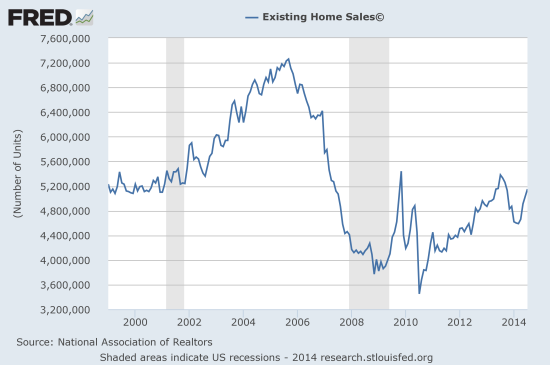 Existing Home Sales
Source: St. Louis Federal Reserve
This sober assessment from the National Association of Realtors matches my caution in my last housing post on declining affordability:
Although interest rates have fallen in recent months, median family incomes are still lagging behind price gains, and mortgage rates will inevitably rise with the upcoming changes in monetary policy…
This is important because the share of home buyers who are first-time home buyers remains "historically low." For July the share rose to 29% from 28% in June. First-time home buyers are the most sensitive to affordability levels. At today's low share, they represent the largest portion of pent-up demand in the housing market. They are also key to the prospects for the housing market to continue climbing to at least more normal levels of activity. (Millennials will be the prime source of these first-timers).
The ironic twist on an improving housing picture at this stage in the cycle is that the Federal Reserve gets one less excuse for soft-pedaling on the timing for rate hikes. Mortgage rates have defied 2013 expectations by declining in 2014:
According to Freddie Mac, the average commitment rate for a 30-year, conventional, fixed-rate mortgage fell for the third consecutive month to 4.13 percent in July from 4.16 percent in June, and remains the lowest rate since June 2013 (4.07 percent).
This is downward momentum that is not likely to last much longer assuming the market reverts to pricing in higher rates. Like the Bank of England (BOE), I expect the Federal Reserve to focus more keenly on wage growth as a determinant for the beginning of normalization for monetary policy. The housing market should prove resilient if wages are growing more robustly along with this normalization. Time should soon tell…
Be careful out there!
Disclosure: The author is long ITB.
The author wrote this article themselves, and it expresses their own opinions. The author is not receiving compensation for it (other than from Seeking Alpha). The author has no business relationship with any company whose stock is mentioned in this article.
Additional disclosure: Long ITB through call options.