This article discusses my projected net investment income ("NII") for the quarter ended June 30, 2014 for Prospect Capital (NASDAQ:PSEC) and is a follow up to "PSEC: What Comes Next Part 1 and Part 2" that discussed dividend coverage for the coming quarters. The following table is a side-by-side comparison of the projected NII for fiscal Q4 2014 along with the actual results for the last three quarters. I have included my projections along with other industry analysts and the projections from Scott Kennedy's article "PSEC's Upcoming FQ4 2014 NAV Projection". I have also included a simple average of these various projections and I believe this is the most likely scenario but it should be pointed out that all of these estimates are highly dependent on dividend and other income for the quarter that can be lumpy and hard to project.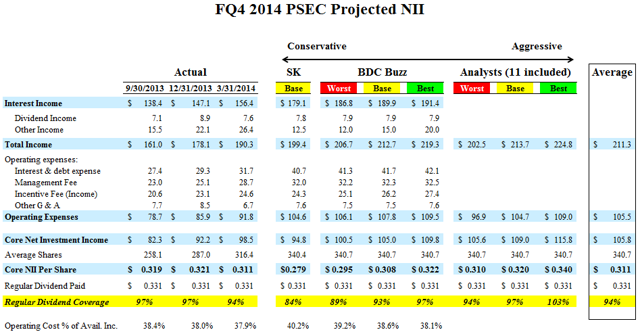 Things to watch for in the upcoming results:
My primary concern is dividend coverage potential that is highly related to my secondary concern of net asset value ("NAV") per share stability. Both of these issues are interrelated and important.
Portfolio Mix
PSEC has done an excellent job transitioning its large portfolio to higher quality assets. The table below shows the increase in senior debt from 53% to 62% and this transition should be watched in the coming quarters along with the associated yields.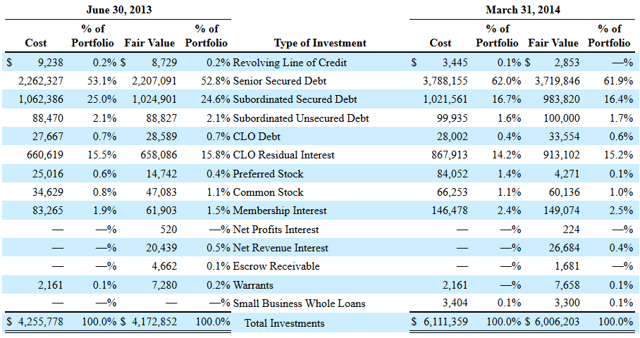 Portfolio Yield
Increased competition has driven yield compression in the BDC industry decreasing the amount of interest income from portfolio investments. PSEC is well aware of this and management has many strategic initiatives to preserve portfolio returns through its "7 Yield-Oriented" origination strategies (sponsor finance, direct non-sponsor, lending, one-stop operating buyouts, one-stop finance buyouts, structured credit, real estate and syndicated debt investing). These programs have helped to stabilize its portfolio yield but should be watched in the coming quarters.
Earlier this month, TICC Capital (TICC) reported a large decline in its portfolio yield mostly from its collateralized loan obligation ("CLO") investments as predicted in "TICC: BDC Dividend Coverage Part 14". The following table shows the weighted average yield of income producing investments declining from 12.9% to 12.2%. The yield on debt investments declined from 8.4% to 8.2% and the yield on CLO equity investments (at cost) declined from 25.6% to 22.7%.

However CLO equity investments account for 27% of TICC's portfolio compared to 15% of PSEC's portfolio but 20% of its interest income.
Other Income
As discussed in "PSEC: What Comes Next? Part 1" PSEC has become heavily reliant on income that is non-recurring including structuring fees and other one-time items to make up for declining portfolio yield. The problem with this type of income is that it does not consistently grow with the portfolio like most of PSEC's income from interest and depends more on originations and repayments. Also, as the number of shares increase these amounts become less on a per share basis.
New Shares Issued
Each quarter PSEC discloses the amount of new shares issued and net proceeds. The last 10-Q stated: "During the period from April 1, 2014 to May 2, 2014, we sold 7,711,389 shares of our common stock at an average price of $10.91 per share, and raised $84,145 of gross proceeds, under the ATM Program. Net proceeds were $83,501 after commissions to the broker-dealer on shares sold and offering costs."
The net proceeds per share came to $10.83 per share compared to the NAV per share of $10.68.
NAV Stability
Some PSEC shareholders are not concerned about NAV per share growth but should at least be concerned with NAV stability for many reasons. The most obvious reason is that share prices for higher yield BDCs are usually priced at a multiple of NAV. I have put together the following chart to show the historical price to NAV ratio that has mostly remained between 0.90 and 1.10 since 2011. This is typical for BDCs that do not have a history of NAV growth. PSEC's NAV per share at the end of 2011 was $10.69 compared to March 31, 2014 at $10.68 which is a good thing because it has been paying large distributions to shareholders over this period while maintaining its NAV stability.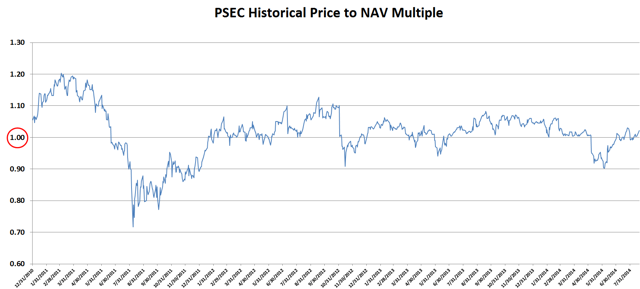 Some of the primary drivers to changes in NAV per share are:
NII coverage of dividends
Changes in the value of portfolio investments
New shares issued at a premium to book value (net of fees and expenses)
It should also be noted that PSEC has committed to paying dividends well into the future and this is the primary cost of capital for the company. Higher NAV per share amounts should drive higher issuance prices and a lower cost of capital that has far reaching implications for the company that are in the best interest of shareholders, so NAV stability should be considered an important item to watch.
Interest Rate Sensitivity
As discussed in "Is PSEC Ready for Rising Rates?" there is very little disclosure to investors regarding how changes in the underlying rates would impact NII. As investors become increasingly aware of the impacts of interest rates on BDC investments I would hope that PSEC would start to share this information with shareholders especially if rates only rise in small increments of 25 to 100 basis points through 2015 which is much more likely than 500 basis points that is disclosed in the investor presentation with the following:

In Part 4 of this series I will compare the actual results for the quarter to the items mentioned in this article. For links to previous PSEC articles on Seeking Alpha please check my "PSEC Articles" as well as the "BDC Research Page" that I will continue to update as well as my "Index to BDC Articles" for more information on other BDCs.
Disclosure: The author is long PSEC.
The author wrote this article themselves, and it expresses their own opinions. The author is not receiving compensation for it (other than from Seeking Alpha). The author has no business relationship with any company whose stock is mentioned in this article.