While this week is likely to be dominated by the dollar and its probable rise, small caps may be sending an important signal to equity investors and one that should not be lost in the din around the dollar's direction.

Specifically, the Russell 2000 fell by more than three quarters of a percent on Friday such that its chart now looks rather vulnerable to further declines. This decline was also seen in a small cap ETF, IJR, and a proxy for growth and perhaps riskier equities, which fell by more than 1% on Friday.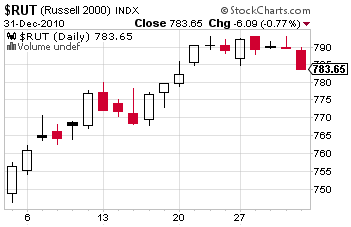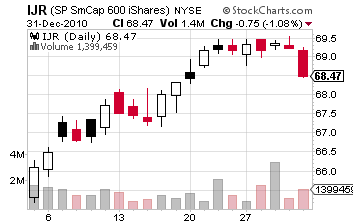 If this small cap ETF – and a proxy for growth and perhaps riskier equities – falls below $68.31, I will be concerned.
If it breaks $67.98, it may signal that the equity markets are about to take a breather from the uptrend we saw in December and perhaps such a "breather" will turn into an outright decline for equities.
I say this because the small cap sector is typically associated with the beginning of a bull market along with the early stages of a rally. If the small cap sector continues to weaken it may signal that some overall weakness lies ahead with the rally but that we may see a leadership change with regard to the bull market or perhaps we're going to see a change around the cyclical bull market itself.
Similarly, the mid-cap ETF MDY, also associated with the more vibrant part of a bull market, is also in a bit of a precarious position and if it breaks $164.58, such a break may be another sign that the equity markets are going to cool off – or decline – for at least a little while.
Interestingly this may be backed up by the charts of some of the so-called bull market sectors or the sectors that lead in the early stages of a bull market and then fall back as a bull market moves on. In particular, consumer discretionary looks vulnerable as shown on the following page and so too may technology.
However, there are mixed messages here because materials, industrials, and energy – or other so-called bull market sectors – look basically fine.
And so today and this week, it will be important to monitor small and mid-caps along with consumer discretionary, technology, materials, industrials and energy to see if the overall message is one of strength or weakness.
If the latter – or weakness – it may make sense to be a bit more cautious or defensive around equity positions in the near-term.

Disclosure: I do own SAA a 3X long small cap ETF.