At year end, it's natural to look back at past performance and look forward to the difficulties and opportunities of the coming year. This article starts with a table of my single stock picks for the year, with year end prices and performance, follows with a brief discussion of winners and losers, and goes on to a more general discussion of my plans for the types of material I will present during the coming year.
A Good Year Stock Picking (click to enlarge)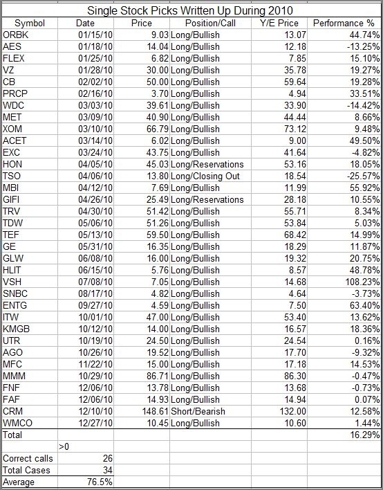 Big winners included Orbotech (NASDAQ:ORBK), Perceptron (NASDAQ:PRCP), Aceto (NASDAQ:ACET), MBIA (NYSE:MBI), Harmonic (NASDAQ:HLIT), Vishay (NYSE:VSH), and Entegris (NASDAQ:ENTG). The common denominator is that they are smaller capitalization, not household names, and mostly players in difficult industries. The retail investor who will take the time to do his homework on value candidates of this type can expect to achieve favorable results over time.
Losers included Tesoro (TSO). I became upset with a serious multi-fatality accident at one of their refineries, which I attributed to management cost cutting, and elected to close out a long position. There was an opportunity cost, as shown. On AES Corp (NYSE:AES) at least I have Bill Miller for company. I don't know what to say on Western Digital (NYSE:WDC) - I'm still long, and still puzzled.
The other parameters - 16.29% average increase - 76.5% correct calls on direction - winners larger and more numerous than losers - are all favorable. I'm pleased with the performance and I hope readers have been able to make some profits off my ideas.
Other Performance Objectives
I write about companies I invest in. If it's a smaller and less well-known situation, I look to present a relatively full picture of the operation, along the lines of what professional analysts would produce, if they followed the case. On larger and well-known companies, to the extent I cover them, I try to present simplifying or unconventional viewpoints, a different slant on a well-known story.
Articles include a target price, usually in back of the envelope format, and a time frame, most often 2 years. When there are aspects of the situation that present above average risk, that needs to be discussed, along with risk/reward considerations.
If a stock is optionable, various approaches that use options for leverage or risk management can be discussed, with specific details of the strategy I'm using in my personal portfolio.
The work done in organizing my ideas for critical examination by readers here on Seeking Alpha improves my investing results. Often the comments and discussions help me clarify my thinking and develop new insights into the companies and issues involved. Working alone from the house, cognitive isolation is always a danger. Discussing investment issues with others can help me remain objective and factual.
Looking Forward to 2011
It's going to be more difficult to produce a steady stream of ideas comparable in quality to what has been out there for the past two years. The market is up, prices are up, and small cap has been outperforming. With that in mind, I'm planning to do somewhat less of the single company, bullish writeup type of article and move along toward some discussion and analysis of portfolio strategies and risk management. When writing on companies I follow, it may be more useful to take a nuanced view, updates and progress reports rather than a chronicle of what I'm buying and selling this week.
There's been an awful lot of discussion of covered calls as a portfolio strategy, with or without the sale of puts to go along with it. I've been doing some research on the issues. After developing a stress tester that can be used to assess long term profitability of options strategies under various market scenarios, the tool can be used to test how a covered call strategy will perform over the long haul.
I'm planning to complete the research and write a number of articles on the topic, to include the sale of puts, whether naked or cash secured. Should covered calls be at the money? How far out of the money? Is a more distant expiration helpful? Many income investors are faced with a difficult set of choices in trying to get adequate income from equities under today's market conditions, and there's a lot of opinion on the covered call issue, often backed by anecdotal evidence, if that.
Another idea for future articles is discussing investment as a process. Too often the emphasis on actionable ideas detracts from developing good habits - reading the right reports, keeping notes, updating worksheets, listening to conference calls, etc. Over time, a series of small advantages can be accumulated that will reflect in improved consistency of investing results.
My market outlook for 2011 is guarded optimism, still holding leveraged positions, but around 30% cash and moderately hedged. I'm leaning toward derisking and moving to more conservative strategies if the market continues to head up toward what I see as a midpoint valuation.
Thanks to all who commented or joined in discussions on my articles over the past year. If you have any ideas for topics that might make a good article, please let me know.
Disclosure: I am long AES, CB, WDC, MET, XOM, EXC, MBI, GIFI, TRV, TDW, GE, GLW, ITW, UTR, AGO, MFC, MMM, FNF, CRM, WMCO.