Bemis (NYSE:BMS) is a global manufacturer of packaging products and pressure-sensitive materials. The company sells the majority of its products to the food industry. Other industries that use its products are chemical, agribusiness, medical, pharmaceutical, personal care, electronics, automotive, construction and graphic design. The company's business activities are organized around its three reportable business segments: U.S. Packaging (59 % of 2013 net sales), Global Packaging (30%), and Pressure Sensitive Materials (11%).
The U.S. Packaging Segment manufactures materials are used to produce packaging for food and personal care products and other non-food applications. The Global Packaging Segment produces packaging sold for a variety of food, medical, pharmaceutical, personal care, electronics, and industrial applications. The Pressure Sensitive Materials Segment manufactures adhesive coated paper and film substrates sold into label, graphic, and technical product markets.
The image below, composed from parts of Bemis' 2013 annual report, demonstrates the company's competitive advantage in producing packaging for food and medical applications: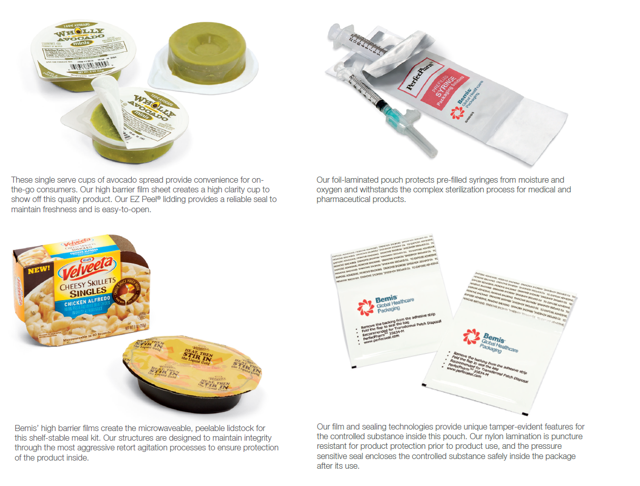 Operating Performance
In the fourth quarter of 2011, Bemis initiated a facility consolidation program to improve efficiencies and reduce fixed costs. The program was expanded further in the second quarter of 2012. In total, nine production facilities were closed, and while some low margin business was shed, most of the production from these facilities has been transferred to other facilities. The total cost of the programs was $152.5 million, which included $58.0 million in employee-related costs, $51.2 million in fixed-asset accelerated depreciation and writedowns, and $43.3 million in other facility consolidation costs (2013 10-K).
Bemis has posted two straight years of falling revenues due to currency movements. Currency fluctuations have reduced net sales by 1.3% in 2013 and 3.3% in 2012. Since the factory closing expenses have hit profits, and currency translations have hit revenues, it is difficult to obtain a clear picture of how Bemis' core business is operating. So I calculated an "adjusted operating income" metric by backing out factory consolidation costs, other costs, and other operating income.

Source: Data compiled from 2013 10-K.
According to the table above, the factory consolidations have successfully improved both gross margins and adjusted operating income. Despite consecutive declines in revenue, gross margin improvements have resulted in higher operating profits for the company.
Bemis has continued the trend of profit growth into FY 2014. For the first quarter of 2014, Bemis reported adjusted diluted earnings of $0.58 per share, compared to $0.53 for the same quarter in 2013 -- an increase of 9.4%. For the second quarter of 2014, Bemis reported adjusted earnings of $0.65 per share, up 6.6% from $0.61 earned in the year-ago quarter.
Valuation and Shareholder Return

Source: Data compiled from the following pages: BMS, AMC.AX, ATR, SON.
According to the table above, Bemis is cheaper than its average competitor in five out of six metrics. However, the metric in which it falls below average, dividend yield, is not the only way to measure shareholder return. Companies can return money to shareholders by repurchasing stock instead of increasing dividends. According to Gurufocus, BMS' buyback ratios ranked higher than 91% of the 156 Companies in the Global Packaging and Containers industry.
BMS repurchased 2.0 million shares in FY 2013 and 5.0 million shares in FY 2011. At the current shares outstanding of 99.88 million, Bemis returned an additional 2.33% annually in the last three years through share repurchases. Through dividends and share repurchases, Bemis has returned almost 5% annually. The buyback trend continues with an 8 million share buyback announced on May 1, 2014, which will return another 8% of current market capitalization to shareholders in the coming years.
My View
Bemis compensates for its lack of revenue growth with a consistent return to shareholders through dividends and stock buybacks. Due to the lack of growth opportunities in an industry like packaging, Bemis has paid an annual dividend on its common stock since 1922. It certainly deserves to be on Standard & Poor's list of Dividend Aristocrats. Bemis is a bond-like stock that should theoretically thrive in an environment of QE tightening. However, due to its large foreign currency exposure, any rate increases by the Fed will result in even more revenue contraction, which may apply pressure on the stock. Considering the lack of a catalyst or extreme value, Bemis is a stock I would continue to hold if I owned -- but I would not go out of my way to buy it.
Disclosure: The author has no positions in any stocks mentioned, and no plans to initiate any positions within the next 72 hours. The author wrote this article themselves, and it expresses their own opinions. The author is not receiving compensation for it (other than from Seeking Alpha). The author has no business relationship with any company whose stock is mentioned in this article.