Since its lows in 2009, crude oil and, by extension, oil companies have recovered to their pre-recession highs. Shareholders of oil companies that survived the oil price shock have done exceptionally well in the past five years. Despite these extremely favorable conditions, not all oil companies have received the same price growth or attention. One such company is the Canadian Oil Sands (OTCQX:COSWF).
Canadian Oil Sands, as its name suggests, owns a large interest in one of Canada's (Alberta) Oil Sand projects. Specifically, it owns 36.74% of the Syncrude Project and is the largest shareholder. Fellow major shareholders include Imperial Oil at 25% (NYSEMKT: IMO) and Suncor Energy at 12% (NYSE: SU). At 4.5B barrels of 2P reserves and 350,000 bbl of production capacity, Syncrude is one of the largest oil sand plays on the market.
However, unlike most oil sand plays, Syncrude's final product is a light, sweet synthetic crude oil (SCO) as opposed to bitumen. Syncrude operates as a joint venture where both operating and capital expenses are split evenly by ownership. In turn, the production of the venture is also split by ownership. Canadian Oil Sands distributes majority of its free cash flow back to shareholders and operated as a royalty trust until it converted to a corporation in 2011 for tax reasons.
A quick look at the company's five-year chart indicates that the stock has been trading down, and at best flat, in the last five years. It's clearly been underperforming fellow oil companies (XOM and SU).

Source: Google Finance.
This downward pressure on the stock's price is primarily due to three key developments. First, there's the fleeing of income investors as the company has been required to raise capital spending due to various capital projects. Second, there has been an explosion of American shale oil plays, which has created fear of an oversupply of crude oil in North America. Finally, there has yet to be a solution to the lack of pipeline capacity in Alberta, thus forcing the company to sell its product at a discount to the North American benchmark, WTI.
Despite these adversities, the company has positioned itself well to capitalize on the future as it recognizes the direction needed to create shareholder value: by increasing the realized price of oil, improving the reliability of its operations, and increasing the oil reserves the company owns. These create the three pillars of the share appreciation.
Increasing the Realized Price
A core driver of crude oil prices in North America is the supply and demand dynamics that are in place. Despite the company producing a superior product to WTI (both from a higher API gravity as well as a lower sulfur content), the company is currently selling its product at a discount to WTI. Naturally, by increasing the realized price of oil, the company will increase both revenue and cash flow. This discount is primarily driven by the geographic location of the oil sand project. Being in a landlocked location with limited refineries and pipeline infrastructure, the company is often forced to sell its product to distant markets at unfavourable terms.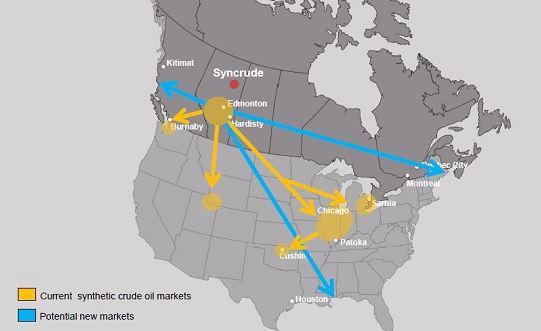 Source: 2014 Canacoord Genuity Investor Meeting -- New York presentation.
Knowing that steps were necessary to improve its pricing environment, Canadian Oil Sands entered into multiple pre-approved pipeline commitments to secure pipeline capacity. Two of the more publicized pipelines are the Keystone XL and the Enbridge Northern Gateway pipelines. Both have had their developments in the past year, with Keystone receiving environment approval from the U.S State Department in January and Northern Gateway receiving conditional approval from the Canadian government in June. With the addition of these new pipelines, Canadian Oil Sands will be able to get a much higher realized price on its product -- selling at a premium, instead of a discount to WTI.
Improving Reliability
Due to the nature of its operations, the majority of the Canadian Oil Sand's operating expenses are fixed. The company stands to benefit greatly from increasing production as operating expenses will stay relatively flat, thus decreasing cost per barrel produced and widening margins (source: Canadian Oil Sands 2013 AIF). Although Canadian Oil Sands can produce up to 128 Mbbl/d, it has averaged only 98 Mbbl/d last year and 103 Mbbl/d over the last five years. This is primarily due to the rapidly aging equipment in use, as much of the equipment it is using has been in place for close to 40 years.
The company has taken steps in improving reliability by commencing various capital projects, including the replacement of mine trains in both of its operating mines (Mildred Lake and Aurora North). Although the increase in capital spending has driven income investors away (a core group of its shareholders), it was a necessary step in maintaining and improving the reliability of its operations. The Aurora North mine train replacement was completed in 2013, and the Mildred Lake replacement is expected to be completed in the forth quarter of this year.
With these major projects completed, reliability is expected to improve. If production capacity is reached at 128Mbbl/d,in addition to increasing revenue, the cost per barrel produced can be a low as $32 dollars a barrel (compared to $41.75 in 2013). Thus, that maximizes shareholder value.
Increasing Reserves
In addition to solidifying its current operations by increasing the price realized on its oil and improving its reliability, Canadian Oil Sands is looking to the future by creating long-term shareholder value. At 1.7B barrels of 2P reserves, the company has over 40 years of production left before termination. These reserves are attributed from their two operating mines, Mildred Lake and Aurora South. In addition to these operating mines, the company also has several other operating leases that have yet to be developed. The two most notable mine developments are the Mildred Lake Expansion (MLX) and the Aurora South Mine.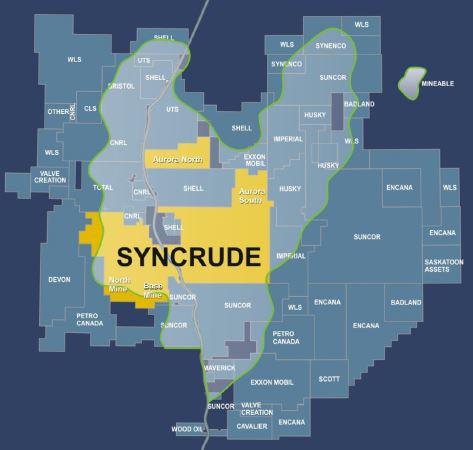 Source: 2014 Canacoord Genuity Investor Meeting -- New York presentation.
According to the company, the Mildred Lake Expansion is expected to increase the operating life of the Mildred Lake Mine by a decade. Furthermore, due to the pre-existing infrastructure at Mildred Lake, the project should come at a cost much lower than a typical mine. The Mildred Lake Expansion is expected to be a cheap option for reserve growth. Plans for regulatory approval are expected to be sent by the end of this year.
The Aurora South Mine is located just south of its northern counterpart. Approval for its construction has been passed since 1998. However, the company has chosen to delay the construction of the mine until after 2020 due to its operating environment. The project was expected to double production. Once constructed, Aurora South will provide additional years of production on top of the increase in production rate, which will foster shareholder value.
At 1.7B barrels of 2P oil reserves, the company has many years of production left. However, the management of Canadian Oil Sands recognizes the finite nature of its operations and has had plans to expand. By extending Syncrude's operating life, the company will be able to provide a long lasting and reliable cash flow to its investors.
Conclusion
These three pillars provide investors with tangible milestones to expect in the future. As the company works to fulfill these pillars, its share value can be expected increase. With a market cap of 10.4 billion and a share price of 21.53, the company is extremely cheap given the massive cash flow growth driven by each of the three pillars. An investment in Canadian Oil Sands is an investment into 40-plus years of solid, crude oil driven cash flow.
Disclosure: The author is long COSWF. The author wrote this article themselves, and it expresses their own opinions. The author is not receiving compensation for it (other than from Seeking Alpha). The author has no business relationship with any company whose stock is mentioned in this article.
Editor's Note: This article discusses one or more securities that do not trade on a major U.S. exchange. Please be aware of the risks associated with these stocks.