Investors should accumulate shares of Berkshire Hathaway (NYSE:BRK.B) (NYSE:BRK.A) on the dips. Berkshire's share price is 13% undervalued relative to the fair intrinsic value of its shares. Berkshire's share price trades at a 42% premium to its Q2 2014 book value, and it should be trading at a 60% premium to its book value. As Berkshire's share price is well over the 1.2X book value that Buffett has targeted for share repurchases, investors should not expect Berkshire to buy back its shares unless its P/B drops by 15%.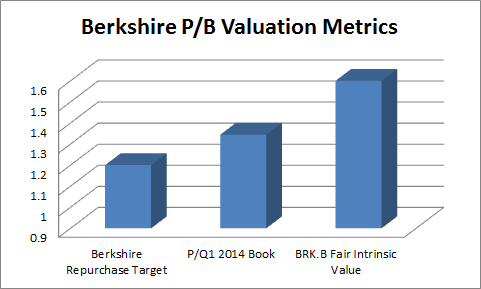 Sources: Morningstar Direct and Our Estimates
We agree with hedge fund manager and Buffett disciple Whitney Tilson that there is still upside in Berkshire Hathaway's shares. We believe that there is currently 13% upside in Berkshire, and he believes that there is 19% as of May 2. Here is the updated valuation model Tilson used to value Berkshire's shares:
Tilson valued Berkshire's pre-tax earnings stream (excluding investment income) at a P/E multiple of 10X, up from 8X last year.
Tilson excluded 50% of the earnings from Berkshire's insurance businesses for purposes of conservatism, due to the volatile nature of the business.
Tilson added up all of Berkshire Hathaway's gross cash and investments per share (excluding the impact of manufactured housing and other real estate loans originated or purchased).
Tilson then divided that sum by Berkshire's weighted average outstanding Class A share equivalents.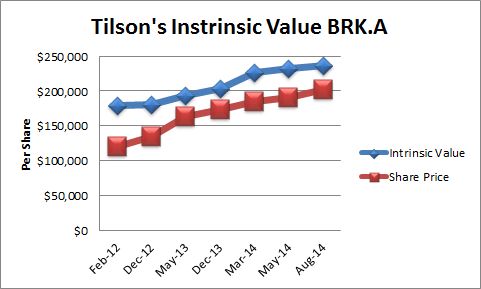 Sources: Whitney Tilson and Our Estimates
Berkshire Hathaway will not repeat the 19.8% returns it enjoyed from 1964-2011, for the following reasons:
Berkshire's size: Berkshire is a $331B company. It is no longer an upstart taking on the establishment. By virtue of its size, it is a big conglomerate that for the most part is the establishment.
Berkshire has already bought up many of the most desirable investment opportunities in the marketplace. However, Berkshire should continue to generate solid growth and performance, due to its mix of high-quality businesses that it owns, as well as its well-regarded portfolio of marketable securities.
Strategic Asset Management Transactions and Acquisitions
Last year, Berkshire completed its $5.6B acquisition of NV Energy, a regulated electric & gas utility company based in Nevada.
At the beginning of the year, Berkshire acquired the beverage dispensing equipment manufacturing and merchandising operations of British engineering company IMI plc for approximately $1.12B.
In February, Berkshire exchanged 17,422,615 shares of Phillips 66 (NYSE:PSX) common stock with an aggregate fair value of $1.35B for 100% ownership in Phillips Specialty Products Inc. PSPI makes chemicals to improve the flow potential of pipelines, and Berkshire merged it with Lubrizol.
In June, Berkshire exchanged 1.6M shares in Graham Holdings (NYSE:GHC) (formerly known as The Washington Post Company) with an aggregate fair value of $1.13B for 100% ownership of WPLG, Inc. WPLG's assets included Miami's ABC Affiliate WPLG-TV, shares of Berkshire Hathaway Class A and Class B and cash.
Berkshire's pending C$3.2B (~US$2.9B) acquisition of the Calgary-based regulated electricity transmission company, AltaLink, will close in late 2014 or early 2015.
Burlington Northern Santa Fe
BNSF's growth trajectory has been slowing down lately. BNSF's grew its revenues by 5.66% year-over-year in FY 2013 and 5.43% in H1 2014. BNSF's revenue growth reflected 2% growth in revenues per car/unit and a 3% increase in cars/units handled ("volume"). H1 2014 revenue growth was due to volume growth for consumer products ($3.5B in revenue, 2% growth), industrial products ($2.9B in revenues, 6% growth), coal ($2.4B in revenues, 2% growth) and agricultural products (15% growth).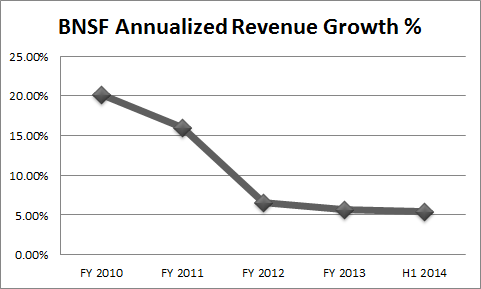 Source: BNSF's SEC Filings
Although BNSF is not the only railroad with capacity problems, it had to lease and buy new locomotives by the hundreds, as well as hire new crews. BNSF expects traffic to normalize by April, but it will continue to face capacity challenges in 2014. Severe weather conditions and service-related challenges, particularly in the Northern U.S service territory, negatively affected BNSF's revenues and earnings (2.5% decline in its after-tax earnings). Together, these factors reduced operating efficiencies and gave rise to higher costs for service recovery. Nevertheless, we expect that BNSF's revenues and earnings over the remainder of 2014 will equal or exceed its 2013 earnings. In addition, BNSF's planned capital investments and new employee hiring in 2014 will expand capacity and allow it to maintain high service levels in the future.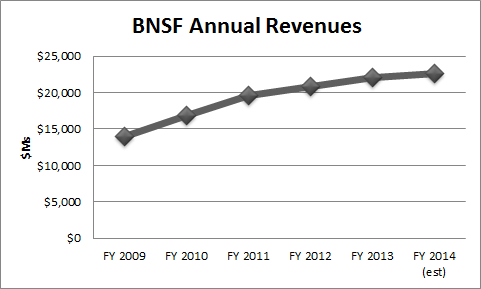 Source: BNSF's SEC Filings
Berkshire Manufacturing, Service and Retailing
Berkshire's Manufacturing, Service and Retailing businesses' revenue grew by 3.8% in H1 2014 versus H1 2013, and reached a total of $47.4B. McLane Company's reported revenues increased by 7bp year-over-year during the half year. McLane operates on a 52/53-week fiscal year, and McLane's Q1 2014 period was one week shorter than Q1 2013. Berkshire's collection of manufacturing businesses grew by 7%, and its operating income increased by 16%. Forest River RVs generated 13% revenue growth and 37% operating income growth on the strength of increased unit sales and lower materials costs. Berkshire's apparel businesses generated 51% pre-tax earnings growth due to manufacturing expense reductions and lower pension costs, while Iscar's operating earnings grew 39% and Lubrizol's pre-tax profits increased by 9% due to incremental contribution from newly acquired businesses.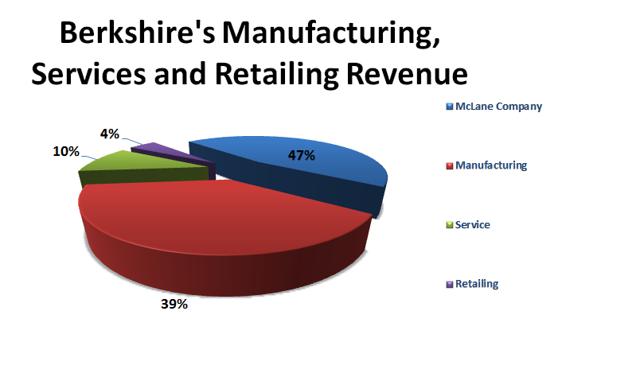 Source: Berkshire's H1 2014 Report
Berkshire's Utility Operations
Berkshire Hathaway Energy Company was formerly known as MidAmerican Energy Holdings Company, but changed its name in April 2014. Berkshire Hathaway Energy Company enjoyed strong performance in H1 2014, as nearly all of its business units saw strong profit growth. Excluding the impact of the December 2013 acquisition of NV Energy, BHEC grew its H1 2014 revenues by 14%, and its pre-tax profits grew by 10.4%. The two key drivers of BHEC's organic profit growth were MidAmerican Energy Company (61%, due to increased revenues and lower depreciation and amortization expenses) and Northern Powergrid (16.8%, due mainly to foreign currency exchange rate effects over the first six months of 2014 and the impact of increased distribution revenues due to increased rates and favorable regulatory provisions in Q2 2014).
Berkshire Finance and Financial Products
Berkshire's Manufactured Housing and Finance (Clayton Homes) earnings were $416M for FY 2013, an increase of $161 million (63%) compared to FY 2012. Clayton Homes followed up its strong performance in FY 2013 by growing its earnings by 49% in H1 2014. In FY 2013 and H1 2014, Clayton Homes benefited from lower loan loss provisions and an increase in net interest income as a result of lower interest expenses. The reduction in interest income on Clayton Homes' loan portfolio was more than offset by lower interest expense due to a decline in average borrowings and lower interest rates.
Furniture/Transportation Equipment Leasing's pre-tax earnings increased $53M (16%) in H1 2014 versus Q1 2013. The increases primarily reflected 9% growth in lease revenues, following increased units on lease and higher lease rates.
Investment and Derivative Pre-Tax Gains/Losses were $3.9B in gains for H1 2014 versus $2.7B of gains in H1 2013. Investment gains realized in H1 2014 included $949M from the exchange of shares of Phillips 66 common stock for 100% of the common stock of a specialty chemical products subsidiary of Phillips 66, and $1.1B from the exchange of shares of Graham Holding Company for 100% of WPLG-TV. In H1 2014, Berkshire's equity index put option contracts produced losses of $67M, compared to gains of $1.67B in H1 2013. In 2014, the losses were due to lower interest rate assumptions. In 2013, the gains reflected higher equity prices and the favorable foreign currency exchange rate movements from the effects of a stronger U.S. dollar. In the first quarter, Berkshire's credit default contract generated a pre-tax gain of $373M in 2014 and a loss of $14M in 2013. Berkshire's credit default contract exposure currently relates to municipality/state issuers.
Berkshire's Insurance Operations
GEICO enjoyed strong performance in H1 2014. GEICO generated solid 10.75% revenue growth on the strength of 6.8% growth in polices-in-force (including 10.7% from voluntary auto insurance) and increased premiums per policy. GEICO's underwriting expenses increased, and losses and loss adjustment expenses at a slower rate than revenues, resulting in an 80bp decline as a percentage of premiums earned. This resulted in GEICO's pre-tax underwriting gain increasing by $144M year-over-year.
General Re's H1 2014 revenues grew by 6.7%, and its H1 2014 underwriting profit increased by 65%, as Q2 2014 results benefited from the absence of $124M in catastrophe losses from floods in Europe.
Berkshire Hathaway Reinsurance Group's Q1 2014 revenue declined by 23% year-over-year, and all of its units saw pre-tax profit declines year-over-year, except for its catastrophe & individual risk unit. This division saw its pre-tax income decline by 81% due to the following factors:
The absence of a $283M gain associated with the Swiss Re quota-share contract, which largely related to decreased estimated ultimate liabilities for prior years' losses.
A $316M decline in net foreign exchange gains from its other multi-line property/casualty and its life and annuity operations.
The absence of a $255M gain associated with amendments to the SRLHA contract.
Berkshire Hathaway Primary Group is the smallest division of Berkshire Hathaway's insurance operations. Premiums earned in the first quarter by BH Primary aggregated $2B in H1 2014 and $1.5B in Q1 2013. BHPG's primary insurers produced underwriting gains of $236M in H1 2014 versus $129M in H1 2013.
Berkshire Hathaway Insurance's Net Investment Income decreased by 4.7% in H1 2014, as this quarter did not include interest from the Wrigley 11.45% subordinated notes ($4.4 billion par). Partially offsetting its interest declines were increased dividends on its equity investments.
Conclusion
In conclusion, Berkshire Hathaway's share price is undervalued by 13% relative to its fair intrinsic value, and its business units continue to generate steady profit growth. Investors should view Berkshire Hathaway as diversification away from traditional stocks and bonds, as well as being able to utilize a high-quality asset manager to gain access to private equity businesses that are not leveraged to the hill in order to pay dividends and debt service to the private equity owners and lenders. Berkshire Hathaway's continued ability to increase its book value on a recurring basis is impressive, and as it continues to do so, the investment community will recognize the value of Berkshire's shares. Berkshire has set an implicit floor price for its shares through its December 2012 buyback, and that it is adapt at sheltering its income from the taxman. Although Berkshire will not be able to enjoy the 19.8% compounded annual growth it enjoyed from 1964-2011, Berkshire's future total return should be able to exceed that of the S&P due to its strong portfolio of diversified businesses.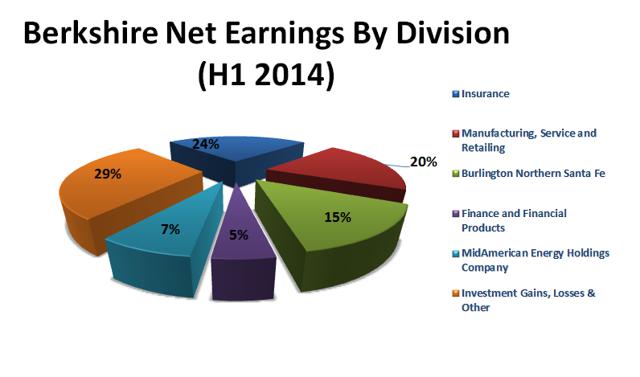 Source: Berkshire's H1 2014 Report
Disclosure: The author has no positions in any stocks mentioned, and no plans to initiate any positions within the next 72 hours.
The author wrote this article themselves, and it expresses their own opinions. The author is not receiving compensation for it (other than from Seeking Alpha). The author has no business relationship with any company whose stock is mentioned in this article.