Berkshire Hathaway Reinsurance Group
The general insurance market is Asia is underserved with a rapidly growing middle class and strong economic momentum. This combination of characteristics has piqued the interest of not only two veteran insurance magnets, Berkshire Hathaway's (NYSE:BRK.B) Warren Buffett and Hank Greenberg, but also various international insurance companies that are looking to squeeze out local competitors, expand the market and capture an economic profit before competition really heats up.
Long known for his personal insurance investments such as GEICO and re-insurance business General Re, Mr. Buffett founded, Berkshire Hathaway Specialty Insurance in 2014 to provide commercial and other types of insurance that were not currently being serviced by its other operations. The company is applying for licenses in Australia, Hong Kong, Singapore and Europe.
Hiring of AIG Asia Specialists
To start the operation, Mr. Buffett hired four executives from American Insurance Group (NYSE:AIG) and placed Ajit Jain as its head. Mr Buffett has previously referred to Mt. Jain mind as an "idea factory" as well as heaping a series of other public praises on the publicity shy Berkshire Hathaway employee. To be headed by such a prominent figure within the organization there is no doubt Mr. Buffett is taking the growth of this new venture very seriously.
At Berkshire Hathaway's annual meeting in May, Mr. Buffett was quoted as saying:
We will build a very, very significant commercial insurance operation over time" and he thinks "that operation will operate with better underwriting results than competitors.
To make this statement a reality, Mr. Buffett has found two other AIG power hitters to help grow the business. They are Marc Breuil, who previously headed AIG's Hong Kong and Taiwan operations, and Marcus Portbury, the former regional head of AIG's casualty business in the Asia Pacific region. Their mandate is to move the company beyond its core reinsurance operations and grow its commercial insurance segment in the Asia market.
Berkshire is Not Alone in Asia
Even after Berkshire's recent poaching of top tier talent, AIG still remains one of the largest insurers in Asia. AIG has insurance operations in Japan, China, South Korea, Singapore, Vietnam, Thailand, Australia and Indonesia, and it is looking to grow in each of those regions.
Another new entrant is the Starr Group. The Starr Group is an insurance conglomerate based in Wisconsin and headed by former AIG chairman, Hank Greenberg. In the first quarter of 2014, the Starr Group took control of Dazhong Insurance, which was notated as being the first foreign takeover of a state-backed Chinese insurance company. This acquisition was made possible when China eased barriers to foreign investors after joining the World Trade Organization in 2001. Even after the easing, ownership rules for Chinese life-insurance companies remain stringent. Foreign companies can only enter the market via a joint venture with a domestic partner, but for non-life insurance companies foreign entities can buy up to 100% of a domestic entity, with government approval.
Due to protective regulators, local insurance players have dominated the Asian market, but more recently foreign insurers such as France's AXA SA, U.K.'s Prudential PLC (NYSE:PRU) and Germany's Allianz SE (OTCMKTS: OTCPK:AZSEY) have begun to expand in the market. The ability of foreign insurers to grow sales channels through banks and online platforms have been key to this growth.
Why The Focus On Asia?
According to a recent study by Ernst and Young (E&Y), China represents the greatest opportunity within the Asian markets (defined as China, Hong Kong, India, Indonesia, Malaysia, Thailand and Vietnam), but that does not mean that the other markets are not rapidly expanding as well. E&Y also estimates that the number of households earning above $30,000 in these high-growth countries to more than double to 149 million by 2020. This would surpass both U.S. households (120 million) and Euro zone households (116 million) in that same category. This growing demographic and the companies that service them will need insurance coverage in areas such as real estate, disability, health, commercial, credit, casualty, aviation and just about everything else.
In addition to the demographic growth of the middle class, the region also offers better returns than the current low interest rate environments in the developed markets. According to Swiss Re's sigma study on world insurance in 2013, China's non-life premiums volume grew 15.5% in 2013 vs 2012. This compares to 1.7% non-life premium growth in the U.S. during the same period.
Berkshire Producing Positive Results
Berkshire Hathaway released its second quarter 2014 results at the beginning of August.
For the quarter, revenue increase 11% from the same period last year. It also had $55.5 billion in cash on the books up from $48.9 billion in the first quarter. The company has not bought back any shares this year. Underwriting income for the company was down 22% from the same period last year and down 39% YTD driven by underwriting profit declines at its Berkshire Hathaway Reinsurance Group that offset gains at GEICO and General Re.
Analysts continue to project mediocre results for the company's insurance operations over the next several years.
This reinforces the need for Mr. Buffett to target high-growth international regions in the insurance market to offset domestic operating results and put some of the extra cash to work.
Conclusion: Outlook Increasingly Strong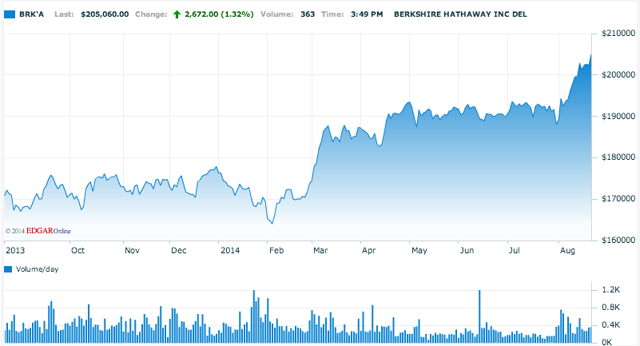 (Nasdaq.com)
In addition to the positive results and developments described above, new insight has been offered into CEO Warren Buffett's method for success in acquisitions and growth for the past several decades.
These lessons-including targeting straightforward, family owned businesses, with American can-do work ethic, savvy cost controls, and foresight-have served Berkshire Hathaway very well since inception; investors should cheer the fact that they are deeply rooted enough to very likely outlast their founder (Buffett) after he retires.
While the other players in the Asian insurance business (noted above - Starr Group, AIG, AXA SA, Prudential PLC, Allianz) appear strong, Berkshire Hathaway's already-successful pattern of hiring away top talent in the field evident. Berkshire's stunning increase to $55.5 billion in cash this most recent quarter should serve it well in its pivot to new markets, allowing for more power and flexibility that its smaller competitors.
While some see Berkshire Hathaway as a home-grown, American company, many of its subsidiaries, such as Dairy Queen, have enormous potential abroad. Berkshire's move into the insurance industry in Asia could be bolstered by its growth in its other sectors.
We are continually optimistic on Berkshire Hathaway, moving forward in 2014, and suggest other investors be so, as well.
We invite readers wishing to join the discussion on Berkshire Hathaway to click the +FOLLOW button above the title of this article.

Disclosure: The author has no positions in any stocks mentioned, and no plans to initiate any positions within the next 72 hours.
The author wrote this article themselves, and it expresses their own opinions. The author is not receiving compensation for it (other than from Seeking Alpha). The author has no business relationship with any company whose stock is mentioned in this article.