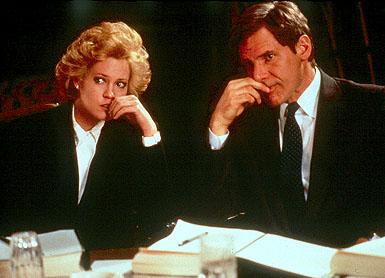 Picture: The movie "Working Girl", Source: fanpix.net
Molycorp, Inc. (MCP) announced a net loss of $84 million and cash burn of $80 million for Q2 2014, leaving the company with $157 million of cash on hand. The earnings report was completely overshadowed by a $400 million financing package from Oaktree Capital, solving the company's immediate capital needs and putting an end to the short thesis. Investors reacted to the news by sending the stock from $2.00 per share to above $2.30. After digesting news of the financing package, which has yet to be consummated, investors turned sour on the stock, and it now trades below $2.00 per share again. Up to $400 million in new debt at 12% will weaken Molycorp's capital structure and create more interest burden. In my previous article, I updated my cash burn projections based on Q2 actual results: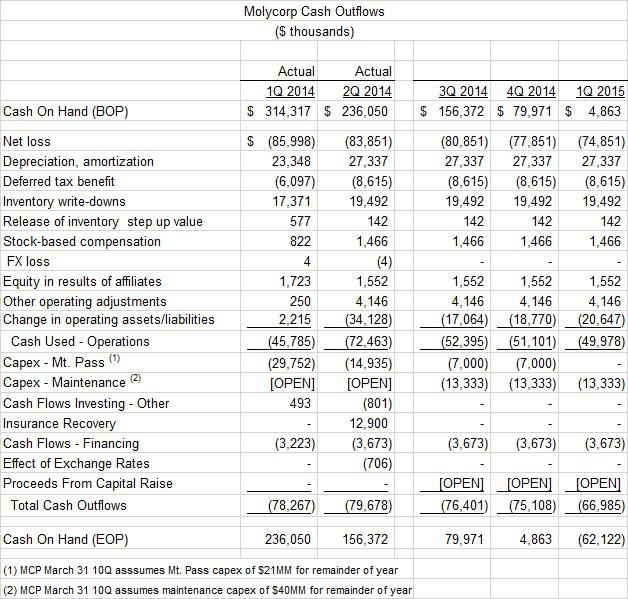 The projections assume cash burn from operations decline from $72 million in Q2 2014 to $50 million by Q1 2015. Including maintenance capital expenditures and cash outflows from financing, run-rate cash burn is about $67 million.
Valuation
It has been over six weeks since my previous $1.60 per share valuation for Molycorp, so I thought this would be a good time to update my analysis. Below are the details of my new valuation of $1.35 per share.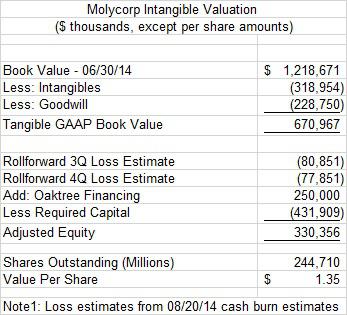 Book Value
The company's GAAP book value at Q2 2014 was about $1.2 billion.
Reduction of Intangibles and Goodwill
Based on their recoverable amounts, Molycorp's $550 million of goodwill and intangibles are worthless. Given the company's consistent operating losses, I expected the company to take a goodwill impairment charge in Q2. For the valuation, I only included tangible equity.
Rollforward of Net Losses
I assumed the financing package with Oaktree would be consummated in Q4 2014. I rolled forward projected losses for Q3 2014 and Q4 2014 of $81 million and $79 million, respectively. This reduces the company's tangible equity further.
Oaktree Financing
Molycorp announced on the Q2 earnings call that it had secured a $400 million financing package. However, $250 million would be available immediately and the additional $150 million would be on the come, considering the company met certain operating hurdles. I only included the amount that is currently known.
Required Capital
I assume the company needs cash on hand equivalent to 6 quarters of run-rate cash burn. Run-rate cash burn is reflected by Q1 2015's outflow of $67 million in the first chart above. The $250 million loan has a rate of 12%, yet only 7% (about 5 million per quarter) is cash pay and the balance is payment-in-kind. The run-rate cash burn of $72 million ($67 million + $5 million) * 6 quarters equates to additional capital of about $432 million.
Adjusted Equity
After [i] estimating the company's tangible GAAP equity at Q4 2014, [ii] adding capital of $250 million and [iii] subtracting required capital of $432 million, I derived an adjusted equity value of about $330 million. Adjusted equity divided by 244.7 million shares outstanding values Molycorp at approximately $1.35 per share.
Conclusion
Based on its projected cash burn, Molycorp needs capital of about $432 million to sustain itself. It is currently negotiating a $250 million financing package from Oaktree. That said, based on adjusted equity of approximately $330 million, I value the company at $1.35 per share. The stock currently trades at $1.95 per share. I advise investors to avoid the stock.
Disclosure: The author is short MCP.
The author wrote this article themselves, and it expresses their own opinions. The author is not receiving compensation for it (other than from Seeking Alpha). The author has no business relationship with any company whose stock is mentioned in this article.
Additional disclosure: I own a straddle on Molycorp.