Q2 results published earlier this month by First Quantum (OTCPK:FQVLF) showed an increase in production and increased earnings, but came in slightly below analyst expectations due mostly to an increase in operating costs in the Zambian copper mining operations. Following this narrow miss, the share price has dropped by about 15%.
However, increases in operating costs in the Zambian operations were a one-time expense, and those costs are expected to drop further when the Kansanshi copper smelter starts production at the end of this year. Investors should take this as a good opportunity to buy into one of the best managed and fastest growing companies in the base metals industry.
Zambian Operations
The reasons behind the increased operating costs in Zambia were related to the constraints under which the mines have to operate because of a lack of suitable processing facilities in Zambia.
The Zambian operations, which account for a major portion of First Quantum's production, include both oxide and sulphide ores. Oxides are normally processed by high pressure leaching using sulphuric acid, followed by solvent extraction and electro-winning. Sulphides are processed by smelting, which is done at one or more Zambian smelters owned by other companies. Exporting of concentrate from Zambia to smelters in other parts of the world is possible but is prohibitively expensive due to high transportation costs and a tax on export of unprocessed copper.
However, there is not enough smelting capacity in Zambia to process all of the production from several mines in the copper belt area. This places a constraint on production at First Quantum's Kansanshi mine. In the first quarter of this year, about 170,000 tonnes of sulphide concentrates had to be stockpiled because of a lack of smelting capacity. In the second quarter, First Quantum altered its mining plans to increase the mining of oxide ore and reduce the mining of sulphide ore. This new mining plan has allowed First Quantum to maintain production without increasing the size of the sulphide concentrate stockpile. However, the change in mining plan required an increase in operating costs associated with moving a large waste dump.
There is also a constraint on processing of the oxide ore. The leaching process requires large volumes of sulphuric acid, which is either purchased from one of the Zambian smelters, or produced by burning of sulphur in First Quantum's own acid plant. The capacity of that acid plant and the availability of sulphuric acid from the other smelters place a limit on how much oxide ore can be processed.
The good news is that all of these constraints will soon be a thing of the past. Construction of a new smelter at Kansanshi will allow First Quantum to produce copper anodes from its own sulphide concentrates, and will provide 1 million tonnes per year (tpa) of sulphuric acid as a by-product. Management has indicated that the smelter is now 80% complete and they expect to start processing concentrates in Q4 2014.
This aerial photo of the site, taken from a presentation on the company website, shows that most of the major equipment is installed, and major buildings are almost complete. However, more detailed photos of individual areas show that there is a lot of piping and services work still to be completed. I would not be surprised if the first concentrate throughput didn't happen until Q1 2015.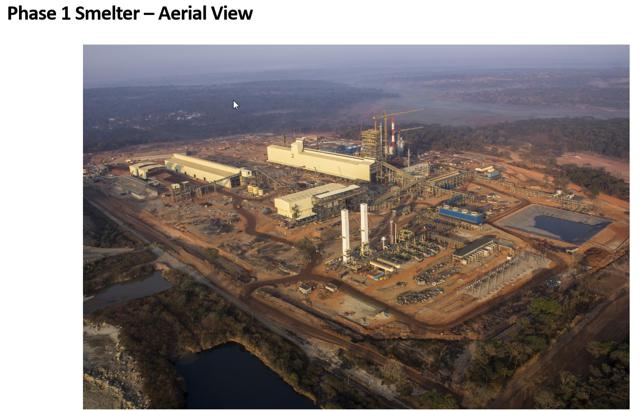 Smelters are complex operations, and ramping up to commercial production could take six months or more, with ramp-up to full nameplate capacity possibly taking more than a year.
Once the smelter is operational, First Quantum should see some major benefits, which will significantly reduce operating costs at the Zambian operations. At full capacity, the smelter will be able to treat 1.2 million tonnes per year of sulphide concentrates and will produce 1 million tpa of sulphuric acid and 300,000 tpa of copper anodes. Cost savings, including the value of the acid will be in the region of $300 million/yr., which is a very good return on an $800 million project. The acid production will also allow First Quantum to make full use of its recently expanded oxide ore processing facilities, and will provide flexibility to optimise the mining and processing operations in Zambia. In addition, processing of the 170,000 tonne concentrate stockpile will bring in about $280 million of extra cash flow.
Expansion in Zambia
In parallel with the development of the Kansanshi smelter, First Quantum has been constructing a new mine and concentrator at the nearby Sentinel project. This project, along with already completed expansions to the oxide processing circuits at Kansanshi are expected to increase total company wide copper production from 440,000 tpa in 2014 to more than 750,000 tpa in 2016. In the same time period, cash cost of production is expected to fall from around $1.45/lb to around $1.25/lb.
The Enterprise nickel project, which has been constructed in parallel with the Sentinel project will add 40,000 tpa of nickel production to the Zambian operations. Although fully constructed, this project is awaiting Zambian government approval to start production. Meanwhile, the processing plant at Enterprise is being used to process ore from Sentinel.
A further expansion of the Kansanshi mine and an increase in the capacity of the smelter are planned, adding about 80,000 tpa of copper capacity in 2017.
The Inmet acquisition
First Quantum made a major acquisition in March of 2013, paying $5.2 billion for Intec, which included three operating mines (in Spain, Finland and Turkey) and the Cobre Panama project. That project is now under construction in Panama and is expected to start production of copper concentrate in late 2017.
The $6.2 billion Cobre Panama project was initially intended to produce 266,000 tpa of copper, but after an extensive review, First Quantum has been able to upgrade the design capacity to 320,000 tpa, with a marginal increase in CAPEX to $6.4 million. First Quantum's 80% share of the project is now valued at $4.4 billion by analysts at CIBC, and the three producing mines acquired in the Inmet transaction, are given a total net asset value of $2.1 billion.
The Intec acquisition has therefore added about $1.3 billion to the value of First Quantum. This contrasts sharply with the experiences of some of the larger mining companies such as Rio Tinto (NYSE:RIO), Barrick (NYSE:ABX) and Vale (NYSE:VALE), all of whom made major acquisitions in the past five years when metal prices were close to their peak, and have subsequently had to take write downs.
Ravensthorpe Nickel
The Ravensthorpe nickel project in Australia is a prime example of what can be achieved by a small company with the right approach, when a larger company has failed.
BHP Billiton (NYSE:BHP) spent almost $4 billion on the Ravensthorpe project and was never able to achieve an economical production throughput. The property was de-commissioned and sold to First Quantum in 2010 after BHP decided to cut their losses and abandon the project. Purchased for $340 million, it was modified and re-commissioned in 2011 at a cost of less than $200 million. Continuous improvement since the initial start-up has brought costs down to the point where Ravensthorpe is a profitable operation with a net asset value of $1.5 billion.
Kevitsa, Finland
First Quantum's nickel, copper and precious metals mine in Finland has recently received approval to increase its processing rate to 10 million tonnes per year (Mtpa) of ore. No major capital expenditures are planned because the plant already has processing capability for more than the previous limit of 5.5 Mtpa. However, the increased throughput will allow First Quantum to optimise production and further reduce costs at Kevitsa
Guelb Moghrein, Mauritania
The Guelb Moghrein copper and gold mine in Mauritania will benefit from a capital expenditure of $50 million in 2014 to provide a facility to produce a magnetite (69% Iron) by product. First Quantum has not issued any detailed forecasts for the overall effect on this mine's financial performance, but operating costs will no doubt be reduced as by-product credits from the production of magnetite are realised.
First Quantum's project management capability
One of the differentiators that give First Quantum a significant advantage over its major competitors is a unique capability in project management and a reputation for delivering projects on time and on budget.
Many of the larger mining companies have disbanded their project engineering departments and rely heavily on outside resources to deliver their projects. In addition, they have developed complex and highly bureaucratic sets of procedures for project development. These procedures, with seemingly endless rounds of studies and long approval times are one of the reasons why projects are now taking three or four times as long as they did twenty years ago to get from concept to production.
First Quantum takes a much simpler approach. Decisions are made in a timely manner without necessarily studying the project down to the last nut, bolt and washer. The company employs a highly qualified and experienced staff of construction experts, purchases its own construction equipment and does a lot of the on-site work by directly hiring its own labour force rather than hiring contractors. This approach has allowed the company to develop projects at considerably lower capital intensity (capital cost per unit of annual production) and in a much shorter time frame than rival companies.
An example is the Kansanshi smelter, which will be completed for about $800 million. Compare that with estimates of $2.3 billion that Freeport (NYSE:FCX) expects to spend on a new smelter in Indonesia, with a production capacity just 30% higher than Kansanshi.
Beyond 2018
Looking beyond 2018, First Quantum's portfolio of projects includes the Haquira deposit in Peru, which contains over 4 million tonnes of copper grading at a copper equivalent of 0.52%.
The acquisition of Lumina copper was completed this month. First Quantum acquired the world class Taca Taca deposit in Argentina, which contains about 14 million tonnes of copper at a grade equivalent of 0.49%. The acquisition price was 37% of the calculated net asset value of the Taca Taca project.
These two developments are expected to drive the continued growth of First Quantum beyond 2018.
Outlook for copper supply, demand, and prices.
Copper prices, which rose to over $4/lb in 2011 drove capital spending on new mines and expansions. However, a number of new mines started up in 2013 and 2014, resulting in a supply surplus and a drop in prices to around $3.15/lb in 2014.
Copper supplies are likely to exceed demand through to 2017. However, inventories near historic lows, and declining head grades and significantly increased operating costs for the sector are expected provide support for prices during that period.
High capital costs and regulatory risks for large scale mining development projects are deterring investment into future production, so the market is expected to move into a deficit position from 2018 onwards (refer to chart below):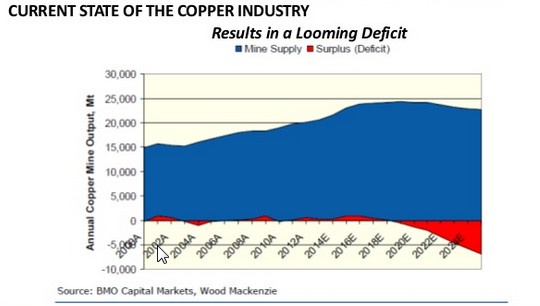 This will put upward pressure on prices. The following table is taken from Kitco Global Copper Market Outlook, which explains the medium-term supply and demand picture for copper and its likely effect on prices: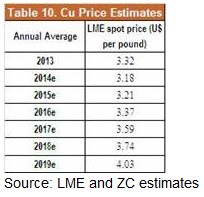 First Quantum, with its low cost operations and impressive portfolio of development projects is well positioned to benefit from this opportunity.
First Quantum's position as the world's fastest growing copper producer
By year 2018, First Quantum is expected to move from being a relatively small player in the copper industry, to a position as one of the world's largest copper mining companies: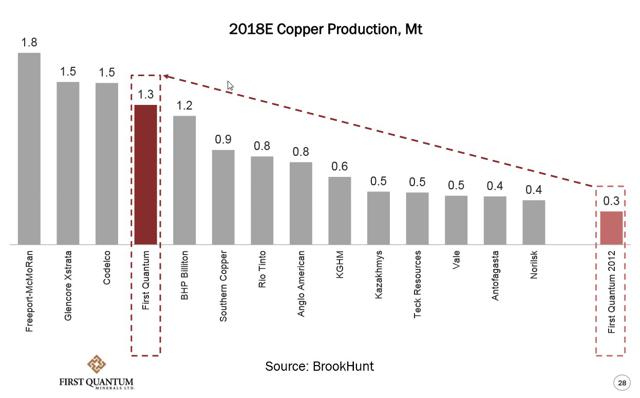 The major contributors to this growth will be:
Sentinel Mine in Zambia, which is nearing completion and is expected to begin commercial production in 2015
Expansion of the existing Kansanshi Mine in Zambia, scheduled for 2017
The Cobre Panama mine, which is under construction and is expected to start up before 2018.
Development of the Taca Taca project beyond 2018 may allow First Quantum to challenge Freeport for first place amongst the world's copper producers.
Valuation
CIBC world markets places a net asset value (NAV8) on First Quantum of $22.27 (US) per share, equal to $24.75 in Canadian dollars. I think this underestimates the real value.
Using the Sentinel project as an example, the value of the Sentinel project in the published feasibility study is $3 billion, which includes $4.75 billion in future discounted cash flow minus $1.75 billion in capital cost. CIBC places a value of $3.07 billion on Sentinel as of Q2 2014, which does not place any value on the construction done to date. However, the debt used to finance that construction is subtracted from the overall company value when calculating the NAV.
Sunk costs for development projects are about $1.9 billion, which, if included brings the net asset value to $25.50 US ($28 CDN). Also, the long-term copper price used to calculate the NAV is $3.00/lb, well below the projected prices in the KITCO report.
Risks
All mining operations have significant risks, not least of which is the commodity market, which may not behave as expected. A drop in copper prices will inevitably be accompanied by a drop in share prices of copper mining companies, including First Quantum.
In addition, First Quantum is exposed to significant country risk in dealing with the Government of Zambia, though this risk is diminished as new project developments in other parts of the world decrease the percentage of income from Zambia.
Project risk is also inherent in any growing mining company. Although First Quantum has an excellent reputation for project execution, it is always possible that project management resources will become thinly stretched and one or more projects will suffer delays or cost over-runs. Timely completion of the Kansanshi smelter project is particularly critical, as other Zambian projects are dependent on its processing capacity.
Conclusion
The recent drop in share price provides a good opportunity to accumulate First Quantum shares. There could be some bumps along the way, with at least four quarters of uncertain results to be expected until the Zambian operations are de-bottlenecked by the start-up of the Kansanshi smelter. However, as a long-term investment, this fast growing mining company represents good value for money. First Quantum trades on the Toronto or London exchanges as well as the OTC. Watch the news, follow the stock, and buy on the dips.
Disclosure: The author is long FQVLF.
The author wrote this article themselves, and it expresses their own opinions. The author is not receiving compensation for it (other than from Seeking Alpha). The author has no business relationship with any company whose stock is mentioned in this article.
Editor's Note: This article discusses one or more securities that do not trade on a major U.S. exchange. Please be aware of the risks associated with these stocks.