Sega Sammy Holdings (OTCPK:SGAMY) is a merger of two companies in the gaming industry. Sega is known for its video games, and Sammy is known for its Pachinko Machines, which are similar to slot machines in casinos. The company divides its business into four divisions. I will be focusing on the consumer business division as a proxy for Sega's video games and the Pachislot Pachinko division as a representation of Sammy's business.
A look at the past five years of sales and operating income tells a very interesting story.
Operating Results
Net sales (revenue) show that Sammy has been bringing, on average for the past 5 years, approximately 65% of the combined company revenue. Both companies are involved in industries that are very heavily economy-driven and consumer discretionary oriented. If consumers are feeling pain in their wallets, they will not spend as much on entertainment.

(Source: Author Created)
Operating income, the income earned from running the day to day business, shows an unfortunate reality. Sega's business is hurting the company's overall profitability. In the years Sega had a positive operating margin, it hardly went above breakeven. This means Sega's division is extremely inefficient at conducting day-to-day business affairs. The table below also indicates that Sammy's margins have been fairly stable. I would expect this kind of result from any company as there should be no surprises in daily affairs.
Unit breakdowns
Below is a breakdown of the units sold in each segment.

(Source: Author Created)
If you observe carefully, you can see that the unit sales in Sammy's Pachislot and Pachinko machines are offsetting each other. The trend in unit sales for Pachislot machines is increasing, while the trend in sales for Pachinko is decreasing. Perhaps, this can explain why the net sales have been relatively static and stable.
For consumer business division, only the packages games division gives unit sales data. Keep in mind, a majority of Sega's revenue is supposed to be generated from this segment. However, there is a sharp noticeable decline, indicating that the remaining segments in the division are becoming more responsible for Sega's revenue. In addition, this signifies that Sega's titles are not selling very well. One can argue that the decline is due to consumers shifting from physical to digital entertainment. I highly doubt this is a likely scenario. If a game is purchased online, that can easily be translated to a unit sale. It is not the number of downloads that a game receives that matter. It's the actual digital purchase that has occurred.
Price history tells the story
Recall, Sega merged with Sammy to get out of its financial troubles.
The Tokyo stock price shows the implications of Sega's merger with Sammy and is a good proxy to the USA stock price because it goes back further historically, providing valuable insight. When the merger occurred in 2004, it was initially well received.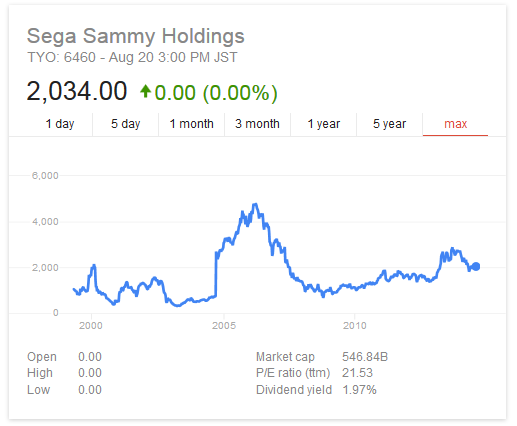 (Source: Google Finance)
However, it has been 10 years since the original merger occurred. The stock price has dropped close to pre-merger levels, signifying the merger added no value to the shareholders. It may be time for Sammy to let go of Sega. Otherwise, Sega's inefficient operations will eventually cause the stock to become worthless.
Disclosure: The author has no positions in any stocks mentioned, and no plans to initiate any positions within the next 72 hours.
The author wrote this article themselves, and it expresses their own opinions. The author is not receiving compensation for it (other than from Seeking Alpha). The author has no business relationship with any company whose stock is mentioned in this article.
Editor's Note: This article discusses one or more securities that do not trade on a major U.S. exchange. Please be aware of the risks associated with these stocks.