Income investors typically focus on sectors that are stable and provide good visibility on its business prospects over the long term. Utilities, telecommunications or energy are among the most followed sectors for these types of investors. However, financial theory states that a well-diversified portfolio is required to properly achieve a balanced risk-return profile.
Therefore, income investors should also look into other sectors beyond the traditional ones that have also some degree of stability and are exposed to other risk factors leading therefore to a more diversified portfolio. Although insurance companies are also affected by the overall level of economic activity or financial crisis, they have exposure to unique risks like catastrophes or longevity risk. This means that theoretically, insurance companies are less exposed to the usual risk factors of other companies.
Basic Concepts of Insurance
The basic concept of how the insurance business model works is that the company receives a payment to cover some specific risk. If the event occurs the insurance company will pay, if not it will keep the money for itself. By doing this, basically, the insurance company helps customers manage their risk. Simply put, insurance companies create value by pooling and distributing various types of risk. Theoretically, insurance companies make money from two ways: charging enough premiums to cover their payouts that occur during the time of the insurance policy; and, by earning investment returns from the float it manages using the collected premiums.
The best insurance companies can make a profit from both ways, but the majority of insurance companies make losses from underwriting. This happens because insurance companies pursue higher volumes that lead to more money to manage. Another reason why this happens is one of the unique factors of the insurance industry, its positive cost of capital.
Contrary to other businesses that must pay for capital through borrowed funds, the cost of capital being one of the primary business considerations in the insurance industry, a well-run company can get the capital it needs for free (besides shareholders' equity that has an implicit cost). The best companies within the industry will collect premiums in excess or close to the risks they accept, increasing their "float" over the years. This way, they make money by taking capital from their customers.
This is a competitive advantage compared to other businesses, and one of the primary reasons why insurance is attractive for equity investors. If the company is well run, it can operate over the years without performing equity issues because the money it needs to operate will be financed from its customers.
Probably the best example of this successful business model is the well-known Berkshire Hathaway (NYSE:BRK.B) and its legendary investor Warren Buffett. Regarding the insurance industry's unique business model, Buffett had this to say in his 2011 letter to Berkshire's shareholders:
Insurers receive premiums upfront and pay claims later. In extreme cases, such as those arising from certain workers' compensation accidents, payments can stretch over decades. This collect-now, pay-later model leaves us holding large sums - money we call "float" - that will eventually go to others. Meanwhile, we get to invest this float for Berkshire's benefit... If our premiums exceed the total of our expenses and eventual losses, we register an underwriting profit that adds to the investment income our float produces. When such a profit occurs, we enjoy the use of free money - and, better yet, get paid for holding it.
As you can see, insurance is an attractive way for income investors to improve returns while at the same time mitigate some risks and increase portfolio diversification. One global leading insurance company that is under-followed in the U.S. is Allianz (OTCQX:AZSEY), a German insurance company that currently pays a dividend yield above 4%. Allianz's market capitalization is about $78 billion, and trades in the U.S. in the over-the-counter [OTC] market.
Company Overview
Allianz is a global multi-line insurance company based in Germany that operates in more than 70 countries throughout the world. The company's main activities are insurance and asset management. Allianz has one of the highest credit ratings within its industry at AA from credit agency Standard & Poor's, showing how strong its financial profile is. This superior financial strength is an important part of its brand and the company will certainly protect it over the long haul. Its closest competitors include AXA (OTCQX:AXAHY), Zurich Insurance Group (OTCQX:ZURVY), AIG (NYSE:AIG), and Aegon (NYSE:AEG).
Allianz operates under three business areas: Property & Casualty [P&C]; Life/Health; and, Asset Management. The vast majority of its operations are performed in Europe but it is also present in the U.S., being also the owner of the well-known asset manager PIMCO. Together with its other asset management business, Allianz Global Investors, Allianz has about €1,770 billion assets under management [AUM], being therefore one of the world's largest asset managers. It also has banking and alternative investment operations, mainly supporting its insurance business.
Allianz has leading positions across its operating activities, and all business units contribute substantially to its operating profit. Therefore, the company is well diversified and is a good way to get exposure to all lines of insurance and asset management. In 2013, P&C was responsible for about 44% of Allianz's operating profits, while Asset Management generated approximately 30% and Life/Health the remaining 26%.
PIMCO's importance within the group is very high, taking into account that 27% of its operating profit in the past year was generated from this operation. PIMCO's importance is due to very strong growth over the last decade, growing its AUM with a compounded annual growth rate [CAGR] of 17% during this period. This growth has been particularly strong since 2008 when bonds became a safe haven for investors, with AUM more than doubling until 2012. During this period, PIMCO was Allianz's main growth engine but this has ended in 2013.
As the U.S. economy recovered sufficiently since the great recession in 2008, the Federal Reserve started considering tapering its quantitative easing in mid-2013, leading to a sell-off in bonds which has brought PIMCO's growth to a halt. PIMCO's flagship fund, the PIMCO Total Return Fund, suffered $41 billion of redemptions in 2013 and returned a loss of 1.9% for the full year, its worst performance since 2013. However, over the past few months, U.S. bond yields have declined and PIMCO's outflows have improved considerably and performance has recovered recently. While the pressure on PIMCO's fund flow may not be over, the outlook is currently much more positive than a few months ago.
In P&C, Allianz has exposure to both mature and emerging economies, but its business is still heavily exposed to mature, low growth markets in Central Europe. Its growth prospects in P&C are fairly modest and Allianz's strategy is to pursue small acquisitions that add exposure to growth markets.
In Life, Allianz has significant exposure to low German yields that put negative pressure on profitability, given that most of its products carry fixed investment guarantees at higher levels than currently is possible to generate from investment returns. Additionally, it has less exposure to unit-linked products than some of its peers, products that usually don't have investment guarantees. During 2014, German bond yields have continued to fall, with the 10-year yield reaching very recently an all-time low below 1%. This increased the spread compression and is a drag on Allianz's earnings, a trend that is not expected to reverse soon.
Financial Performance
Allianz's operating environment has been challenging over the past few quarters, due to the ongoing depression of interest rates in Europe, weak economic growth in mature economies and large outflows in its asset management division (PIMCO). Nevertheless, Allianz was able to report in 2013 one of the best years in its history, showing how strong its business resilience is.
Allianz's good financial figures are mainly justified by its strong operating performance, making money both from underwriting and investments ("float"). The underwriting profit is usually measured by the combined ratio, with a ratio below 100% meaning the company is profitable. Allianz's P&C business has a combined ratio of about 95%, which is very good within the insurance industry. In 2013, Allianz's revenues (premiums collected) rose by 4.1% to close to $150 billion, and its operating profit increased by 7.8% to $13.5 billion. Its earnings amounted to $17.8 per share, an increase of 14% from the previous year.
During the first six months of 2014, expectations regarding Allianz's operating performance were quite low due to outflows at PIMCO and low German bond yields. However, Allianz was able to report strong results during this period, with revenues and operating profits up by more than 6% compared to the same period of last year. This was mainly due to its insurance units, while asset management saw a steep decline on revenues and profitability. Nevertheless, the results continue to demonstrate that despite expectations to the contrary, management is continuing to find opportunities to sustain modest growth in the business overall.
Looking forward, Allianz's financial results will continue to benefit from growth markets, but PIMCO's earnings should continue to come under pressure due to lower performance fees and continuing outflows. In life insurance, Allianz's main challenge is the low interest rate environment in Europe that will certainly persist for a few years, putting pressure on earnings growth. Overall, according to analysts' estimates, Allianz should be able to post modest growth over the next three years, with revenues expected to rise 1% annually and operating profit broadly the same during this period. This may be too conservative, as Allianz has delivered better than expected results over the past few quarters, despite the headwinds it faced.
Dividends
Regarding its dividend history, Allianz has delivered a stable or growing dividend since 2008. Due to its good financial performance, the company increased its dividend related to 2013 results after three years of it unchanged. The dividend per share was increased by 17.8%, from €4.50 ($6) to €5.30 ($7.10) per share. At its current share price, Allianz's dividend yield is about 4.15%. Like many European companies, Allianz only pays one dividend per year, reducing a little its appeal for income investors who like to receive more frequent payments. Additionally, when investing in foreign companies the dividend withholding tax should also be taken into consideration. Under German law, the current dividend withholding tax is 26.375%.
Its dividend payout ratio has been around 40%, except in 2011 when its earnings collapsed and the payout increased to 78%. In 2013, despite the dividend increase its payout ratio remained stable at only 40%. This means that Allianz's dividend is sustainable and has some room to grow if the company decides to be more aggressive and distribute a larger part of its profits to shareholders.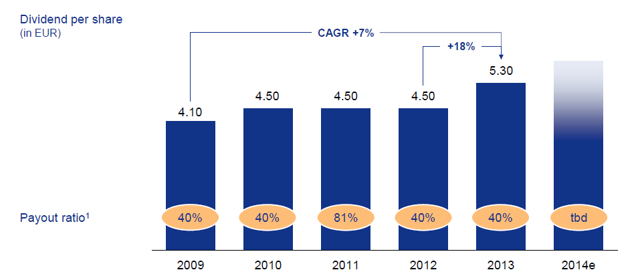 Source: Allianz
Indeed, in its recent investor day, Allianz's management was clear about its commitment to revise the dividend policy at the end of the year, and a higher dividend payout ratio is expected. Allianz should raise slightly its dividend payout ratio over the next three years, to a level close to 50%. If this happens by 2016, its dividend per share may grow to about €7 ($9.4) or about 30% higher than in 2013.
Another important issue to determine its shareholder remuneration policy is the company's capital adequacy. Like its peers, Allianz may distribute more money to shareholders if it has a large capital surplus, at least to preserve its current rating. However, identifying capital surplus is somewhat difficult to do, since the rating agencies have different models, but also because the Solvency II model, which will probably become the main benchmark of capital adequacy, has not yet been finalized. Nevertheless, Allianz has reported that its economic solvency ratio is above 200%, a level that is superior to the minimum required to maintain its AA rating (about 180%), so from a capital standpoint Allianz appears to have some room to increase its distributions to shareholders.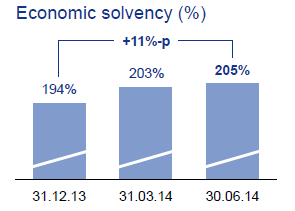 Source: Allianz
Conclusion
The insurance sector is usually overlooked by income investors but it can clearly be interesting for those looking for diversification and stability. Allianz is one of the world's largest insurance companies, being a well-run company with a large exposure to asset management through PIMCO. It also offers a high dividend yield above 4% and trades relatively cheap due to low current expectations regarding its business outlook for the next few years that may be too conservative. Allianz is trading at only 9.3x its estimated 2014 earnings and 1.05x book value, an undemanding valuation for a company with strong dividend growth potential.
Disclosure: The author has no positions in any stocks mentioned, and no plans to initiate any positions within the next 72 hours.
The author wrote this article themselves, and it expresses their own opinions. The author is not receiving compensation for it (other than from Seeking Alpha). The author has no business relationship with any company whose stock is mentioned in this article.
Editor's Note: This article discusses one or more securities that do not trade on a major U.S. exchange. Please be aware of the risks associated with these stocks.