The Zillow Home Value Index is a proprietary metric developed by Zillow to track home prices across the country. It is very similar to the Case-Shiller Index, but instead of following 10-20 cities the ZHVI follows the entire country.
Recently Zillow released its July numbers. The previous trend of increasing year over year prices has continued, but now with a very noticeable change.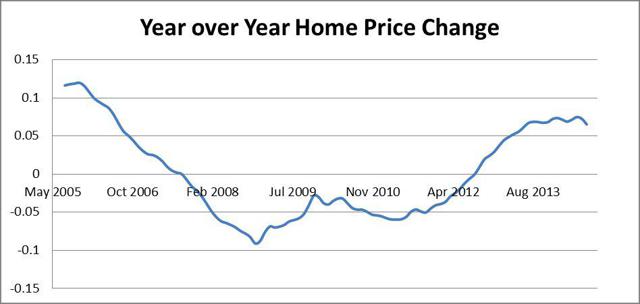 Source: Zillow
While prices are still increasing, the 2013 trend has definitely been bucked, and we can see home prices starting to slow down. This is confirmed also looking at the more volatile month to month data.
Source: Zillow
The deceleration in home prices is especially evident here in the July numbers. The housing market that saw great gains in 2012 and 2013 is showing now definite signs of froth. Yes, home prices are still increasing, and they will likely continue to increase for a few months, but the momentum is reversed and now it looks likely that we are close to falling home prices.
How has the market responded? RealtyTrac data shown that institutional investors are pulling out, and the percentage of all-cash sales is starting to taper.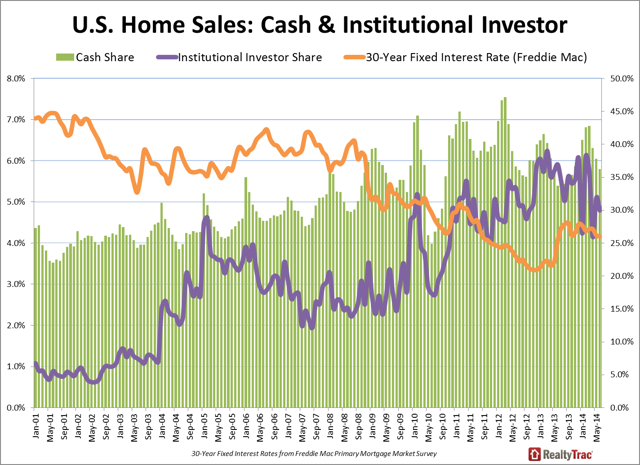 Source: RealyTrac
From a high last year, the percentage of homes purchased by institutional investors has plummeted in the past few months to 2011-2012 levels. Further, the long trend of all cash sales has also seen a definite decrease. Perhaps more worrisome for housing, though, is the trend in foreclosure activity.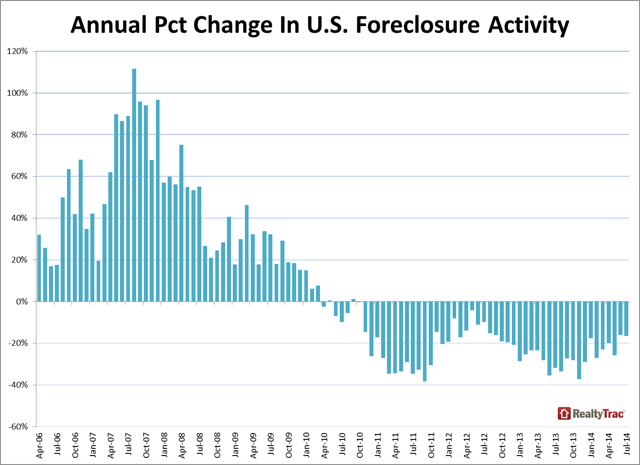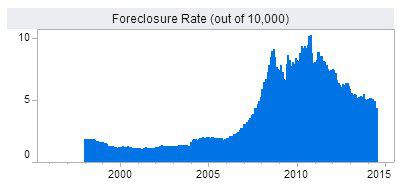 Source: Zillow
The foreclosure rate, while still far above the rate seen during the first housing bubble, was steadily decreasing over the past 4 years. What has happened in the past few months is a decline in this rate of decrease. Is this a sign of a healthy and booming housing market?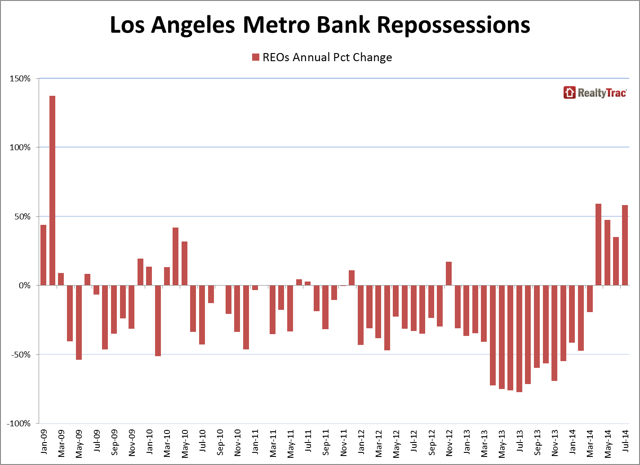 Finally I show a chart from one of the most expensive housing areas of the country: Los Angeles. Over the past 4 months we have seen a large and sustained increase in bank repossessions. Most impressive about this fact is that rates are currently falling. Most banks are expecting a rise in interest rates, so if the current interest rates are causing large problems now, what will higher rates do to foreclosure activity in the future? Expect stress to hit housing prices as these foreclosure rates impact inventories and high prices keep homes on the market for longer. 2012 and 2013 were great years for housing, but 2014 is proving that this was just a blip in an otherwise still overinflated market.
Action to Take
Despite the recent news of higher housing starts, the fundamentals for the housing market remain incredibly weak as I've detailed previously. This analysis combined with recent price action has only confirmed my bearish sentiment for the market. I continue to be short SPDR S&P Homebuilders (NYSEARCA:XHB) and iShares US Real Estate (NYSEARCA:IYR). Recent bullish action should be quickly corrected by flat home prices.
Disclosure: The author is short XHB, IYR.
The author wrote this article themselves, and it expresses their own opinions. The author is not receiving compensation for it (other than from Seeking Alpha). The author has no business relationship with any company whose stock is mentioned in this article.