Duke Energy (NYSE:DUK) is the largest regulated utility in America, servicing 7.7 million customers. The company is split into three operating segments: 1) Regulated 2) International and 3) Power Generation.
Duke, with a $50 billion market capitalization, supplies energy to 7.2 million electric customers and 500,000 gas customers. In addition, the company operates 57,500 megawatts of generating capacity, both regulated and merchant power.
DUK announced its 2nd-quarter 2014 results, which were up from last year and were better than consensus estimates. In addition, management upped it guidance for 2014 to between $4.50 and $4.65 a share. Management also offered a longer-term guidance of dividend growth. Management believes EPS will grow by 4% and 6% a year, and anticipates a 65% to 70% payout ratio.
The current annual dividend rate was raised recently to $3.18, and is the seventh consecutive annual increase. Below is a table outlining various options based on high and low earnings growth plus high and low payout ratios. The result is a high potential dividend growth over the next 3 years of 7.8% annually, a low potential of 1.2% growth, and a middle range of 3.8% to 4.4%. Investors should anticipate dividend growth in the middle range, which is still substantially above the sub-par record of 2.0% annual growth over the past few years. Using the mid-point of 2014 EPS guidance and the newest dividend rate, the current payout ratio is 69.5%.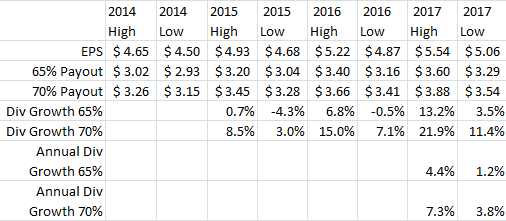 Source: DUK Quarterly Earnings Review Presentation, MyInvestmentNavigator.com
Below is the basis for management's 4% to 6% EPS growth, also from the most recent investor presentation.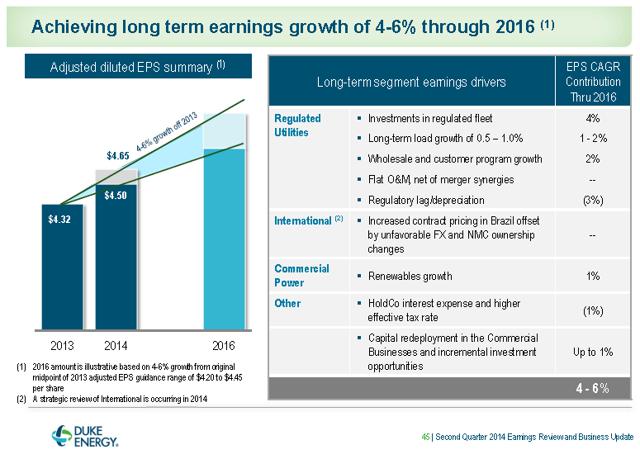 Specific segment growth drivers for the 2nd quarter are below, and from its presentation: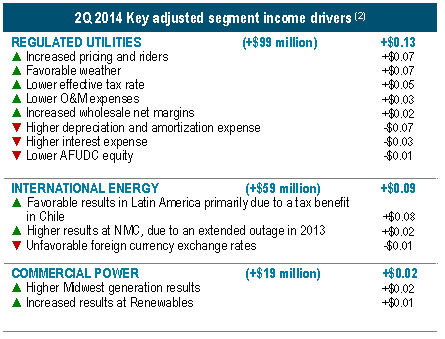 DUK is selling its Midwest generating assets, per a press release on February 17 and revised on May 30. These include 11 power plants with a combined capacity of 6,089 MW, and are mainly coal or natural gas-fueled. The company tried unsuccessfully to sell these assets in 2012. The Midwest generating assets is responsible for 8.6% of 2013 revenues and about 4% of total company earnings. According to an article in WSJ online:
Blackstone Group (NYSE:BX) and Riverstone Holdings LLC have teamed up to bid on the 11 power plants in the Midwest, which could fetch around $2.5 billion, according to people familiar with the matter… Power-focused private-equity firm Energy Investors Funds also submitted a first-round bid for the gas- and coal-fueled plants in Ohio, Illinois and Pennsylvania, some of the people said. Energy Capital Partners, another energy-focused private-equity firm, also submitted a bid, one of the people said.

Dynegy (NYSE:DYN) is also rumored to be making a bid, even after emerging from bankruptcy less than two years ago.
DUK took the largest non-cash writedown in a decade, $1.4 billion, in May of this year, to offset an anticipated weak price for these plants. The sale could take until the middle of 2015 to consummate, and the proceeds should go to reduce debt and increase share buybacks.
However, partially offsetting the sale of these assets, DUK is building more generating capacity in Florida and South Carolina. It seems DUK believes there are better opportunities outside the traditional PJM 3-year rolling auction process that controls Midwest and Mid-Atlantic power pricing. The sales of these assets will greatly diminish DUK's exposure to a potential turn in the power markets controlled by PJM.
According to the detailed S&P Credit Report dated May 8, and available on DUK's website, the company is rated BBB+, or about average for the industry.
The stable outlook on Duke Energy Corp. and its subsidiaries reflects our expectation that the company will preserve its "excellent" business risk profile largely by continuing to direct the majority of its planned investments in its regulated utility operations while at the same time effectively handling the ash pond issues that have arisen in North Carolina in a credit-neutral manner. Under our base case scenario, we expect that Duke Energy will generate core credit ratios that will continue to support its "significant" financial risk profile with funds from operations (FFO) to debt of 17% to 19% and debt to EBITDA that remains somewhat elevated at just under 4.5x.

We assess Duke Energy's business risk profile as "excellent", incorporating the company's regulated utility operations that serve more than 7 million customers, span six states, and provide about 85% of operating income while benefiting from operating and regulatory diversity. Duke Energy's business risk profile also benefits from regulated utility operations under generally constructive regulatory frameworks. The majority of Duke Energy's customers are residential and commercial, providing incremental support to revenues and cash flow. On aggregate, Duke Energy's customer base grew by about 1%, reflecting the service territory's robust economic profile. Our assessment of business risk also accounts for Duke Energy's unregulated merchant generation operations in the U.S. and in Latin America as well as for the company's renewable energy projects in the U.S., which combined can contribute as much as 15% of operating income. We view these ventures and the merchant generation business in particular, as having higher risk than Duke Energy's regulated operations.

Over the past few years, Duke Energy has reached a number of rate case decisions and settlements aimed at enabling the company to recover significant invested capital, thereby providing certainty and stability to the company's cash flow generation.

In early 2014, Duke Energy announced its plans to exit the merchant generation business in the U.S. with the sale of its Midwest generation fleet. We expect that once closed, the transaction will shift somewhat the company's focus to an incrementally more predictable cash flow business model. This is because Duke Energy still plans to maintain ownership of its Latin American merchant generation business, which usually operates on a highly contracted basis. Moreover, the company plans to grow its renewable business, with an emphasis toward solar projects. While we ascribe higher business risk to such investments compared with the regulated utility operations, the company's efforts to contract all output somewhat mitigates the risks involved.

Finally, Duke Energy must contend and effectively address in a credit neutral manner the coal ash storage ponds it owns in North and South Carolina. Because the cost to convert all coal ash ponds to dry storage can be prohibitive, the company is planning to pursue alternatives that meet the standards of the state's environmental agency but that will also comply with any federal rules for coal ash storage developed by the Environmental Protection Agency.
93% of DUK's customers are electric, 7% are gas customers, and DUK operates in states with favorable regulatory environments. According to S&P Credit, the states of Florida (22% of customers), North Carolina (41%), South Carolina (9%), and Kentucky (3%) are rated as "Strong" for regulatory environment, while Ohio (14%) and Indiana (10%) are rated as "Strong/Adequate". Within their effective three category designations, "Strong" could be considered as best, "Strong/Adequate" as neutral, and "Adequate" as poor. It is significant that with 85% of earnings being generated from regulated businesses, 76% of its customers reside in states that are favorable for utility rate cases. Looking at 2nd-quarter earnings drivers, 50% of regulated earnings growth came from rate increases and riders.
DUK has embarked on a $21 billion capital expenditure program between 2014 and 2016. With operating cash flow of $6.5 billion in 2014 growing at 4% a year, and $2.2 billion in dividends paid in 2014 growing at 3% a year, over the next three years, DUK will generate $20.3 billion in ocf, and will pay $6.9 billion in dividends. This matrix for cap ex, ocf, and dividends paid will create a $6.2 billion shortfall to be financed with increasing debt. The potential proceeds of the sale of the Midwest generating business can counterbalance a portion of this shortfall.
Historically, DUK managers have generated an industry average return on invested capital ROIC. According to fastgraphs.com, the most recent-quarter ROIC is an underperforming 3.4%. Morningstar.com offers a trailing 12-month ROIC of 4.1%. The 15-year graph of ROIC is provided by fastgraphs.com: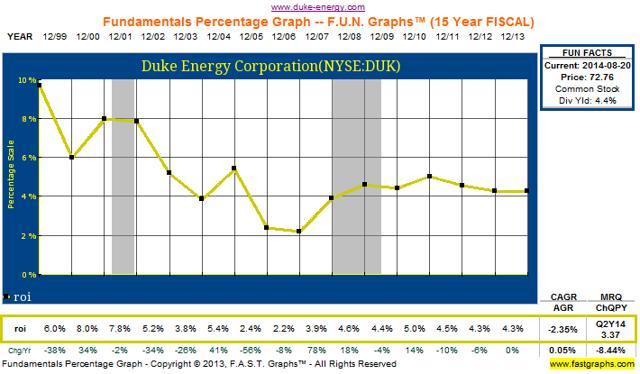 According to the Earnings/Price Correlation, also provided by fastgraphs.com, DUK could be considered fully valued.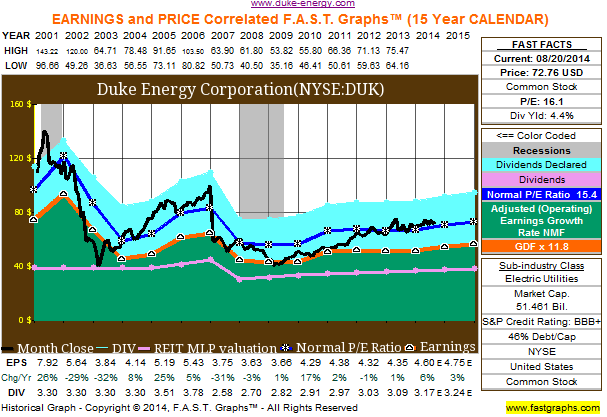 Based on its own 5-year average valuation, DUK could also be considered fully valued. Below are selected valuations comparing current and 5-year averages:
Price-to-earnings: Current 23.5, 5-year average 19.1
Price-to-book value: Current 1.3, 5-year average 1.1
Price-to-sales: Current 2.0, 5-year average 1.9
Price-to-cash flow: Current 8.4, 5-year average 7.5
Dividend yield: Current 4.3%, 5-year average 4.9%
Within the Utility sector, Multi-Utilities are technically the best place for investment monies. Water and Gas Distribution industries have barely outperformed Multi-Utilities, but their current total return technical readings call for declines, and point to an overvaluations for these two industries. Unlike many of its peers in the Utility sector, Duke has demonstrated a technically bullish chart. According to stockcharts.com, the bullish chart indicates a price target 35% above its current price. In the Multi-Utility industry, there are few larger companies than Duke Energy.
Duke investors should experience both a steadily growing income stream and some price appreciation, with targets ranging from $73, its current price, to $79. While DUK will not be a barnburner, the company should continue to supply adequate returns over time.
Author's Note: Please review important disclaimer in author's profile.
Disclosure: The author has no positions in any stocks mentioned, and no plans to initiate any positions within the next 72 hours.
The author wrote this article themselves, and it expresses their own opinions. The author is not receiving compensation for it (other than from Seeking Alpha). The author has no business relationship with any company whose stock is mentioned in this article.