It's likely that BlackBerry's (BBRY) current strategy can carry the company forward for a couple years as its mid-tier phone when priced appropriately can appeal in certain markets.
However, I think that the company isn't very consumer oriented. What the company lacks isn't innovation, it's the lack of a compelling software ecosystem to go along with the branding of the product, paired with the components. I think that if BlackBerry were to adjust its business model by launching a device with an Android or Windows operating system it can save itself from the ecosystem race, use the remaining resources to re-brand the device to be like a BlackBerry, but with the exception of coming with Google (NASDAQ:GOOG) (GOOL) or Microsoft (NASDAQ:MSFT) apps.
I'm making this case because the long-term growth trajectory of BlackBerry isn't so obvious anymore. With the recent flop of the Amazon Fire phone, one must wonder, can BlackBerry continue to dominate its niche in security and still remain relevant to its consumers, or should it abandon its bread and butter, and become a purely consumer-centric company?
I think BlackBerry can find a reasonable middle ground between both.
BlackBerry's declining market position
At present, there's no denying the dependence BlackBerry has on its consumer segment (hardware and service category). BlackBerry service revenue comes from service access fees, which come from selling BlackBerry handsets. Also service access fees will decline in revenue contribution going forward due to a drop-off in fees per handset device paired with declining handset shipments in developed markets.

Source: BlackBerry
BlackBerry has to generate device shipment growth, even if it means targeting certain niche markets like Indonesia and Vietnam. BlackBerry has had success in Asia, and it's growing to become a larger percentage of the sales mix.

Source: BlackBerry
Asia Pacific sales have grown from $140 million to $151 million. The Blackberry Z3 will continue to carry the company as it offers compelling features, reasonable pricing and solid branding.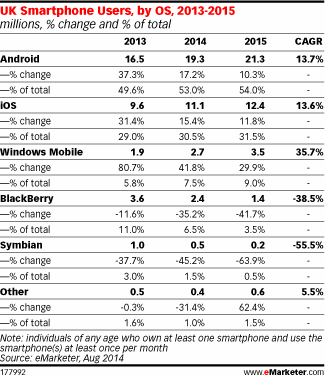 Source: eMarketer
However, BlackBerry may have to exit from the United Kingdom at this rate. When I look at the unit shipment decline in the UK, part of me is horrified, but another part of me realizes that BlackBerry still has a chance of remaining a niche device maker, so as long as it focuses on markets that it can adequately compete in.
Developed markets (like UK/USA) have a much stronger line-up of devices from competing brands like Apple (NASDAQ:AAPL) and Samsung (OTC:SSNLF). In those markets, Samsung and Apple have stronger retail distribution, paired with larger marketing/R&D budgets.
However, you take BlackBerry and insert it into much smaller markets that are more price sensitive, and a mid-end device can still compete. Furthermore, Blackberry can afford the necessary marketing expenditure to gain sizable share in these smaller markets.
However, there is still some downside to BlackBerry's device line up in general. BlackBerry's operating system may not be as compatible within the broader smartphone ecosystem.
Why BlackBerry should consider dual operating systems
I think BlackBerry should split its enterprise segment from consumer and offer its strong security features to a line-up of phones that are sold to corporate/government end-users. A second line-up of phones can be produced to run Windows or Android. This strategy is highly compatible with its current supply chain agreement with Foxconn.
This is because offering two different OS versions (one being BlackBerry OS 10 and the other being Windows or Android) won't come with supply chain constraints, because the production of a phone at the hardware level is where production volume needs to meet a certain threshold. However, when it comes to a pre-installed OS, the manufacturing only has to be tweaked moderately. Perhaps, the device can come pre-loaded with both BlackBerry's OS and Android, giving users optionality to run two different OS. Or, by default BlackBerry will use one OS over the other depending on the sales channel.
Of course, going with Windows OS or Android OS will force BlackBerry to re-brand and abandon its current installed base, but with BlackBerry's sizeable financial resources, it can send out a message to consumers that it's offering them exactly what they want (more apps). However, it can modify Android to make the graphics user interface similar to BlackBerry OS 10. Android is a little more friendly to OEMs when it comes to customized UI (user interface), whereas Microsoft will probably ram metro down BlackBerry's throat.
Strategically, Android has a larger application ecosystem, and it also has more experience with working with custom user interfaces, making the company more friendly to OEMs that want to differentiate the front-end graphics user interface.
But on other hand BlackBerry could get a small subsidy from Microsoft. Microsoft also subsidized Nokia phones running on Windows OS. Through a subsidy model, BlackBerry's financial position could be alleviated somewhat. It also helps that BlackBerry can piggy-back off of Microsoft's retail distribution between Best Buy and its dedicated retail stores.
Conclusion
BlackBerry's current strategy of targeting narrow geographic markets where they are well received seems to be working. However, consumers may want a software ecosystem that's much broader than what BlackBerry can provide. In that case, BlackBerry can go with a strategy in which it markets two operating systems, one for corporate end-users and one for consumers. In this process they fill a niche and achieve broader consumer appeal at the same time.
While abandoning its core user base sounds risky, declining into total irrelevance is much riskier at the present moment. Assuming BlackBerry offers Android or Windows the company can rebrand, offer a user interface that's similar to BlackBerry OS, and piggy-back off of a different application ecosystem. However the other option is to give users the ability to dual-boot into two different operating systems.
In this case scenario BlackBerry will never become the once dominating device maker it used to be. But it can at least generate a consistent profit by conforming to what every other OEM decided to do long ago.
Disclosure: The author has no positions in any stocks mentioned, and no plans to initiate any positions within the next 72 hours.
The author wrote this article themselves, and it expresses their own opinions. The author is not receiving compensation for it (other than from Seeking Alpha). The author has no business relationship with any company whose stock is mentioned in this article.