Liquidity Services, Inc. (NASDAQ:LQDT)
Share Price: $14.05 (Jan. 3)
Intrinsic Value: $22
Buy Below: $15
Business Description & Background
Liquidity Services, Inc. (LQDT) operates an online auction marketplace for surplus and salvage assets.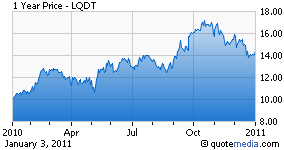 The company enables buyers and sellers to transact in an automated online auction environment offering approximately 500 product categories. It organizes its products into various categories across various industry verticals, such as consumer electronics, general merchandise, apparel, scientific equipment, aerospace parts and equipment, technology hardware, and specialty equipment.
The company's marketplaces provide professional buyers access to supply of surplus and salvage assets presented with information, including digital images, and other relevant product information. Its online auction marketplaces include liquidation.com, which enables corporations and selected government agencies to sell surplus and salvage assets; govliquidation.com, which enables selected federal government agencies to sell surplus and scrap assets; govdeals.com, which enables local and state government entities, including city, county, and state agencies, as well as school boards and public utilities to sell surplus and salvage assets; and liquibiz.com, which enables European-based corporations and government agencies, including the U.K. Ministry of Defense, to sell goods to European and other international buyers. The company also operates a wholesale industry portal, goWholesale.com, which connects advertisers with buyers seeking products for resale and related business services.
Its solution combines various online marketplaces with a suite of integrated sales, marketing, merchandising, fulfillment, payment collection, dispute mediation and logistics services. Further, Liquidity Services, Inc. offers various services in the merchandising and channel optimization, logistics, and settlement and customer support areas to sellers. The company was founded in 1999. Its headquarters is in Washington, D.C.
Source: Yahoo! Finance
Thesis
LQDT is an emerging growth company without all the baggage associated with most high-flying companies. LQDT is already on solid footing, has a solid balance sheet, isn't issuing new shares recklessly, and will be self-funded through free-cash-flow (FCF).
LQDT is one of the few firms that benefit from a network effect that one user of a good or service has on the value of that product to other people. When network effect is present, the value of a product or service increases as more people use it. In other words LQDT's broad product and service offering increases buyer demand, which increases the rate of return, which in turn, produces new and expanded seller relationships. There are a couple of similar companies that all benefit from a network effect, they include:
eBay, Inc. (NASDAQ:EBAY) market cap: $36.97B, EV/EBITDA: 11.06x
Copart, Inc. (NASDAQ:CPRT) market cap: $3.08B, EV/EBITDA: 9.06x
LKQ Corporation (LKQX) market cap: $3.33B, EV/EBITDA: 10.51x
Ritchie Bros. Auctioneers, Inc. (NYSE:RBA) market cap: $2.46B, EV/EBITDA: 16.76x
Any one of these companies was a fantastic investment if one had been able to identify it early enough. Each now, in our opinion, is fairly valued or even slightly overvalued, considering the lofty current valuation multiples and lower future growth prospects, given each company's large size.
Historically, participants right down the supply chain (manufacturer, distributor, retailer, etc.) had little chance of recovering any value with overstocked, returned, discontinued and damaged items. They were typically sold through local brokers, which are limited in the size, scale, and scope of their auctions, which meant lower recovery rates. LQDT is providing a much needed service to a growing list of retail sellers including such A-list firms as The Home Depot (NYSE:HD), Costco (NASDAQ:COST), Target (NYSE:TGT), Kohl's (NYSE:KSS), and even Overstock.com (NASDAQ:OSTK) [ironic huh?]. LQDT calls this the reverse supply chain, a platform to sell these surplus and salvage goods in a clear, concise, open platform to thousands of potential buyers across the whole nation. In addition to boasting a strong retail seller base, LQDT is the main liquidator for the U.S. Department of Defense and 2,800+ state and local government agencies.
LQDT's buyer base is diverse. It often includes online power sellers for websites like eBay (EBAY), discount retailers, refurbishes and scrap recyclers. The buyers benefit from LQDT's services in numerous ways including access to large flows of assets, low prices, sophisticated search tools, turn-key shipping, secure third-party settlement and customer support.
LQDT is in a market place with a growing opportunity. The four main markets include retail, European capital assets, U.S. capital assets and public sector. The market opportunity on each is $73.3B, $51.5B, $20B, and $2B respectively. With the advent of online shopping, low shipping rates and competitive return policies, more and more shoppers are willing to purchase goods online, sight unseen. This inevitably leads to more returns as customers receive a product that they did not fully expect.
So how does LQDT compete with such giants as amazon.com and eBay.com in the auction market? LQDT differentiates itself by focusing on wholesale, and not sales to the consumer. If you have ever used eBay to purchase an item from a power seller, there is a chance that product was once sold at wholesale through LQDT before ending up at your doorstep. If anything, the relationship with eBay is symbiotic, the more business eBay does, the better it is for LQDT.
LQDT's goal is the achieve $1 billion in Gross Merchandise Volume (GMV) sold within the next five years, up from its current $356mm. LQDT will seek its $1B target through a combination of external and internal growth, and innovation and enhancements of current features and services. GMV has grown 33% per year on average since 2002, and GMV is up 32% year-over-year during the fiscal fourth quarter. It seems LQDT is still in the sweet spot for growth.
Management and Stewardship
LQDT's CEO and co-founder is William Angrick III. Mr. Angrick still own 5mm shares out of the 27mm outstanding, so he has a substantial stake in the company. He has built the firm from the ground up, and it seems to still be firing on all cylinders. Return-on-invested-capital (ROIC) has been in the mid-teens on average over the past couple of years. He's treated shareholders well by being able to grow the firm organically without diluting shareholders or taking on excessive debt.
Valuation
LQDT is classified as a micro-cap growth company. Here is how LQDT's capital structure looks:
Market Value:
Net Cash$76.8
Market Cap$383.7
Enterprise Value$306.9
LQDT shares are cheap when factoring its long-term growth potential. Although LQDT trades at a sky high multiple of earnings, one has to consider that it has no debt and over $76mm in cash on the balance sheet. A better way to look at LQDT is through free-cash-flow. Ironically enough, many emerging growth companies generate none. LQDT generated $28mm in 2010, however we like to adjust for stock compensation expense, which brings this total down to about $19mm. On an enterprise value of $307mm you get a EV/FCF ratio of 16. Keep in mind that FCF is growing rapidly. FCF should reach over $25mm next year bringing LQDT's forward EV/FCF ratio down to about 13. It should be noted that LQDT will be rolling out new software, which will cost about $2-2.5mm above and beyond what they normally spend on IT upgrades.
Sales for LQDT could reach $582mm and $980mm in 5 and 10 years respectively, up from $287mm over the past twelve months. With a p/s multiple of 1.85, which is the average p/s ratio of Morningstar's Small Cap Growth index, we believe the market-cap of LQDT could surpass $1b in 5 years and $1.7b in ten years. We think it is reasonable to expect LQDT to command a higher p/s multiple as it recognizes its potential as a high margin business.
LQDT started to repurchase shares in the fourth quarter and still has a couple of thousand shares left outstanding. However, we are not factoring share repurchases into our fair value estimate since it will likely be offset by share dilution from stock options.
Based on our discounted cash flow analysis (DCF), LQDT shares are worth $20, 43% more than LQDT's current share price.
FCF Growth
LOW /MIDDLE/ HIGH/ Years
26.0%/ 31.0%/ 36.0%/ 1
16.0%/ 21.0%/ 26.0%/ 2
12.0%/ 16.0%/ 21.0%/ 3
10.0%/ 15.0%/ 20.0%/ 4
9.0%/ 14.0%/ 19.0%/ 5
5.0% /8.0% /11.0%/ 6-10
-1.0%/ 0.0%/ 1.0%/ 11-20
-0.3% 0.0% 0.3% Terminal
11.0% 11.0% 11.0% Discount Rate
0.0% 0.0% 0.0% Dilution
$15.60 $20.01 $26.29 Total per share IV
22.3x28.6x37.5xMultiple to Y0 FCF
0.9x0.7x0.5xPrice% of IV
11%43%88%Upside/current
Overall we think shares of LQDT are easily worth $22, a substantial premium to today's current market price of $14.
To achieve our targeted upside of 30%, we would recommend purchasing the shares at, or below, $15.
Variant View and Risks
LQDT is in an emerging industry which may attract more competitors in the future.
LQDT is highly exposed to sales from the U.S. Department of Defense and local and state municipalities. Subsequently, any pressure on municipal and federal cost cutting may result in increased margin erosion for LQDT.
LQDT's management team may use cash to over pay for an acquisition.
Sources: Company web-site, sec.gov, company filings, Yahoo Finance, Morningstar.com, Data provided by EDGAR Online's I-Metrix Professional, XBRL-enabled application
Disclosure: Clients of R. W. Rogé & Company, Inc. have a position in LQDT but that may change at any time. We use or best efforts to obtain good data in our models, however it can't be guaranteed that our inputs and data are correct. This is not a recommendation for readers to purchase the above company without consulting your financial professional to discuss your own risk tolerance and objectives. This is for informational purposes only. We are under no obligation to update our research. Please conduct your own research.
Additional Disclosure: I am long LQDT.