I recently wrote an article in which I suggested that investors who are bullish of gold should consider buying shares in mining companies that have projects that aren't necessarily economically appealing at $1,300/oz. gold, but which have substantially more value than their market capitalizations at much higher gold prices. That article was more about strategy than individual picks, although I did name a couple of stocks - Allied Nevada Gold (NYSEMKT:ANV) and Chesapeake Gold (OTCQX:CHPGF).
Given the positive response I've decided to write a follow-up that gives readers a more comprehensive list of stocks to choose from. In particular, I'm going to point out some under the radar names, some of which I've written about in the past and a couple that I haven't.
Beforehand let me just briefly summarize the strategy I laid out. Investors should find companies that have valuations that don't reflect the total amount of gold that they have in the ground. Often these stocks have been neglected because these companies' projects aren't economic, but your goal is to find companies that can increase several-fold in value in the event of $2,000/oz. gold or even higher - depending on your outlook for the gold market.
Another crucial point is that you don't want other risk factors getting in the way of your leverage. So, while there are many compelling investments in high risk jurisdictions - particularly in Africa - you don't want to buy these stocks in pursuit of this strategy (although that doesn't mean that they aren't good investments.)
Finally, you need to make sure that the stocks you pick don't have too much exposure to other metals, and base metals in particular. Gold is a bearish bet, and while inflation will lift the prices of most commodities if it leads to a recession, gold will significantly outperform copper, lead and zinc unless there are unique circumstances (e.g. the anticipated supply deficit in zinc). You may come across projects with a lot of silver as well, although I've yet to come across any gold bulls who are bearish of silver.
So given these points I am listing four stocks - each of which I've written about in the past - that I think reflect this strategy.
These are small companies and, with the exception of Pretium Resources, their stocks are often illiquid on U.S. exchanges so you should be careful when buying them or buy them in Toronto assuming you have access.
1--International Tower Hill Mines
This has been a controversial one on Seeking Alpha with both bulls and bears making their case. The company shocked investors last year when it came out with its pre-feasibility study for its Livengood Project in Alaska. It has a far higher initial capex of $2.8 billion than investors anticipated. Furthermore, despite its size - 20 million ounces of gold - it is not economical at the current gold price, and unless you are expecting the gold price to climb towards its old highs and beyond there is no reason to expect that this project will be built.
But this is the sort of scenario that I am looking for with this strategy. International Tower Hill Mines has a valuation of just $65 million, meaning that you're buying gold in the ground for just $3/oz. If we see $2,500/oz. gold, it wouldn't surprise me to see this stock trade at $50/oz. or higher, giving you enormous leverage.
There is another catalyst for this stock, which is that management is working towards reworking the mine plan so that it is smaller and focuses on higher grade ore. Management hasn't been explicit about its plans for achieving this, but if it does then the stock can begin trending upwards.
2--Chaparral Gold
This one is new on my radar but I think there is substantial opportunity. This one combines gold price optionality with a large cash hoard, along with a project that is economically viable at the current gold price, giving it a compelling combination of price drivers going forward. The company's optionality is in its Converse Project, which isn't viable at the current gold price, but which can potentially be worth several times the company's current valuation ($63 million) assuming that the gold price rises. The following chart shows the NPV's sensitivity to the gold price (and other variables). Note that the "100%" refers to $1,350/oz. gold.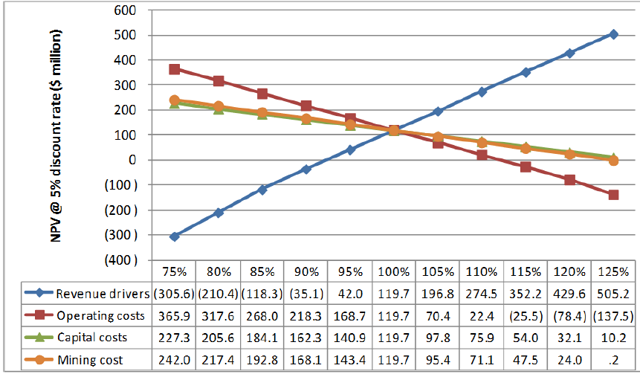 (Source: Converse's Preliminary Economic Assessment)
These figures become substantially larger assuming the gold price rises to $2,500/oz. and beyond.
In addition, the company has over $40 million in cash as well as the Gemfield Mine, which is a small project that is economic at the current gold price.
Given this combination, I think Chaparral Gold offers a unique way for investors to invest in a company that is undervalued in the current gold-price environment as well as speculate on higher gold prices.
3--Pretium Resources
Pretium Resources has two enormous projects in Canada - Bruce Jack and Snowfield - with a whopping 50 million ounces of gold. It also has some silver and base metals, but these don't contribute enough for me to leave Pretium out of this article. The company is valued at $800 million, although it recently just raised nearly $70 million in a secondary offering, and with its cash backed out, it is worth abut $715 million. This doesn't make the stock quite as cheap as the first two on a price to NEV basis unless you count the secondary metals, which get the company's NEV to gold equivalent ounce ratio below $10. In a higher gold price environment this figure can be much higher.
Furthermore, this $10/oz. figure doesn't accurately reflect the true optionality potential of Pretium Resources. The market is likely assigning far more value to the smaller Brucejack Project since it has a decent chance of getting into production in the near future, especially since concerns regarding the company's approach to measuring its resource seem to be in the past.
On the other hand, the Snowfield Project is being assigned very little value. Pretium doesn't have any plans to develop this monster deposit until the next decade given that it wants to focus on Brucejack, which is less expensive and more manageable. A rising gold price can therefore send the value of Snowfield soaring to the extent that the aforementioned Livengood and Converse Projects can soar, making Pretium an excellent gold optionality play.
4--Lexam VG Gold
This one is a little more speculative with a market capitalization of just $28 million, although you're still getting gold for about $10/oz. with the cash backed out ($25 million NEV vs. 2.3 million ounces). This one has a couple of advantages that will draw investor interest, especially when the gold market resumes its uptrend. The first is that this company's property is located in the Timmins Gold Camp in Ontario, which gives the company access to infrastructure as well as a heightened probability of finding more gold (gold is often found near existing gold resources). This also makes it a potential takeout target for other companies that operate in the region such as Lake Shore Gold (NYSEMKT:LSG).
Second, the company is chaired by Rob McEwen who is famous for developing Goldcorp (NYSE:GG) into the mammoth gold miner that it is today. The company is early in its development, although it has released a preliminary economic assessment for a part of its deposit that shows robust economics. As the gold price rises, management can focus on developing another mine plan that benefits from the rising gold price by encompassing more ounces.
Disclosure: The author has no positions in any stocks mentioned, and no plans to initiate any positions within the next 72 hours.
The author wrote this article themselves, and it expresses their own opinions. The author is not receiving compensation for it (other than from Seeking Alpha). The author has no business relationship with any company whose stock is mentioned in this article.
Editor's Note: This article covers one or more stocks trading at less than $1 per share and/or with less than a $100 million market cap. Please be aware of the risks associated with these stocks.