Company
Fabrinet (NYSE:FN) provides optical packaging and precision optical, electro-mechanical and electronic manufacturing services to original equipment manufacturers (OEMs) of complex products, such as optical communication components, modules and sub-systems, industrial lasers and sensors. Basically, the business creates specialized products for other businesses that delve into a variety of end-markets such as biotech, automotive, semi-conductor processing, and so forth. The company was founded in 1999 and began operations the following year. They are based within the Cayman Islands.
Another SA author revealed that Fabrinet holds a decent market share figure in this particular industry. Management states within their 10-K report that the area holds a default competitive advantage: "there are significant barriers to entry in our existing and target markets, including the lengthy sales cycle, the need to demonstrate complex precision optical and electro-mechanical engineering and manufacturing capabilities to a prospective customer and the ability to protect a customer's intellectual property." This creates a great opportunity for long-term shareholders so long as recurring revenue stabilizes going forward. Despite weakness in 2012, noting sharp declines in both the top and bottom line, cash flows have realized a strong resurgence to normalized figures.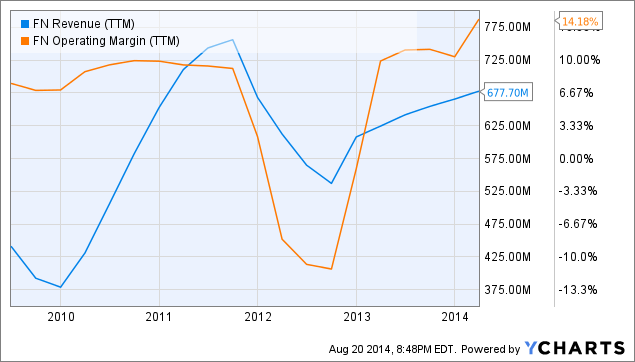 FN Revenue (TTM) data by YCharts
Any company's ability to generate high ROIC is always a plus. Some of the best value investors highly emphasize buying into businesses that trade at cheap valuations that also have decent return metrics. Fabrinet is no exception in my opinion: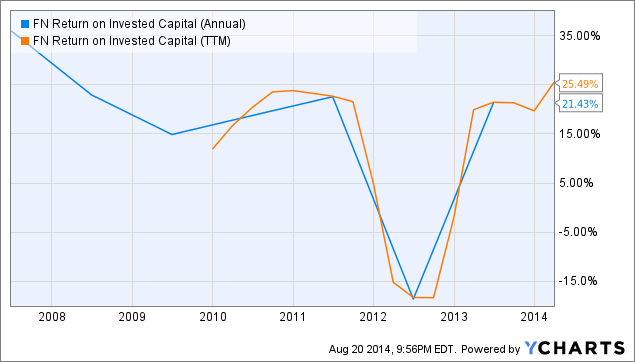 FN Return on Invested Capital (Annual) data by YCharts
Risks
Management has made it clear that an approximated 60% of total revenues comes directly from 4 core customers. Historically, many of these clients have existed under ongoing financial distress, in which rare cases have generated volume supply terminations.
In July of 2011, one of the OEMs cut orders going forward which represented a substantial decline in sales for Fabrinet. Shares declined 22% following the news, and more than 40% within the next 6 months. The company continued its slide well into 2012 as figures shown in the chart above were realized on the income statement and statement of cash flows. In other words, market participants weren't sure if the impact was under or overstated within financials.
Valuation
1. Analysts and management are expecting a drop-off in EPS to $1.65, but are projecting growth thereafter at an average rate of 9%. Given this holds true, if we leave out possible short-term earnings volatility, shares should achieve a fair value of roughly $22. If we place a more conservative approach, reducing total earnings growth for the next 10 years by more than 20% and assume zero terminal growth, shares are still worth $18.85 PPS (about 26% upside).
2. I also think the company should receive a smoothed average DFCF evaluation given the volatility of cash flows, and thus removing arbitrary figures. Over the last three years, the company has been able to grow OCFs at a pretty strong rate, surging at an upwards of 60% in the last fiscal year. However this growth will obviously diminish overtime so here is a more realistic scenario analysis projection:
| | | |
| --- | --- | --- |
| fcf ttm | cagr mult | mc fv |
| 46.66 | 10.00 | 466.60 |
| 46.66 | 12.50 | 583.25 |
| 46.66 | 15.00 | 700.00 |
Based on these assumptions, we have a share price estimation range of -11% to 33%. This essentially issues a reward/risk ratio of three over one.
3. Fabrinet is trading at just 4.796x EV/EBITDA. The electronic equipment industry trades roughly above 12x and the company trades at a historic average of 7x. On a relative basis, this suggests an upside return of 30%.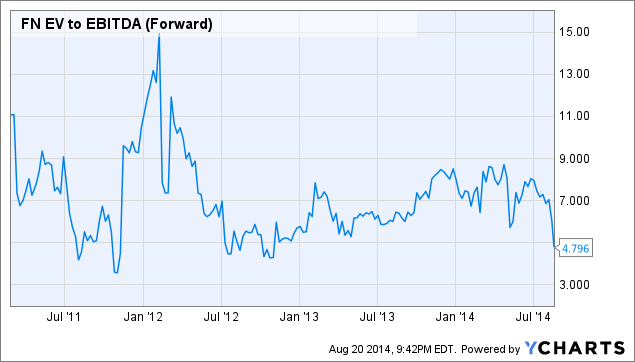 FN EV to EBITDA (Forward) data by YCharts
Technical
This one has been fairly simple to map out.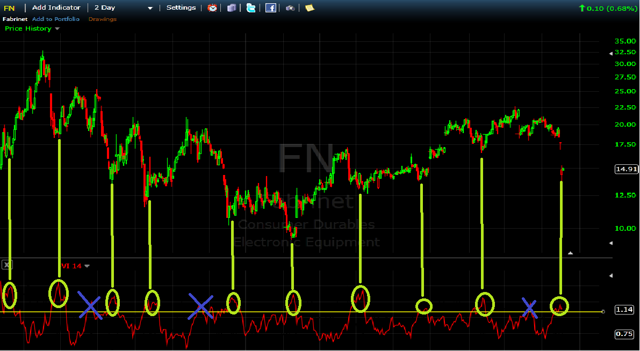 Stock chart provided by freestockcharts.com
Every time the vortex red line spikes above the yellow horizontal line, it indicates people should initiate a long position. The green circles show that the following weeks would have resulted in significant price appreciation. The blue X's have resulted in failure (or price deprecation soon after). With a 75% success rate over the last three years, it appears to be a pretty reliable indicator.
Conclusion
As long as the company's management can execute going forward this is a great prospect. As always, investors should slowly build a position in any given stock. But ultimately, despite short-term weakness in share prices, it appears that all signs point north of $15 a share. At the current share price of $14.90, the stock is worth accumulating.
Disclosure: The author has no positions in any stocks mentioned, and no plans to initiate any positions within the next 72 hours.
The author wrote this article themselves, and it expresses their own opinions. The author is not receiving compensation for it (other than from Seeking Alpha). The author has no business relationship with any company whose stock is mentioned in this article.