Company Overview
EnerSys (NYSE: ENS) is an industrial battery company with a market capitalization of almost $3 billion. The under-followed company rarely has more than 5 or 6 analysts featured on their earnings call, and hasn't had a focus article published on Seeking Alpha since July of 2012. The company splits products into two main categories. Reserve power products serve as backup power for critical systems and applications such as large scale energy storage, telecommunications, security systems, other computer controlled systems, and much more. Their motive power products provide power for industrial forklifts. The company also offers some products to the aerospace and defense market. EnerSys reports revenue geographically by three regions: the Americas, EMEA, and Asia. The respective revenue shares are 47%, 44%, and 9%. Founded in 1999, the company has 9,500 full-time employees. In the past ten years, growth has been exceptional and consistent.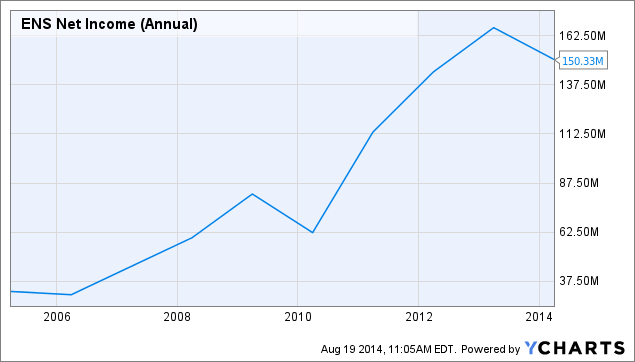 ENS Net Income (Annual) data by YCharts
Gaining Share Thanks To Renowned Brands
EnerSys has numerous qualities that make them such a wonderful company. First off, the company has a fantastic reputation. EnerSys is the largest global distributor of industrial batteries, serving more than 10,000 customers through its 32 manufacturing facilities. None of these customers account for more than 5% of sales. And although the company we know today was technically founded in 1999, EnerSys claims that its predecessors have over 100 years of experience in the industry. This expertise is a key differentiating factor for EnerSys that ensures they will stay relevant in the industry for years to come. Throughout time, the company has developed its brands, which are now world renowned:
Motive Power: Hawker, Ironclad, Legacy, Enforcer, and more.
Reserve Power: Powersafe, Datasafe, Cyclon, and Genesis.
With such powerful branding, the company is able to stay ahead of the competition by simply offering higher quality products. The company also prides itself in having reliable delivery time, prices, and service. These traits form the foundation of the company and allow them to penetrate markets so easily, which has enabled them to maintain high amounts of market share. In the past few years, the market share for the company has generally gone down a bit, falling from the high twenties to the current level, which has been fluctuating in the low to mid twenties. Right now, the company estimates its market share to be 23% of a $7.9 billion global market in motive and reserve power, and they estimate that they are the leader of the European and American industrial battery market. The Asian market is a bit more fragmented and EnerSys' share isn't all that large. This market share could grow even higher as time goes on and EnerSys continues to grow organically and through acquisitions. As the company moves forward, we can also look forward to increased market share simply due to the fact that EnerSys is one of the best companies to do business with if you are in need of an industrial battery. One of the reasons for this is that the company takes operational excellence seriously, apparent by the fact that EnerSys' management systems in numerous locations have ISO Certification. Furthermore, the company has developed a reputation throughout the years, largely through its predecessors. With history dating back more than 100 years in the industrial battery industry, the company's products and processes have been fine tuned and improved for decades upon decades.
Furthermore, the company has many opportunities for growth, which I will get specific about in a moment. Thanks to the growing share, the company should also enjoy significant benefits from scale.
Product Innovation: EnerSys Is Always Adapting
EnerSys is always creating new products that perform better than their predecessors and are desired by companies around the world. The company has done a wonderful job of keeping up with the technological changes going on in the world around us, and changing their products accordingly in order to optimize performance. When it comes to product development, EnerSys focuses on:
Creating new products
Improving existing products
Waste reduction
Efficiency
Expanding capacity without having to add new facilities
Maximizing the quality and performance of each product.
These points of focus have led EnerSys into a leading position in the industrial battery market. What investors need to know, though, is whether or not EnerSys can maintain and grow that position going forward. To prove that they can, I will give a few examples of high quality products that will keep EnerSys on top for years to come.
Let's start with applications for Automatic Guided Vehicles, or AGVs. These machines are essentially robots that are guided through a factory to move materials or do whatever their job may be. Going forward, they are likely to someday replace forklifts, although the full transition could take decades. This technological innovation allows companies to become more productive and profitable. First of all, there is no need to pay a forklift operator. And second, these machines can work continuously considering that the only breaks that are truly necessary are for maintenance. To get a better understanding of what these machines are, you can watch this video on the AGVs used by Toyota. With such a bright future for these machines, it is very encouraging to see EnerSys get involved early on with their chargers and batteries that allow companies to operate these machines at an optimal level. The company estimates that the market size for AGV chargers and batteries will be $200 million in three years. Furthermore, the products that EnerSys offers are of very high quality, which provides the company with competitive advantages for capturing market share. The company's products are environmentally friendly, as EnerSys reports that battery AGVs produce 50% of the CO2 produced by diesel AGVs. In a world where environmental care and caution is demanded, this will drive more business for EnerSys. Furthermore, EnerSys' battery changing and charging station can change an AGV battery in less than five minutes, maximizing productivity.
Next, we have the company's rechargeable nickel-zinc batteries. These batteries have the potential to replace traditional lead-acid batteries due to the fact that they have a much higher power-to-mass ratio. EnerSys reports that these batteries can be up to 75% lighter and produce the same power as lead-acid batteries. Furthermore, nickel-zinc batteries can be used as a lower cost substitute for nickel-cadmium batteries. Another benefit of these batteries is that nickel and zinc are both naturally recurring elements that are easy to recycle, once again allowing the company's customers to act in accordance with environmental regulations. The company estimates that the market size for these batteries will grow to $450 million in three years.
One major product development that could drive serious amounts of sales in the future is the company's OptiGrid Solution. Due to unregulated utilities and numerous other issues, EnerSys reports that blackouts have increased 124%. These events can be quite detrimental to the well being of a community and its economy. As society continues to be more technologically driven, blackouts have simultaneously become both more common and more harmful. This isn't surprising when you consider the rapid growth of Internet traffic as well as the expansion of cell phone networks. Stored energy solutions from EnerSys can combat this global problem. OptiGrid is a capacity optimization system that regulates voltage and frequency for utilities. The product can help communities meet large scale energy storage needs while also adhering to the heavy regulations in the industry. Furthermore, this solution can keep peak demand levels under control by storing energy very close to the primary infrastructure components to avoid the loss of power due to heavy strains on congested and aging lines. The company estimates that the market size in three years will be about $300 million. But as time goes on and this technology is further developed, the company sees potential of $200-$600 billion within 10-20 years.
Catalysts
EnerSys has a series of both short- and long-term catalysts that I believe will drive earnings higher for years to come, with the stock price following close behind:
EnerSys has a proven acquisition strategy that has worked for them for years. The company has continually provided growing value for shareholders, and it even acquired 23 companies from 2002-2012. The purchase of these other battery companies is due to the high quality standards EnerSys holds for acquisition candidates. Many of them are company specific. EnerSys aims to acquire companies that are located in fast growing regions that the company currently has limited share in. As a result, EnerSys has traditionally diversified its business through acquisitions, thereby increasing growth opportunities and decreasing risk. If the company can't find high growth regions they haven't entered, they can divert their attention to adding share in their already major markets. And above all, the company is disciplined to only add companies that match or complement their core battery business. This keeps the value proposition in line and allows EnerSys and newly acquired companies to benefit from diverse customer and supplier relationships while also enhancing the benefits of scale.
With proven success in the realm of acquisitions during the past decade or so, it leads us to the idea of whether or not they can sustain this strategy. The main aspect to examine is the company's balance sheet.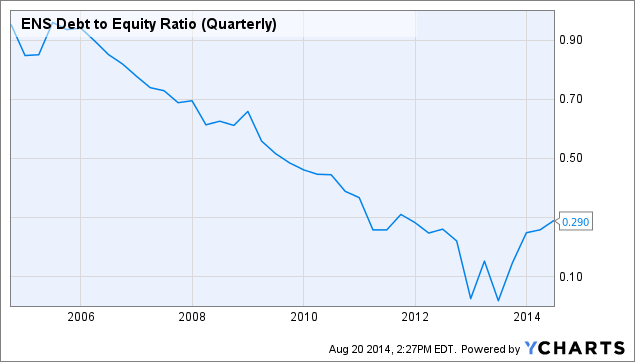 ENS Debt to Equity Ratio (Quarterly) data by YCharts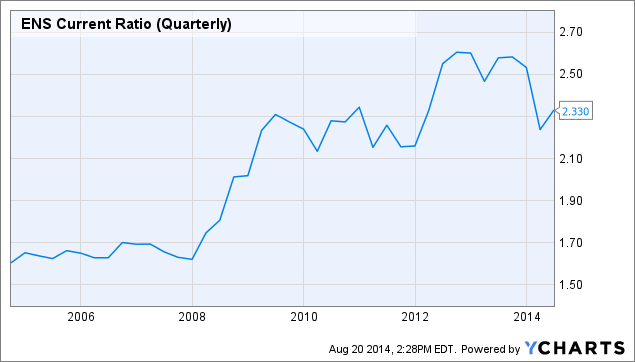 ENS Current Ratio (Quarterly) data by YCharts
As you can see, EnerSys has improved its financial conditions drastically in the past ten years. Some might argue that it has gotten a bit worse in the past year or so, but this is likely due to the $115 million acquisition (the link also explains the strategic significance of this buy) of Purcell Systems in September of 2013, financed through cash and credit facilities. Seeing that it was an investment rather than simply worsening financial conditions, I would still consider EnerSys' balance sheet strong enough to take on a significant acquisition. Additionally, the company has over $230 million of cash on hand.
In February of 2013, the company announced a joint product development and marketing agreement with Ioxus, a leading manufacturer of ultracapacitor technology, which would be used with EnerSys' batteries. The reported goal is to serve certain niches in the automotive and other vertical markets that require sustained energy levels through sometimes harsh conditions. The project has a high focus on energy recovery. Furthermore, the technologies have potential applications in the hybrid market, which could be critical in the future.
Furthermore, the company has wonderful general prospects for growth in emerging and developed regions. These strengths and growth opportunities are detailed extensively in the Investor Day Presentation, which there is a link for at the end of the article. This is particularly exciting because this geographical diversification and exposure to growth could be a key factor in increasing revenue and margins in the future. With exposure to growth, it's obvious revenue could grow. But as manufacturing locations become more diverse as well, margins can grow. In March of 2013, the company announced a new facility in China. This is a signal that EnerSys is responding to higher demand in the region, and the company will also save from the region's cheap labor.
Although no company is risk free, EnerSys doesn't have any immediately apparent obstacles to success. Despite this, it's still worth taking a look at the general risk factors in the company's 10-K, linked to at the bottom of the article. One of the main pressures the company may face is pricing issues due to increased competition. Luckily, this could be partially offset by expansion of manufacturing into more "margin-friendly" regions, like China.
Valuation
Here is a comparison between valuation metrics of EnerSys and a few peers, followed by a historical perspective on EnerSys' price (Note: The statistics for ENS are slightly off because the chart's numbers are from Yahoo! Finance rather than YCharts):
| | | | | | | | |
| --- | --- | --- | --- | --- | --- | --- | --- |
| | ENS | OMG | OTC:SGPEF | ARTX | JCI | Average | St. Dev. |
| P/E | 21.07 | 26.51 | 19.77 | 24.70 | 24.07 | 23.22 | 2.75 |
| P/S | 1.18 | 0.75 | 1.07 | 0.77 | 0.74 | 0.90 | 0.21 |
| P/B | 2.40 | 0.71 | 1.67 | 1.43 | 2.74 | 1.79 | 0.80 |
| EV/EBITDA | 8.58 | 6.52 | 7.78 | 11.29 | 9.34 | 8.70 | 1.78 |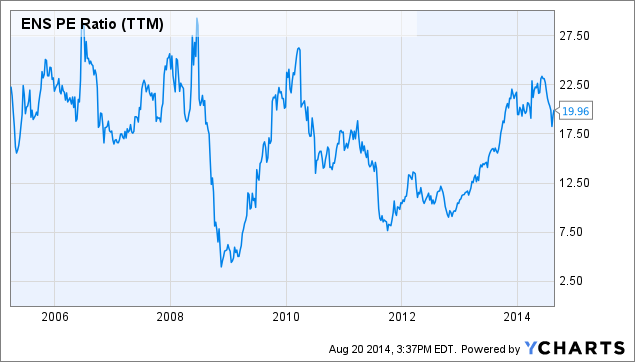 ENS PE Ratio (TTM) data by YCharts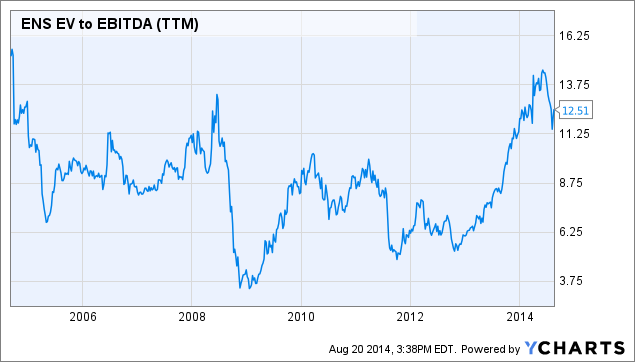 ENS EV to EBITDA (TTM) data by YCharts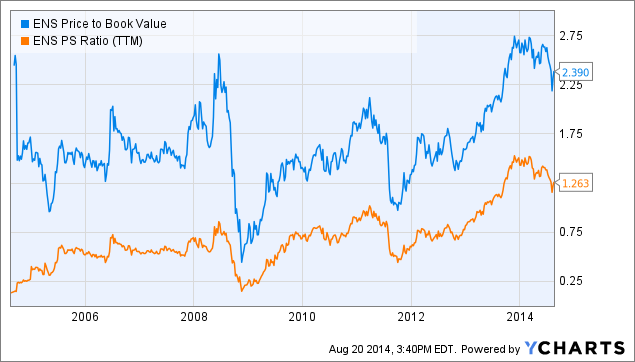 ENS Price to Book Value data by YCharts
As you can see, EnerSys doesn't stand out as being too expensive or cheap relative to peers. On a historical basis, the conclusions drawn from the metrics range from fair value to slightly overvalued. For a buy and hold investor (which this investment is perfect for due to strong long-term prospects), now might not be a bad time to buy this stock.
Sources
Disclosure: The author has no positions in any stocks mentioned, and no plans to initiate any positions within the next 72 hours.
The author wrote this article themselves, and it expresses their own opinions. The author is not receiving compensation for it (other than from Seeking Alpha). The author has no business relationship with any company whose stock is mentioned in this article.