As earnings approach on Aug. 26, some investors holding shares of Best Buy (NYSE:BBY) are likely kicking around what to do with the specialty retailer's shares. While the fact that shares are currently trading at a 30% discount from their 52-week high might imply that the business is an attractive prospect, the company's operating history in recent years suggests that investors might want to be very cautious before committing to a stake in the business.
Analysts are expecting disappointing results
For the quarter, analysts anticipate that Best Buy will report revenue of $8.99 billion. Should this forecast turn out to be true, it will represent a 3% drop in sales, compared to the $9.30 billion management reported during the second quarter of its 2014 fiscal year. Based on the company's recent operating history, any decline in revenue will likely be driven by lower comparable store sales, combined with a drop in store count, the latter being demonstrated by the 5 store closures seen in the first quarter of Best Buy's 2015 fiscal year.
Earnings Overview
| | | |
| --- | --- | --- |
| | Last Year's | Forecasted |
| Revenue (billions) | $9.30 | $8.99 |
| Earnings per Share (adj.) | $0.32 | $0.31 |
Although revenue is forecasted to be dour, profits aren't expected to be quite as bad. For the quarter, Mr. Market expects Best Buy to report earnings per share of $0.32. While this is far lower than the $0.77 management reported a year earlier, it will nearly match the $0.32 in non-GAAP earnings per share management provided to the company's shareholders the same quarter a year earlier.
This isn't the first time Best Buy's had some trouble
At first glance, it may be tempting to write this upcoming quarter's results off as a fluke, but given the retailer's long-term performance it might be a mistake to place too much confidence in the company. Over the past five years, for instance, Best Buy saw its revenue fall 3% from $43.8 billion to $42.4 billion, the biggest driver being a 7% drop in comparable store sales that was, to some extent, offset by a 35% increase in store count from 1,565 locations to 1,968.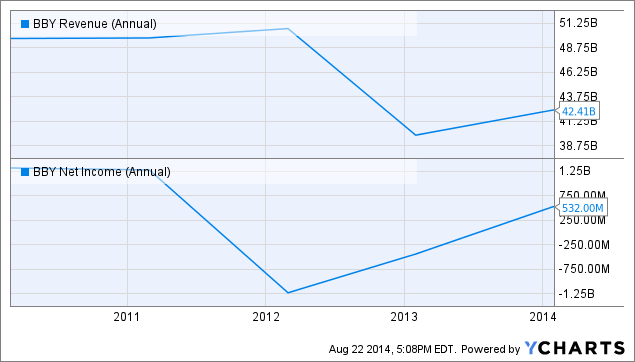 BBY Revenue (Annual) data by YCharts
From an earnings standpoint, the picture has been even worse. Between 2010 and 2014, Best Buy's net income fell from $1.3 billion to $532 million. To some extent, this decline has been due to a drop in revenue, but bigger factors at play appear to be the retailer's cost structure, which rose significantly during this timeframe.
Takeaway
As earnings approach, investors have a right to be worried about how well Best Buy will perform. Despite the fact that its profitability has risen over the past three years, low sales and store closings should remain a concern for the foreseeable future. While it's possible that the situation could reverse itself, investors who decide to buy up a piece of Best Buy shouldn't be so confident in their purchase that they lose sight of the risks involved.
Disclosure: The author has no positions in any stocks mentioned, and no plans to initiate any positions within the next 72 hours.
The author wrote this article themselves, and it expresses their own opinions. The author is not receiving compensation for it (other than from Seeking Alpha). The author has no business relationship with any company whose stock is mentioned in this article.