Before the market opens on Aug. 27, Tiffany & Company (NYSE:TIF) will report revenue and earnings for the second quarter of its 2014 fiscal year. In recent years, the business has done particularly well, as has rival Signet Jewelers (NYSE:SIG), but are the expectations held by analysts too much for management to deliver on?
Revenue hopes are high… but not so much on profits
For the quarter, Tiffany is expected to report revenue of $987.86 million. If this forecast turns out to be accurate, it will represent an almost 7% jump in sales over the $925.88 million management reported the same quarter a year earlier. Given the specialty retailer's long-term performance, this growth will likely come from a combination of higher comparable store sales and an increase in store count.
Earnings Preview
| | | |
| --- | --- | --- |
| | Last Year's | Forecasted |
| Revenue (millions) | $925.88 | $987.86 |
| Earnings per Share | $0.83 | $0.85 |
Although sales expectations are high, Mr. Market isn't as enthusiastic when it comes to Tiffany's anticipated profits. For the quarter, the business is expected to report earnings per share of $0.85. While this would help set the company up for full-year earnings of $4.29, up 15% from the $3.73 reported for Tiffany's 2013 fiscal year (excluding a large one-time expense), it would represent a modest 2% increase in profits compared to the $0.83 seen in last year's quarter. More likely than not, this rise will be due to higher sales, partially offset by an increase in costs in relation to sales and a greater number of shares outstanding.
Could Signet be a better play than Tiffany?
Over the past five years, Tiffany has had a pretty nice run. Between 2009 and 2013, the specialty retailer's revenue shot up 49% from $2.71 billion to $4.03 billion. This jump was due, in part, to a 22% rise in aggregate comparable store sales, but might be more attributable to the 31% increase in store count from 220 locations to 289. This stands in contrast to Signet, whose top line grew by just 29% from $3.27 billion to $4.21 billion, as its 25% jump in aggregate comparable store sales growth was accompanied by a tepid 3% rise in store count from 1,913 locations to 1,964 during its most recent five-year period.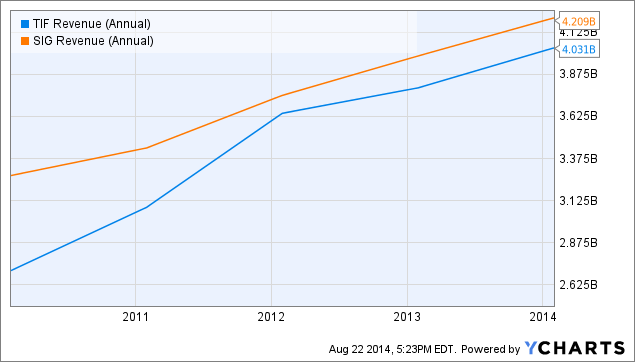 TIF Revenue (Annual) data by YCharts
While Tiffany seems to trounce Signet in terms of sales growth, the same cannot be said of its bottom line. Over the past five years, Tiffany's net income actually fell 31% from $264.8 million to $181.4 million. However, if you remove a $480.2 million arbitration award expense the company had to pay during 2013, then its net income would have soared 81% to $478.6 million. This is, undoubtedly, very good, but even this tremendous growth failed to keep pace with Signet which, in its most recent five-year timeframe, reported a 134% pop in profits from $157.1 million to $368 million.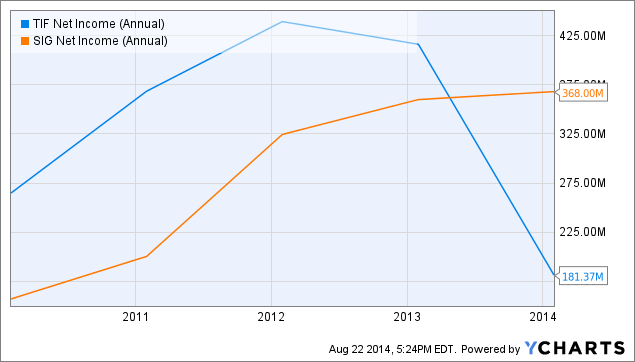 TIF Net Income (Annual) data by YCharts
Despite the fact that revenue growth was slower at Signet, the business did manage to get its costs under control. Over this five-year period, the company's cost of goods sold fell from 67.4% of sales to 62.5%, adding an extra $206.3 million in pre-tax income to its income statement. Tiffany, like Signet, also managed to reduce its cost structure over this period, but not to the extent that its rival can boast.
Takeaway
As earnings approach, investors have every right to be concerned. However, given the long-term performance of Tiffany, even an earnings miss shouldn't change an investor's focus from the company's potential. Probably the only downside to the business though, is that the 26 times earnings it's trading for is quite pricey, especially when pitted against Signet's 23 times earnings. Moving forward, both of these companies look like attractive, but expensive, prospects, but with a cheaper price, faster-growing profits, and its acquisition of Zale serving to boost revenue, Signet might be a more interesting company to analyze.
Disclosure: The author has no positions in any stocks mentioned, and no plans to initiate any positions within the next 72 hours.
The author wrote this article themselves, and it expresses their own opinions. The author is not receiving compensation for it (other than from Seeking Alpha). The author has no business relationship with any company whose stock is mentioned in this article.