2010 was another successful year for publicly traded REITs. Investors in equity REITs gained 27.95%, while mortgage REIT investors gained 22.60%. For comparison, domestic stock market investors gained only 17.49% (Dow Jones Total Market), and global stock investors made only 13.21% (MSCI AC). Here's a comparison of common domestic and global benchmarks: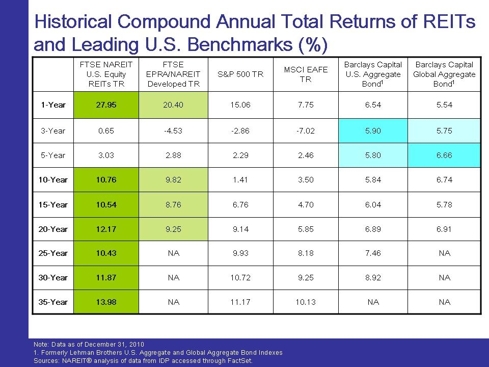 The difference in long-term returns is just as dramatic as the one-year differences. Equity REIT returns have averaged 10.76% per year over the last 10 years, 10.54% per year over 15 years, 12.17% per year over 20 years, 10.43% per year over 25 years, 11.87% per year over 30 years, and 13.98% per year over 35 years.
Compare that to the broad U.S. stock market, with average annual returns of 3.50%, 7.72%, 10.03%, 10.26%, 10.88%, and 11.83% over the same historical periods. Large-cap stocks (S&P 500, as shown) did even worse with average annual returns of 1.41%, 6.76%, 9.14%, 9.93%, 10.72%, and 11.17%.
Global stocks have been even weaker than the S&P 500: the MSCI EAFE has returned 3.50%, 4.70%, 5.85%, 8.18%, 9.25%, and 10.13% over the same historical periods. (The MSCI AC did slightly better, but data aren't available before 1988.)
Yet, there's little evidence that the REIT bull market is running out of steam. The average cash dividend yield for equity REITs is now 4.23%--low by historical REIT standards, but still very high relative to other income-oriented assets. Besides, this downturn was much more severe than previous ones: equity REITs lost 68%, compared to 24% in each of the previous two downturns; even after their strong recovery so far, REIT returns are still 21% below their January 2007 peak. Moreover, each of the past two REIT bull markets lasted more than seven years with returns averaging more than 20% per year, but this bull market is less than two years old.
The 2008-2009 liquidity crisis dramatically increased REIT return volatility, but the volatility spike was over by the end of 2009, as the graph below shows.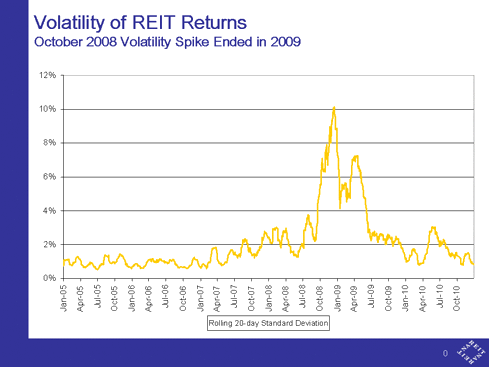 REIT correlation and beta relative to the broad stock market also spiked, but they're back to normal levels, too: the REIT beta relative to the Dow Jones Total Market is now just 0.72, meaning that REITs once again provide strong diversification against a domestic stock allocation, even though they're included in the domestic stock indexes. (Global REIT beta relative to the domestic stock market is 0.67.)
As for the future, in previous articles I've noted that the recovery in commercial real estate operating fundamentals seems finally to have started (but just barely), but that we're likely to see tremendous distress over the next few years among private-side real estate investment managers. REIT investors believe that earnings are likely to strengthen going forward for both of those reasons: improvements in property-level net operating income, at the same time that publicly traded REITs are likely to see more opportunities for profitable acquisitions.
Happy 2011 to all.
Disclosure: Author is long Vanguard REIT Index Fund and ING Real Estate Fund.
Disclaimer: The opinions expressed in this post are my own and do not necessarily reflect those of the National Association of Real Estate Investment Trusts ((NAREIT)). Neither I nor NAREIT are acting as an investment advisor, investment fiduciary, broker, dealer or other market participant, nor is any offer or solicitation to buy or sell any security investment being made. This information is solely educational in nature and not intended to serve as the primary basis for any investment decision.