Let's Give GNC a Checkup
GNC Holdings, Inc. (NYSE:GNC), the global specialty retailer of health and wellness products, has seen its stock price skidding for all of 2014. After hitting a high of $60.98 on 27 November 2013, the stock bottomed at $30.84 on 29 July 2014. Since then, it has rebounded to $37.36, but investors clearly remain wary about this vitamin supplier.
In distress, there can be opportunity. Let's take a look and see what we can find amid the devastation.

Fundamentals Are Strong, But Slightly Weaker
The best place to start with a sick patient is a patient history. GNC's financials should give us a good clue as to what is troubling this former high flier. GNC had an IPO on 6 April 2011 and before that was privately held.
GNC Earnings for Fiscal Years 2008-2013
Fiscal Year
Total Revenue ($millions)
Gross Profit ($M)

Net Income

($M)

Earnings/share ($)

Div/share

($)

2008
1,656.7
574.1
54.8
2009
1,707
590.6
69.5
2010
1,822.4
642.4
96.6
0.85
2011
2,072.2
753.8
132.3
1.24
2012
2,430
929.8
240.2
2.29
0.44
2013
2,630.3
993.1
265.0
2.72
0.60
Source: GNC Annual Reports
What stands out immediately from the figures is that GNC had a big year in 2012, and built upon that in 2013 at a slower pace. Total revenue rose 17.3% from 2011 to 2012, but only 8.2% from 2012 to 2013. Now, an 8.2% rise in revenue is something some companies, including one or two I've written about recently elsewhere, would relish. However, that may be part of what has spooked the market.
Let's put the numbers in context.
| | |
| --- | --- |
| Fiscal Year | Revenue Percent Gain |
| 2009 | 3.0 |
| 2010 | 6.8 |
| 2011 | 13.7 |
| 2012 | 17.3 |
| 2013 | 8.2 |
Source: GNC Annual Reports
Now we have a better idea of the pattern. GNC's revenues are growing consistently, just at varying rates. The fiscal years 2011 and 2012 stand out like sore thumbs with their big revenue gains, while 2013 is more in line with the earlier years. We're not giving GNC a complete pass here, because the "return to normalcy" may indicate deeper problems because it is, relative to the two previous years, a bit of a slowdown. However, realistically, 8.2% growth is just fine, especially right after another big year. Outperformance for an extended period is not something that should be held against a company. The company may have gotten ahead of itself.
GNC pays a dividend, so Free Cash Flow is an important factor.
GNC Fiscal Year Cash Flow
Fiscal Year
Net Cash Flow ($M)
Cap Ex ($M)
Free Cash Flow ($M)

Shares

Outstanding

FCF/share

($)

2008
77,365
48,666
28,699
2009
113,971
28,682
85,275
87,859
0.97
2010
141,500
32,522
109,193
88,917
1.23
2011
174,674
43,817
130,857
103,010
1.27
2012
221,216
41,930
179,286
104,911
1.71
2013
238,104
50,247
187,857
97,383
1.93
Source: GNC Annual Reports
Free cash flow is strong. We see the same pattern as with the revenue: some healthy gains in early years, not so much in 2013. The reduction in shares outstanding suggests that the company is buying back shares which, if that continues, should help free cash flow per share.
Comparing the free cash flow to the dividend, it's clear that GNC has no difficulties paying the dividend. The dividends are less than a third of free cash flow, and the payout ratio for 2013 was only 22%. The company should be able to continue to raise the dividend and/or buy back shares for some time if it so chooses.
As a check on the annual figures, let's look at the most recent quarterly earnings released 29 July 2014 and see what they tell us compared to recent history. History from before 2012 is kind of sketchy because the company was privately held, but the last few reports should suffice.
| | | | | | |
| --- | --- | --- | --- | --- | --- |
| Fiscal Year | Revenue ($M) | Gross Profit ($M) | Net Income ($M) | Earnings/share ($) | Dividend/share ($) |
| 2012 | 619,081 | 239,437 | 66,671 | 0.62 | .11 |
| 2013 | 676,276 | 255,892 | 71,688 | 0.73 | .15 |
| 2014 | 675,216 | 258,580 | 69,887 | 0.77 | .16 |
Source: GNC Quarterly Filings
Our red flag here is that quarterly revenue fell from 2013 to 2014. That's never a good sign. One explanation could be that the business is losing customer interest. Another is that 2012 and 2013 were simply blow-out years, which we already were surmising. For the period 2012-2014, revenue rose 9.1%, not too shabby at 4.5% per year, but the per-year increase is less than any of the recent annual figures. Our initial impression that there is a slowdown is firming.
The company announced in its last earnings report that same-store sales decreased by 4.0% in domestic company-owned stores, including the web site. That compares unfavorably with a rise of 6.8% in the second quarter of 2013. There were various qualifiers offered by the company - the timing of Easter, sales of Gold Cards - but all the figures showed a small decline in comp store sales. That seems to explain the lower revenue figure.
So, is cash flow in trouble then? Let's look at six month cash flow from the quarterly reports.
| | | | | | |
| --- | --- | --- | --- | --- | --- |
| Fiscal Year | Net Cash Flow ($) | Cap Ex ($M) | Free Cash Flow ($M) | Shares Outstanding (millions) | FCF/share ($) |
| 2012 | 92,866 | 20,838 | 72,028 | 107,927 | 0.67 |
| 2013 | 126,832 | 21,475 | 105,357 | 98,333 | 1.07 |
| 2014 | 153,327 | 36,100 | 117,227 | 90,931 | 1.29 |
Source: GNC Quarterly Filings
GNC cash flow looks just fine despite the revenue decline in 2014. As with the annual figures, the six month figures show that 2013 may have distorted the progression a bit, but a 20.6% rise in free cash flow in 2014 is still outstanding.
If there are any red flags here, it is the jump in capital expenditure spending in 2014. One year does not make a pattern, but it is something to keep in the back of our minds in case any of the other news from the company provides any color for that. A jump in capital expenditures might meant that the company is remodelling stores to make them more attractive to customers who have begun drifting away.
Company Chairman/CEO Joe Fortunato addressed the company's weakening fundamentals this year:
"Our second quarter results reflect a difficult environment with widespread retail traffic challenges, a slower industry growth rate, and a tough anniversary of our very successful chain-wide Member Pricing launch. These pressures were compounded by our increased dependence on bundled-product promotions and a lack of third-party product innovation.
That gives some color to our interpretation of 2013 from the numbers as an unusually successful year. The company is burdened in 2014 by its successful promotions of 2013. However, the CEO also mentions other lingering problems, so a return of the company to its previous rapid pace of advance any time soon appears unlikely.
The drug store sector as a whole has been having issues lately.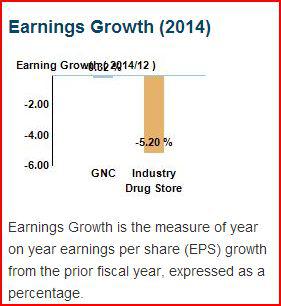 Source: Nasdaq.com
The continuing decline in shares outstanding clearly is helping all of the per-share figures. The common wisdom is that companies across the board have been buying back shares recently because of sustained low interest rates which makes financing them easy. GNC is doing that quite aggressively, so we'll look and see (below) if they provide any news on that front as well.
Shares have rebounded since the second quarter earnings report. That suggests that sentiment was getting overly negative about the company, and that the poor same-store sales and revenue drop were not as bad as peoples' fears were imagining.
Looking Forward
The company gave limited guidance for fiscal 2014 in the second quarter report. It forecast fully-year earnings of $2.85, flat revenue and continued rough times ahead. It specifically warned that the year-over-year comparisons for the third quarter will be even worse than for the second quarter due to the successful promotions of 2013. The company also maintained its .16 dividend, giving the stock a 1.8% yield.
If the company meets its earnings forecast, that would be a 4.8% increase over 2013. That is pretty close to the two-year 9.1% revenue growth rate we calculated above. Perhaps that is just a coincidence, but shareholders probably can expect that sort of 4-5% growth in the company's value for a while.
GNC's valuation is reasonable if not downright cheap, with a trailing price/earnings ratio of 13.3 and a forward one of about 11. 5. That trailing p/e compares favorably with the S&P 500's current ratio of over 19, and even more so compared to competitors CVS (19), Walgreen (21) and Rite Aid (37).
Long term debt is $1.3 billion, down just a hair from 2013, while its cash on hand is $118.54 million, compared to $226.22 million in cash at the same point in 2013. That cash, while not a tremendous amount, combined with its generous free cash flow, provides the company with some much-needed maneuvering room.
Analysts have been busy revising their forecasts for GNC downward recently while remaining moderately bullish. The current consensus earnings per share forecast for the third quarter now is $0.74, falling to $0.59 for December, then rising to $0.85 in the first quarter and $0.86 for the subsequent two quarters. For fiscal year 2014, it is $2.84, rising to $3.16 for fiscal year 2015.
Credit Suisse recently upgraded GNC from Neutral to Outperform. The consensus view of analysts leans slightly to the buy side.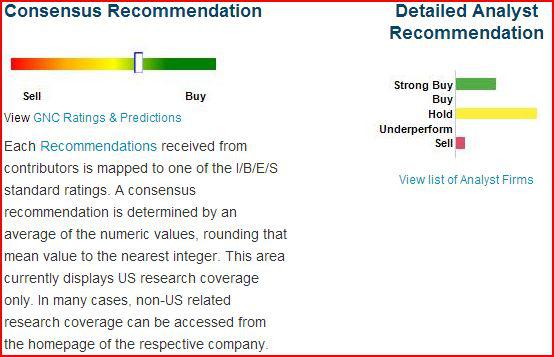 Source: Nasdaq.com
In somewhat of a backhanded recommendation, shorts have had relatively less interest in GNC than in its competitors Kroger (NYSE:KR), Whole Foods (WFM), Safeway (NYSE:SWY), and Sprouts Farmers Markets (NASDAQ:SFM). GNC shorts only have 1.3 days to cover, whereas the others range from 3.8 days to a whopping 14.4 days for SFM.
So, Why Else Should I Consider GNC?
As we noted at the top, companies with current issues can present nice opportunities as they fight mightily to right the ship.
GNC received some positive news recently when the company's brand new non-executive chairman, Michael Hines, bought 30,000 shares at an average price of $35.41 for a total cost of $1,062,432. This increased his share ownership to 37,118 shares. That is a nice confidence booster.
There also is a new CEO, Mike Archbold, who replaced Joe Fortunato on 5 August 2014. New management may have some new ideas, and indeed he already appears to have had one. As the figures above show, one of the continuing positives for the company has been the share repurchase program. The company announced on 12 August 2014 that it was reauthorizing its share buyback program to $500 million, planned to take place over the next two years, roughly doubling what was left on the last share repurchase program. At an average stock price of $40, that would translate into 12.5 million shares. This program, if fully implemented, would bring the share count under 80 million shares. The company's market cap is only $3.35 billion, so that is a major chunk of the market cap. The company sees good value in its current share price, which always is a good sign when considering whether to invest.
The dividend is only 1.8%, but it is rising, and the analysis above shows that not only will the company not have any difficulty sustaining it, but it also should be able to raise the dividend with impunity whenever it so chooses.
Technically, the stock has bounced back above its 50-day moving average. The 200-day moving average currently sits at 45.34, which coincidentally matches the 50% Fibonacci Retracement level from the share price top last November and the recent bottom at the end of July. The $30.84 52-week low is a generous stop for a swing trade; a less patient trader would cash out if the 50-day moving period average at 35.50 is breached.
GNC's stock now is trading higher than at any point since early June, but it is still well below where it was last year. The bottom may well be in after the long slide, but stocks can take a long time forming a base at lower levels like this. A quick bounce higher thus could be short-lived and a lot of hot money playing the bounce will be looking to take quick profits. The stock has a lot of work left to do at this point, but its fundamentals overall are solid and it is a buy on dips for the aggressive trader. If revenues resume their growth trajectory, GNC could shoot higher.
Conclusion
GNC is weathering tough conditions in its industry, causing its revenue to plateau and same store sales to wither. However, large share buybacks, insider buying, technical factors and sustained high-quality execution over the course of several years make this beaten-down stock a buy on dips for the aggressive trader.
Disclosure: The author has no positions in any stocks mentioned, and no plans to initiate any positions within the next 72 hours.
The author wrote this article themselves, and it expresses their own opinions. The author is not receiving compensation for it (other than from Seeking Alpha). The author has no business relationship with any company whose stock is mentioned in this article.