The benchmark index moved up .51% against a relatively flat equities market and little change in the 10 year treasury. Over 17 new 52 week highs were hit with no new lows. The Kinder Morgan proposed transaction continues to generate national media coverage with Barron's author Andrew Bary taking yet another swipe at KMI, closing the article with this statement: "Kinder Morgan is not Facebook, but it's priced similarly. Investors beware." On balance, most industry observers believe the structure will continue to thrive as Majors, such as Shell, are dropping assets and Congress continues to evaluate expanding the use of the MLP's toward renewable energy sources.
As a result of the recent requirement for railroad operators to publicly disclose oil by rail shipments, Genscape recently provided this interesting graphic which shows Bakken county takeout by rail and carrier.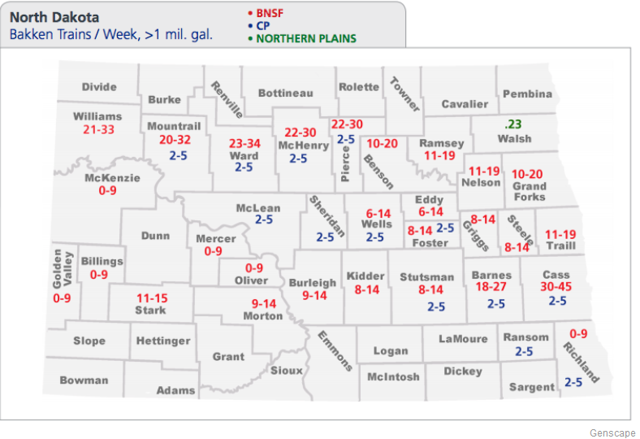 This past week Pennsylvania disclosed that gas production hit another peak of 1.9 trillion cubic feet, a 35% year over year increase, with 510 wells added. Also disclosed was that five Cabot wells were the most productive during the past six months, pumping out the most gas per day even though some had already been producing for more than six months, indicating the continued improvement of fracking techniques.
Unit Movers
Delek Logistics Partners (NYSE:DKL) continued its recent momentum, rising 23% since its earnings call on August 5th, when management increased the company's 3 year distribution growth guidance to 15% from the previous guidance of low double digits. Potential upside exists as its Sponsor seeks to expand its refinery capabilities and continues to benefit from wide differentials. Western Refining Logistics LP (NYSE:WNRL) is up 13% since announcing its most recent distribution as investors take notice of 16% forward growth estimates and greater transparency towards achieving the growth.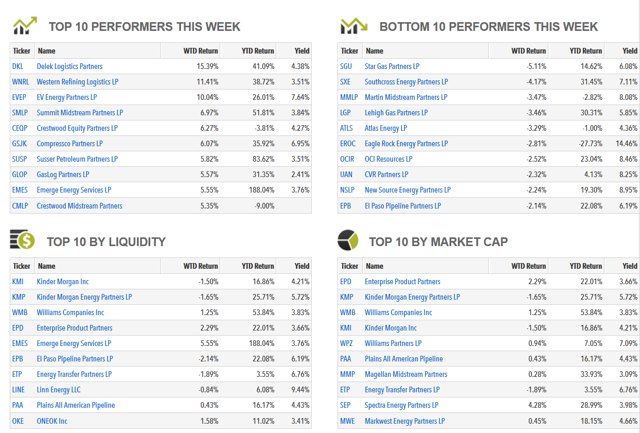 Funds and Flows
Investors continued to allocate new cash to MLP funds with almost $400MM of new capital entering this week. Salient, the manager of the Midstream & MLP Fund SMF and MLP & Energy Infrastructure Fund SMM is seeking shareholder approval to reorganize SMF into SMM, providing investors with greater liquidity. Both funds are trading with similar discounts, however, recently Tortoise conducted a similar transaction with TYG, which delivered investors a 5% distribution increase and greater liquidity, which curiously drove the discount wider post transaction.

Issuance
Tesoro Logistics LP (TLLP) issued 2.1MM new units to fund the second phase of the West Coast Logistic Assets.
High Growth Units
As we exit the Q2 reporting period, the below chart is the list of MLPs with the highest growth expectations along with their current yield and performance.

Kinder Transaction
Last week we reported on the Kinder transaction and suggested unitholders who chose to purchase in Retirement accounts would realize the greatest return. That statement was overly simplistic and does not apply to those who have held KMP for several years in retirement accounts, and thus will likely realize UBTI as a result of the recapture. This same situation applies to those within taxable accounts, where investors expect to pay recapture taxes upon unit sales. We believe that this will be a self-reporting obligation on behalf of unitholders and a very wide range of unsuspecting investors, and their accountants, are going to be made aware of their retirement account tax obligation after the transaction is completed at year end. For those who want to avoid further tax from the recapture, take notice of the November distribution date and perhaps exit the position prior to the record date, which is not yet announced.
To get this round-up each week, please make sure you are following MLPData here on Seeking Alpha.
All charts and tables provided by MLPData.com
Disclosure: The author is long TEP, HCLP, EMES, KMP, OILT.
The author wrote this article themselves, and it expresses their own opinions. The author is not receiving compensation for it. The author has no business relationship with any company whose stock is mentioned in this article.