The iShares Russell 2000 ETF (NYSE: IWM) caught my attention Thursday and was noted in my report, The Mighty Economy Feeds the Ghost Traders Fear Most. The reason for it was a divergence I spotted and noted between it and the SPDR S&P 500 (NYSE: SPY), SPDR Dow Jones (NYSE: DIA) and PowerShares QQQ (NASDAQ: QQQ) market segment ETFs. The IWM was the only one of the group in the red on Thursday morning, before it finally closed up 0.2% on the day. Still, the index ETF underperformed the others, and I believe it's a sign of things to come. I know why, and thought you should too.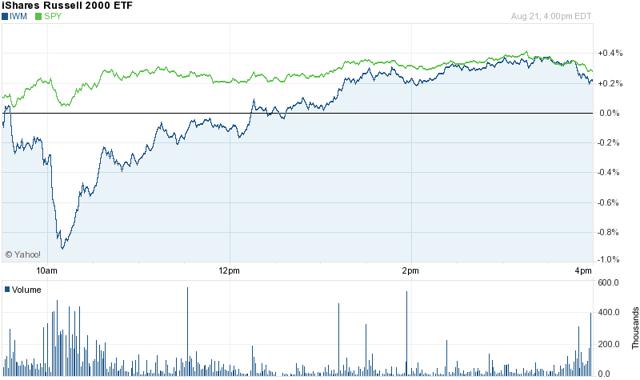 Day -Chart of IWM ETF at Yahoo
The chart here depicts what I noted on Thursday morning as I authored my report on the market. The IWM dipped sharply after the open and more so after 10:00 AM ET. The catalyst for the move, in my opinion, was the overwhelmingly strong economic data reported, especially at 10:00 AM. Namely, Leading Economic Indicators (LEI) were reported sharply higher in July, up 0.9%. Also, June's LEI was revised higher from 0.3% to 0.6% growth. It was a very positive economic data point that points toward sustained economic growth into Q3. But that wasn't where the good news ended.
The PMI Manufacturing (Flash) Index and the Philly Fed Index each showed that the manufacturing sector is expanding at a faster pace. The PMI Index improved to 58.0 from 56.3 the month before; figures above 50 signify expansion, and so this data point shows the manufacturing sector economy is expanding faster in August than in July. The Philly fed data confirmed the good news, with the Philly area index expanding to 28.0 in August from 23.9 in July.
Existing Home Sales were reported running at a faster annual pace of 5.15 million in July, versus the 5.03 million pace set in June. The existing home market dominates U.S. housing, so this served as a good confirmation of this week's other strong housing data, including higher homebuilder sentiment and better housing starts. Though, it's my view that this housing recovery renaissance could be short-lived, while offering a brief window of opportunity to prospective real estate investors.
| | | | |
| --- | --- | --- | --- |
| Market ETF | 08-21-14 | YTD | TTM |
| iShares Russell 2000 | +0.2% | -0.1% | +13.5% |
| SPDR S&P 500 | +0.3% | +8.0% | +21.2% |
| SPDR Dow Jones | +0.3% | +2.8% | +14.5% |
| PowerShares QQQ | +0.2% | +12.4% | +31.1% |
So why would such good news drive the IWM lower in the AM on Thursday? Likewise, why has the IWM underperformed the other index ETFs year-to-date? It's because of two factors. First, the Federal Reserve is expected to begin raising interest rates in 2015. Any stronger than expected economic data like that which we saw last week could lead to the Fed speeding up its plan for rates.
That's bad for stocks because it raises the cost of capital for corporations and makes for a higher hurdle for return on investment. But why has the Russell 2000 taken a harder hit? It's because the Russell 2000 Index includes small-caps, or the 2000 smallest companies from within the Russell 3000 Index. Small capitalization companies are riskier companies. They have a higher cost of capital to begin with. And in many cases, these companies are growing faster than larger companies and are capital intensive and in need of new capital, which is raised through the issuance of stocks and bonds. If the cost of capital increases in America, it's therefore going to impact these companies to a greater degree than larger and mature firms, which are often cash cows. Significant increases in the cost of capital can actually serve to sink heavy cash burning companies, so the inherent risk of small companies is therefore intensified in such an environment.
Thus, every time the market frets about the Fed and interest rates, the IWM is going to underperform. As the expectation for the eventual Fed action has intensified, the IWM has come under pressure. That is evident by its year-to-date performance seen in the table above. The latest dip last week shows that the IWM remains at risk. Even despite the latest flurry of information from Janet Yellen and the flight to safety spurred by Vladimir Putin (see my report Yellen vs. Putin - Who Wins?), it is clear that the economy is improving faster than is expected. As time progresses, the debate about rising interest rates is center stage. Capital weightings should be reduced in the small cap arena, especially among firms who are fast users of capital and debt laden. The iShares Russell 2000 should likewise be given less weight or sold. Regarding what to buy, you'll want to keep an eye on my column, as I have a relative idea I'll talk about this week.
Disclosure: The author has no positions in any stocks mentioned, and no plans to initiate any positions within the next 72 hours.
The author wrote this article themselves, and it expresses their own opinions. The author is not receiving compensation for it (other than from Seeking Alpha). The author has no business relationship with any company whose stock is mentioned in this article.