With about 2,250 stores across the US, Canada, Mexico and China, Home Depot Inc. (NYSE:HD) is the world's largest retailer of home installation and improvement products. The company offers its products to both individual customers as well as contractors.
Over the years, the company has established itself quite well in the US, Canada, and Mexico. However, it is trying to increase its penetration in China. And for the ease of its customers, the company uses a two-fold strategy of selling its products; products are sold in physical stores and on the company's dedicated website. But as with the whole housing industry, Home Depot's business revolves around housing activity. This is why macroeconomic fluctuations can significantly impact the demand for its products. Historic evidence also supports this claim as the company had to close down its EXPO and HD supply businesses owing to the fact that their revenues had declined enormously during the housing market downturn. Thus, economic indicators such as unemployment, inflation rate, demographics, and mortgage rates play critical roles in Home Depot's future prospects.
Supporting Economic Indicators:
First and foremost, mortgage rates have been plummeting since the start of this year. More importantly, the last three months also show a consistent decline. Before discussing the implications of this trend, let me first point out some important changes in the mortgage rates within the last week.
The 30-year fixed-rate mortgage benchmark fell from 4.29 percent to 4.27 percent last week according to the Bank-rate's national survey of large lenders. A year ago, this rate was around 4.57 percent and a month ago, it was 4.3 percent.
The 15-year fixed-rate mortgage benchmark fell from 3.4 percent to 3.39 percent.
The 5/1 adjustable-rate mortgage benchmark fell from 3.34 percent to 3.32 percent.

Source: Bank-rate mortgage data
Now a declining mortgage trend will increase housing activity, keeping all other factors constant, since the cost of financing houses is becoming cheaper for the borrowers of mortgages. And since the trend has been declining on a consistent basis, it also gives those who borrowed earlier a chance to refinance their relatively expensive mortgages with the even cheaper ones being offered later. Thus, both scenarios are favoring an increase in house construction activity in future.
On a similar note, the job data from the Department of Labor is very encouraging. The last four month's average unemployment rate was approximately 6.2% which is the lowest since 2008 before the economic collapse. These stats are also supported by fewer people seeking U.S. unemployment benefits since jobless claims remain at relatively lower levels. According to the Department of Labor, weekly applications for unemployment aid fell by 14,000 to a seasonally adjusted 289,000 as reported on August 7th. The previous week's claims were approximately 303,000.
Another important feature is the inflationary rate which, according to the Federal Reserve chairperson, is stable as opposed to some claiming an increasing rate. However, the Federal Reserve described the signs of growing inflationary pressure as "noise." This claim is supported by the latest data from the Department of Labor in Washington which showed that wages were up 2% this year up until June; slightly lower than the 2.1% increase recorded in May. Thus the Federal Reserve is right in its claims of the inflation rate remaining stable, so far. Moreover, according to the Federal Reserve, the unemployment level, consistent with stable inflation, is between 5.2% and 5.5%. If this is true, then it is quite safe to assume that the inflation rate will not be increasing in the near future.
Age demographics are also in favor of increasing housing activity. For instance, the population within the age range of 18 - 24 years rose from 31,353,406 in 2012 to 31,457,653 in 2013 reflecting an approximate increase of 0.1 million. Similarly, the population within the age range of 25 - 44 increased from 82,813,486 in 2012 to 83,297,277 in 2013 reflecting an increase of approximately 0.5 million people. This data is estimated to increase in 2014 as well. According to experts, people within the age of 25 to 44 are more likely to settle down and start a new family thereby increasing the probability of new houses being built.
Therefore, currently all major macroeconomic indicators are in support of increased housing activity. The company is well aware of the expected growth and poised to benefit from the trends.
A Contrary Perspective:
Over the past two years, the company has performed very well beating S&P 500 index by a huge margin (see figure below). The company's growth in both its revenues and margins has also been impressive. Similarly the company's initiatives to cut its selling, general, and administrative expenses have also paid off well. Furthermore, Home Depot has considerably improved its supply-chain function by aligning the flow of products through its central distribution system.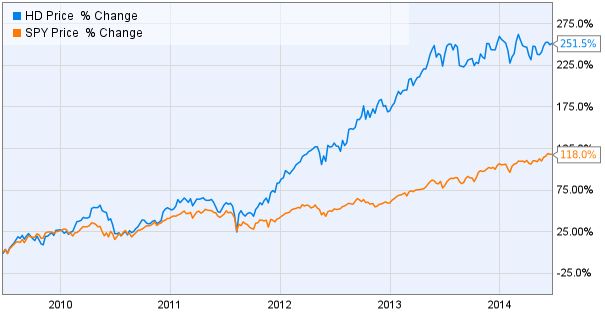 Source: Ycharts
Considering this impressive growth, the contrarians have begun to shy away from the stock. Their main premise is that the company might not be able to withstand such growth levels. This is where I disagree. The macroeconomic data presented in the discussion above categorically supports increased housing activity. Therefore, going bearish now would be losing out on the chance to gain reasonable return.
Final Remarks:
Considering the future potential in the industry, I expect the whole sector to do reasonably well. Moreover, Home Depot's recent performance has been good enough to continue supporting an impressive growth in cash level. Therefore, I will remain bullish on this stock.
Disclosure: The author has no positions in any stocks mentioned, and no plans to initiate any positions within the next 72 hours.
Business relationship disclosure: The article has been written by APEX Financial Consultants. This article was written by one of our research analysts. APEX Financial Consultants is not receiving compensation for this article (other than from Seeking Alpha). APEX Financial Consultants has no business relationship with any company whose stock is mentioned in this article.