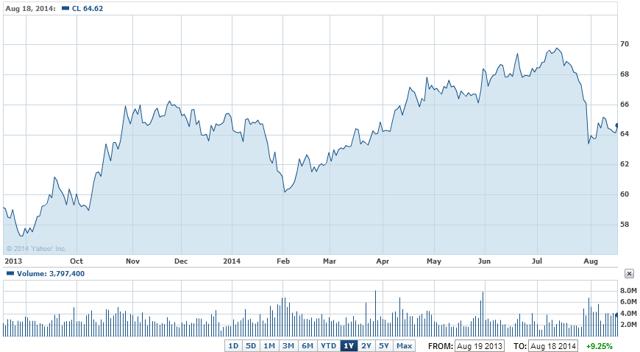 Colgate-Palmolive Co. (NYSE:CL) has proven to be a stable business that has not grown at an exponential rate but its financial performance shows that it has consistently grown over time to produce modest and consistent returns. This is a good investment for those who want a stable business that pays out regular dividends and has a growing stock. Colgate's stock can be used to reduce the volatility of a portfolio that includes volatile stocks. In the last year, Colgate's stock produced a price return of 9.25%. Its dividend yield is 2% at its current price of around $64.62.
Triclosan Fear: A Bump along the Road to Long-term Growth Success
There are reports that the chemical triclosan is linked with the growth of cancerous cells and disrupted development in animals. Triclosan is used in Colgate's Total toothpaste and some fear that this can hurt the product's sales. Wal-Mart (NYSE:WMT) is considering taking Colgate Total off its shelves. However it is worth noting that Colgate's Total toothpaste was approved by the FDA through a very rigorous process in 1997 as an over-the-counter drug. This issue is complicated since there are many studies that consider triclosan unsafe and there are others that consider triclosan a safe and effective tool in fighting oral hygiene problems. Triclosan is used in many consumer products including soaps and deodorants. Colgate's R&D has proven to be successful in introducing products to support oral hygiene and this capability is expected to continue as the company produces leading oral hygiene products in the future that will help Colgate to remain the dominant player in the industry.
Champion Of Decades-Long Marathon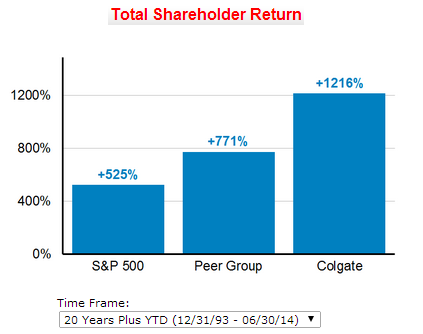 If we compare the return produced by Colgate in the last two decades with its peer group and the S&P 500, we see that Colgate clearly outperformed both. Colgate produced a much superior return of 1,216% compared to the 771% return of its peer group and the 525% return of the S&P 500.The period under discussion is 20 years up until June 2014. The peer group for comparison includes Avon Products Inc. (NYSE:AVP), The Clorox Company (NYSE:CLX), Kimberly Corporation (NYSE:KMB), The Procter & Gamble Company (NYSE:PG), Unilever N.V. (NYSE:UL), Reckitt Benckiser Group PLC (OTCPK:RBGLY) and Beiersdorf AG (OTCPK:BDRFF).
Emperor of the Oral Hygiene Industry
Colgate is the world's largest toothpaste producer. Presently, its toothpaste has a worldwide market share of 44.5%. The closest competitor has a global market share of 14% which is much smaller compared to Colgate's mammoth market share.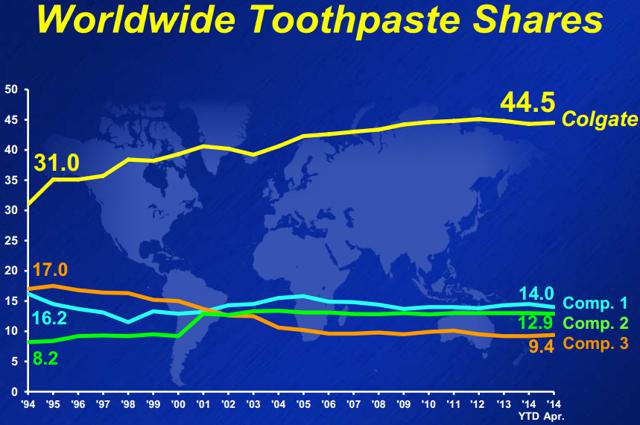 Source: CL Investor Presentation
Extending its Empire World Wide
In 1994, Colgate had a 31% share in the global toothpaste market. Colgate did a great job in increasing its market share over two decades to 44.5%. Its strong global presence includes a foothold in the emerging markets of the Asia Pacific region and Africa and its position is expected to strengthen. During the same period Colgate's two closest competitors lost their market shares. This is evidence that Colgate has utilized its strengths in R&D and marketing to successfully increase its share in the global toothpaste market. About 5.4 billion of the world's population still suffers from tooth decay. The buying power of consumers in the emerging markets is increasing and Colgate offers them the world's top toothpaste with superior functionality and a strong brand image as an alternative to inferior oral hygiene products.
Leading Manual Toothbrush Manufacturer
Colgate has significantly increased its market share in the past two decades and became a leading global toothbrush manufacturer in the year of 2006-2007. In 1994 Colgate held 18.4% of the global toothbrush market share. Colgate managed to grow its market share over the years and now holds 33.5% of the global toothbrush market. The nearest competitor previously held the number one position with a 26.2% market share in 1994 but has since lost its dominance and its share fell to 20.4% in 2014.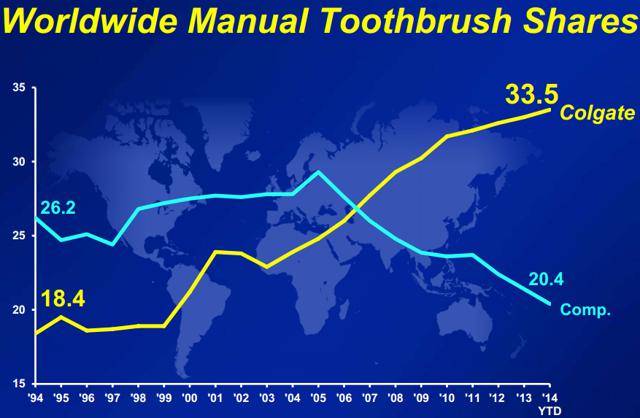 Source: CL Investor Presentation
Colgate is the Number One Dentist-Recommended Toothpaste
According to the Annual Dentist Tracking Study, Colgate is the most-often recommend brand of toothpaste by oral health professionals worldwide. The study reveals that in 47% of instances dentists recommended Colgate toothpaste to their patients. The nearest competitor was recommended in 18% of the instances. Endorsement from certified oral health professionals is strong evidence that Colgate provides top notch and effective oral health care compared to other toothpaste brands.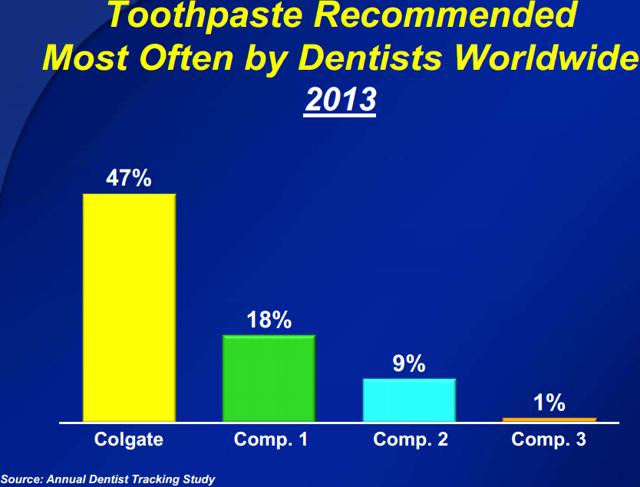 Source: CL Investor Presentation
Proven Superior Product Quality
Colgate has improved the functionality of its products through R&D. Twelve studies were conducted to test the effectiveness of Colgate's Sugar Acid Neutralizer formula compared to toothpastes that only contain fluoride. These studies were conducted all over the world over eight years and included 14,000 children and adults. Studies demonstrated that Colgate's Sugar Acid Neutralizer formula produces superior results and reduces early tooth decay by half.
Upside Revealed by Target Price Estimate
Colgate was valued by 20 brokers. The consensus target price estimate reveals that there is upward potential at the company's current price level. The mean target price is $69.90 which presents upside potential of 8%. The median target price is $70.50 which presents upside of 9%. The most optimistic analyst estimate is $78 which presents upside potential of 20%. The most pessimistic analyst estimate has a downside of 10% at its current price level. Analysis of the target price shows that investor can invest in Colgate to realize the upside that Colgate's undervalued shares presents.

Relative valuation
Looking at the price/earnings ratio, Colgate's shares appear to be undervalued compared to the industry and sector but it is overvalued compared to the S&P 500.When we incorporate growth to the price /earnings ratio, the PEG ratio shows that Colgate is overvalued compared to the industry and sector but undervalued compared to the S&P 500. On a relative basis, Colgate appears to be undervalued and presents upside at its current price.

Conclusion
Colgate is a consistent company with clear dominance in the global oral hygiene industry. By introducing superior products, Colgate has increased its global market share in the past two decades. The triclosan fear is not a big matter for concern for long-term investors as the company has bright prospects. Its strong global presence, especially in the emerging markets, is expected to produce growth. The target price estimate and relative valuation reveals upside on its current price, making Colgate a good long-term and stable investment.
Disclosure: The author has no positions in any stocks mentioned, and no plans to initiate any positions within the next 72 hours.
The author wrote this article themselves, and it expresses their own opinions. The author is not receiving compensation for it (other than from Seeking Alpha). The author has no business relationship with any company whose stock is mentioned in this article.