The week ahead is full of opportunity for gold. Last week proved that the geopolitical crisis in Ukraine has staying power, as it supported gold on Friday despite a concerning mid-week FOMC meeting minutes release that had investors fearing faster Fed action on rates. Thankfully for gold traders, the dovish speech by Janet Yellen in Jackson Hole also offered support, especially against the strong flow of economic data. The week ahead brings more weight for the metal to carry, but its great support remains in place.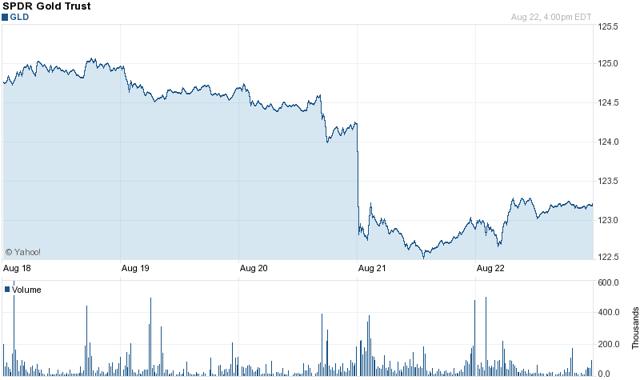 Gold had been on the decline last week, thanks to strong U.S. economic data and fear of a faster rate rise. That fear was stoked on Wednesday, when the FOMC meeting minutes were released showing discussion of a rate change. Then on Thursday, the Leading Economic Indicators data came in excessively strong, and further drove the downward dive in gold and the GLD seen in the chart here. However, Friday's speech from Yellen and the reminder that the Ukraine issue carries weight brought the precious metal right back up.
The week ahead brings significant weight, given my expectations that the economic data flow will continue to show strong U.S. growth. This week brings a reminder of the previously reported Q2 GDP strength, as its revision is published on Thursday. Furthermore, given last week's Leading Economic Indicator uproar and strength in housing and manufacturing data, we should probably expect more of the same in this week's data flow.
The list of data points include important measures of new home sales, pending home sales of existing homes, durable goods orders, regional manufacturing measures and two consumer confidence measures. I expect nothing but further indications of growth from all of the above. That places a weight on gold, as a rising economy, especially a robustly rising one will intensify talk about what the Federal Reserve might do sooner rather than later. As the market anticipates the inevitable first Fed rate hike, rates should renew their rise higher. That results in a stronger dollar and pressure on the price of gold.
But the economic slate also offers opportunity for gold and gold related securities traders. Two critical price measures could serve to further quell the inflation debate, which was somewhat quelled by last week's Consumer Price Index softness. This week brings the Federal Reserve's most favored inflation measure, and it comes right at the close of the week within the Personal Income & Outlays Report.
The Core PCE Price Index is the one measure of inflation the Fed favors most, so gold traders should be sure to follow the release at 8:30 AM ET. Last month's report for June showed the Core PCE Price Index only edging higher by 0.1% month-to-month. The year-to-year comparison showed just modest price increase of 1.5%, so it was supportive of gold. Any result that doesn't stoke Federal Reserve pressure to hike rates faster is a positive for gold. I believe it would take a reading of +0.3% month-to-month to harm gold on Friday, and that is highly unlikely.
The second price measure investors will follow is the S&P Case Shiller Home Price Index on Tuesday. But when it was last reported, it showed price decline in the 20-city seasonally adjusted index, as it declined 0.3% month-to-month. It was quite a shocker, as economists were looking for a 0.4% increase. The last two months of data have shown softness. Further softness here would be greatly supportive of gold prices, and I do not believe an uptick would be threatening unless it represented a severe correction of prior month decline.
Besides still benign signs of inflation, the key factor still supporting gold is the pestering of Russia in Eastern Ukraine. Russia's response to western sanctions thus far has been defiance, as it has rebutted with its own set of penalties against Western nations and companies, including McDonald's (NYSE: MCD) last week. The latest reports showed blatant defiance, as the Russian aid convoy rolled across the border against the wishes of the west. Meanwhile, NATO reported an 'alarming' Russian military build-up at the Ukraine border, and NATO said Russian artillery had crossed into Ukraine and was shelling Ukrainian forces marching on Russian separatists. This is not the compliance the west demanded from Russia's Putin.
As Russia's defiance threatens to expand to significant economic warfare that could affect the value of the euro and potentially also the dollar, it remains a key support for gold. To this point, the Ukraine crisis has actually added strength to the dollar, as capital took flight this month into U.S. Treasuries on Russian/Ukrainian conflict news. Even so, the threat of Russian future targeting of the dollar has supported gold.
| | | | |
| --- | --- | --- | --- |
| Gold Relative Security | Last Week | YTD | TTM |
| SPDR Gold Trust (NYSE: GLD) | -1.8% | +6.1% | -8.7% |
| Sprott Physical Gold Trust (NYSE: PHYS) | -1.9% | +6.4% | -9.0% |
| Market Vectors Gold Miners (NYSE: GDX) | -2.7% | +23.5% | -13.4% |
| Direxion Daily Gold Miners Bull 3X (NYSE: NUGT) | -8.3% | +57.0% | -54.6% |
| iShares Silver Trust (NYSE: SLV) | -0.9% | -0.1% | -19.3% |
| Goldcorp (NYSE: GG) | -4.4% * | +25.9% | -12.1% |
| Newmont Mining (NYSE: NEM) | -1.9% | +14.6% | -20.0% |
*Goldcorp's weekly performance is dividend adjusted
Last week was a rough one for gold relative securities, with the levered NUGT dropping the most, down 8.3% and the less volatile SLV security (due to silver's reduced significance next to gold & industrial uses of silver) shedding just 0.9%. Year-to-date, the gold complex remains safely in the green, but still posts trailing twelve month figures that reflect anticipation of a strengthening dollar. This week, barring a Russian invasion and annexation of Eastern Ukraine, I anticipate gold relative securities to hold ground through a volatile period. However, I do anticipate near-term Russian action.
I continue to expect Russia to come to the rescue of Russian separatists in Eastern Ukraine and to lift gold higher. The exact timing of this event is difficult to pinpoint, but it seems to be nearing as Ukraine clamps down on separatists. So, this week could be the week in which gold sees significant uplift on Russian intervention in Eastern Ukraine, and depending on the American response. In any event, too many supports remain under gold at current levels to justify bearish positions. Yellen has indicated the Fed will give consideration to labor slack, despite strong economic indications, and has effectively quelled concern for a near-term Fed rate action. So even if war doesn't break out this week, strong economic data may not give more life to the dollar, and do harm to gold. Therefore, gold is at least a hold today, with significant potential for event driven upside. As I follow gold regularly, readers may follow my column to receive reports.
Disclosure: The author has no positions in any stocks mentioned, and no plans to initiate any positions within the next 72 hours.
The author wrote this article themselves, and it expresses their own opinions. The author is not receiving compensation for it (other than from Seeking Alpha). The author has no business relationship with any company whose stock is mentioned in this article.