by Carl Delfeld
As another New Year gets underway, it's traditionally a good time for many investors to rebalance their portfolios.
The question is, exactly how diversified should your global portfolio be? It's one of the trickiest issues that investors face.
Mutual funds have long been a popular choice when it comes to increasing diversification and lowering risk. However, most funds can easily have 100 or more holdings as they try to hit their performance goals. Invariably, this means a fund's laggards always end up diluting its returns.
On the flip side, adopting a more independent approach by buying individual stocks does bring more flexibility. But this often means having a narrower portfolio with higher risk.
But here's a way to overcome this dilemma…
"Core and Explore" in 2011
You can combine the best of both worlds with what I call a "Core and Explore" portfolio.
The premise is simple: It's founded on a well-diversified, well-balanced group of "core" holdings, which you then supplement with the "explore" part – higher risk areas that have a chance to outperform.
For example, I created a portfolio at the end of 2009 that combines solid diversification and simplicity as part of an "explore" strategy. I call it the Emerging Markets Country Focus…
A Five-Pronged Approach to Strong Diversification and High Reward
My Emerging Markets Country Focus portfolio contains five emerging market country exchange-traded funds (ETFs), each weighted 20%. Here's how it looks…

As you can see, my 2010 picks were:
Having just five countries forces me to make some hard choices, but I used a combination of good value and strong momentum to pick the final holdings.
So how did it fare in 2010?
A Five-Star Return
All five holdings enjoyed an excellent 2010.
Even the two "laggards" – the Brazilian small-cap ETF and the Asia ETF – notched up returns of 12.4% and 11.8%, respectively. And while BRF endured a rough first half of the year, it rallied strongly over the second half and easily outperformed the large cap Brazilian ETF, which only rose by 3%.
The portfolio's big winners were Chile, Indonesia and Malaysia, posting returns of 43.2%, 35% and 30.6%, respectively.
It's also worth noting that while these three leaders represent 60% of the portfolio, they account for just 7% of the broader iShares MSCI Emerging Markets Index (NYSE: EEM). This challenges conventional index mutual fund investing in a significant way.
And it pays off, too. As you can see below, this focused portfolio almost doubled the performance of the benchmark Emerging Market Index, with a 27.2% return, compared with a gain of 14.4% for EEM.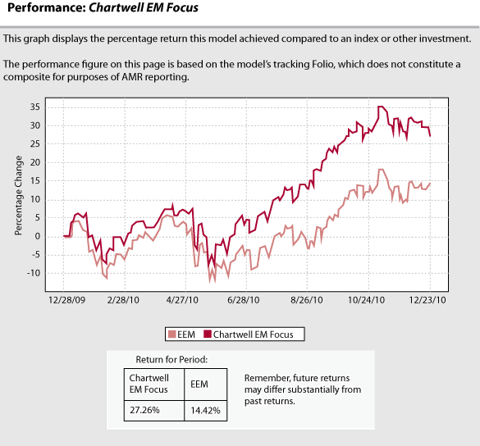 You may be wondering where China is in the emerging market mix. My analysis produced better contenders amid overheating in some parts of China's economy. It proved correct, as the Shanghai index finished the year down 13% and still some 50% below its 2007 peak.
The bottom line here is that when it comes to creating a solid, diversified portfolio, you don't need to get fancy with it. Often, the simplest approach works best.
Disclosure: Investment U expressly forbids its writers from having a financial interest in any security they recommend to our subscribers. All employees and agents of Investment U (and affiliated companies) must wait 24 hours after an initial trade recommendation is published on online - or 72 hours after a direct mail publication is sent - before acting on that recommendation.