Current prices of issues on the stock market look like they are stretched. Many prices of issues are at their highs or near their highs for the year. The Dow Jones Average has been rotating around 17,000 for the past 3 months. See the chart below (Taken from Google):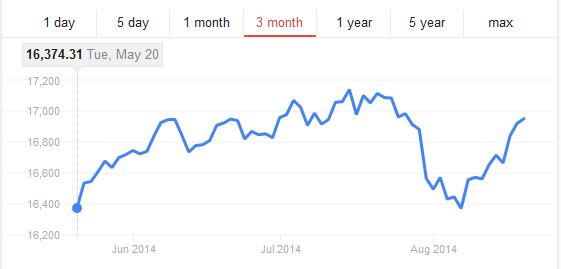 The S&P 500 stock index has also been rotating around 2000 for the past 3 months. See the chart below (Taken from Google):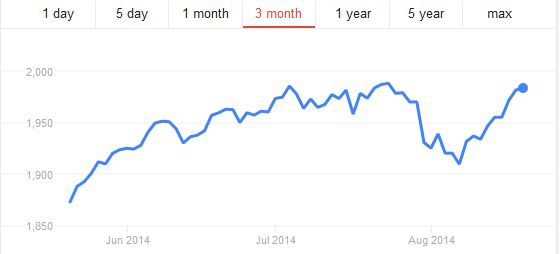 These indexes appear to have reached a current high which they cannot overcome. This presents one with a quandary, especially as we approach September and October, the months when stock prices often swoon. Evidence does indicate that the market is likely to take a dip in September. The average September decline has been around 1% over the past 60 years. On the other hand, the October effect is largely considered a psychological expectation rather than a normal event. This mindset is likely a consequence of the largest historical market crashes, both of which occurred in October; the huge market crashes of 1929 and 1987.
While most professionals tell us that it is impossible to predict market direction, it is reasonable to be prepared for a correction. If a correction occurs in September or October, I plan to have at least 1/3 of my personal portfolios in cash. I have sold many of the issues that are hovering around their annual highs in order to get my portfolio to this point. I have kept many of my high dividend paying preferred shares that are still below the call price. I sold any preferred shares that were above the call price and turned them to cash. Many of the preferred shares I still hold offer a good dividend and even if they do fall during a correction, they are likely to fall less than the common shares and are apt to rebound quicker. Here is a list of the preferred shares I currently hold:
Symbol

Common symbol

Name

Current price

Coupon Rate

Rate at Current Price

Moody S&P Rating

Cumulative or Non-Cum

ABR-B

Arbor Realty

$24.10

7.75%

8%

None

Cum

AFSI-B

AmTrust Fin. Serv

$24.77

7.25%

7.3%

None

Non-cum

ARR-B

ARMOUR Res. REIT

$24.35

7.88%

8%

None

Cum

BXP-B

Boston Properties

$23.48

5.25%

5.5%

Baa3

BBB

Cum

CLNY-B

CLNY

Colony Financial

$24.82

7.5%

7.5%

None

Cum

CTY

Qwest Corp.

$23.94

6.13%

6.4%

Baa3

BBB-

Non-cum

(NOTE)

CYS-B

CYS Investments

$23.55

7.5%

7.9%

None

Cum

DLR-G

Digital Realty

$22.86

5.88%

6.3%

Baa3

BB+

Cum

DX-B

Dynex Capital

$24. 10

7.63%

7.8%

None

Cum

FMER-A

FirstMerit Corp.

$23.90

5.88%

6.1%

Baa3

BBB-

Non-Cum

LGCYO

Legacy Reserves

$24.93

8%

8%

None

Cum

LHO-I

LaSalle Hotel Prop

$24.60

6.38%

6.4%

None

Cum

MITT-B

AG Mortgage

$24.65

8%

8.1%

None

Cum

NLY-D

Annaly Capital

$24.68

7.5%

7.6%

None

Cum

NNN-E

National Retail Prop.

$23.75

5.70%

5.9%

Baa2

BB+

Cum

OFG-A

OFG Bancorp

$24.24

7.13%

7.3%

None

B+

Non-Cum

PSA-W

Public Storage

$22.75

5.2%

5.7%

A3

BBB+

Cum

PSB-V

PS Business Parks

$23.39

5.7%

6%

Baa2

BBB-

Cum

PYS

RR Donnelly

$23.60

6.3%

6.6%

Ba3

BB

Non-Cum

RSO-B

Resource Capital

$24.75

8.25%

8.3%

None

Cum

STAG-B

STAG Industrial

$24.50

6.63%

6.7%

None

Cum
Most of the preferred issues listed above are not rated by Moody's or S&P. There are only a few that are considered investment grade and the rest are relatively high risk preferred issues. For that reason, I don't allow any of them to comprise more than 1% of my portfolio, except DLR-G which accounts for about 2%. All of these require constant monitoring and I watch them diligently.
Another measure I currently take is writing puts on stocks that I would like to hold in my portfolio at lower prices than currently available. For example, I have written puts on Cisco (NASDAQ:CSCO), Unilever (NYSE:UN) and Wal-Mart (NYSE:WMT). If the prices of these issues go below the strike price of the put, I will gladly include them in my portfolio. If the prices don't go below the strike price, I gather the premiums from the sale of the puts.
Finally, I have been purchasing some silver. Silver prices have been on a long downward trend since 2011. See the 5-year historical chart below for silver. (Taken from APMEX.com)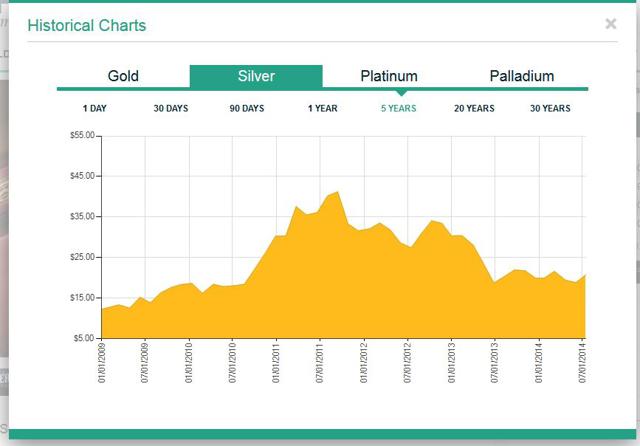 While some mining companies maintain that the costs of producing silver are around $10.00 per ounce, other analysis of the price to get the ore out of the ground and process it suggest expenses are over $20.00 per ounce. Steve St. Angelo maintains that some mining companies are selling their silver at a loss when they are selling it at $23.10, the average realized price of silver for 2013. One can now purchase silver for less than $20.00 per ounce in large quantities. APMEX was selling 100 ounce silver bars for $1992.00 on 8/21/2014 at 12:30 PM. If one accepts the analysis of Steve St. Angelo, one can purchase silver below the price of production. This is not to suggest that silver will not go any lower, but one can be reasonably sure that at some future date, the price of the metal will be more than the current price. However, one must be able to hold the metal for more than a year or two for the price to revive. If one needs the cash to live on within the next 2 years, do not buy silver.
I do not plan to put more than 10% of my resources in silver since I am retired and need income from my investments to cover living expenses. However, the profits from the stock market this year have given me additional resources to put into silver to protect myself from calamities and huge stock market swings. I choose to purchase the metal and have it delivered because I want it available in the event of a crisis. It can be used as currency and another means of buying and trading if the currency fails. I see silver as a stop gap measure in the event of some kind of economic or terrorist meltdown as well as a means to protect against rampant inflation.
Conclusion:
Since the stock market has reached an all-time high, coupled with the advent of several months where historically the market has faltered, it is wise to have some money available to take advantage of possible bargains over the next several months. I have kept money in preferred issues that have high dividends in order to continue to provide cash for living expenses. It also appears to be a good time to buy silver since the price of the metal is below the actual costs of mining and transforming the ore into metal. Silver, especially silver dollars can be used as a means of exchange in the event of economic catastrophic events. With all the havoc in the world and the very real possibility of terrorism in the US, purchasing physical silver at these low prices is one way to prepare for possible disruptions.
Disclosure: The author is long CSCO, WMT.
The author wrote this article themselves, and it expresses their own opinions. The author is not receiving compensation for it (other than from Seeking Alpha). The author has no business relationship with any company whose stock is mentioned in this article.
Additional disclosure: The author is long all the preferred stocks listed in the article.
Editor's Note: This article discusses one or more securities that do not trade on a major U.S. exchange. Please be aware of the risks associated with these stocks.