Take-Two Interactive (NASDAQ:TTWO) shares are on a roll, up nearly 30% in 2014 and up a whopping 100% since the beginning of 2013. Even with these hefty gains the stock still trades at a discount to its peers, the broader market, and to its fair value. Growth prospects look promising with positive upcoming catalysts and to top it all off the technicals look bullish.
How Do Take-Two's Multiples Compare?
Take-Two is a video game development studio that creates popular games for consoles such as the XBOX and PlayStation in addition to the PC. Its peer group includes other game studios like Activision Blizzard (NASDAQ:ATVI) and Electronic Arts (NASDAQ:EA). To understand how Take-Two is currently valued relative to its peer group and the S&P 500, we will compare the following common valuation multiples P/E (Price/Earnings), P/S (Price/Sales), P/B (Price/Book), PEG ratio (PE/G) and Enterprise Value/EBITDA. The lower these ratios are relative to peers and the broader market the more undervalued a stock is. The table below shows Take-Two is undervalued relative to its peer group and the S&P 500:
| | | | | | |
| --- | --- | --- | --- | --- | --- |
| | P/E ttm | P/S ttm | P/B mrq | PEG | EV/EBITDA |
| Take-Two | 17.58 | .80 | 2.26 | .67 | 3.11 |
| Activision Blizzard | 24.61 | 3.87 | 2.31 | 1.48 | 14.36 |
| Electronic Arts | 165.91 | 3.11 | 4.40 | 6.82 | 27.52 |
| S&P 500 | 19.72 | 1.77 | 2.78 | N/A | N/A |
Source for P/E, P/S, P/B, PEG - FinViz; Source for EV/EBITDA - Yahoo.
What is Take-Two's Fair Value?
To determine the fair value or "intrinsic" value of a stock there are two easy and common methods - Graham's revised formula and discounted cashflow valuation (DCF).
Graham's revised formula - Benjamin Graham, known as the father of value investing, developed his formula to give investors a tool to quickly screen if a stock was above or below intrinsic or fair value.

V* = Fair Value
EPS = EPS ttm
g = EPS (5-year projected growth)
Y = AAA Corporate Bond Yield
If we plug Take-Two's numbers into the equation we get:
V*= $1.27(8.5+2*26.2)4.4 divided by 4.16 = $81.81
Seeing as Take-Two's shares closed at $22.32 Friday, they are significantly undervalued according to Graham's revised formula.
Discounted Cashflow Valuation - The DCF method is a popular method for determining fair value and uses future free cash flow projections, then discounts them to come up with a present value. In using the DCF valuation we have to make some assumptions for discount rate (our expected annual rate of return on our capital) and projected growth after year 5.
Using this online DCF calculator and inputting a discount rate of 10% and a conservative 5% growth rate for year 6 forward, we get a fair value of $62.78! Using DCF valuation, Take-Two's shares appear significantly undervalued.
Financial Strength
Take-Two has a solid balance sheet carrying $10/share in cash with a current ratio of 4.30. The current ratio measures liquidity or the ability of a company to pay off its short-term obligations. The higher the ratio the better - Take-Two's current ratio is higher than either Activision Blizzard or Electronic Arts. The company has a hefty $605M of operating cashflow. Consider that over the trailing twelve months the company booked $2.33B of revenue and the current market capitalization is $1.86B. Take-Two currently carries $459M in long-term debt.
Growth Prospects
Take-Two has a full pipeline of popular game franchises and has multiple game/multiple platform releases slated for the fall of 2014, including the very popular Grand Theft Auto V, NBA 2K15, Borderlands: The Pre-Sequel, Civilization: Beyond Earth, WWE 2K15, for the PS4, XBOX One and PC, and the popular Bioshock for iOS. Take-Two will also release the highly anticipated and multiple award winning cooperative/competitive multiplayer game Evolve in February 2015.
Bullish Technicals
The chart below paints a bullish picture for Take-Two. It trades safely above its 200-day moving average with the price in a steep uptrend. The RSI just crossed the midline showing momentum but the stock is not overbought. Lastly, the MACD just completed a bullish crossover which is strong indicator for additional upward movement.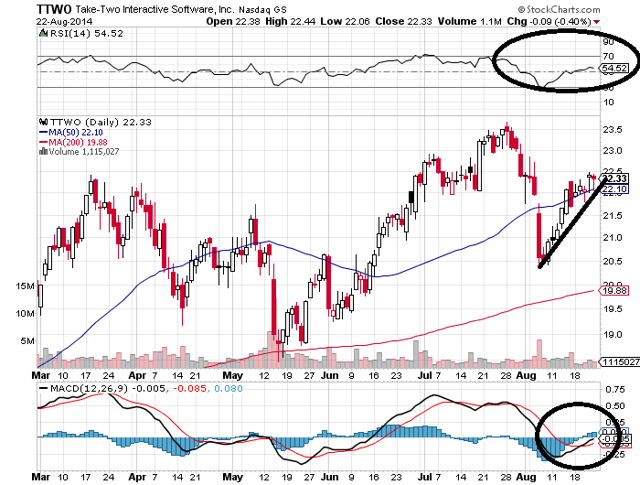 Conclusion
By almost any metric, Take-Two's shares are undervalued relative to peers and the broader market. Additionally, at $22.32 the shares are significantly below fair value as calculated by Graham's revised formula ($81.81) and DCF valuation ($62.78). The company has a solid balance sheet, excellent growth prospects, and bullish technical indicators. I believe TTWO offers a strong buy at current levels with a considerable margin of safety.
Disclosure: The author has no positions in any stocks mentioned, and no plans to initiate any positions within the next 72 hours.
The author wrote this article themselves, and it expresses their own opinions. The author is not receiving compensation for it (other than from Seeking Alpha). The author has no business relationship with any company whose stock is mentioned in this article.
Additional disclosure: This article is informational and intended to spur thought and discussion. This article is not a substitute for your own extensive due diligence and does not qualify as investment advice. Do not buy or sell stocks based on this article.