"The best thing that happens to us is when a great company gets into temporary trouble... we want to buy them when they're on the operating table." - Warren Buffett
American Realty Capital Properties (ARCP) is the leading net-lease retail real estate investment trust, or REIT, domiciled in the United States. For the first two years since the company was listed in September 2011, ARCP was a sleepy little REIT that garnered little attention.
Fast-forward to 2013, when ARCP started making waves with an impressive growth rate. All of a sudden the largest U.S. net-lease retail REIT, Realty Income Corporation (NYSE:O), saw its leadership position threatened by this newcomer.
Even with Realty Income's status as a cult stock with massive retail investor interest, the faster-growing, higher-yielding ARCP started its climb to fame. After two major acquisitions that closed in 2014 (the purchase of Cole Real Estate Investments for $11.2 billion and the purchase of several hundred leased Red Lobster restaurant properties for $1.5 billion), ARCP now commands industry leadership over Realty Income on several fronts.
As noted by Seeking Alpha contributor Rubicon Associates in an August 20, 2014 article Should You Buy American Realty Capital Properties Instead Of Realty Income,
"an overview of the two triple-net kings of the jungle" as follows:
As one can note by the chart above (source: Rubicon Associates, article linked above), ARCP leads Realty Income on several important fronts. The only U.S. state ARCP does not own property, to include DC and Puerto Rico, is Hawaii. If they bought just one property on the Hawaiian archipelago, this company would lead Realty Income in every category listed above.
ARCP Property Distribution: Regional Overview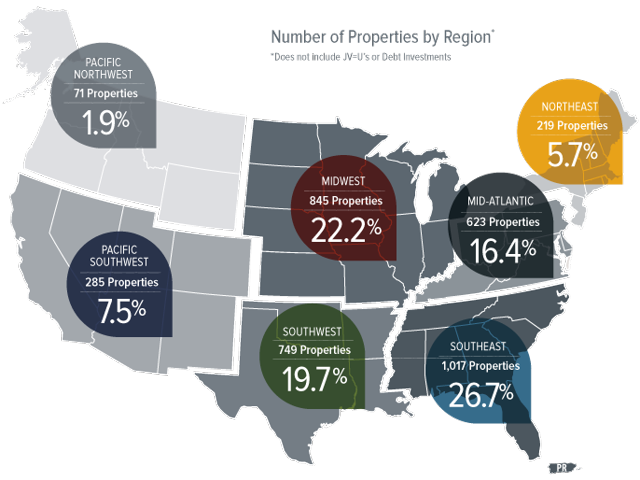 (source: ARCP)
Setting The Record Straight: The ARCP True Valuation
As a contributor to Seeking Alpha and a long-term, public bull cheering for ARCP, one of the things that pains me is the false valuation charts that seem so prevalent on this site.
While other authors, such as Rubicon Associates as linked above, have wonderful articles on ARCP that really open up debate as to the merit of the company as an investment, one common problem with REITs in general is the lack of accurate valuation metrics that are available to the public through third-party sites.
While many readers understand how to value REITs, the purpose of this segment is to showcase how FFO projections are time-consuming to obtain as third-party sources are rife with non-accurate information.
How To Value REITs
Public corporations are most often valued in terms of their trailing, current and forward price-to-earnings, or P/E ratio. The inverse of this, which is called the earnings yield, reflects a meaningful number that investors can use to measure the price of the underlying security to long-term bonds.
For REITs, the common form of measurement (to adjust for depreciation and amortization) is called funds for operations, or FFO. Another term is called adjusted FFO, or AFFO, which accounts for recurring capital expenditures such as the GAAP straight-lining of rent and other material factors. Over the long-term, both FFO and AFFO, should be very close peers on a per-share basis.
When an investor flips the FFO over the price (FFO/P instead of P/FFO), he is given the FFO yield, which can be used to determine the selected REIT FFO yield. As with a non-REIT corporate earnings yield, this information also can be used to calculate bond market premiums (versus the investment-grade corporate rate and the 10-year U.S Treasury).
Where Investors Are Mislead On ARCP's Valuation
As an investor that holds an economics and statistical analysis background, I value both the historical and projected earnings numbers (which includes growth rates) to be the final and ultimate straw in valuing a public corporation.
While I have pushed the investment community to use the earnings yield, a statistic that has been heavily favored and publicly pushed into the limelight for many years by U.S. investment leader Ken Fisher, the CEO of Fisher Investments, most retail-level investors and writers continue to use the P/E ratio (and P/FFO for REITS).
Using P/FFO, many authors have relied on statistics available through third-party sites, which at times can have errors regarding projected earnings. According to Chuck Carnevale, the co-founder of Fast Graphs, which is a third-party vendor that utilizes information from S&P Capital IQ regarding earnings and projected earnings:
"..investors should not rely 100% on F.A.S.T. Graphs™ or any other source, sometimes to include the company's actual financials."
Accurate FFO statistics and projections are generally available through the REITs themselves, with information on their websites and through press releases. High-level research firms such as the aforementioned S&P Capital IQ also use accurate information. Investors with interest or exposure in ARCP need this information, so let's discover the true valuation of ARCP and "stop the madness," so to speak.
FFO Versus AFFO
While FFO and AFFO do not vary much in larger, slow-growth REITs, ARCP has been on a growth binge that has greatly affected FFO negatively through the accounting of acquisition-related costs.
In this regard, the company's earnings performance versus other REITs is more accurately defined through AFFO, which discounts such acquisition costs and as such more accurately reflects ongoing property portfolio performance.
According to ARCP,
"Changes in the accounting and reporting promulgations under GAAP (for acquisition fees and expenses from a capitalization/depreciation model to an expensed-as-incurred model) that were put into effect in 2009 and other changes to GAAP accounting for real estate subsequent to the establishment of NAREIT's definition of FFO have prompted an increase in cash-settled expenses, specifically acquisition fees and expenses for all industries as items that are expensed under GAAP, that are typically accounted for as operating expenses. Management believes these fees and expenses do not affect our overall long-term operating performance.

"While certain companies may experience significant acquisition activity, other companies may not have significant acquisition activity and management believes that excluding costs such as merger and transaction costs and acquisition related costs from property operating results provides useful information to investors and (as such AFFO) provides information that improves the comparability of operating results with other companies who do not have significant merger or acquisition activities.
Furthermore, ARCP notes:
"By providing AFFO, we believe we are presenting useful information that assists investors and analysts to better assess the sustainability of our ongoing operating performance without the impacts of transactions that are not related to the ongoing profitability of our portfolio of properties. We also believe that AFFO is a recognized measure of sustainable operating performance by the REIT industry. Further, we believe AFFO is useful in comparing the sustainability of our operating performance with the sustainability of the operating performance of other real estate companies that are not as involved activities which are excluded from our calculation." (Source: ARCP Website).
ARCP's 2014 AFFO Projections
For the year the 2014, AFFO projection at ARCP has been a target range of $1.13 to $1.19 per share. With the release of the Q2 2014 results, the company has tightened and raised guidance to $1.18-$1.20 per share.
In this regard, the true P/AFFO numbers for ARCP, according to company-specific projections that include two completed quarters of 2014 financials, are as follows (using an August 22, 2014 closing share price of $13.19):

In this regard, ARCP is currently valued at 11.08x the 2014 mid-point company projection, with a 2014 AFFO yield of 9.02%.
2014 AFFO Versus Peers
According to Realty Income's CEO John Case on July 24, 2014, the company has tightened its 2014 AFFO guidance as follows to $2.55 to $2.57 per share (Q2 2014 earnings press release).
Another ARCP U.S. net-lease REIT peer worth noting (and consideration for investment) is National Retail Properties, Inc. (NYSE:NNN). According to the company, their current 2014 AFFO projection is between $2.05 and $2.09 per share, as of August 5, 2014.
Using the mid-point of the current AFFO guidance for 2014 from ARCP, Realty Income and NNN, as well as closing share prices as of Friday, August 22, 2014, the 2014 P/AFFO and AFFO yield are as follows:

Using the blended 2014 P/AFFO multiple of ARCP's peers of 17.82 and applying that multiple to ARCP's 2014 AFFO mid-point projection of $1.19 implies a price of $21.21. At the current price of $13.19 per share, to gain the current peer valuation implies a move of $8.02, or 60.8% to the upside.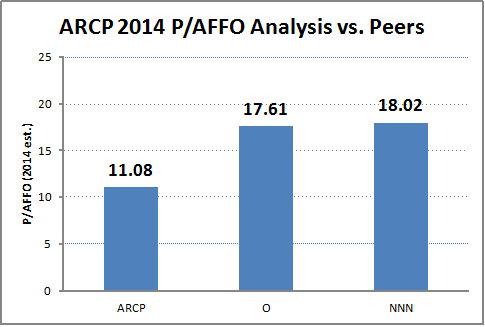 As the current company history, AFFO multiples versus peers, and the Warren Buffett quote above suggest, it could be implied that ARCP is in trouble, or "on the operating table," so to speak.
While the company has a rapid-growth history and a short history versus peers, ARCP has lost a bit of confidence in the market for three major moves it made this year.
Why ARCP Is Undervalued
The three investor complaints that have spooked the share price of ARCP are as follows; however, only two of them would make me question the leadership of the company.
First, ARCP publicly announced that the share price was undervalued and that at current valuations, there would be no further dilution of shares through secondary stock offerings. Weeks later a secondary occurred, throwing investors for a loop.
Second, ARCP stated they would spin-off a new company to concentrate on retail shopping centers, which pleased shareholders. Weeks later the company reversed course, once again. The company decided to sell the spin-off portfolio to a private-equity group, then use the proceeds to purchase a large portfolio of leased Red Lobster properties.
Third, the CEO was replaced, which in my opinion doesn't hurt the company's reputation but in the minds of many investors, the "three strikes and you're out" rule could apply here and in plain English, enough is enough.
Moving Forward
Without getting into details about the CEO change-up or the two about-face moves the company made this year, as briefly showcased above, I believe the company is in great financial shape and will outperform both top REIT peers mentioned above over the long-term.
I believe the company was in hyper-growth mode since inception and is now ready to settle down a bit and showcase strong FFO growth through its top-notch portfolio and market-leading ability to raise capital and close high-quality properties. I see president David Kay as a true leader who will transition the company well into a long-term monthly dividend company that over time will earn a valuation multiple in line with peers.
I would suggest, however, that Mr. Kay, who will succeed Nicholas Schorsch as CEO of ARCP on October 1, 2014, should come forward and explain the two about-face moves the company performed this year on CNBC, perhaps even with Jim Cramer. Investors don't need an apologetic attitude, they just need to understand why the company slapped them in the face twice and why he is the man that they should, and must, trust now.
While a slap in the face is always unwelcome at first, there are always explanations that could help investors understand why their long-term interest was kept in place through both the wind-up and the smack.
While ARCP financials continue to improve, a positive PR campaign such as a CNBC broadcast interview (as suggested above) would help move the stock price in the right direction. After all is said and done, most investors just want someone that they can trust to deliver in the leadership position.
"Numerical superiority is of no consequence. In battle, victory will go to the best tactician." - U.S. Major General George A. Custer
To learn more about why the P/E ratio is "tired," as well as why the PEG ratio should be replaced, please read "Introducing The Earnings Yield Growth Root," published March 10, 2014.
Disclosure: The author has no positions in any stocks mentioned, and no plans to initiate any positions within the next 72 hours.
The author wrote this article themselves, and it expresses their own opinions. The author is not receiving compensation for it (other than from Seeking Alpha). The author has no business relationship with any company whose stock is mentioned in this article.