After following the situation with NQ Mobile (NYSE:NQ), it seems that many of those who are still bullish see the partnerships the company has announced as a validation that they are legitimate. In my opinion, however, that would be a dangerous assumption to make. It is one thing to see NQ Mobile has business partners for their apps. However, you can't immediately jump to the conclusion that this means the company is really generating the revenue they are reporting based solely on this fact.
How Preload Deals Work
To begin with, many of the deals NQ Mobile announced seem to be preinstallation deals -- this requires a brief explanation. For those that don't know, usually a preload deal with smartphone makers and wireless carriers involves the app maker paying to have their apps preloaded on the phones. Often the app maker has to pay the phone manufacturer or carrier well in advance for the preload before the phone actually hit store shelves. This is because of the time it takes between when the default software and apps are installed on a phone at the factory to when the phone is actually available for sale to consumers.
In other cases, preloads involve a revenue share agreement (rev share). This means the app maker has to share a portion of any revenue generated from any in app purchases (IAPs) or advertisements on the preloaded apps with the smartphone maker or carrier. Sometimes it could be a combination of both, meaning the app maker has to pay for a preload and then share any revenue generated from the app.
What this means is that in most cases the smartphone makers or wireless carriers aren't paying NQ to license their consumer mobile security software and other apps on the phones they sell. Rather it is the other way around and NQ is paying to have their software preinstalled or they are agreeing to share a portion of any revenue generated from the preinstalled apps. So there is very little risk for the companies partnering with NQ.
NQ Mobile most likely won't disclose any actual specific financial details related to any of their announced deals. However, there are a few ways you can quantitatively get a sense on how significant some of the deals announced by NQ Mobile are.
NQ Mobile & China Unicom Deal
For example, back on November 5th of 2013, the company announced they and China Unicom had reached an agreement to bring their NQ Family Guardian app to the China Unicom WoStore.
During their investor day presentation on November 19, 2013, NQ Mobile executives told investors the Family Guardian app was already doing well on China Unicom's app store and already had over 120,000 downloads.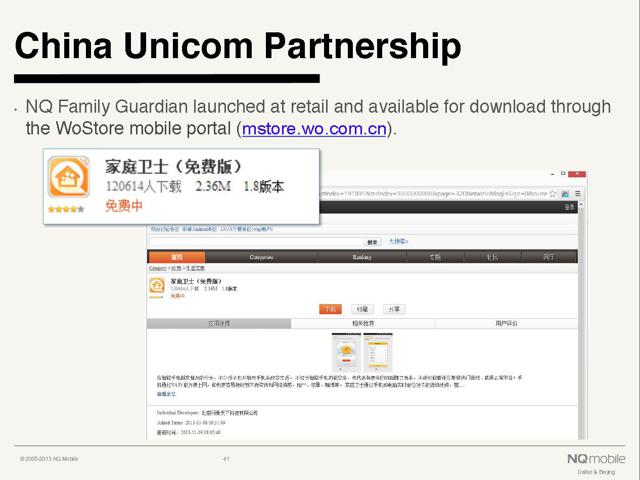 Yet checking back now, the total downloads for the same Family Guardian app is just 143,000. This means the 9 months from late November 2013 to now late August 2014, the app just managed a measly additional 23,000 downloads from China Unicom's app store.

Either the popularity for the Family Guardian app waned significantly (and I mean really significantly), after November, or not all the initial 120,000 downloads are legitimate. But either way, while it sounds nice to bulls of the stock when NQ announces a deal with China Unicom, the numbers would suggest that the actual revenue contribution from this specific deal should be very limited.
You can also use similar methods to get a general sense on how significant some of the other deals NQ Mobile announced in the past are as well.
Google Play Download Data as an Indicator
Moving on, it seems some investors following NQ Mobile have the misconception that Google Play download numbers entirely ignores preinstallation users. However that's not true. When an Android user updates an app that is preinstalled on their Android phone or tablet for the first time on the Google Play store, this gets counted as a new download for that app most of the time.
The reason is because Google Play counts a new download for an app when it gets associated with a Google Play account for the very first time. Normally this happens when a user goes on the Google Play store and downloads an app for the first time. However, updating a preinstalled app a user hasn't downloaded or updated before on Google Play does the same thing.
For example, since we are on the topic of mobile security apps, Lookout Mobile Security is a leading mobile security app in the US. Lookout relies on preinstallation as a significant source for new users. Their security app is preinstalled on most of the smartphones sold by AT&T, Sprint, and T-Mobile. This includes many of the Android phones I buy for testing purposes.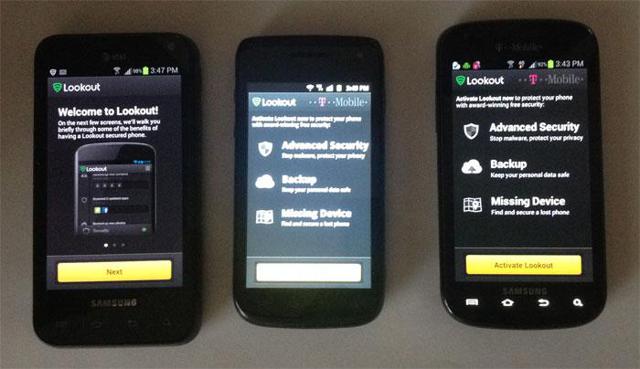 When a user goes to Google Play and uses it to update the preinstalled version of Lookout on their phone to the newest version for the first time, this usually gets counted as a new download by Google Play. This in part helped Lookout achieve over 50 million downloads on the Google Play store.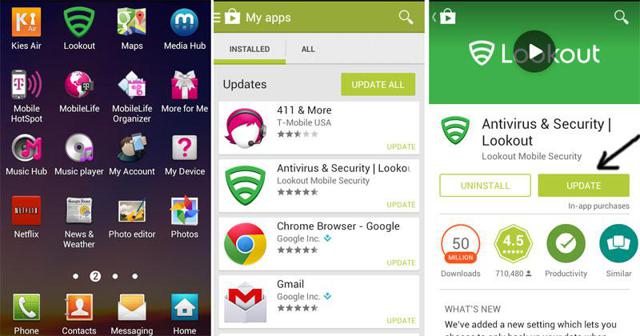 The exception where the update won't count as a new download would be if the user had already downloaded or updated Lookout under the same Google Play account before. The most likely scenario in this case would be they downloaded or updated Lookout on a previous Android phone they owned.
This applies to NQ Mobile as well with their users. When users on Google Play update a preinstalled NQ Mobile Security app, it gets included as well in the download figures. So Google Play data is a fairly good general indicator of the popularity of an app outside of China.
NQ Mobile & American Movil Deal
With NQ Mobile though, they often produce individual rebranded apps for specific carriers, such as with American Movil. Back on March 4, 2013, NQ Mobile announced they had signed a deal with American Movil. American Movil is the parent company of the Telcel and Claro carriers in Mexico and South America.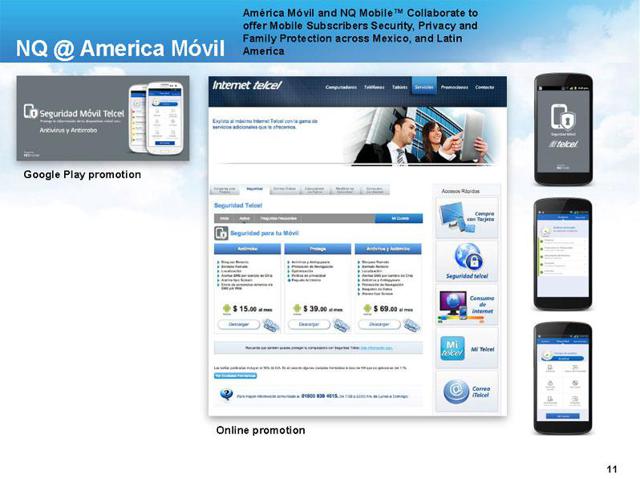 The NQ Mobile powered security app for Telcel is called Seguridad Movil Telcel. Until recently it was on the Google Play. However for some reason, it was removed some time in August of 2014 from Google Play and now leads to an error page.

One possible reason might be because Telcel decided to replace NQ Mobile with McAfee's mobile security solution instead as I found a Telcel and McAfee Mobile Security website. But that is just a guess.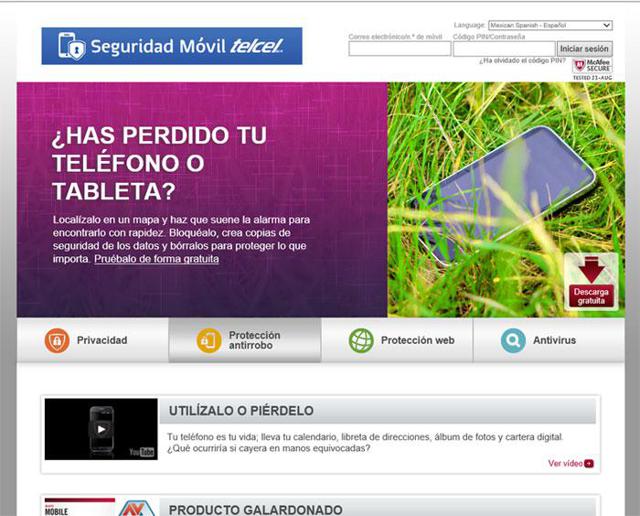 However, we can still pull historical Google Play data for the NQ Seguridad Movil Telcel app to get a general sense of how will it did. The app was first released on Google Play on June 20, 2013. It passed the 50,000 download mark almost 9 months later on March 5, 2014. Before it was removed from the Google Play store sometime in August of 2014, the app was still between the 50,000 to 100,000 download range.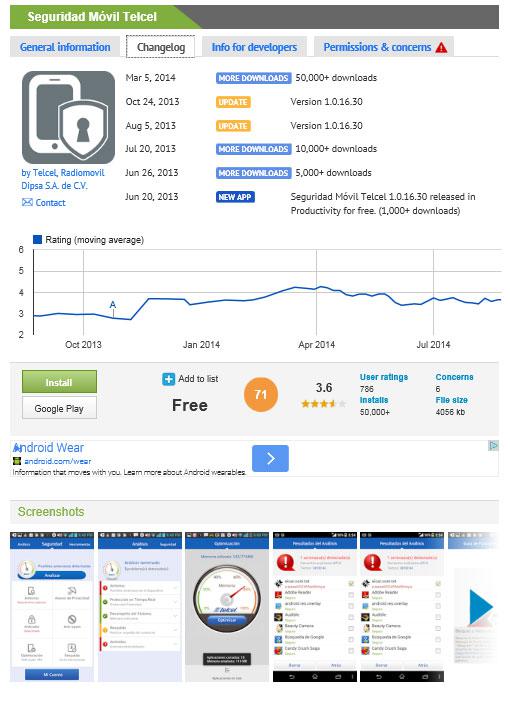 The figures aren't very impressive. An important question though is what percentage of Telcel subscribers downloaded or updated the app using Google Play? There's no way for outsiders to tell but we can still make some estimates and plug in some numbers to see what we get.
Say we generously assume a best case scenario for NQ Mobile -- the 50,000 download figure on Play represents just a mere 10% of Telcel subscribers who have the NQ security app on their phone and are actively using it. That still would mean just 500,000 Telcel subscribers who are actively using the app, still a very low figure.
In addition, NQ Mobile has another branded app for American Movil's Claro Brazil called Claro Seguranca Movel. The app has just passed 5,000 total downloads on Play so far. According to a report, Claro launched NQ Mobile's solutions in Brazil sometime around December of 2013. Even assuming a best case scenario here again, it is hard to see the app having that many active users.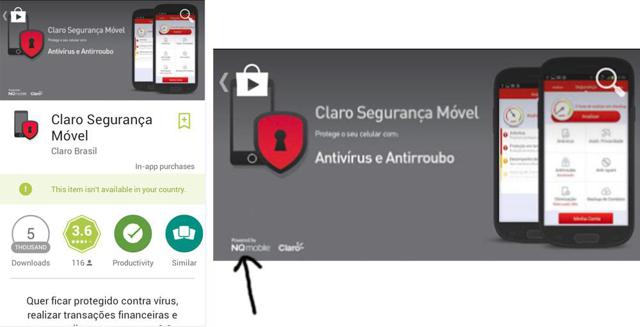 So once again having a deal with a large telecom company such as American Movil may sound nice to NQ Mobile investors, however, the actual revenue contribution from this deal appears to be limited.
NQ Mobile for Retail
Furthermore NQ Mobile has two apps for third party retail stores which are selling NQ Mobile's consumer security products. They are called NQ Mobile Guard for Retail and NQ Mobile Security for Retail.
These apps are most likely created for retail partners outside of China which sells NQ Mobile products in their stores but doesn't preinstall NQ Mobile apps onto the phones they sell. Nor do they have rebranded versions of NQ Mobile apps.

Here's how they work based on a presentation from NQ Mobile. A user buys an NQ Mobile prepaid card from one of their retail partners which contain an activation code. They go to an NQ Mobile website on their Android phone to enter the activation code and it takes them to Google Play to download the NQ Mobile Security for Retail app.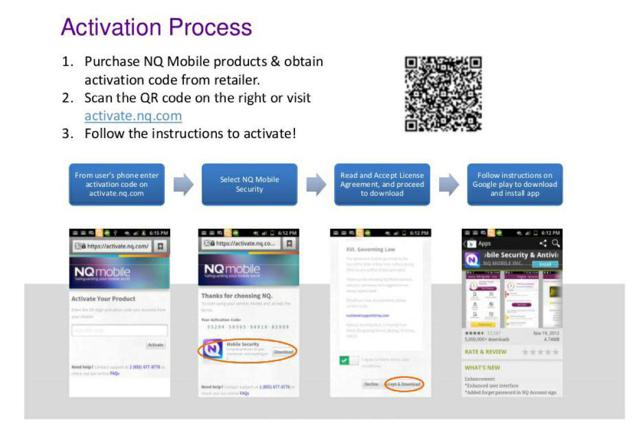 Therefore almost everyone of the downloads from these two apps should correspond to a paying user. However, the download numbers aren't that great. The NQ Mobile Guard for Retail app was first released in May 15 of 2012. In July 4 of 2014, it surpassed 50,000 downloads. This means it achieved 50,000 paying users over the course of more than 2 years.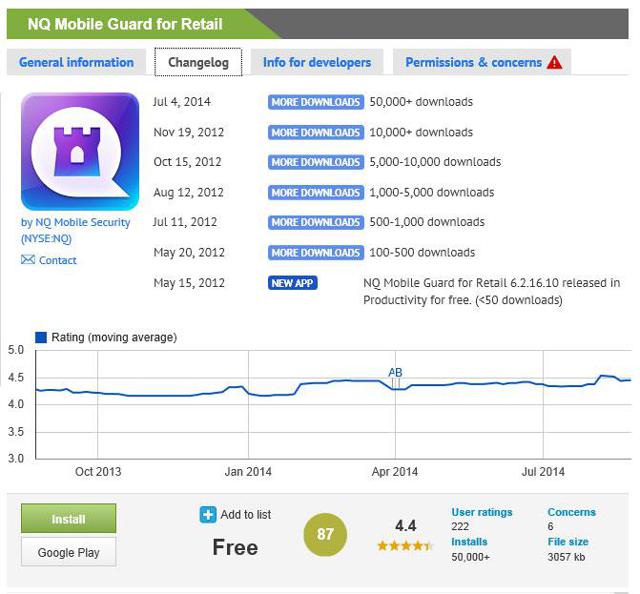 According to NQ Mobile's website the price of an annual subscription for the retail edition of NQ Mobile Security is $24.99.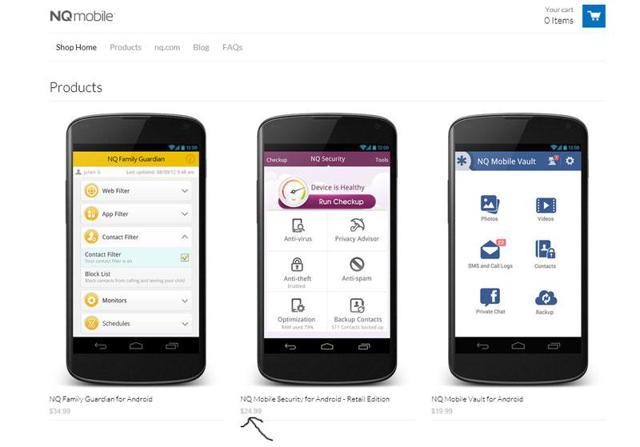 Of course not every single one of the 50,000 users gained over the course of 2 years is still going to be a paying user right now. However, let's assume the absolute best case scenario that they actually are. With an annual price of $25, that's still only around $1.25 million in revenue a year from these 50,000 users.
The other NQ Mobile Security for Retail app fared better. It was released June 22, 2013 and managed to get over 100,000 on February 28, 2014. So once again with a $25 annual price, an absolute best case scenario would mean over $2.5 million in annual revenue from those users at the end of February 2014.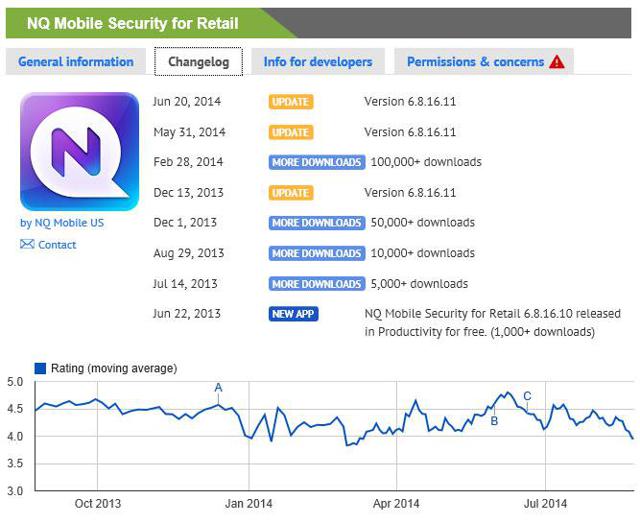 Having up to $4 million or more in annual revenue from those retail versions of NQ Mobile Security isn't anything to sneeze at by any means but it isn't much either, considering NQ Mobile reported over $103 million in mobile value added service revenue in 2013.
So once again, NQ Mobile announcing their apps are available for sale in various retailers is nice, but the numbers suggest the actual revenue generated from them may be somewhat limited.
NQ Mobile Prepaid Cards in China
While looking into the NQ Mobile Retail apps I also noticed that NQ Mobile has a similar system with retailers in China. Stores in China apparently also sell these NQ Mobile prepaid cards which contain an activation code.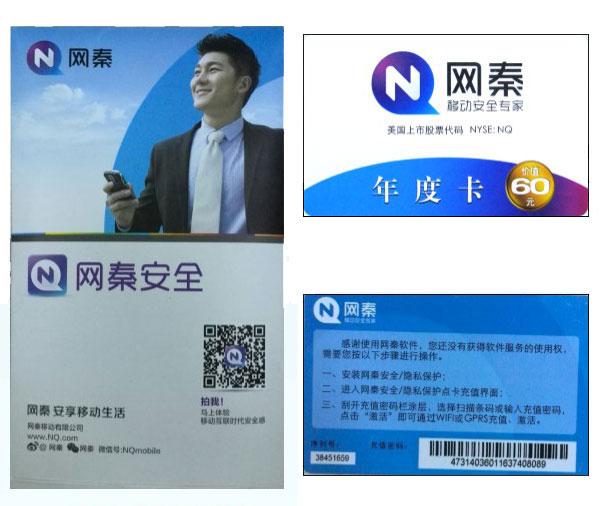 From the pictures I found, the user enters the code found on these cards into the Chinese version of NQ's mobile security app. This enables the premium features of the app not available for free users.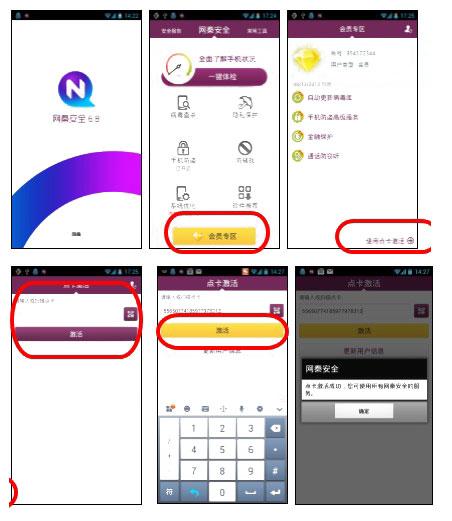 Based on a presentation from NQ Mobile, it says they have over 5,000 retail locations in China which sell these prepaid cards. According to the company they sell around 600,000 of these cards each month. That adds up to over 7 million of these prepaid cards being sold each year.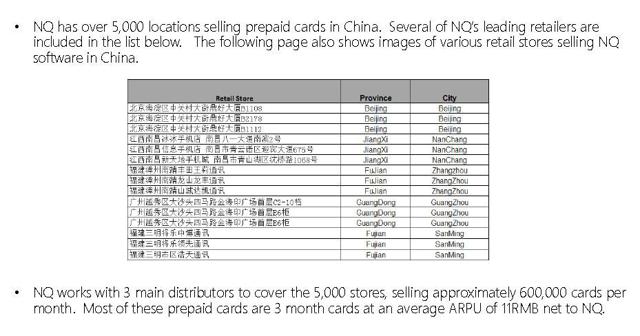 Scanning the QR Code found on the image of the prepaid card takes you to a Chinese webpage from NQ to download their security app from their own servers.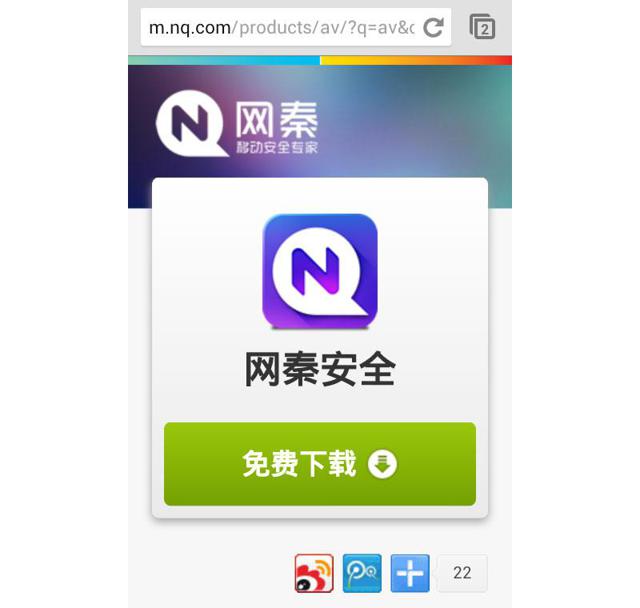 This makes sense since there is no Google Play or any equivalent centralized Android ecosystem in China. Google Play itself is largely blocked and unused in China. The Android ecosystem is very fragmented in China and there literally hundreds of different Android app stores are being used. Many app makers also host the APK file used to install their Android apps on their own websites as one the download options.
I asked around to see if those who are more familiar with the distribution of apps in China know of any method I can use to get a sense if the 7 million prepaid cards NQ sells in China is true. One suggestion was I should take a look on Taobao. The reasoning is that if there are really over 7 million of these NQ Mobile prepaid cards being sold from retailers in China every year, then there should be at least some merchants who are offering them online on Taobao and at least some NQ users in China who have bought them. Probably not a whole lot but some.
For people who don't know what Taobao is, it is often called the eBay of China. It is owned by Alibaba which should be IPOing soon in the US. Based on some figures, Taobao is the largest e-commerce platform in China. It has over 8 million sellers and almost 1 billion product listings.
With some help from an employee of mine who knows some Chinese, I was able to find some listings of the NQ Mobile prepaid cards on Taobao. However, from the 5 different listings there was only 1 total sale.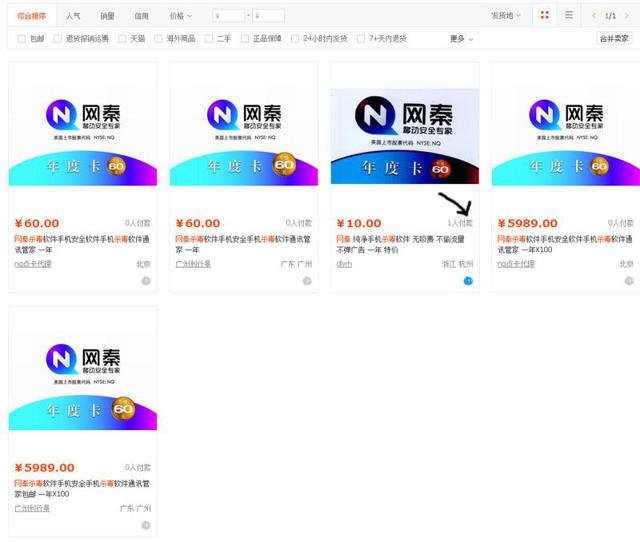 Unfortunately, there isn't anything else to directly compare the sales of NQ Mobile prepaid cards sold on Taobao to. This is because there really is no other Chinese mobile security company which uses prepaid cards as a payment system in China. In fact, all the other leading consumer mobile security companies in China such as Baidu (NASDAQ:BIDU), Qihoo 360 (NYSE:QIHU), Tencent, and Cheetah Mobile (NYSE:CMCM) offer their mobile security apps completely free of charge.
However, I did find listings and sales for other kinds of prepaid cards for software on Taobao. These included listings for prepaid cards for Qihoo 360. These prepaid cards are used to fill accounts in order to make transactions on mobile games and online web games from Qihoo.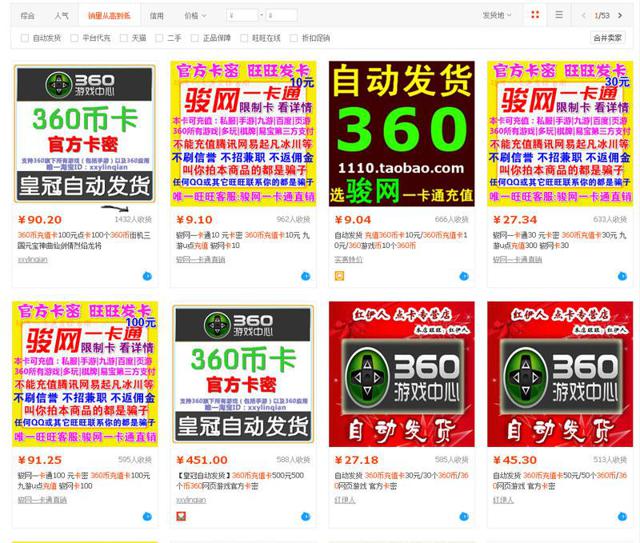 There is a listing with over 1,400 total sales, another with 962 total sales, and quite a few listings with hundreds of sales. This proves at the very least there are people in China who purchase prepaid cards for software and apps they use online from Taobao.
In addition, I also found on Taobao listings and sales for the premium paid versions of mobile security apps from non-Chinese companies. Most of these sellers appear to be offering a link to download the security app and is providing the activation number or key which unlocks the paid features.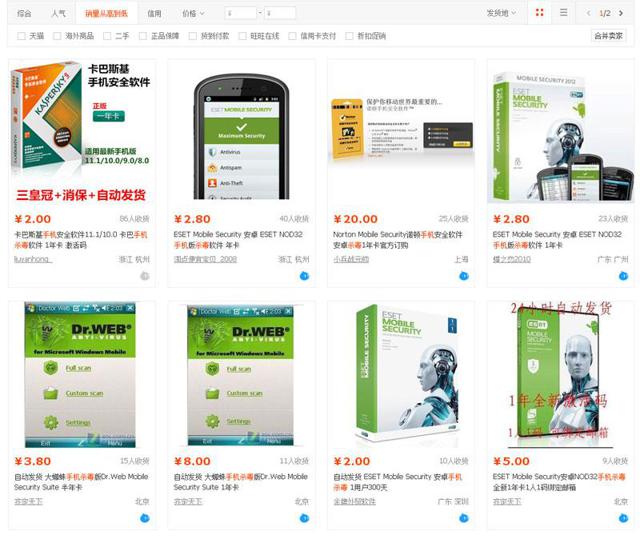 There is a listing for Kaspersky Mobile Security with 86 total sales, a Norton Mobile Security listing with 25 sales, two listings Dr Web Mobile Security with 15 and 11 sales, and quite a few different listing for ESET Mobile Security with a few sales.
Given the sales numbers on the listings for these non-Chinese mobile security apps, it doesn't seem logical that there would only be 1 total sale for NQ Mobile Security prepaid cards on Taobao if they are really selling over 7 million of these cards sold from retail stores each year in China.
Comparison of NQ Mobile & Other Chinese Mobile Security Companies on Google Play
I also took a look to see how many downloads other Chinese mobile security companies have for their apps compared to NQ Mobile's main mobile security app on Google Play. Currently NQ Mobile Security has over 10 million downloads, Qihoo's 360 Security has over 50 million, and Cheetah Mobile's CM Security also has over 50 million.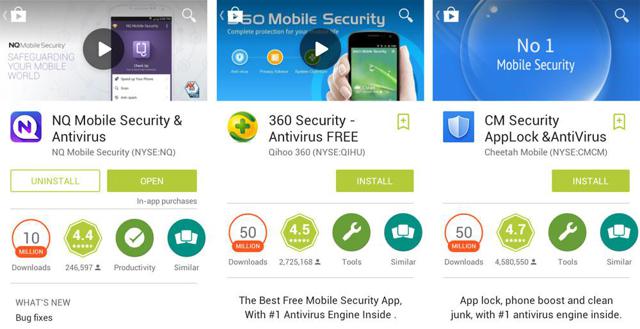 Digging further and taking a look at the dates these companies first released their mobile security apps on Google Play provides additional insight. While I can't get an exact date for NQ Mobile Security, it was released on Google Play some time before January 1, 2012. Unfortunately the data from AppAnnie only goes back that far.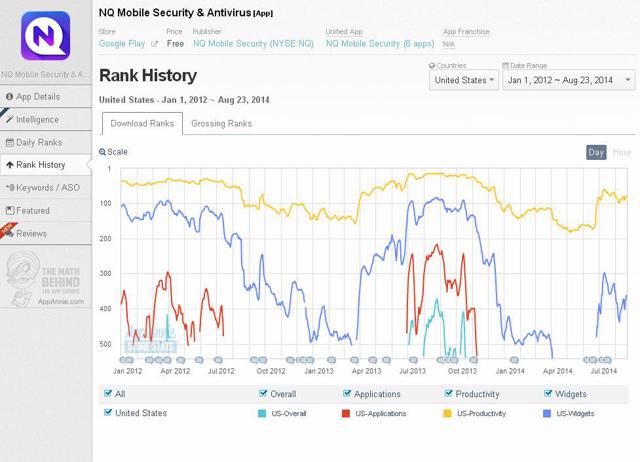 Qihoo's 360 Security app was released on Google Play on June 11, 2013.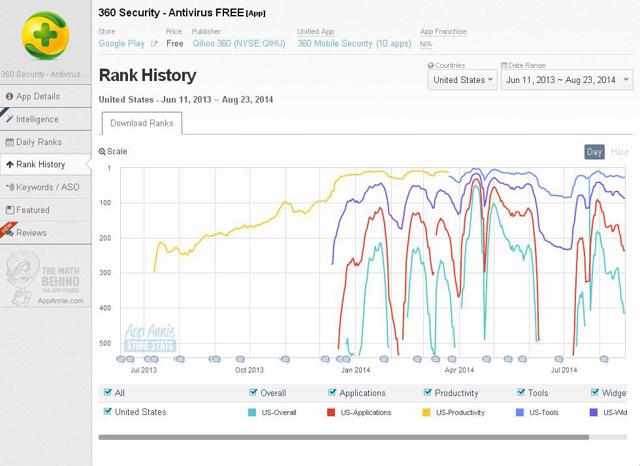 Cheetah's Mobile CM Security app was released on January 4, 2014.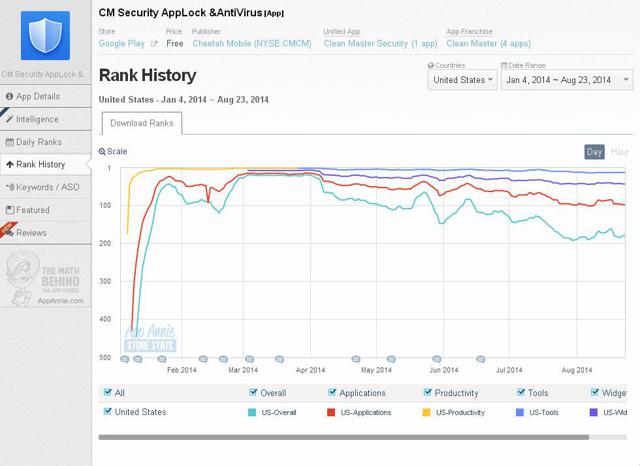 The release dates show that even though NQ had at least a 1 and ½ year head start on Qihoo 360 and at least 2 years on Cheetah Mobile, their two mobile security apps easily surpassed NQ Mobile's in total downloads on Google Play.
This is somewhat surprising since unlike NQ Mobile, I didn't find news of Qihoo or Cheetah really announcing any partnerships or deals with any carriers, retailers, or other types of partners outside of China.
Conclusion
The examples I laid out above show why investors shouldn't make the assumption that news of partnerships legitimizes NQ Mobile. Instead, investors first have to ask how much revenue and how many new users these partnerships really bring in.
I tried contacting NQ to see if I get further clarification on the matters I addressed here. I have not received a response so far.
Disclosure: The author has no positions in any stocks mentioned, and no plans to initiate any positions within the next 72 hours.
The author wrote this article themselves, and it expresses their own opinions. The author is not receiving compensation for it. The author has no business relationship with any company whose stock is mentioned in this article.