The market may have gotten last week started with a bang, breaking past some key resistance levels. Stocks didn't end the week with quite as much zeal, however. Maybe it was just some pre-weekend precautionary selling. Or, maybe the rally is already out of gas. We'll talk about the most likely possibility in a moment, after a run-down of last week's and this week's economic numbers.
Economic Data
Although there wasn't a ton of economic data last week, what we got was important stuff, particularly on the real estate front. That party started on Tuesday with July's housing starts and building permits. Both were up, topping estimates. We saw starts reach an annual pace of 1.093 million, versus June's pace of 945,000. Permits hit an annualized rate of 1.052 million, which compares favorably to June's 973,000.
On Thursday the National Association of Realtors released July's pace of existing home sales. They were up to 5.15 million - the highest reading since September of last year.
Real Estate Trends Chart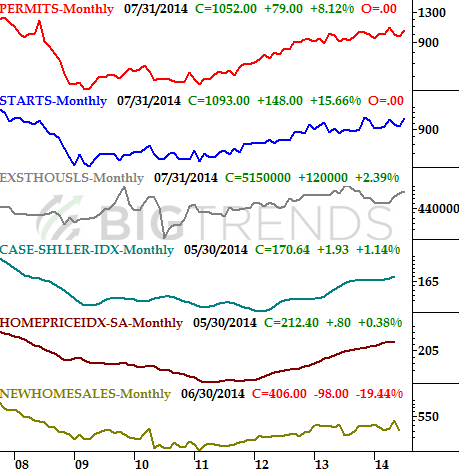 Source: Bureau of Labor Statistics, FHFA, Standard & Poor's, and the National Assn. of Realtors
All in all it was an encouraging batch of data, though we're only about halfway through the real estate roundup for last month. The rest of the key real estate and construction numbers are due this week. See the calendar below. Regardless, we're seeing renewed strength from the real estate market overall.
The only other major data we got was July's inflation rate. You can put away any fears that the Fed's easy-money policy is giving rise to rampant inflation. As of last month, the annual inflation rate slipped to 1.99%, from June's 2.07%.
Of course, though it didn't correlate with any specific data release, the Federal Reserve was the centerpiece of an economic symposium at Jackson Hole, Wyoming, this past weekend, On the first day of the conference Janet Yellen explained that although the nation's overall employment situation offered some bright points, by and large it saw still more of a liability. Ergo, it wasn't going to be the basis for a rate hike anytime soon. That message soothed Thursday's worries of an interest rate increase sneaking up on us sooner than anticipated.
Inflation Trends Chart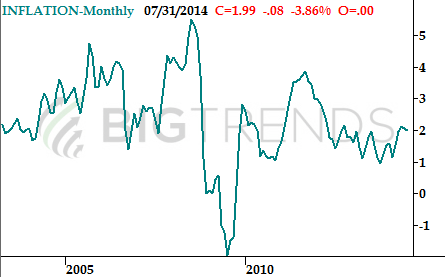 Source: Bureau of Labor Statistics
Economic Calendar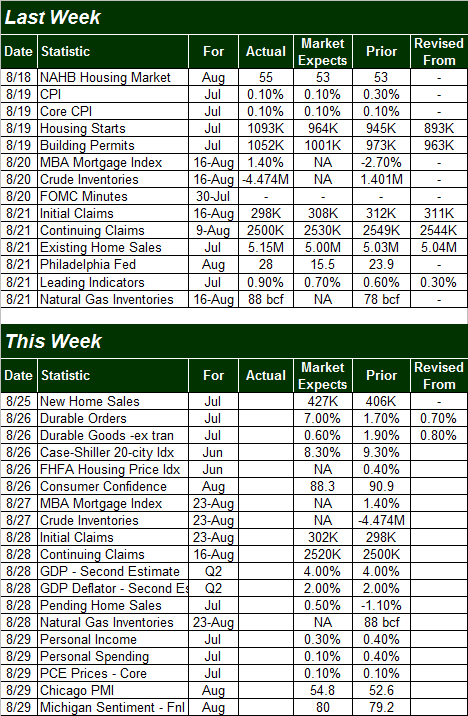 Source: Briefing.com
This week is going to be a bit busier. As we noted above, another batch of real estate is on the way... new home sales on Monday, a couple different home price data sets on Tuesday, and pending home sales on Thursday. Those trends are illustrated through July on the chart above.
It's going to be a big week for consumer sentiment too. The Conference Board will announce its consumer confidence score on Tuesday, and the final reading for August's Michigan Sentiment Index will be posted on Friday. Both are in uptrends. In fact, the consumer confidence score hit a multi-year high last month. Though the pros expect consumer confidence to abate a little this time around, it's not going to chance the broad uptrend if we get anywhere close to the expected reading of 88.3 (down from 90.9 in July). The final reading for the Michigan Sentiment Index in July was 81.8, and forecasters are saying 80.0 is in the cards this time around.
Consumer Sentiment Chart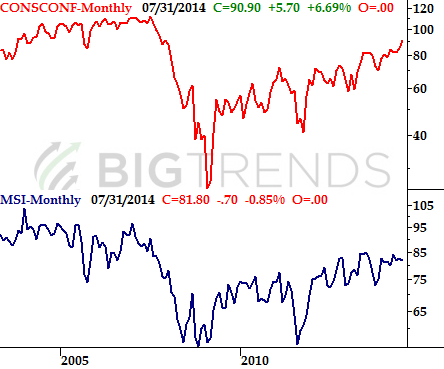 Source: Reuters and the Conference Board
Also be aware that we'll get the second estimate for Q2's GDP growth rate on Thursday. The first estimate was growth of 4.0%, and economists expect that first guess to hold up this time around. Any shortfall or excess could move the market a little.
Stock Market Index Analysis
The good news is, the S&P 500 (SPX) (NYSEARCA:SPY) managed to break through the former ceiling at 1986 last week. The bad news is, that was the only thing of any real substance the S&P 500 accomplished last week. Even more alarming is how once the index did the deed on Thursday, it didn't follow-through on Friday. The daily chart makes this reality vividly clear.
S&P 500 & VIX - Daily Chart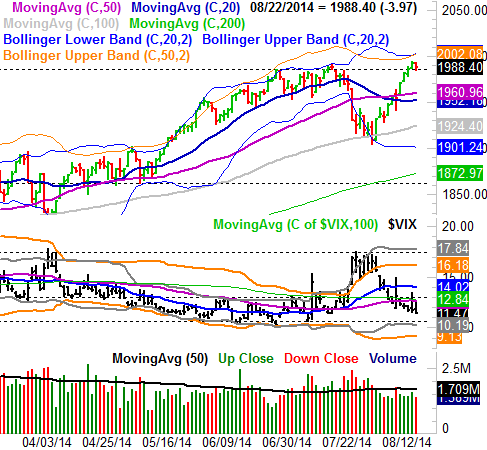 Charts created with TradeStation
Still, the S&P 500 managed to close above the key line in the sand at 1986, and that may well be enough to say the breakout is still intact. Bolstering that bullish argument is the way the CBOE Volatility Index (VIX) (NYSEARCA:VXX) continued to inch lower rather than tick higher on Friday.
Either way, traders should acknowledge the fact that even the most bullish outcome here is apt to be a short-lived one. The S&P 500 is near its 20-day and its 50-day upper Bollinger bands at 2002, and the VIX is near a major floor around 10.5. Will the VIX need to bump into 10.5 and will the S&P 500 itself need to bump into the resistance around 2002 to roll over? Or, will the index simply break back under the former ceiling at 1986 and begin looking for a floor again? That remains to be seen. But, regardless of how it takes shape, we believe the market is much closer to a trade-worthy top than not.
That being said, we have to acknowledge it's the NASDAQ's (COMP) (NASDAQ:QQQ) chart that allows us to come to a relatively bearish - even if just short-term - stance on the broad market. Take a look at the Composite, first in the daily timeframe. Yes, we can see here the NASDAQ has punched through a ceiling at 4488 and kept going last week, closing at a multi-year high close on Friday after hitting a new multi-year high of 4547.24. The Nasdaq Volatility Index (VXN) is trending lower too.
NASDAQ Composite & VXN - Daily Chart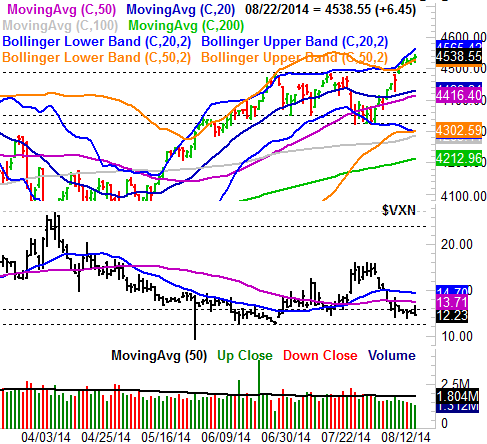 In so many ways this looks like the S&P 500's dilemma, where the momentum is in place but barriers and potential reversals are all around. You might see things a tad differently when you zoom out to a weekly chart of the Composite, however. Take a look. It's in this timeframe you can see the NASDAQ is already bumping into its upper Bollinger band lines, and the VXN is already right at a known and established floor.
NASDAQ Composite & VXN - Weekly Chart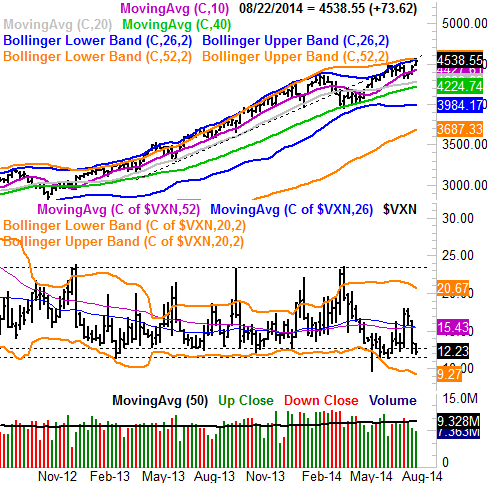 Bottom line: While it's not likely to be a clean and decisive reversal, the odds are working against stocks right now. That being said, don't read too much into the call for a pullback. It may well be a very minor, simply forcing a retest of the 20-day moving average lines. We'll have to reassess the potential for more of a pullback once we get to those levels.
Although there's always a chance the broad market (NYSEARCA:DIA) (NYSEARCA:IWM) could turn up the heat and further last week's breakout effort straight-away, technically speaking, that's not the highest probability outcome at this point.
Disclosure: The author has no positions in any stocks mentioned, and no plans to initiate any positions within the next 72 hours.
The author wrote this article themselves, and it expresses their own opinions. The author is not receiving compensation for it. The author has no business relationship with any company whose stock is mentioned in this article.