On Friday, shares of Keurig Green Mountain (NASDAQ:GMCR) hit a new high after a partnership deal was announced. Shares have continued to rocket higher, despite the company's results not being that tremendous in recent quarters. Today, I'll detail a couple of key risks that investors are currently facing, and why it means this stock may not be a good buy at these levels.
Beats? Not if you sandbag:
Green Mountain reported another beat with its fiscal third-quarter report a few weeks ago. This company has been known for earnings beats, which you can certainly see in the table below.

(Source: Yahoo! Finance estimates page)
But before we celebrate this name as one of the best earnings reporters out there, investors should know that this company has a history of sandbagging guidance a bit. This underpromising allows the company to beat, and analysts seem to play the game.
Back in November 2013, the company reported Q4 results and gave guidance for the December-ending quarter. The company guided to non-GAAP EPS of $0.85 to $0.90 a share, while analysts were looking for $0.96 in the quarter. By the time the company reported, analysts reduced their average to $0.90, as seen above. What did the company report? Exactly $0.96 a share. So this 6 cent beat does not look that impressive, does it?
This process continued in February, when the company reported Q1 results. The company guided to non-GAAP EPS of $0.93 to $0.98. This number included a nickel headwind from foreign exchange, but did not include the approximately 4% impact from dilution involved with the Coca-Cola (NYSE:KO) deal or any actions the company used to offset said dilution. At that time, analysts were at $1.02, so this guidance looked light. So when the company reported $1.08 for the quarter, analysts were looking for just $0.94. It wasn't too hard to beat with estimates down by 8 cents.
So when the company provided its latest set of guidance, it stated that Q4 EPS would be $0.68 to $0.75, including and excluding a number of items. Analysts were looking for $0.86, but now current estimates call for just $0.77. It wouldn't surprise me if estimates dropped even more, or if the company reported a number that comes in over $0.80 a share. So while it looks like the company usually beats big, just remember, it helps when you guide down and analysts cut their estimates.
Revenue growth - shouldn't it be higher?
It's amazing how quickly sentiment can change regarding a name. On November 20th, 2013, Green Mountain shares closed below $62 a share. On that day, analysts were looking for $4.69 billion in revenues during the current fiscal year, which ends in September 2014. On Friday, shares closed at more than $133 a share. What is the current revenue estimate? It is $4.67 billion, lower than it was when shares were at less than half the current price. Additionally, EPS estimates have risen by just 2 cents for the year, a paltry amount.
With this stock soaring, you would think you are getting a ton of growth, but you really aren't. Green Mountain used to be a tremendous growth name, with massive double-digit revenue increases. Yes, it is harder to grow revenues now that the company is approaching $5 billion, but still, growth should be more than just high single digits or low double digits.
Shares soared on Friday due to an agreement between Keurig Green Mountain and Kraft Foods (KRFT). Investors cheered the deal sending GMCR shares up more than 13%. This is just the latest deal in a long line, but will these efforts eventually pay off? Here's a list of deals or announcements we saw in 2013:
So with all of those announcements, you would think that the company would do more than "high single digit" revenue growth in the fiscal year, wouldn't you? Analysts are estimating just 7.1% growth in the period, barely over $300 million in revenue growth.
That gets us to 2014, we've seen roughly a dozen announcements like the ones above, including the Coca-Cola deal, and a couple of expanded or revised partnership agreements. Additionally, Keurig 2.0 is about to launch, which should get brewer sales going again. The company also announced it would be raising prices by 9% in November for its portion packs, primarily thanks to the rise in coffee prices. More on that later. The company also discussed on the latest conference call that global expansion has started with a UK away-from-home launch. On that conference call, the company mentioned that a Keurig single-serve solution is installed in approximately 20,000 Subway restaurant locations. The Subway deal was one of the numerous deals struck in 2014.
But with nearly two dozen major announcements in the past year and a half, plus a price raise coming, do we see a huge rise in revenues coming? Not really. For fiscal 2015, ending September 2015, analysts were calling for just $5.20 billion in revenues, just 11.5% growth before the Kraft deal was announced. While that is a growth acceleration from the 2014 period, it's not that much considering all of these launches and deals. Keurig seems to be announcing a lot of deals, but revenues don't seem to be growing that much. At $80 or even $100 a share, that may not be much of an issue. But with shares now over $133, you're paying a premium, and not getting a lot of growth.
Margin troubles ahead:
Green Mountain is about to launch the Keurig 2.0, and my fellow SA contributor Seth Golden did a tremendous job of detailing the many risks that come with this system. Seth lists four major risks from the 2.0 launch:
Impending margin impact.
The closed system format of the product line.
Cost increase per unit to consumer.
Total functionality of the Keurig 2.0.
I want to primarily focus on the margin impact. Seth details how the new system is going to be more expensive to produce, and that cost could rise even further if early sales are sluggish and discounting is needed. Beyond sales of the brewers, however, Green Mountain is about to face an even larger challenge. That's the rise in coffee prices, something that has been a great tailwind to gross margins in prior periods. Green Mountain in each quarterly report details a number of items that have impacted gross margins as compared to the prior-year period. In recent quarters, favorable green coffee costs have led to a significant boost to gross margins. The chart below details these year-over-year increases thanks to coffee prices.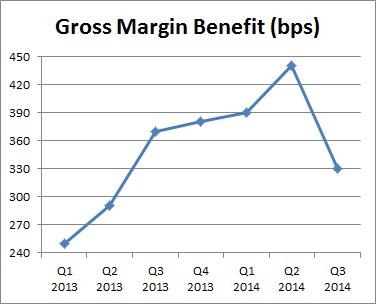 After a 440 basis point rise in Q2 of this fiscal year, the company only reported a 330 basis point rise in Q3. On the conference call, it was stated that Q4 would see a less favorable benefit than year-to-date trends. In the press release relating to the price increase for Keurig packs, the company stated the following:
Over the past year, green coffee prices, alone, have increased approximately 55%.
On the Q3 call, the company stated it was only 75% locked in so far for fiscal 2015, and that was obviously at higher rates. Once these gross margin tailwinds turn to headwinds, margins are going to be negatively impacted. That might be one reason why analysts expect $4.07 in EPS in fiscal 2015, after $3.80 and $3.39 in the previous two years. Note how the fiscal 2015 growth number is not that much. The company will really need to get the buyback going in order to drive EPS growth, especially if margins take a huge hit.
Dilution - more than we might have expected:
When Green Mountain sold a stake to Coca-Cola, we knew that there would be some dilution. That dilution increased when we found out Lavazza also bought shares at the same price under a previous agreement. Green Mountain investors knew that the dilution would be offset by the company's buyback program. In the past three fiscal years, $2.5 billion has been authorized for share repurchases.
However, this fiscal year might not have seen the dilution reduction we were hoping for. The company spent just under $1 billion to buy back shares in the first three fiscal quarters. As of June 28th, a little more than $1.23 billion remained for the buyback. However, as you can see in the table below, taken from page 6 of the most recently filed 10-Q, dilution is still quite high.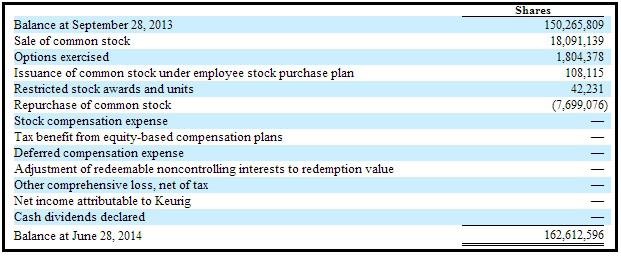 The company is involved in an accelerated repurchase program, so the above numbers could change a little depending on how the share price moves. But for now, these numbers paint an ugly picture. One billion was spent on the buyback, and yet the share count is up by nearly 12.5 million shares. The buyback will still help get the share count down, but when you look at items like executive options, dilution is still hurting. With shares rallying over $133, the company now either will slow down the buyback, which will slow any decline in the share count, or get less shares back at a much higher price.
The risk of a large short seller:
Those that know the history of this company remember what happened a few years ago, and it was not very pleasant for shareholders. With share prices rocketing higher, it might invite short sellers to return, and in particular, one larger investor that may try to make a big bet against the name. Throughout 2012 and 2013, and even early in 2014, Green Mountain was a highly shorted stock and short squeezes were extremely possible. That happened when the Coca-Cola deal was announced. But as you can see in the chart below, short interest is at its lowest levels in years.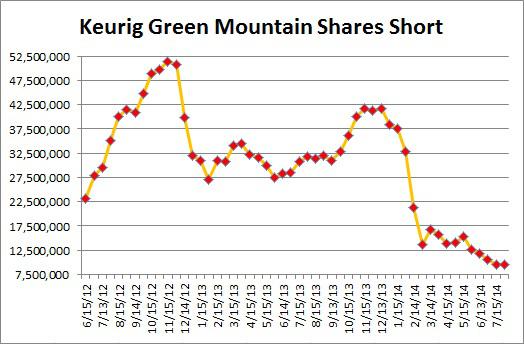 (Note: Last data point on chart is for settlement date of 7/31/14)
With the most recent short interest update, less than 10 million shares were short Keurig Green Mountain. That pales in comparison to the more than 50 million that were short in late 2012. At the peak, roughly a third of the outstanding share count was short, while now the number is less than 10%. Should one large short seller or a group of them come after this name, shares could take a fall. Last time that happened, it wasn't pretty.
Final thoughts:
Green Mountain shares rocketed to a new high on Friday, and at these levels, investors need to be careful. This company's growth is not what it used to be, and a number of margin headwinds are about to hit. Despite a number of deals and announcements in the past year and a half, revenue growth is not tremendous. This might not have been an issue if shares were around $100, but at $133 plus, investors need everything to go right. That might include speculation of a Coca-Cola buyout, which may not come at a price that could end up being more than twice what Coca-Cola originally paid for GMCR shares. If this rally continues, investors might want to consider a short position.
Disclosure: The author has no positions in any stocks mentioned, and no plans to initiate any positions within the next 72 hours.
The author wrote this article themselves, and it expresses their own opinions. The author is not receiving compensation for it (other than from Seeking Alpha). The author has no business relationship with any company whose stock is mentioned in this article.
Additional disclosure: Investors are always reminded that before making any investment, you should do your own proper due diligence on any name directly or indirectly mentioned in this article. Investors should also consider seeking advice from a broker or financial adviser before making any investment decisions. Any material in this article should be considered general information, and not relied on as a formal investment recommendation.